No Comments
Pink Boots Live Brew Day | Women of Suburban Chicago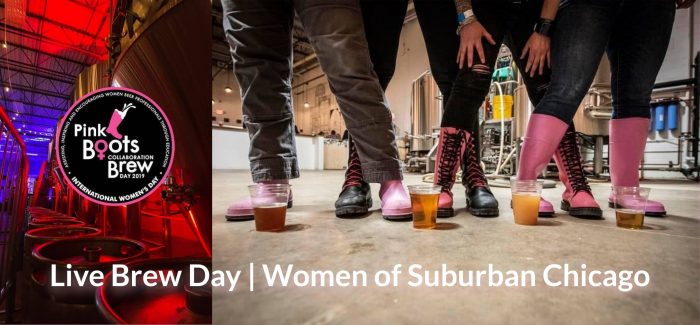 The Pink Boots Society's "Live Brew Day: Women of Suburban Craft Beer Collab" event at Skeleton Key Brewing (Suburban Chicago) focused on one principal goal — make great beer.
Certainly, Pink Boots Society events present a bonding opportunity for women of the industry, while simultaneously fostering awareness of their contributions. Nevertheless, from the presence of Omega Yeast Labs to the many brewers and industry women present, the event made it abundantly clear that crafting excellent beer served as priority #1. And, in doing so, demonstrated how possession of a Y-chromosome has nothing to do with becoming a skilled, imaginative beer professional.
Taste the Creativity
"It came together so easily, so painlessly…all those great women contributed," said Emily Slayton, co-founder of Skeleton Key Brewing, as well as this year's event host and coordinator.
She added:
"Because these women are so creative (and natural problem solvers), they were ready with ideas. They were not all brewers, which gave many of the women an opportunity to translate their creativity, normally found a layer or two behind the beer, to the forefront so that we could actually have it manifest into something we can give to [customers] and say 'Taste the creativity!'"
The Beer: Rustic Lithuanian IPA (name TBA)
45% Idaho Pilsner Malt
45% Great Western Two-Row Malt
8% Rye Flakes
2% Honey Malt
PBS Hops Blend: 3 parts Sabro, 2 parts Loral, 1 part Glacier, Mosaic, and Simcoe.
Omega Yeast Labs Jovaru™ Lithuanian Farmhouse Yeast
A Recognition of Farmers, from Illinois to Lithuania
The collaboration sheds light on two notable women on two continents 
The special Lithuanian Jovaru Yeast comes from a special partnership between Omega Labs and lauded Lithuanian brewer Aldona Udriene, known as "the queen of Lithuanian farmhouse beer." Udrine has relied on the same techniques to brew beer used by her family for centuries, all with one of the oldest Lithuanian farmhouse ale yeast strains. Now, Omega Yeast Labs offers that farmhouse yeast to the many brewers in Chicago (and beyond).
However, unlike Udriene's acclaimed farmhouse ale (or kaimiskas alus) made in Lithuania, the Pink Boots Rustic Ale, in deference to another accomplished women of beer — Marika Josephson of central Illinois' Scratch Farm & Microbrewery will not be referred to as "farmhouse ale." Josephson recently composed a well-argued treatise for Good Beer Hunting (blog entry & a short print book) that ostensibly asks the brewing community to refrain from naming beers "farmhouse" when they are not produced at a farm.
So, while the collaboration beer benefits from the Jovaru Farmhouse Yeast strain, the beer's production in metro Chicago does not afford it the opportunity to be called a farmhouse. Indeed, the women decided to think of the style as "rustic."
https://www.instagram.com/p/BumH6t2nh0M/
Community: Pink Boots, Donations and the Creative Process
Slayton, a former Pink Boots scholarship winner, opened up the doors to Skeleton Key for the event to local women, and did so with an extra goal in mind. "[Pink Boots Chicago:] sent an email to see who was interested with the information website and checklists." She added, "With basically the re-launch of Pink Boots in Chicago this year, it made a lot of sense, especially because I thought we could also bring attention to the suburban women in the industry. There's just such a vibrant of a scene out here. So, I thought, 'We can tie in Pink Boots Chicago with the burbs…let's do it!.'"
The one constant among the Pink Boots collaborations involves the hop blend, which inspired the group to go the route of creating some form of IPA. However, rather than brew a run-of-the-mill IPA, the creative team settled on the aforementioned farmhouse-style. The farmhouse idea coupled with the inclusion of rye — a dominant food in Lithuania — begat an idea to make the Lithuanian IPA comprised of the Jovaru yeast strain.
And in true craft-community fashion, inquiries for ingredients came easy, and with enthusiasm.
Slayton explained, "Basically I wrote an email to Lance [Shaner, co-founder of Omega Yeast Labs] that said, 'Hey Lance, any chance you'd want to donate or sponsor some of this?' Lance responded, 'Absolutely we'd love to do that.' Super easy! After Omega came through, I asked Country Malt Group, and they also said, 'absolutely!'"
The Final Product: Base Beer, Adjuncts and a Tap Takeover
Roughly 20 women came together to make the beer, arriving from the Illinois Craft Brewers Guild, Omega Yeast Labs, Iron & Glass bottle shop and an abundance of breweries: Scallywag Brewing, Metal Monkey Brewing, More Brewing Co., BuckleDown Brewing, Dry City Brew Works, Church Street Brewing Company, Elmhurst Brewing Co., Werk Force Brewing, Exit Strategy Brewing Company, Wolfden Brewing, and the host, Skeleton Key Brewery.
The team brewed 15 bbls of beer, which should yield roughly 24-26 kegs and be ready in early April. Numerous breweries committed to purchasing 1/2 a barrel and a sixtel, of which each brewery will decide on its own unique adjunct to add. Thus, many versions of the beer will be available for consumption and the best method for beer fans to enjoy every variant is to attend a tap takeover event at Iron & Glass bottle shop in Mokena, IL; the sixtels will arrive to the shop when the beer is ready.
Final Thoughts
In the end, the Pink Boots live brewing day tied together a long history of brewing history, two continents, women in the industry, both the city and Chicago suburbs and otherwise exemplified the craft-community mantra that has fueled the craft beer business model since the 1980s.
Or as Slayton put it, "On top of it all, these are just great chicks and I love hanging out with them [smile]."
Isn't that what being a beer nerd is all about?
** Video & Feature Image (boots photo) credited to Matt Adams Media — https://www.mattadema.com
---