No Comments
Event Recap | CCBW Putt-Putt at Revolution Brewing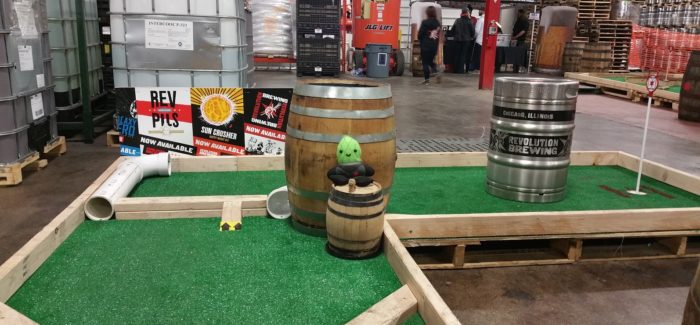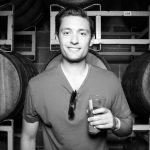 Chicago Craft Beer Week means beer lovers can expect a bevy of fun and unique events from local craft brewers. One of those events, hosted by Revolution Brewing over the weekend, had both good beer and mini golf – which is something that no other brewery could offer.
Revolution's CCBW Putt-Putt event was as immersive as it was challenging. It took the Rev Brew folks six weeks to pull together this one-of-a-kind course, and the result was something that I had never experienced before. I had the chance to play a round on the new course and somehow left with my dignity intact but with a few more beers under my belt as well.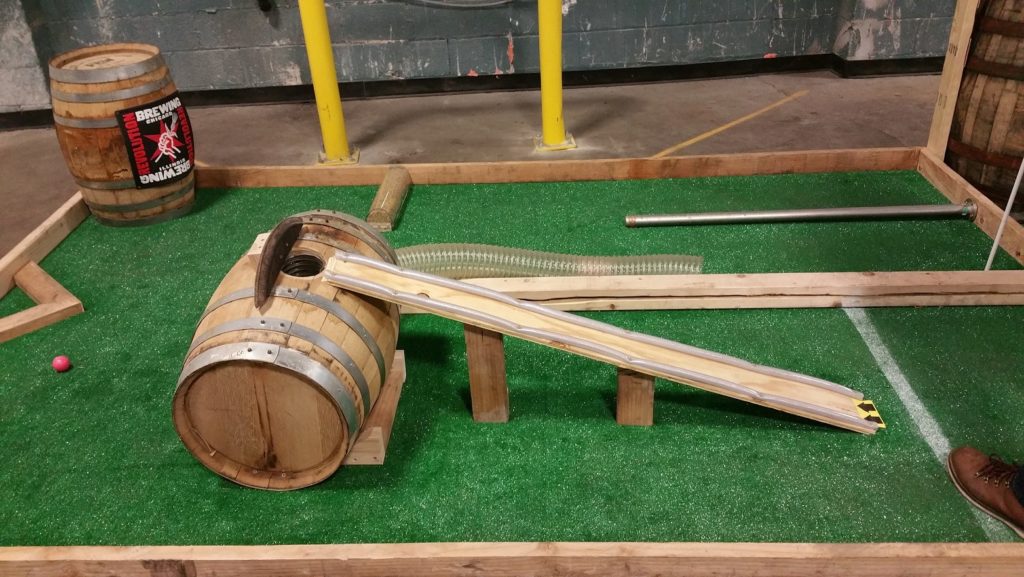 The Course
Each hole on the Revolution Putt-Putt course had some kind of Chicago-influence to it that made the design wholly unique and visually appealing. And while the course looked fun, it was extremely challenging as well, as it made you use both your mind and mettle to traverse the nooks and crannies of each artfully designed hole. The hardest hole, in my opinion, was #3, Chicago Star, which was a multi-tiered contraption that made you carefully plot out each putt. It tested my patience and blew up my scorecard. Here are a few other visuals to give you an idea of what the mini putt course had to offer: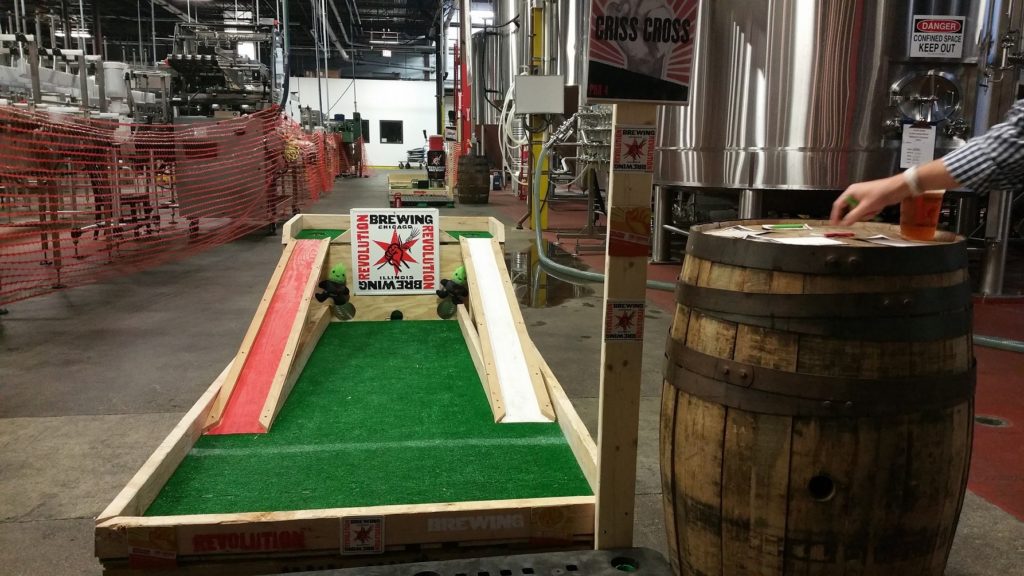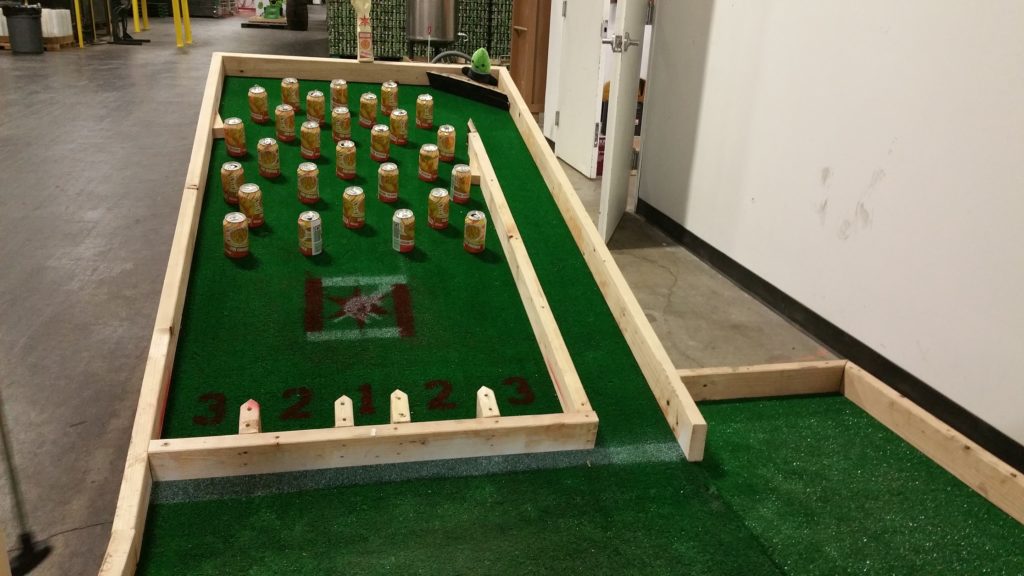 While each hole was fun to traverse, perhaps the most unique one on the course was hole #7, which was basically a Sun Crusher-inspired Plinko board that was as much about luck as it was about skill. I got a four, but at least my team won the hole.
The Beer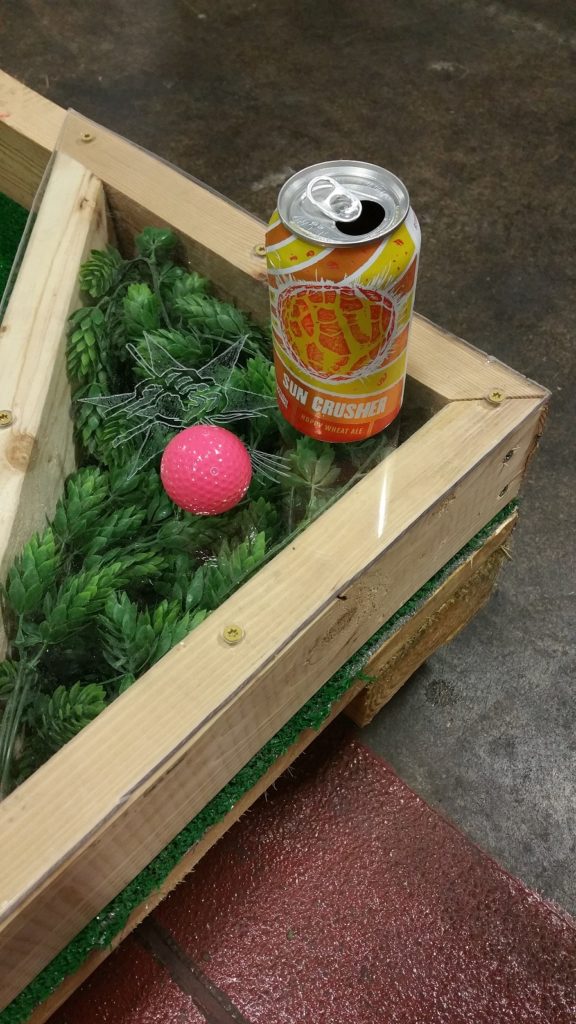 Speaking of Sun Crusher, this new seasonal from Revolution had a few more other practical uses besides from being a functional part of a golf course. The beer, with its bright packaging and flavor, is designed for summer sipping, and I can definitely see myself cracking a few of these open next weekend. Sun Crusher is a wheat ale that packs more flavor than most, as it had a really rich hoppy flavor that was present throughout each sip. It was bitter, but was not overbearing, and fit right in with Revolution's other hop-heavy brews. Honorable mention to Revolution's sublime, pink-hued, Rosa hibiscus ale, which is back on tap and in cans. Highly recommend you check it out.
That's my review of Revolution's truly unforgettable putt-putt course. I really wish that this course could stay around for more than a three-day weekend, but I guess I understand why they have to move it – to brew some awesome beer in its place. Cheers!
---