No Comments
Hopewell Brewing and Metric Coffee Release Cold Brew Session Coffee Ale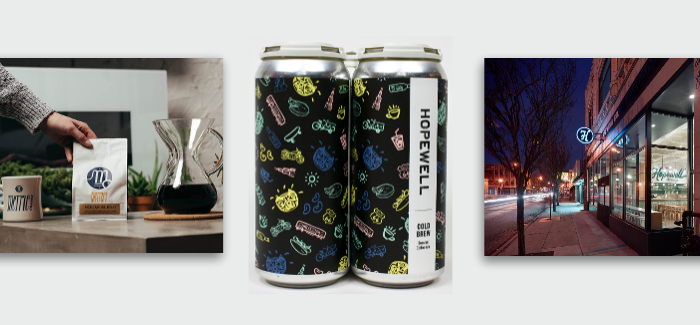 The collaboration beer, Hopewell Brewing x Metric Coffee Cold Brew Session Coffee Ale, marry two increasingly popular American brewing trends — craft beer and independent roasters (coffee).
Most of the PorchDrinking.com audience is well aware of craft beer's growth in recent years. However, one may not be aware that 59% of coffee consumed daily is classified as "gourmet," according to the 2017 NCA report on National Coffee Drinking Trends. That was the first time in the report's 67-year history that the number exceeded 50%.
Americans like beer. Americans like coffee. A brew-mance has commenced.
Both beer and specialty coffee companies offer the allure of community-mindedness, reliance on quality ingredients and hand-crafted production. So, few quibbles arise when breweries and roasters join forces. But, what matters most is how the marriage of coffee and beer commonly results in a flavorful beer.
An example of that fine pairing comes from Chicago's Hopewell Brewing Company and Metric Coffee, who together are releasing Cold Brew Session Coffee Ale (4.5% ABV).
"This ode to iced coffee in the summertime features Metric Coffee's La Florida beans from Colombia. Grown in a region rich with volcanic soil, this coffee has notes of fig, vanilla and tangerine with a well-balanced acidity."
For those discerning folks that love to investigate each variable, one only needs to hit the "about" page found on Metric's website to discover the care taken when producing the coffee:
"All of our coffees are roasted on this self-restored '61 Probat UG 15. Working with this vintage, built-to-last machine produces exceptionally well balanced, sweet, and clean coffees. We are thankful to work with our beans on one of these rare and sought after old roasters. For us, it represents the perfect meeting of old world method and modern technology. The story of Metric is still being written. We started with just two people and have grown into a small solid staff united by our common passion."
Cold Brew Session Coffee Ale serves as the latest example of Hopewell Brewing celebrating community through collaborations, dinner events and fundraisers — to name a few examples. In fact, this collaborative effort follows the release of the Hopewell-Metric Pilot Light in February 2018, which included food from lauded Publican Quality Meats. Portions of the proceeds from that event and beer were earmarked to help raise the level of food education within Chicago's Public Schools.
Chicago-area residents can purchase one-pint cans of Cold Brew Session Coffee Ale for $10.99/4pk for a limited time at the Hopewell Brewing Company taproom located in Chicago's Logan Square neighborhood, and in stores across the city.
---