No Comments
Tribes Beer Co. | A New Space Emblematic of an Evolving Industry
A principal attribute of craft brewing involves the confluence of creativity and tradition. The summer '18 opening of the newest Tribes Beer Company location—a brewhouse, tasting room and beer garden—exemplifies that characteristic. Tribes draws on tradition while simultaneously adapting to an ever-evolving beer industry.

The Tribes progression is emblematic of the entire industry. When Tribes first opened, simply offering craft beer was unique and drew customers through the doors. Now, beer alone often proves insufficient to generate consistent business; it's all about a beer experience.
Tribes founder, Niall Freyne, has never been afraid to take a chance. After his successful restaurant fell victim to the Great Recession, he opened a craft-beer bar — and that was well before craft friendly joints had become ubiquitous in Chicago. Over time, Tribes added food, a second location, an annual festival and then eventually brewed its own beer.
Freyne explained, "I am not here to compete with the big boys. I don't see myself being like Revolution Brewing. We are just a restaurant and pub that's done well. One day, we decided to make beer. I mean, F–k it, right? [laughter]. We were having a couple of drinks with our friends at DryHop [Brewery] in Chicago and thought, 'We can do this!' My wife was like, 'You are thinking you are doing what?" [laughter] "But I was like, 'Screw it. Why not?'."
And now, Tribes is ready to tackle a new challenge.
The New Space | Sometimes Foresight Means Looking Backwards
Some may view an old 1940s auto repair shop as nothing more than a dilapidated building, but Freyne saw it as a blank canvas.
"The idea for beer garden had always been there. But, now it's finally coming into a reality," said Freyne. The building is a little less than 5,000 sq. ft, but it's part of an 11,6000 sq. ft. lot. That allows for an expansive and beautiful outdoor space that combines modern garden aesthetics with an atmosphere that plays on the 500-year-old German beer garden tradition.
Moreover, borrowing from turn-of-the-century American beer culture, its location across the street from the Metra Train station suggests that both city dwellers and suburbanites can easily arrive to Tribes by rail.
"I'm definitely enthused about the new place. Sometimes when you have everything in place, you become a paper pusher and an accountant, doing the marketing and all that. This is a mom and pop operation here, so there's a lot of behind the scenes work that has to be done," added Freyne.
"We are so lucky because we have the Tribes name behind it, so to open a cool brewery when you don't have to go through the process of that early struggle (especially these days); that makes it more fun. I mean, it's a lot of work and it's not easy. But it's exciting."
And in time, Tribes will sell coffee and (hopefully) offer a service where it delivers its food from the original Tribes location to the new one. There may also be fests across the street in the parking lot. Freyne explained that Chicago suburban Mokena has been not only supportive, but enthused by the prospects of the new building.
https://www.instagram.com/p/BdnqyYwgU4o/?taken-by=tribesbeerco
The Beer and The Brewer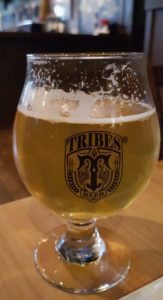 Let's be honest. New space and concepts mean nothing if the beer sucks. Well, Tribes need not worry.
The amicable departure of Tribes' former brewmaster this year opened the door for Matt Voelker, who arrived to Tribes via Revolution Brewing, and Argus Brewing before that.
But, Freyne felt a little guilty about considering Voelker for the job given he was, at the time, a Rev brewer. "The last thing I want anyone in the industry to think is that I'm poaching," said Freyne. "I always want to do things the right way in this industry. Rev and I are friends, friends in beer." No worries, though. Revolution's Will Turner and Josh Deth happily supported Voelker's desire to become the Tribes head brewer.
As a result, Tribes has a brewer with experience in brewing for Revolution, a brewery that both widely distributes and maintains a pub, which is perfect to the growing Tribes brand.
What does Voelker like to brew? "I think any brewer will say the beer they like to brew the most is the one they drink. Obviously. I like something I can have one of them without being able to have another one. If I like the taste, I want several of them. So, I like to have at least one of those type on, like a Kolsch, Pale Ale, and beers like that."
In general, the focus at Tribes is hoppy beers. But, one can always expect to see a wide variety ranging from Berliner Weisse beers to rye IPAs. "If I think about what I'm brewing, let's say a Saison..we are buying yeast for that. And then, I then think, 'What can I do with that same yeast?' So, then I can find something else to do with it..maybe brew a dubbel, or a trippel. It's about what you want and what you have. A balance."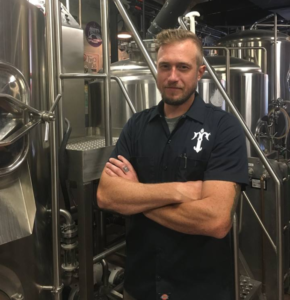 And on January 16, 2018, his creation, Mon Frere ("my brother"), gets tasted for the first time by Tribes fans. Tribes commented, "Mon Frere begins with a complex bouquet of fruity spiciness, mixed with hints of clove and even bubblegum. The pale orange color comes from a wide variety of malts and adds to the overall rounded sweetness of the beer. Rather deceptively though, living up to the style, Mon Frere weighs in at 9.1% ABV. "
The new location will enjoy three 30-bbl systems and have enough space for canning, thus there's increased distribution is in the future for Tribes.
But, the original Tribes pub will also change, mostly by returning to its original concept. The brewing equipment will largely be removed, allowing for more seating. And the Tribes Beer Co. tap handles will be reduced, allowing for more guest taps again just as it was in 2010.
It's possible the original space might also allow for a souring programs or any number of possibilities, but Freyne is never one to have rigid plans; there is always room for something new and creative.
In essence, that is Tribes and the entire industry in a nutshell: a balance between old and new, as well as planning and flexibility.
---