No Comments
Monkish Brewing | Socrates' Philosophies & Hypotheses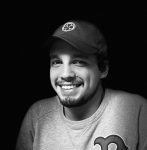 If you are a consistent player in the world of beer trading, or are simply a beer connoisseur who lives in Southern California, then chances are you've had or heard of Monkish Brewing. Located in Torrance, California, Monkish brews essentially out of a glorified office building, and if you're driving by and blink, you may miss it. Yet if you ask anyone looking for the best Hazy IPAs out there, they'll tell you to go to Monkish.
Unfortunately if you visit Monkish's website, you can't find much information in the "About" section. During the spring of this year, the crew celebrated five years since opening their doors. Now, business has never been better. For those unfamiliar with the Monkish releases, there's a reason why their stuff is so damn hard to get. There is limited distribution of their bottled sours and wild ales, but cans are only purchasable from the brewery. Not only that, but can releases are set to specific days (usually Tuesdays), and their social media outlets on Twitter and Instagram only announce the release between two and three hours prior to the release itself. In addition, they try to keep to a set of guidelines for buyers to follow on the day.
So if you decide you want to try one of their elusive IPAs, you better book a flight and head to the tasting room, or make a friend in the area who likes you enough that they'll wait in line for an hour or more to buy you alcohol… good luck.
I am lucky enough to be one of the closer ones to Monkish. With that said, even living in the San Fernando Valley isn't often close enough. With LA traffic, I could leave as soon as they announce a release and still won't get there before either the cans are sold out or I'm stuck at the back of a line that's wrapping around the corner. However, lately I've been getting very lucky. Out of the bundle of Monkish cans and growlers I've been able to get a hold of lately, Socrates' Philosophies & Hypotheses takes the cake.
The Beer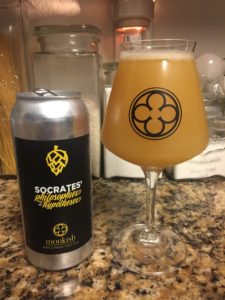 This monstrous triple IPA was a late October release from Monkish, and part of a double release with one of their unfiltered pilsners, Change the Beat. Socrates is a combination of Mosaic, Galaxy, and Citra hops. For those more familiar with Monkish, this is just a TIPA version of two of Monkish's other beers, Atomically and Bomb Atomically. No IBU listed, but the ABV sits at 10.3%.
Like with many who have poured a Monkish IPA, it comes out looking like creamy orange juice goodness. A light frothy head of foam sits on top, and with this one there was hardly any lace retention on the glass. On the nose, at first it is all citrus, followed up quickly by strong notes of sweet pineapple. The sweet tropical aromas subside, and is followed up by an oh-so-subtle lingering bitterness. This finish really only served as a reminder to me that not only was this beer, but a beer with an ABV over 10%!
The flavors of this beer are all citrus. Tangerine and orange play off each other, both sweet and just a touch bitter. There is a subtle hop bitterness to finish it out, and that lingers along with a very mild alcohol burn. The body is creamy, smooth, resinous, and perfect. Again down the hatch you feel that hint of alcohol burn, but there's no doubt this beer is a work of art.
To Conclude…
Obviously based on what you just read, I was a huge fan of this beer. With a release date of October 27, I wouldn't say it's past the point of trying to trade for. However, you won't be experiencing it at the top of it's game. Best bet is to wait for a re-release, or until they throw a 'Freshie' keg on in the future. Have a buddy grab you a growler, or hop on a plane. This one might just be worth it.
Feature image courtesy of Monkish Brewing.
---