No Comments
The Weekly Buzz | January 26 – February 1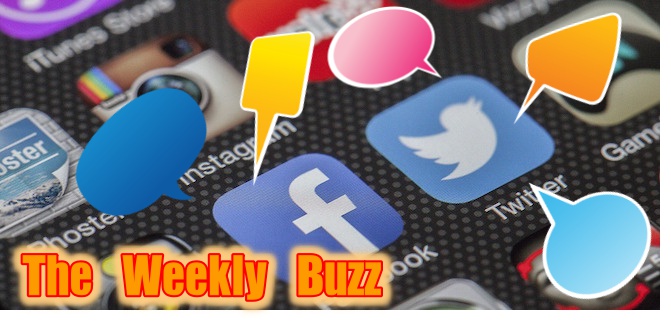 Foxboro, Mass. You will never find a more wretched hive of scum and villainy, and the New England Patriots are no exception to this. Our heroes, the Philadelphia Eagles, are about to meet these cheaters on the gridiron and bring the Lombardi Trophy home to the City of Brotherly Love. I know you're all rooting for the right team. You're impatient for the game to start. So, why not read a bunch of tweets about beer? This is The Weekly Buzz.
From Wentz we came. In Foles we trust.
Fly Eagles Fly.

Did you celebrate with a Gruit?
February 1st is International #GruitDay 🍺 🌿 Here at Avery, we'll be celebrating by imbibing our monastic-style gruits Benedictus and Nursia. Before the celebration, get schooled on this ancient beer style and get raise a glass to our brewing heritage! https://t.co/wSI66XACLo pic.twitter.com/7BqQSky9Ff

— Avery Brewing Co (@AveryBrewingCo) January 27, 2018
---
Time to form a posse!
This chap stole our @Darkstarbrewco Foundation Collection pot earlier today from @lockharttavern in Haywards Heath. Please share and let's find him. Thanks in advance. pic.twitter.com/yVI0NExbZF

— Dark Star Brewing Co (@Darkstarbrewco) January 26, 2018
---
Coming soon to Canton, OH!
We brightened up our Canton location. Still on track for a March opening date. pic.twitter.com/r5uSI7AYu3

— Fat Head's Brewery (@FatHeadsBeer) January 27, 2018
---
This looks like it was a pretty wild time… Get it? Wild?
Welcome to the Wild Beer Roundup 2018. We just tapped Coolship Resurgam 2016. Let's do this! pic.twitter.com/sI0TIlpoOb

— Allagash Brewing Co (@AllagashBrewing) January 27, 2018
From the deep deep stash. Which bottles are you going for? pic.twitter.com/Szl9FWdOy3

— Allagash Brewing Co (@AllagashBrewing) January 27, 2018
A bear is pouring Resurgam. Not weird at all. #wildbeerroundup pic.twitter.com/9tETu0hGUS

— Allagash Brewing Co (@AllagashBrewing) January 27, 2018
Our friends Cumberland Crossing are ripping it up in the brewhouse. #wildbeerroundup pic.twitter.com/f5FPGNNmN6

— Allagash Brewing Co (@AllagashBrewing) January 27, 2018
---
When 39 firkins just isn't enough…
Join us on Feb. 17 for our fifth annual Firkin Freezeout featuring 40+ firkins. More details here: https://t.co/M89cT5FTSd pic.twitter.com/kUfh9pGBkN

— Founders Brewing Co. (@foundersbrewing) January 28, 2018
---
Are you betting on the Super Bowl? These breweries are!
https://instagram.com/p/Befru8VlvIu/
We made a bet that WHEN Philly beats New England, brewers at @SamuelAdamsBeer and @JacksAbby have to put on dog masks and wear green. IF (big if) New England wins, brewers at Yuengling and @VictoryBeer have to wear goat masks and NE colors. GAME ON! https://t.co/vUczaa1CcM

— Yuengling Brewery (@Yuengling_Beer) January 31, 2018
We know the #Eagles are going to win, so why not throw a bet in the mix. @NightShiftBeer – A founder from the losing brewery must pour in the winning brewery's tasting room while wearing their losing team's jersey. All tips donated to the winning team's charity. #bringiton pic.twitter.com/dH1vgjIZx0

— Cape May Brewing Co. (@CapeMayBrewCo) January 31, 2018
---
Have I mentioned which team I want to win the Super Bowl?
https://instagram.com/p/BegXE_3hBvs/
https://instagram.com/p/BeicpPOFaSv/
https://instagram.com/p/Bel11CGF0kt/
---
Happy Anniversary!
https://instagram.com/p/BejEqbxDAMC/
---
They invited a few of their closest friends.
https://instagram.com/p/BelmRQeDET9/
---
That's way better than a pot of gold!
https://instagram.com/p/BelqCO7Aj8S/
---
Has he heard of the light bulb?
In our brewery cellars, we still use traditional tools, like this candle, which we shine through a glass of beer to see if it's cloudy. Clear beer means fermentation has stopped. pic.twitter.com/6gky7Hh4Jg

— Pilsner Urquell (@Pilsner_Urquell) January 31, 2018
---
Just in case flowers and chocolates aren't your thing.
We're celebrating Valentine's Day a little…differently this year. The only thing more romantic than falling in love is being haunted by a deathly curse – so we'll be showing Final Destination, pouring dark flights, and nomming on @speakeasydonuts! https://t.co/4Ischjozqt pic.twitter.com/bByGq8o5lQ

— Night Shift Brewing (@NightShiftBeer) January 31, 2018
---
Did you guys see that crazy moon?!
We're celebrating the #SuperBlueBloodMoon with a #BeerRelease! Our brewers used the moon as inspiration and formulated a unique IPA creation incorporating blueberry, blood orange, and flaked barley with plenty of Cascade, Waimea, Denali, & Citra hops. #LunarSparkles pic.twitter.com/HlTLKNw719

— Sly Fox Brewing Co (@SlyFoxBeer) January 31, 2018
---
Celebrate International Women's Day with this beer!
We proudly employ 68 strong female leaders, a group of whom assembled last week to brew Spirit of Revolt. The Imperial IPA was created in celebration of International Women's Day and will be released on draft at the Tap Room & Brewpub on 2/21. Details: https://t.co/QsQhB54kDc. pic.twitter.com/LoYInyuQQF

— Revolution Brewing (@RevBrewChicago) January 31, 2018
---
Start checking those shelves, AZ!
https://instagram.com/p/Beom6CzFp7U/
---
Be prepared! These tickets are gonna sell quick!
https://instagram.com/p/Ben1648gpHq/
---