No Comments
Inside the Tank | Revolution Brewing Company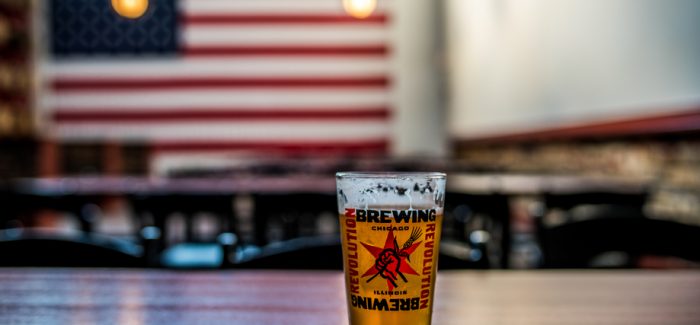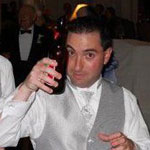 Walk into a bar in Chicago and you're more than likely to see the colorful fist tap handles at the bar. Those fists let you know that Revolution Brewing is on tap and have become synonymous with Chicago craft beer.
After taking a couple of months off, we return with the latest Inside the Tank to feature one of the fastest growing breweries in the city. There was also a twist to this installment because for the first time we sat down with two brewers. Jim Cibak is the Brewmaster for Revolution and oversees all the operations of the brewery but spends most of his time in their production facility. Wil Turner is the Head Pub Brewer and can be found most often at the Revolution brewpub on Milwaukee Ave.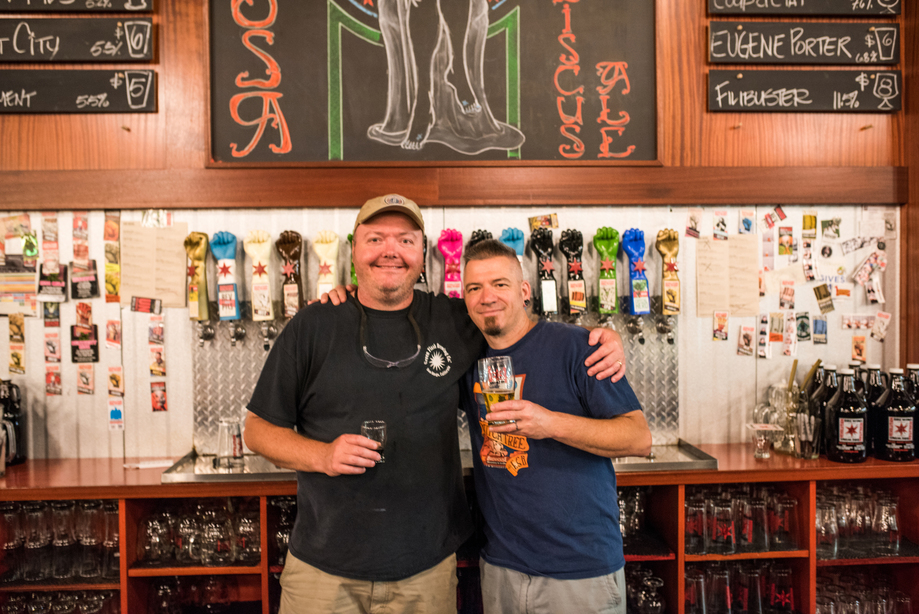 We met up with both Jim and Wil at the production facility to talk more about their backgrounds, Revolution and the craft beer industry as a whole.
How did you guys get into brewing?
Wil: I got into brewing because I got to live in Geneva, Switzerland when I was in high school. I was out there for 2.5 years and got to taste some wonderful beer from all over the world. I came back to the US to go to university and I was looking at schools out in California mostly and I was very thrilled to find Anchor and Sierra Nevada and a lot of other good breweries out there. I started home brewing and got my foot in the door at a small brewpub out in California.
I started brewing professionally in 1992 and one of the places that I invested in went out of business because our restaurant partner pulled out of the project. We had wonderful beer but when you don't have someone to run the restaurant in a brewpub then it doesn't quite function properly. I was hoping to stay in the Pacific Northwest but nothing was available at the time. I had a contact over at Goose Island and I got in touch with Greg Hall. He said he didn't have anything available but the following week a position freed up so it was the perfect timing. I ran the pubs for Goose for about 10 years.
Jim: Living in Rogers Park, going to Loyola University and commuting to business school I use to stop with my buddy at the Clybourn Goose Island brewpub where we tasted a lot of different styles of beer. We really got into it and started tasting microbrews that were made in the United States.
Seeing the brewpub at Goose Island really got me wanting to try my hand at home brewing. We got a really basic home brewing kit and figured it out a little bit more and when I graduated I came to the realization that I was more interested and passionate about brewing and tasting different beers than business. The feeling of making something and being able to share it with people and allow them to taste it and see them enjoy it was great.
When I was at Loyola I went to Siebel and took some brewing courses and that's where I met Nick Floyd. This was before he started 3 Floyds. I started working with Nick at this brewpub in the suburbs called the Wein Keller. He was getting ready to transition out because he was getting ready to open 3 Floyds and this was in 1995. I worked there (Wein Keller) for 6 months and Nick left to start working on 3 Floyds. Then Goose Island opened up their production facility on Fulton Street so I went there, met Greg Hall and started working on the night brewing shift.
I worked there (Goose Island) from 1995-2000 and then in 2000 that was when 3 Floyds expanded to Munster where they are now. Nick and I stayed friends the whole time and I told him when he was ready to expand to let me know. So I went to work there and was with those guys from 2000-2006. Then in 2006 I went out to Firestone to work with Matt Brynildson whom I worked with at Goose Island back in the late 90s.
I went out there (Firestone Walker) for two years and then came back to the area so I could be closer to my family. It just so happened that a friend of mine that I knew from Goose Island and a couple of investors were starting a small brewpub in Crown Point Indiana called Crown Brewing.
The owners at Crown Point and I didn't see eye-to-eye, and at that point Josh (Deth) was getting ready to open Revolution. He had had this plan forever, since we were at Goose Island together, but it was a matter of finding the right building, the right people the right equipment…everything really.
I knew he was a brewer by trade and that was one of the issues I had with the guys I was working with at Crown Brewing. They didn't understand the business, they just had money. Josh loves beer and he wasn't in this to make money, he's always wanted to have his own brewery. He's very passionate about it and he knows what things cost and he wanted to do it right. I knew I wanted to work with him and get Rev started.
Talk about getting Revolution open and having the brewpub before the production facility.
Jim: We were finally able to open the brewpub in February of 2010. It was a long build out and a long process. Josh was always wanting to do a production facility because the brewpub just wasn't realistic to support any kind of real volume. When you serve beer it's always better to serve it on premise to make the most money you can.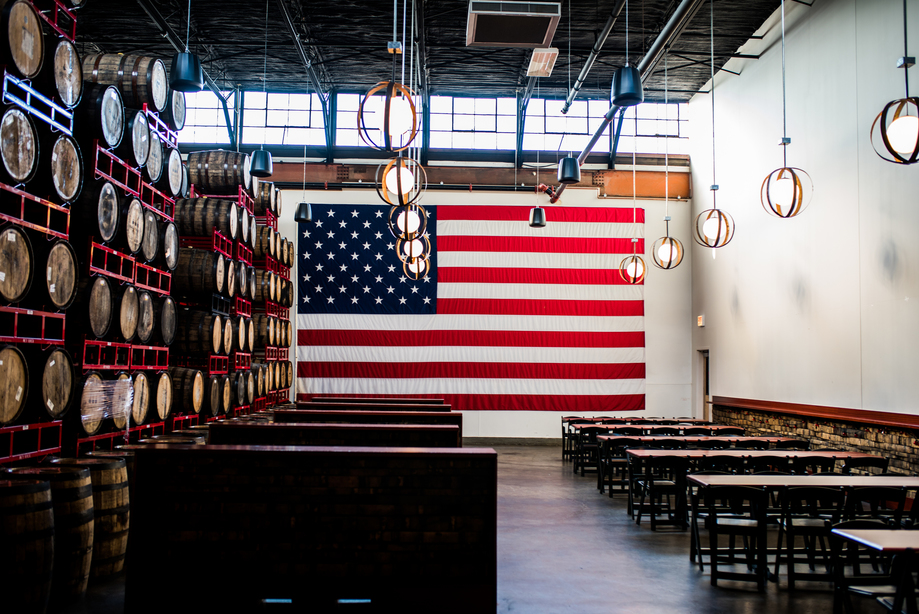 It's actually nice to have a brewpub first because it's a great way to introduce people to your product so that way when they do see it in a restaurant or a can they recognize it.
What was the first Revolution beer?
Jim: The first beer was Working Man Mild Ale. It's still one of my favorite beers. Wil and I have a love for traditional styles of beer. We can make some big crazy beers as well, but our true love and passion is for drinkable sessionable beers. If people forget these styles of beer they will be forgotten. They are a huge part of brewing history.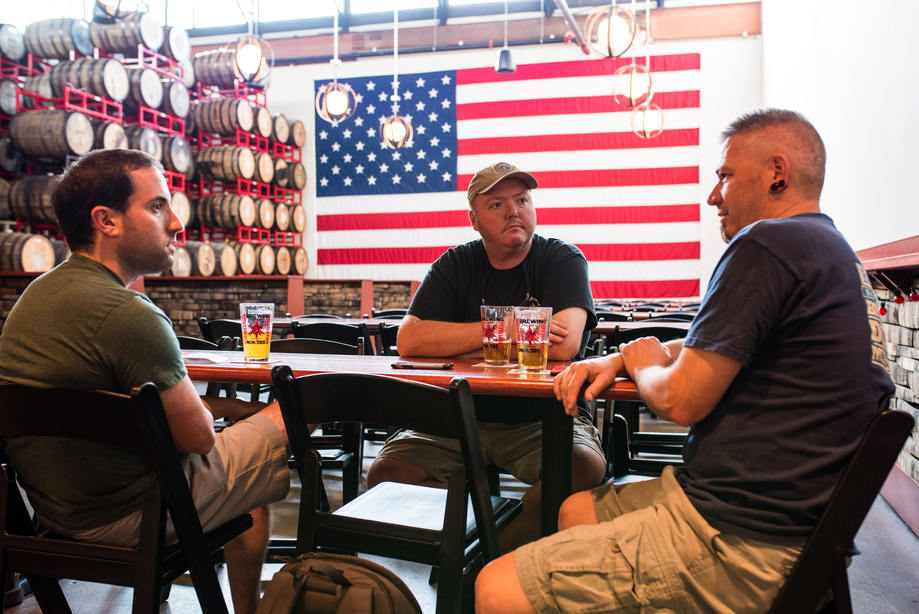 Wil: I really like that beer because I got to work in England brewing for a couple of years. I got to learn the classic brewing styles which was great. The whole craft beer revolution now is all bout more flavorful beer. People just add more malt to make it more flavorful and when you add more malt you have more fermentable sugars then you have higher alcohol content so then then you have to balance that with more hops so these beer started getting bigger and bigger and bigger.
But going back there (England) you realize that you can have really flavorful beer at 4.5%. That's one of the things that I like to do at the pub. I like to always have an ordinary bitter or a mild or a light lager for us to drink.
Jim you're the Brewmaster and Wil you're the Head Pub Brewer. What are your day-to-day roles like?
Jim: One of the wonderful things about having Wil is that when we knew he was going to be at the brewpub we would have nothing to worry about. He has a long pedigree of making fantastic beers. When he first started he would let me know he was thinking about doing a specific recipe and I just told him he didn't have to ask me. Whatever you want to order you just fucking get it. That's why you're here – you have the experience. I don't want you to feel like you have to stick to these recipes. If there's anything you want to improve on any of the beers at the brewpub that's your baby now.
Day to day for me here…people think we probably just sit around and do recipes. That's actually a very small part of what I do here. Most of the time it's a matter of logistics. It's scheduling and making sure we're getting silo fills to keep the brewery rolling. If there are any issues, we need to stop orders or move orders up. Make sure we have the proper amount of yeast and make sure batch numbers and brew numbers are right – it's a lot of logistics.
Recipe formulation is an important issue as well, but we don't tend to brew as many styles of beer as Wil does at the brewpub. Here when we brew something, if we really like it we try to keep it as consistent as possible. We want to replicate the same beer over and over again and that's very challenging.
Wil: Getting to run the brewpub was one of the reasons why I came over to Revolution. I had run the pubs for Goose Island for many years. I was promoted to senior brewer and so I was working at Fulton/Wood for about a year and a half and I ended up getting stuck in the office.
My job consisted of figuring out when the grain silos were going to run out, figuring out when we have spent grain pickups and all the ordering. I didn't get a chance to get into the brewhouse as much as I wanted. That's why I approached Revolution when I found out that Jim was going over to start the production brewery.
If he was going over there who was going to run the Rev brewpub? At that point they didn't have anybody so I said I would do it. I like the pub because I'm a little more physically active and I get to do a little bit of everything. I get to do the recipe formulation and a little more creativity on the small scale. I'm still working in the cellar working with kegs, filling kegs, cleaning kegs, being much more physically active than I was over at Goose sitting in an office all day. For me I'm happy being in the role of pub brewer.
Opened in 2010 makes Rev one of the older breweries in Chicago. How has the industry changed since Rev opened?
Jim: There's definitely way more breweries, and even more in planning. We're getting to the point where there's a brewery in every neighborhood. It's kind of like how bakeries use to be with everyone having their own local bakery. Every neighborhood has a brewery and that's really a great thing.
You can focus on having fresh beer. You can walk to breweries from your house. Before breweries were so few and far between you would have to make a pilgrimage to them. Nowadays, especially being in the city, you can go out all over and visit these breweries. It's fantastic getting to try all these beers and styles. I think at Revolution our style is more traditional with going outside the box a little bit. As I said before it's important to keep brewing the traditional styles, otherwise they'll be forgotten about. Everything would just be an IPA, a double IPA or an Imperial Stout.
We don't go out of the box too often with experimental ingredients. We do the Rosa that has hibiscus in there and we've done a few other experimental things but it's on a very small scale basis. We've never leaned on that – we like to be a little more traditional with our brewing.
Even our intense beers we try to have a little more balance to them. You can always balance intensity no matter how intense it is and I think Wil is fantastic at doing that. That's what we're always shooting for here as well. After all brewing is a volume business and you don't want to make something so unique and crazy that someone can only drink a tiny little thimble of it.
If you're opening a new brewery in Chicago what do you need to do to be successful?
Jim: I think touching on what we talked about already, you have to have a lot of varieties of styles. You have to have some sessionable beers and then you need to have bigger beers. That's something we've always done. The lowest beer we've had was the table beer down in the  2% ABV range. All the way up to the barrel-aged barleywine which is 13.5%. In between those two there are a tremendous number of beers and styles. We like to mix it up and have some heavy hitters and have some sessionable stuff. We don't want people to come in and then have everything be 10-12% alcohol. I think that eliminates all these other great styles that we really love. I think it also provides a disservice to the consumer, especially if they are trying to drive anywhere. You have one beer and you're going down.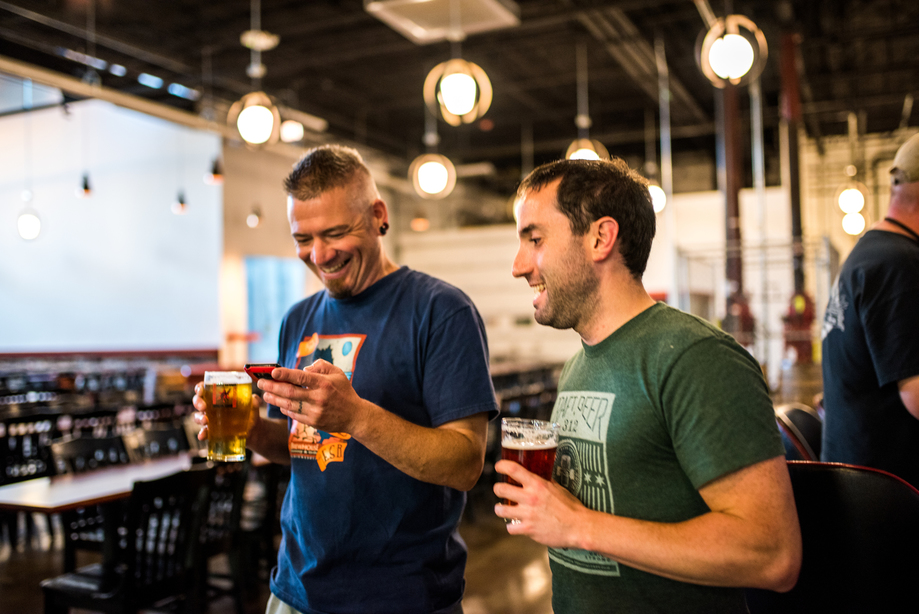 Wil: The Belgian Table Beer we did was called Midi – which means mid-day. If you're out having lunch or something you can have a nice 2.5% Belgian table beer.
Jim mentioned before about having the neighborhood breweries. There are so many people that aren't familiar with what's going on over the last 30 years. People thought that this growth and trend was going to die out. But not everyone can have the growth that Revolution has had because it's insane. It really is.
But why can't every neighborhood bar make their own beer? It's nice to have a variety of things for people to choose from but at the same time you can focus on something specific. Doing all cask beer or all German stuff and just having 2 or 3 really good beers. There are so many successful breweries out there and there are so many different business plans.
What's the biggest threat to the craft beer industry?
Wil: Shitty beer.
Jim: Definitely quality and consistency are very important. I always allude to the brewing industry expanding like expansion in football or baseball. The more teams that expand, there's only so many people that are qualified to play in the NFL or MLB. I feel like that's the same way in brewing. It seems like it's very easy and everyone wants to do it. Before you told someone you were a brewer and they were shocked, now who's not a brewery – everyone's a brewer.
That's the way I look at. I'm not trying to criticize everyone. I guess it depends what you're focused on. If you want to keep it simple and have a small brewery with one or two beers that's one thing, but if you want to start packaging your beers that's another. You have to be very serious because that's very challenging.
Wil: There's no sense in saying Chicago has 100 breweries and 60 make good beer. That means we have 40 shitty breweries – we need to make sure we're all making good beer. It's important that we have good relationships with everyone and if anyone has questions we always let them know that we're a resource for them.
I get a lot of emails from other brewers asking for help and I'm always doing the same thing. We're going to do a kettle sour soon and I've been in touch with a lot of people who have been doing it successfully. If we're going to do it I want to make sure we're going to do it well. Sharing information is very important. We need to make sure everyone in Chicago is making good beer because if 2/3 of the new breweries aren't making good beer it's not going to reflect well on our industry.
Jim: We really are a close-knit group. It's really odd and people in other industries find it hard to believe that if someone has a problem with their fermentation and they need some yeast and they call us then we fill a keg of yeast for them. Any other company would be like "good luck."
Sharing information and raw materials is critical because everyone knows that the more we help each other make the best beer it helps strengthens the industry as a whole and that's the way we look at it. We don't have the mindset that we as Revolution want to grow to be the biggest brewery in Illinois and put a little cigarette out on everyone else.
As brewers, not only in Illinois, but across the country, everyone making better beer grows the industry and makes it stronger. Anyone who likes beer, when they travel to any state they want to try the local breweries there. That's only going to happen if the quality and industry stay strong.
Earlier this year Greg Underhill, Revolution's Director of Retail Operations passed away suddenly. You got a huge outpouring of support from the community.What did it mean to see the craft beer community come together to support the brewery?
Jim: We miss Greg very much. He was an integral part of Revolution and was here at the brewpub from the very beginning. Wil and Greg were buddies for a long time and he was a huge part of Revolution. He touched a lot of people and he was very kind and generous person who had a lot of friends out in the industry. Everyone was very happy to have different events in memoriam for Greg and to help raise funds for his wife as well to show what a great person he was and what he's done.
Wil: It was a very nice outpouring from everyone in our industry. We got tons of cards, flowers and donations for the foundation that was set-up. I worked with Greg for 10 years – going back to when we were at Goose. My girls know him as well as anyone. He and his wife would come down to our place for Easter or St. Patrick's Day.
It was a very difficult loss and it was very nice to get a bronze medal at World Beer Cup right after he had passed. That was a big emotional time for us. He wasn't there to see it and that was really sad. It was great to have him as part of the Rev team, the Goose team and to have him in our lives. He will always be missed. We still need to brew a special beer for him and we will do that.
What's your favorite style of beer, favorite Revolution beer and if you're not drinking Rev what are you drinking?
Jim: I love to drink seasonally. I don't have one particular style. In the summer I'll drink stuff that is lighter and crisper. Beer is so vast with so many styles; I don't like to get stuck drinking one specific style. I do tend to gravitate back to pilsners, pale ales and IPAs but I also love a good porter or oatmeal stout. That really gets me excited about brewing.
I don't know what it is but seeing that dark beer in the glass is so against the grain of what I saw people drinking beer growing up. You're so use to seeing that golden straw beer to see this creamy head, pitch black beer was so cool.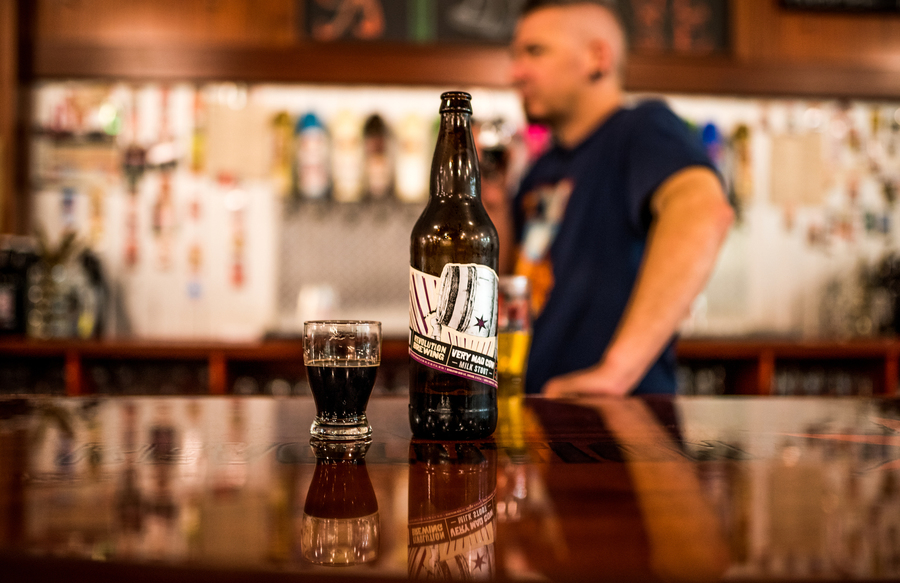 My favorite Revolution beer, that changes too. I was a big fan of the Working Man Mild Ale because it's so sessionable. No one really cares about mild ales but we brewed it because we like it. We really don't give a fuck if you like mild ales – we do – so we're going to brew it.
When I'm not drinking Rev I always fall back on my favorite breweries. I drink a lot of Firestone, 3 Floyd's, Sierra Nevada. If we're in a different city or state I'll drink whatever is on tap there. Drinking local and fresh is super important and that's the name of the game. It's almost a guarantee now if you go to a brewpub you'll find a nice beer on tap.
Wil: I'm partial to the beers that I make for my daughter and for my wife – those are always special to me. I do an American red ale for my girls. We use whole hops and they help me harvest the hops that we grow at our house. That's a style that I really like – a good red ale with good hop character.
It really also depends on what I'm doing. If I have things to do, I'm drinking lower ABV beers like Working Man Mild, if I'm going on a motorcycle ride I maybe have one and that's it. If we're all just hanging out and I'm taking the train maybe I'll step up to a nice IPA or something a bit bigger.
As far as other people's beer I'm a firm believer in drinking local. Anytime we're on vacation anywhere I want to see what they got. When I was with Goose and would be traveling, people would be shocked that I didn't order a Goose beer. I would tell them that I get that all the time. I always like to drink the local beers and support the local brewers and see what they're doing.
We're sitting in the shadow of hundreds of barrels. Your barrel program has grown exponentially.

 

Issues can occur to any brewery and they have. But seeing what has happened to Goose and Bourbon County Brand Stout – the forefathers of barrel-aging – what goes through your mind?
Jim: It really made me sad to hear about it. I know there are so many people working incredibly hard to make that beer. Like you said it can happen to anyone and it's happening at Goose, a brewery that has a huge lab and strict quality control. It just goes to show you that it can happen to anyone. We've been tightening up the reins on our barrel program by increasing sampling and plating of beers to make sure that nothing is growing in the barrels.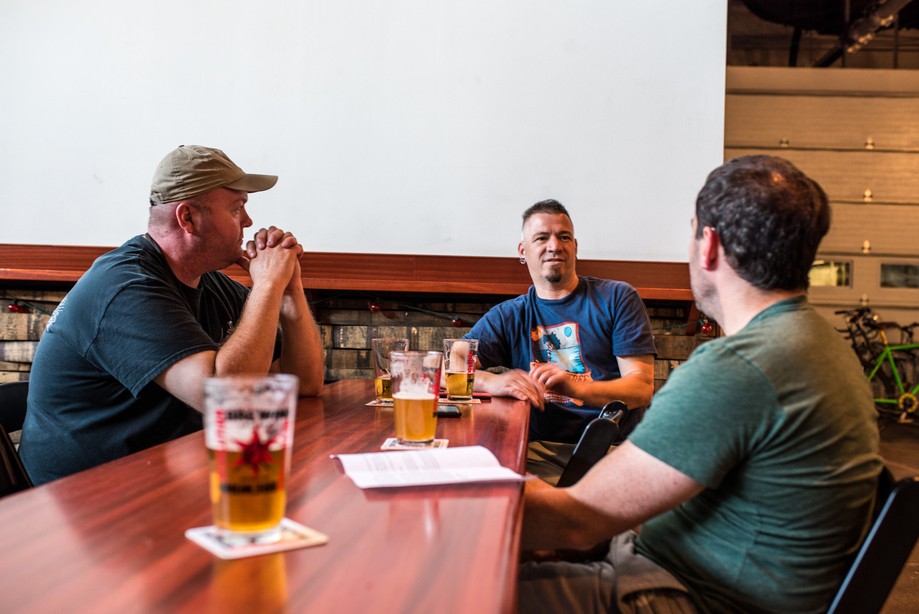 Before when we were getting barrels from distilleries they would be sopping with bourbon. Nowadays, kudos to the people at the distilleries, they are getting smarter about saving as much bourbon as they can. Why would they be giving their bourbon away to brewers? They are rinsing barrels, washing barrels and trying to get as much bourbon out of the barrels as possible. That's detrimental to us because that alcohol acts as a sanitizer for the barrel.
Wil: I was at Goose when we had the issue with the Matilda recall. When you're that big you're going to get more flack for it. Once again that's kind of why I like to be at the pub.
When I got back from Switzerland I wasn't 21 yet. So I could work for Liquor Barn and talk about Chimay and write descriptions for them but I couldn't technically drink those beers but I was able to work there. For me that was one of the experiences that I really got to see what happened on the shelves. No one had born on dates, bottled dates or best by on their packaging so with all the old price guns we'd put stickers on individual bottles. I would put the date that we received that beer from the brewery and tag them so we could rotate the stock properly.
From those early days being 18, 19, 20 that's always been in my brain. Once you send your beer out to the market you're relying on so many other people. You hope that they will be as passionate about it as you are – but most aren't.
But that's why I like being at the pub. At the end of the shift I go out to the bar and I can get immediate feedback from our customers. If we do have an issue at the pub it's not in a bottle, people aren't going to cellar it for 5 or 10 years. They'll drink it and enjoy it. Once you send it out to market you have no idea how people are going to treat it and how it's going to sit.
What are your thoughts of AB In-Bev and MillerCoors buying up smaller craft breweries?
Jim: When you start a business you have a mindset of eventually either passing that off to a family member or retiring. When people have sold their business I don't look down on them for doing that. That's smart business really. It's hard for someone to say they won't sell their brewery and then they (potential buyers) come back with a number on a small piece of paper.
I think it's nice if you can have a brewery, be independent, own it and keep it in your family. The reason people start breweries is because they want to do their own thing. They want to make whatever kind of beer styles they want and brew whatever they want and you don't want anyone telling you different. If Josh wants to do something he'll come in here and give me a suggestion. If it's a great idea I'll tell him that and it's not a great idea it's his brewery so we'll do it.
The big reason Josh has his own brewery is because he wants to do whatever he wants. If someone (who buys a brewery) says they're not going to change things or do things differently that's bullshit. Once someone has skin in the game it's more about the money. Me personally, I hope Josh would not sell the brewery so we can stay independent and keep doing our own thing.
I think Goose Island was looked upon as Chicago's craft brewery but not really so much any longer now that John and Greg are not involved. I respect the hell out of those guys and love them. They are true friends, but once Goose Island was bought out by AB InBev now I feel like other breweries are moving into that slot of Chicago's craft brewery like us and our good buddies at Half Acre, Pipeworks, Metropolitan and Off Color.
Wil: I hope a lot of the places stay independent. I don't like the idea of them getting bought out. I left right as the transition was happening at Goose. We were told that certain beers would still be brewed in Chicago but guess what – now they're brewed out on the East Coast or wherever. That's the thing that made me sad.
We did a lot of triangular tastings to make sure the taste was consistent when they were starting to do the contract brewing. Early on we did these tastings and would have the one we brewed and then two others that they brewed and the two they did sucked. But to their credit they did a good job. They continued to do the testing until it got to the point where some people couldn't tell which was which. They didn't just release the first batch. On a personal level it makes me sad that some beers aren't brewed in Chicago.
Jim: We don't want people working hard to grow this industry for so long only to have every brewery in this country be owned by two main breweries.
What's next for Revolution?
Jim: Here our brewery has been in a massive growth phase. If you see the physical brewery, the way it is right now, that is not going to change. Maybe our packaging will change but our fermentation capacity will be outside in our larger fermenters. We don't want to destroy the aesthetics of this brewery. It's a very pleasant place to come visit and tour.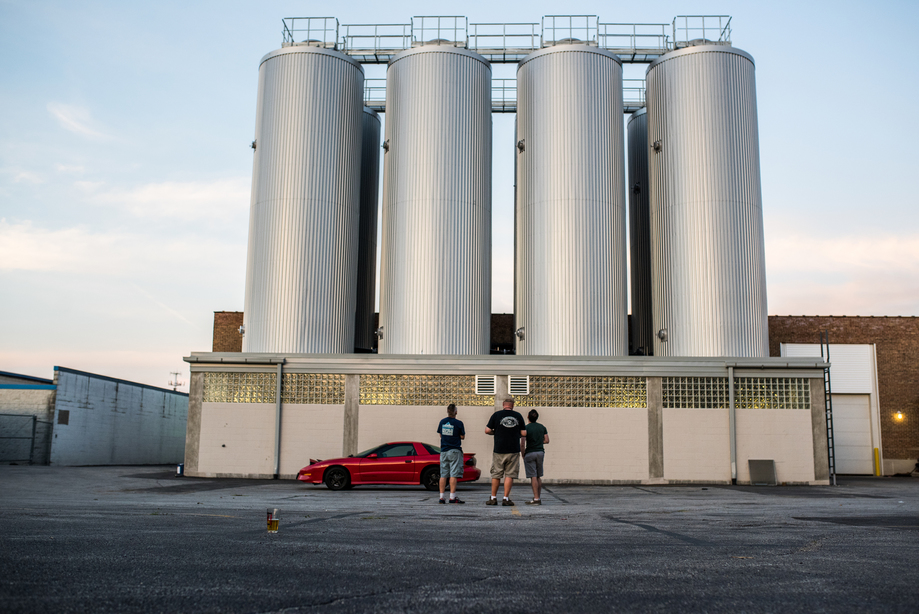 We'd love to keep expanding (distribution-wise). We look at Illinois as our main market and we're sprinkling so little beer out of Illinois even as much as we're brewing these days. It's hard to say where we'll end up this year but we'll probably be around 80-85,000 barrels out of this facility. That's with sprinkling a very little bit to Wisconsin, to Ohio and to Massachusetts.
Our head of sales is talking about opening up New York, but just a little bit out on the East Coast. Primarily though we want to be selling our beer in Illinois – we're a Chicago brewery. People know our beer, our brand and hopefully our beer will be consumed as quickly as possible.
That's important especially when you're brewing hoppier beers, you want to make sure they are consumed as quickly as possible. I really think that people shoot themselves in the foot because they like to have cellars. They ask me what's in my cellar and I'm like "wine." They are surprised I don't have beer in my cellar and I don't give a fuck about aging beer at all. Once we decide as brewers that it goes into the bottle you need to drink it right now. If you decide to sit on it for five or ten years that's on you.
Wil: I mentioned we're going to do kettle sour coming up. The yeast should be here on August 11th and the brewing will begin the following week. We've got everything going into the fermenters this week and next week for Great American Beer Festival. We just had the floors redone so we didn't have a brewhouse for six weeks. We are scrambling getting everything ready for GABF. I'll be judging for GABF this year and I like taking the time to get some liquid inspiration. I like to judge certain categories that I'm curious about doing. When we enter a beer in a specific category obviously I can't judge that one. This year we didn't enter Working Man Mild so I want to judge the mild category. We're working on a lot of new beers at the brewpub which will be great.
MIKE ZOLLER IS THE CHICAGO EDITOR FOR PORCHDRINKING.COM. FOLLOW HIM ON INSTAGRAM: @CHICAGOBEER AND PORCHDRINKING CHICAGO'S TWITTER FEED: @PORCHDRINKCHI
---