No Comments
Slice Beer Company | Turbo Nectar Hazy Double IPA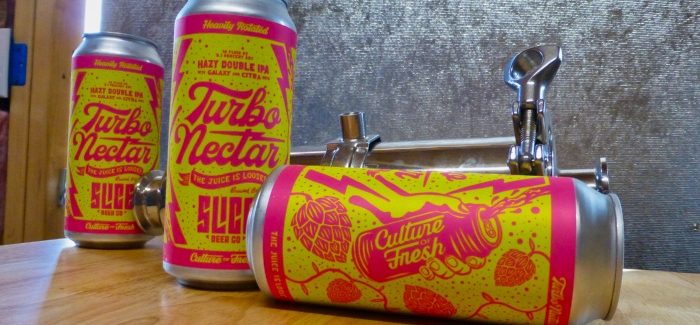 Slice Beer Company opened their doors in the fall of 2019. The brewery is led by two guys that are well known in the Northern California beer scene, Zack Frasher and Russ Yeager. Frasher was previously the head brewer for Moonraker Brewery and Russ was the marketing director and beer program manager for Old Town Pizza.
Located in Lincoln, CA, they have an intimate tasting room that only seats 32 people. This cozy, 500-square-foot space is bound to become a destination for beer lovers traveling to Northern California. Slice Beer Company brews on a 10 barrel brewhouse that allows them to provide fresh, high-quality beers that are constantly rotating to keep even the most jaded IPA enthusiast satisfied.
Turbo Nectar Hazy Double IPA utilizes both Galaxy and Citra Hops in this 8.1% ABV beer. The beer is a light golden haze in color but pours out clean and well carbonated.
https://www.instagram.com/p/B8Wu_5cJZmb/?utm_source=ig_web_copy_link
The aroma hits you with a massive stone fruit punch. Along with the fruit aromas, you get an overall sweetness. The first drink confirms the stone fruit, think slightly under-ripe white peach. There is definitely a bitterness to this hazy, but it's soft and dissipates quickly. You might notice a touch of alcohol sweetness but is much more subdued than a more traditional DIPA.
As you drink this beer, there are some pineapple flavors that begin to show up and compete with the stone fruit flavors. This beer is so aromatic and full of the hoppy fruit flavors as you would come to expect from a beautifully crafted hazy IPA. This beer drinks incredibly smooth and effortless, making this DIPA a bit dangerous.
Slice Beer Company might be new to the scene, but they are the real deal. Just back from San Francisco Beer Week, They picked up top honors with the people's choice in both the Double and Triple IPA categories. No other brewery can make this claim.
---