No Comments
Yards Brewing Company | Jefferson's Golden Ale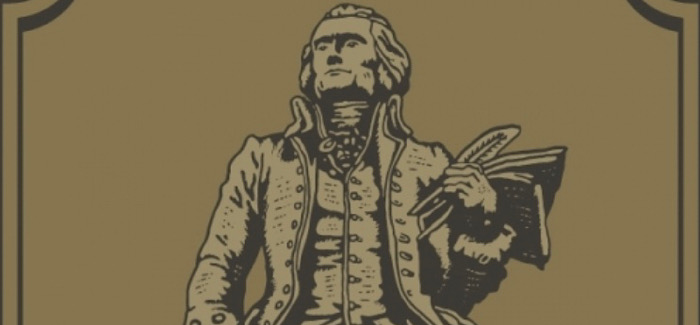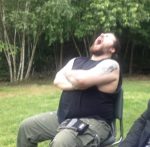 Philadelphia: The city of brotherly and sisterly love. Whether you live in Philadelphia, the surrounding area that wishes it was Philly, or are just visiting, the significance of the history of the eastern Pennsylvania city is undeniable. From statues of individuals such as William Penn, John Barry and George Washington, to the bricked neighborhood of Old City and an almost deity like appreciation of Benjamin Franklin, the 300+ years of history are sure to include beer as well. Yards Brewing Company, in the city's Northern Liberties neighborhood, thrives off the old world tradition of beer styles with Jefferson's Golden Ale, formerly called Thomas Jefferson's Tavern Ale.
From Yards website:
"This complex golden ale pays homage to Founding Father and brewer Thomas Jefferson. We recreated his recipe employing honey, rye and wheat, just like the beer brewed at Monticello, (Jefferson's estate) during his time."
Created in 1999 in collaboration with City Tavern, a site of a former 18th century tavern which specializes in recreating 18th century recipes. 
Jefferson's Golden Ale
Part of the Yards' "Revolutionary" beer collection, Jefferson's Golden Ale is an 8% alcohol by volume English Strong Ale. Brewed with flakes oats, rye, wheat and maize, it clocks in at 42 IBUs with an O.G. of 18°P, and it also includes local honey from Fruitwood Orchards. The ale is available year-round in 12-ounce bottles, six-packs, sixtels and as part of the Ales of the Revolution variety pack.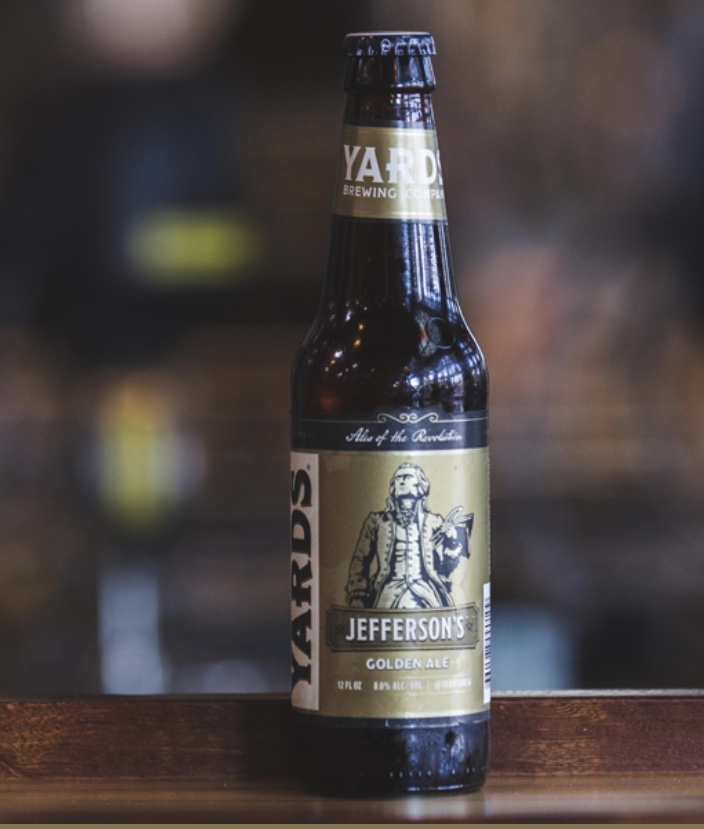 The beer pours a deep gold with a light bronze hue. There is little to moderate visible carbonation and an off-white head, which turns to splotchy pockets of bubbles on top. Smells of caramel, maize, molasses and biscuit fill the glass with small traces of alcohol. There is also a minimal fruity aspect, presumably from either the yeast or alcohol fumes (pear, honeycrisp). Upfront you will taste the maize but do not get it twisted, it is pleasant. Brown sugar and alcohol follow with well-done biscuits and a subtle citrus pith behind it. The texture of this golden ale is hefty and hot while remaining crispy.
In Conclusion
Jefferson's Golden Ale is big and beefy, with plenty of flavor to drown out the noticeably hot 8% ABV (which subsides as the beer warms, for those who mind the strong finish). This is perhaps a one-and-done brew, unless you can handle your booze or pair it with hearty foods such as sausages, strong cheese and root vegetables. This beer can definitely hold up against citrus salads and strong herbs as well; it is definitely relaxing and old school. Jefferson's Golden Ale is personally one of my all-time favorite beers and Yards is one of my favorite brewers for that matter. No punches pulled here; this is a classic example of less is more: A historical recipe given new life by those who love beer and the city of Philadelphia.
Photos: Yards Brewing Company
---