No Comments
Inside The Tank | Brewery Faisan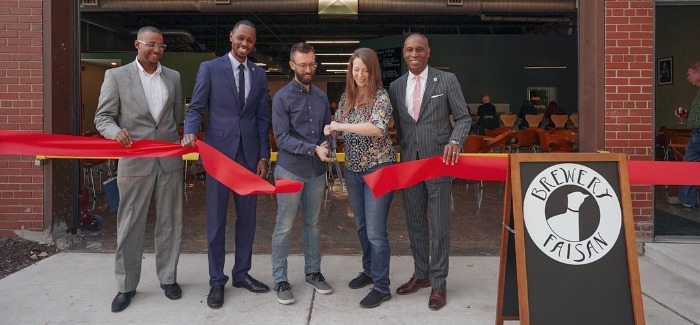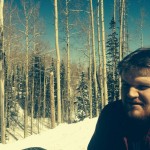 The Coronavirus pandemic has touched every part of the nation, from how we meet, work, play, and come together. As an industry that relies heavily on building relationships with consumers, craft brewing has been especially hit hard. We have reached out to find out what its like to try and keep business thriving while the country remains largely indoors. Paul and Rachel Szlaga of Brewery Faisan, located in an eclectic Detroit neighborhood, were nice enough to take some time out of operations to speak with us about what it's like to be operating in the midst of the uncertain.
Brewery Faisan is a nifty little spot that opened in Detroit, Michigan last year after years of scaled planning. Located in Islandview (named because its proximity to the Belle Isle park), a spot comprised of a mix of industrial use, homes, and grasslands that used to be home to other structures. The spot is also nestled between Lafayette Park, a large-scale planned neighborhood that hosts a concentration of mid-century modern coops, and West Village/Indian Village with massive manor homes and a burgeoning business thoroughfare in line with the proposed "20 minute" communities that the city has tried to build.
Brewery Faisan's name is an acknowledgement of the numerous pheasants that wander the open areas of Detroit and a nod to both the city's French history & the brewery's Belgian Flair. They've been able to incorporate a lot of Detroit into their brewery too—with design nods to the Art Deco architecture and Arts & Crafts movement that built up the city in it's boomtimes.
The following interview has slightly edited for ease.
Brewing in the D
You two lived in Corktown for some time before opening your own brewery. What did you learn watching Corktown blow up as an "it" neighborhood that prepared you for opening your own Brewery?
We learned how quickly things can change living here. What we experienced in Corktown was also happening throughout the city and especially in the corridors that the city itself has recently invested in, and it gave us many insights and expectations. This was mainly expressed in how we approached property owners and what we considered realistic when we were in the process of securing a space.
As much development as we have seen in Corktown, speaking as residents, there is much to be desired as far as grocery or other essential type businesses. While coffee shops, restaurants, and salons are great, we still venture out of Corktown for many things. This experience resonates throughout the city. Our community at the brewery is made up of a ton of Detroiters (a lot from the east side) that love having a place to visit down the street.
How did the city and its current offerings influence Brewery Faisan's approach to brewing and design?
We love Detroit and wanted to elevate its beer scene. Detroit's vast amount of industrial property perfectly suited for our model of a brewery, which is production-focused in an open and raw space. We also felt that most breweries in Southeast Michigan are essentially restaurants, which is totally fine, but we wanted it to be clear that making beer is our primary focus.
Speaking of that focus, Rachel did an interview with the podcast Daily Detroit. you mentioned how a brewery acts as a destination that brings people to an area as opposed to a business requiring pre-existing foot traffic. How have you seen the area change as you developed the business?
The changes that are occurring nearby we wouldn't necessarily take any kind of credit for. We've seen a lot of work being done around the large monastery to our northeast as well as new developments all around the near east side. Being a destination in Islandview is something that's been very rewarding so far.
Our hope is that Brewery Faisan sparks some further investment in the neighborhood. We've heard rumors of things in planning. It's exciting and something we look forward to, but we do love the neighborhood as it currently is.
How often do you guys get a visit from your namesake 'faisans'?
With the wooded area across the street we see and hear pheasants ever day!
Beer in the Time of Corona
You are currently doing curbside pickups three days a week (Tuesday, Thursday, Saturday from 4-6 pm). What has it been like to reset your business plan to adapt to the unplannable? How has curbside sales been going for you guys?
Due to the three-tier system in Michigan, distribution is pretty much unfeasible for small breweries. Because of this, our plan had focused on sales through our taproom and it didn't include any large-scale packaging equipment like a canning line. Switching to can-only sales has been difficult since all our canning is done manually from our taps with a one-at-a-time, bench-top can seamer.
We have to carefully pace our orders to make sure we can keep up. Having enough orders coming in to challenge us is a good problem to have and now we have systems in place for managing everything. People have kept their interest in us and we are very grateful to the community.
Unlike a lot of other craft breweries, you guys are selling kegs to go as well. Has anyone bit that bullet yet? If I had known how long this would go I probably would have bought one back in March.
Yes! We've sold quite a few sixtels to customers.
We're currently under stay-at-home orders from Governor Whitmer but we are seeing states re-open businesses around the country. How do you plan to adapt for the next year while we wait for effective treatment or vaccines? Have you had to change your production plans at all?
We are very concerned with putting people at risk and what it means moving forward in a safe and responsible manner. The future is uncertain, and we are thankful beer can be packaged to-go and remain stable for months. Although the margins on a can are smaller, people buy more of them, so our overall volume and production needs are about the same.
Like many, we are paying close attention to the recommendations from Governor Whitmer's office and the actions of our peers. If we can comfortably get to a point where having a lower capacity and potentially an expanded patio/beer garden, we would consider that down the road. Regardless of what form our taproom takes in the future, we will continue to do the curbside pick-up to accommodate as many folks as we can.
Which beer has been your quarantine go-to?
Our Landfowl – Hoppy Kolsh and Brew Detroit Yum Town.
Continuing Community
How have you seen your own community dealing with the pandemic?
The Capuchins and Gleaners Food Bank are both up the street from the brewery and the work they do is truly vital. The Capuchins have been struggling with how to get their meals to the people they normally serve in their soup kitchen. They switched to boxed meal handouts. Gleaners is largely volunteer-based and we did see some postings for jobs as this began to keep up with demand and to help get meals to essential workers.
We appreciate the breweries/distilleries that are re-purposing their equipment to make hand sanitizer. Occasionally, we get an inquiry about it, but we don't have the distilling equipment necessary.
Brewery Faisan has done a lot collaborations and hosting of pop up restaurants and artists in the past. How has it been trying to continue this collaborative spirit while distant?
It's something we miss dearly and will need to figure out a way to incorporate into our limited business. Without a kitchen here at the brewery we leaned heavily on food trucks and pop-ups and know many of them are struggling. Our taproom was community focused and we hope one day to have that again. We launched a virtual version of our planned Wise Pheasants Run Club which is a Tuesday evening collaboration with The Wise Decision gym. We are hoping to foster some community through virtual participation.
One collaboration you were able to get in before the stay-in-place orders was Unladylike, the Lavender Lemon Honey Witbier. Rachel, you worked on with an entirely female team from Eastern Market Brewing Co and their recently opened Ferndale Project. What was it like to work with a full female team in a industry that's very much majority male.
It was wonderful. The EMBC/Ferndale Project team approached me about doing a collaboration for International Women's Day 2020 and International Women's Collaboration Brew Day (Unite Tribute) because they do not have a female brewer on staff. Women from all three breweries met up to discuss ideas for styles and names and we collectively came up with Unladylike. Part of participating in Unite Tribute is to tribute the beer to something inspirational. Our inspiration lies in the use of lavender is a nod to the Lavender Menace, a lesbian protest group from 1970 that fought for the inclusion of lesbian rights in the Women's Lib Movement. Brew day was a huge success. This super refreshing Spring beer is available just in time for Mother's Day.

You guys are on the brink of your first warm weather season. As the last beer stop before hitting Belle Isle, what beer in your stable do you recommend for people as they begin to stretch their legs and venture outside again?
We had been daydreaming all winter about or patio and of having the big garage door open during taproom hours. We've been enjoying the Unladylike with the spring weather. It's super clean and refreshing.
Brewery Faisan is located at 1087 Beaufait Street, Detroit, MI. For beer-to-go orders and merchandise, visit their website here. Click the link if you'd like to learn more about the work of Gleaners Community Food Bank or the Capuchin Soup Kitchen mentioned above, please click the link provided. 
*Feature image from Brewery Faisan Social Media Channels