One Comment
The Sweet Tastin' Good Life Is so Easily Found | Over Yonder Brewing Company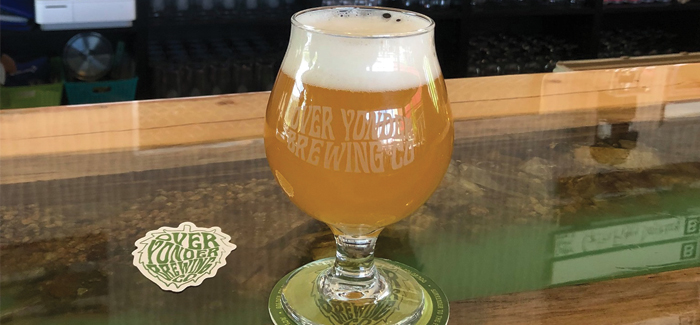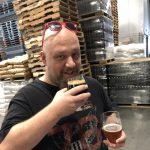 Perched above the Denver metro area at the absolute foot of the Rockies, Golden's Over Yonder Brewing waits with propped-open doors and beers to-go at the ready. Inside, a colorful mural and projector screen (playing a live concert stream) welcome its socially distanced pickup patrons. Upon greeting co-founder and head brewer Jason Bilodeaux, we (OK, I) forget briefly not to shake hands and then we go in for the elbow-five.
Sunrise Over the Turquoise Mountains, Messenger Birds in Sight
It's a beautiful area, surrounded (literally) by rolling foothills, strategically located closer to Red Rocks Amphitheater than any other brewery in Colorado.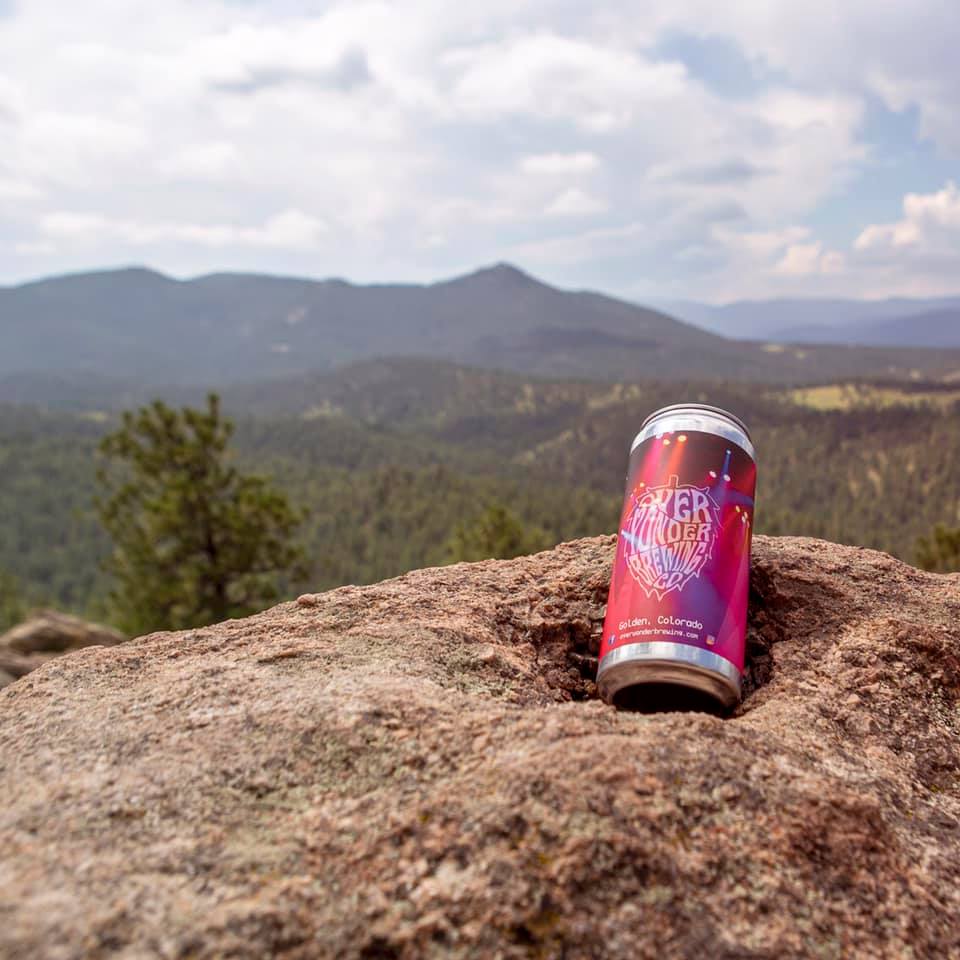 "In addition to being closest to Red Rocks, we placed ourselves super close to the I-70 exit, dinosaur lots and local trails since we draw in the outdoor enthusiast crowd as well, which we are a part of ourselves," said co-founder (and Jason's wife) Jessica Bilodeaux.
Jessica, originally from New York, moved to Colorado in 2001. That year, she went to Great American Beer Festival for the first time, and it was there where she met her future husband. As the couple's love of craft beer grew, Jason casually tried his hand at home brewing, which quickly became a passion, then an obsession and now a profession.
Up until shelter-in-place became the norm, the nearly brand-new brewery was a haven for craft-drinking, music-loving fans from Colorado and all around the country. Over Yonder's proximity to Red Rocks is a part of their identity, but there's obviously more to the charming room than its geography. Ashleigh Bilodeaux, co-founder and head of marketing and sales (also Jason's sister) describes Over Yonder as "a musically inspired brewery with killer beer that just happens to be in beautiful Colorado right down the road from Red Rocks. Staff and visitors are super friendly and fun to be around. The vibes are laid back and funky which creates a fun atmosphere. We have so much love for music, local artists, the outdoors and especially innovative, fresh, clean, creative beer."
Siblings Ashleigh and Jason are Colorado natives, which seems like a bit of a rarity after the post-2014 Colorado population boom. During the time of COVID-19, there's not much energy in the tank to worry about the whole native vs. transplant thing, so Jason has some friendly advice for all Colorado residents:
"Embrace Colorado and enjoy everything this great state has to offer. Also, respect the state by taking care of the environment, keep the mountains pristine, and please pick up after yourself. Colorado is a very entrepreneurial state. Please support all the local small businesses as much as you possibly can. We absolutely depend on your business and greatly appreciate your support."
In addition to Over Yonder's own lineup, Jason also encourages Colorado residents and incoming craft beer seekers to take advantage of some of his favorite Colorado brews. "I don't get out as much as I used to, but some of my favorites are: Any IPA or Lager from Cannonball Creek, Bierstadt Lagerhaus Slow Pour Pils, Green Mountain Brewing Company's Hefeweizen (I love a good Heffy), Locavore Beer Works Lilly Hammer IPA, WeldWerks Steambarrel IPA and I've also enjoyed all of Knotted Roots' hazies so far."
We're All in This Together (And We Love to Make a Batch!)
With their affection for so many other Colorado breweries and their beers, it's obvious that Jason, Jessica and the team at Over Yonder are very community focused.
"We are proud to have recently brewed a benefit beer that is being hosted by Left Hand Brewing Foundation called Colorado Strong Pale Ale. All the ingredients (grown locally) minus the yeast were donated to all breweries participating. This lets us brew another batch for cheap to help us stay afloat. Twenty percent of proceeds go back to healthcare, hospitality, service industry and gig economy workers impacted by COVID-19," said Jason.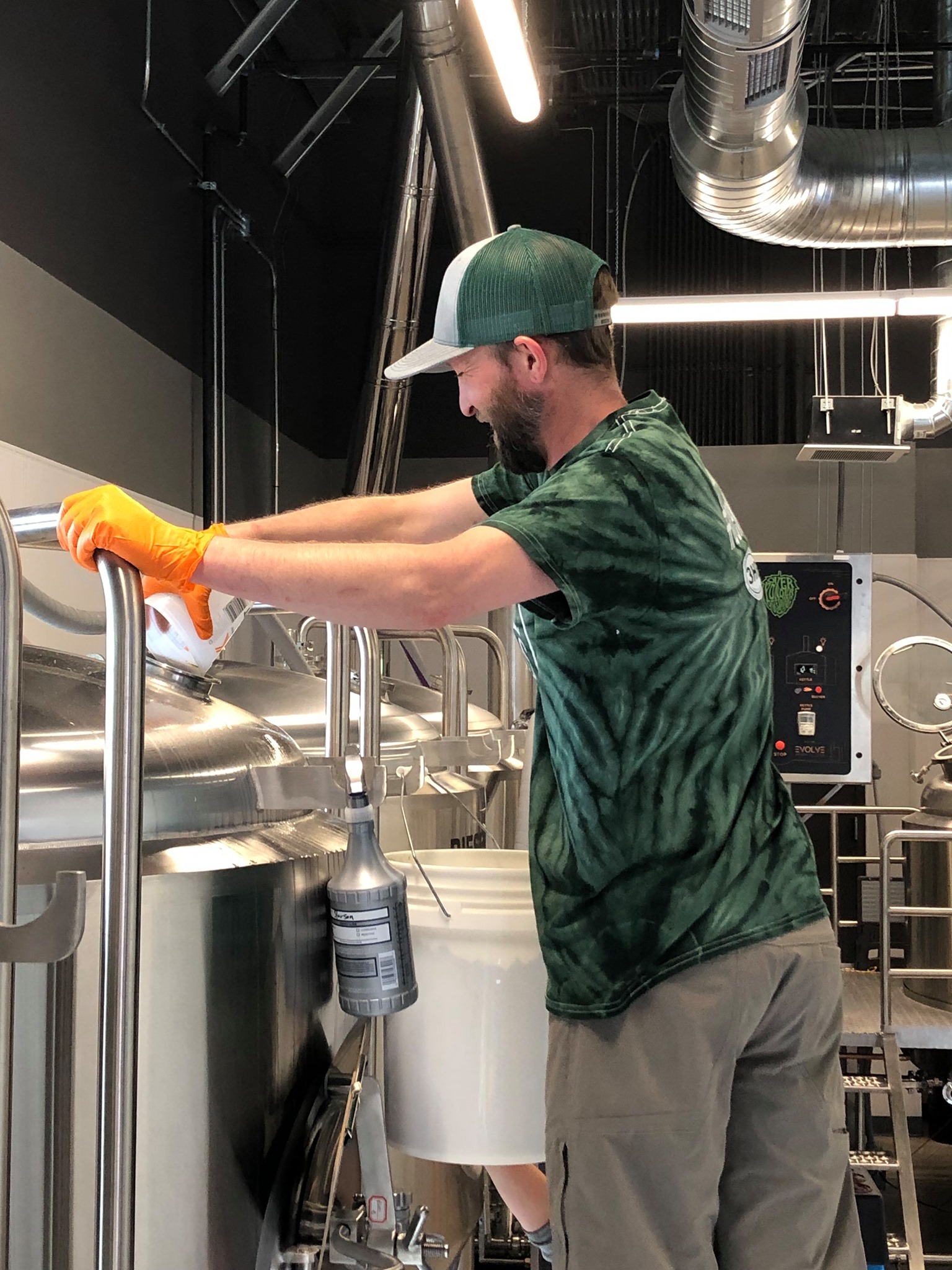 With several breweries, taprooms, restaurants and music venues shutting their doors permanently as a result of the economic fallout from the pandemic, it's hard not to worry about a brewery who just opened their doors one year ago and who relies, in part, on a stacked Red Rocks concert calendar.
"The first year of every business is critical in terms of building awareness, getting the business functioning and finding ways to improve the bottom line working towards profitability," Jessica said. "These are very hard things for any business with or without a pandemic! Add the layer of COVID-19 and it's completely flipped us upside down. We had to lay off/furlough employees, and we have to push into distro and delivery way sooner than we ever anticipated—all while still trying to pay the bills and keep the lights on. These are extremely hard times, but we're going to do everything we can to keep going! It has forced us to make decisions on the fly, do as much research as possible in a short amount of time, and get creative. Jason's roots in design were able to be used again to do labels which was actually a lot of fun! We are so thankful to be a part of the craft brewing industry and have the closeness of the community. Without the BA and CBG fighting for us and providing guidance and support, who knows where we would be. Without peers to talk to, brainstorm with, get creative with, vent with, etc., who knows."
Learning from the situation is obviously important, too, for any business owner, and Jessica and Jason say they've appreciated the nudge into distribution. Their business model was taproom sales only, and they learned to diversify revenue streams, get creative and learn about the self-distribution options available to them. One of these options includes a partnership with Codi Manufacturing.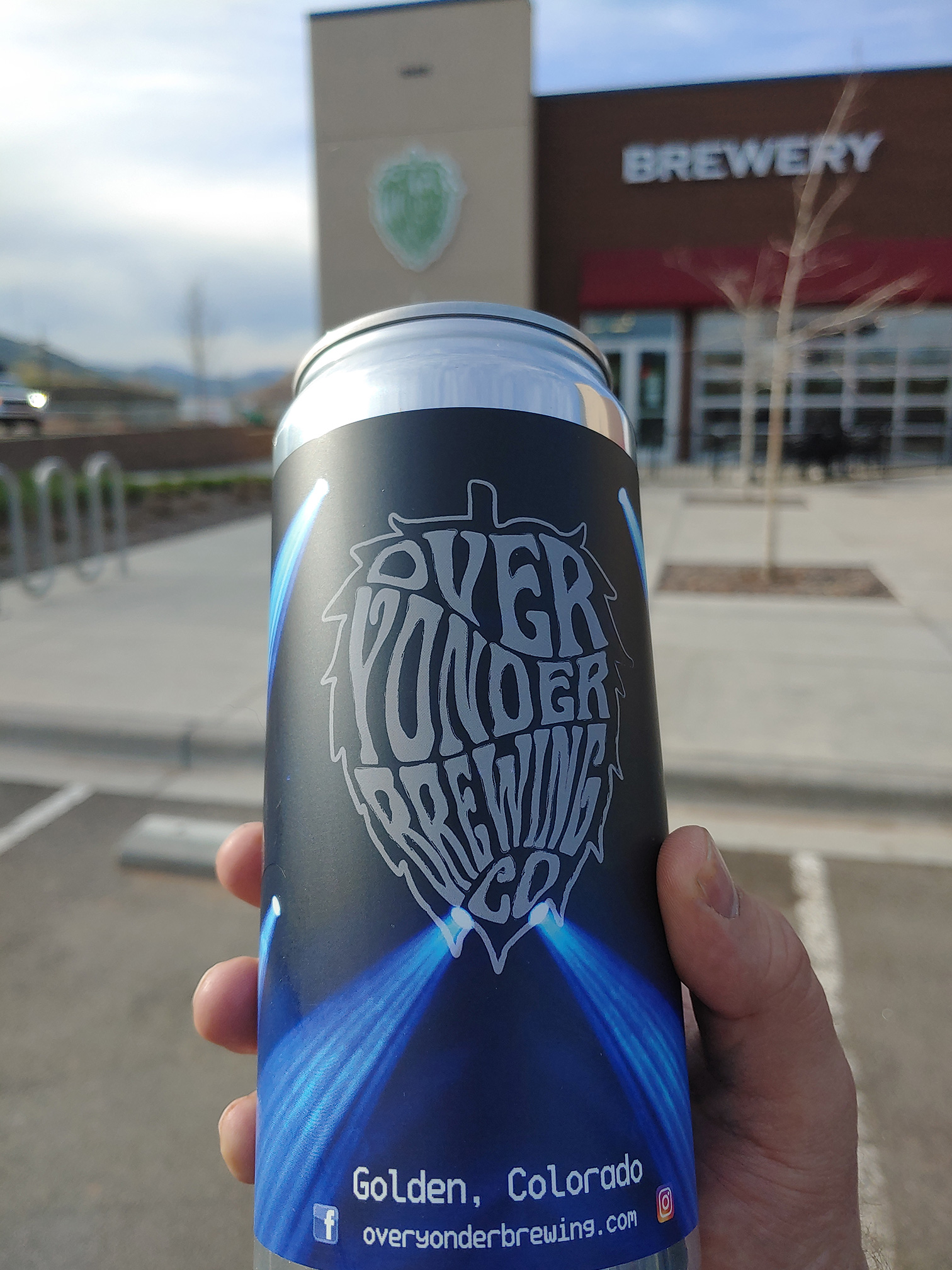 "Codi Manufacturing is a local business in Golden that manufactures can filling machines and conveyor lines. They decided to convert one of their smaller machines to a mobile canning line to help out small breweries who don't normally package in 12 or 16-ounce cans." The main benefit to this, Jessica points out, is that "the partnership will help us sell beer through local liquor stores and even restaurants and bars to help cash flow during this pandemic. We are super thankful for this."
Reach for a Beer, Glad That You're Here: Over Yonder's Brews
With distribution, the brewery is now able to offer canned Orange Whip (Milkshake IPA), Citranade (American IPA), Kick it Brut Down (Brut IPA), Mounds of Joy (American Porter), Virgin Waters (Pilsner, a collaboration with Evergreen Brewery) and The Cure (Imperial/Double IPA, a collaboration with Brewery Rickoli).
I selected a mixed four-pack and a crowler from the brewery's lineup to to pick up and enjoy at home. After five hours of yard work on a warm Saturday, Orange Whip and Citranade seemed like the best options for my first foray.
Orange Whip Milkshake IPA |  7.3% ABV
The thing that strikes me about this beer is how clean it drinks for a lactose beer. It's got a really nice subtle sweetness to the nose, and the head on it is just about perfect: It lingers without overwhelming the sip. On the palate, the Madagascar vanilla beans and Citra hops turn Orange Whip into a liquid creamsicle, but without the sickening sweetness that plagues some Milkshake IPAs. Overall it's a very fresh, easy-drinking brew that's extremely well-balanced for the style.
Citranade American IPA | 7.6% ABV
The nose somehow pairs perfectly with the smell of freshly cut grass and freshly clipped junipers. You get a nice whiff of citrus that preps your palate for the summery citrus notes. There's a good punch of malt at the finish of each sip, which creates an amazingly well-balanced brew that works for pretty much any season — a bonus for Colorado spring weather.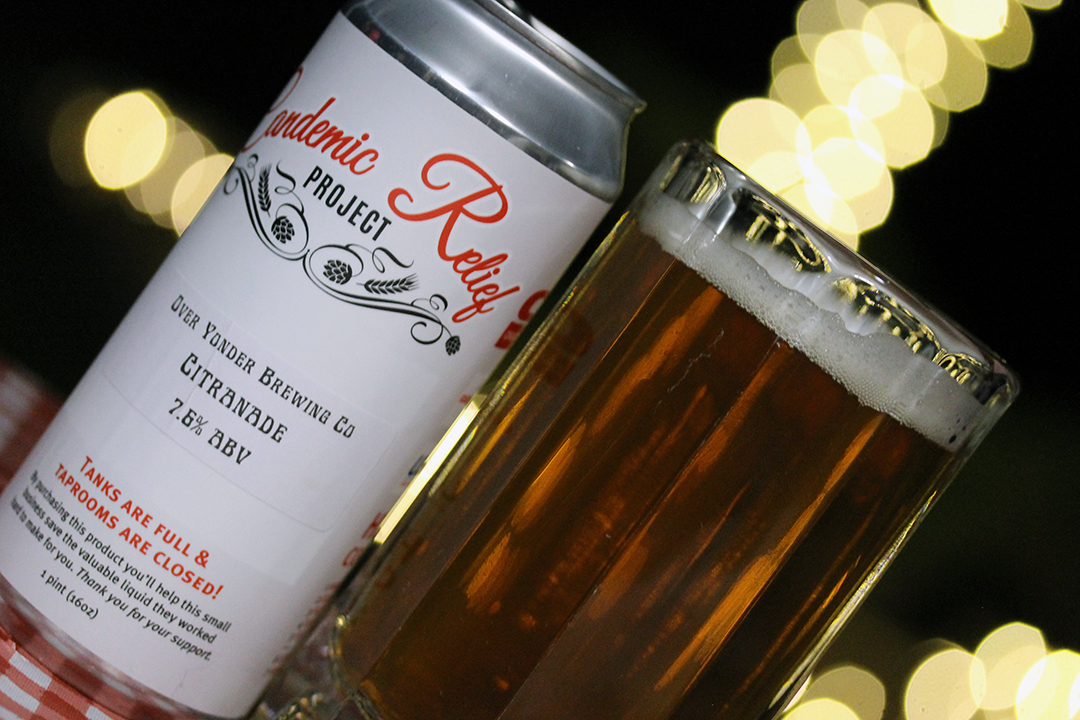 While each of the co-founders have their favorite OYB beer, and each have a special beer that first drew them to craft beer (Jason: Left Hand/Tabernash Weiss Beer; Ashleigh: Dogfish Head 60 Minute IPA), Jason's favorite beer to brew currently is their D6.
"I really like brewing D6, our New England style IPA. I get to have a lot of fun with this one because I always change up the hop bill for each batch. I'm a hop head and I really enjoy all the tropical and fruity hop varieties that have been released over the last several years, so that gives me a lot of inspiration.
For the current batch, I used all South African hops. African Queen, Southern Passion, and Southern Star. Lotsa Dankness, fruit-forward with some melon character. My favorite batch so far was using mainly Sabro hops backed with Mosaic to really get those Sabro hops to pop. This one generated a ton of pineapple character along with notes of coconut. We got a lot of positive feedback on this one, so it may make a return at some point this summer. For the next batch, I'm hoping to use Nelson Sauvin complimented with another tropical fruity hop TBD. I used this hop for the first time on our Brut IPA, Kick it Brut down and I loved how well it shined. The white wine grape character with this hop is fantastic!
This beer is also named after my favorite keyboard and keyboardist, Page McConnell of Phish. The D6 Clavinet. You won't see me sittin' still while he's striking away on this one!"
Surrender to the Flow: Over Yonder's Obsession with Music
Jason's love of Phish wasn't as inherent as his love of beer (unlike Jessica, who has been a Phish Head since the early '90s). Even though his taste in music remains eclectic, his number one choice for a band-beer collaboration would now be Phish. As you enter the brewery, you'll notice the words "surrender to the flow" painted across the taproom mural — lyrics from the Phish song "The Lizards" (and a mantra for the fanbase).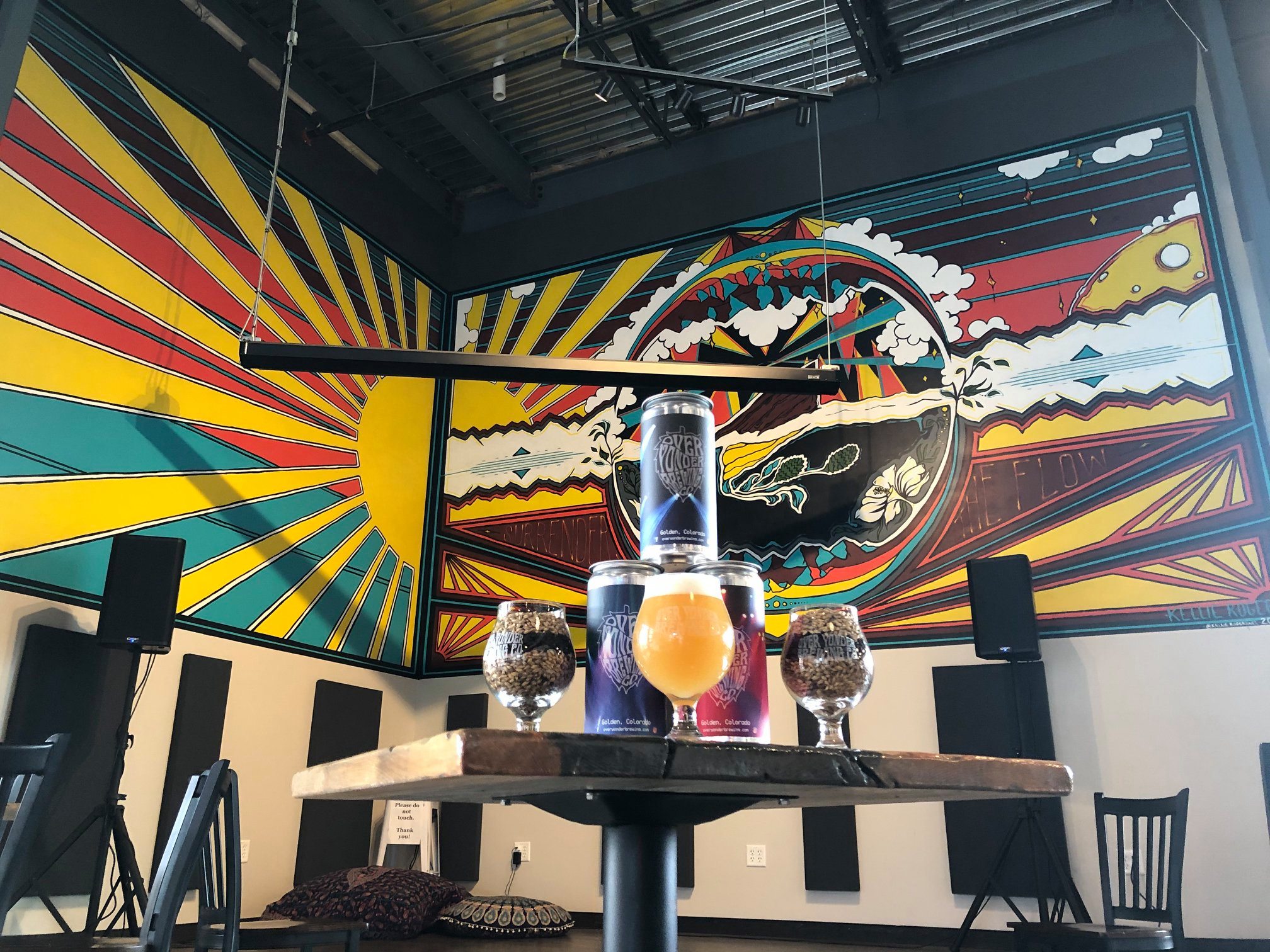 It seems like craft beer and less-mainstream music are a logical pairing. Part of the reason for this likely comes from the size of most breweries: They're simply not large enough to have huge-drawing, mainstream acts come through and play. This gives local bands another outlet to showcase their music, and it seems to have a synergistic effect. Craft breweries support local bands, and the energy is reciprocated as bands and their fans support the breweries and their efforts.
Is there something about Colorado in particular that inspires both the craft beer scene and the jammy-folksy-funky music scene in the same way? "Maybe it has something to do with the independence of it," Jessica notes. "Maybe it's the personalization of it, the intimacy of it and the artistic aspect of it all."
Agreeing that the eclectic, creative energy fuels both the music and the craft beer industries symbiotically, Jason points out that "a lot of breweries have their own niche when it comes to music. Some love metal, some love bluegrass or hip hop. We tend to lean toward the jam band scene, but we love all types of genres and are always keeping our ears peeled for new creative sounds. We love music so much and believe it's a part of what shapes our lives."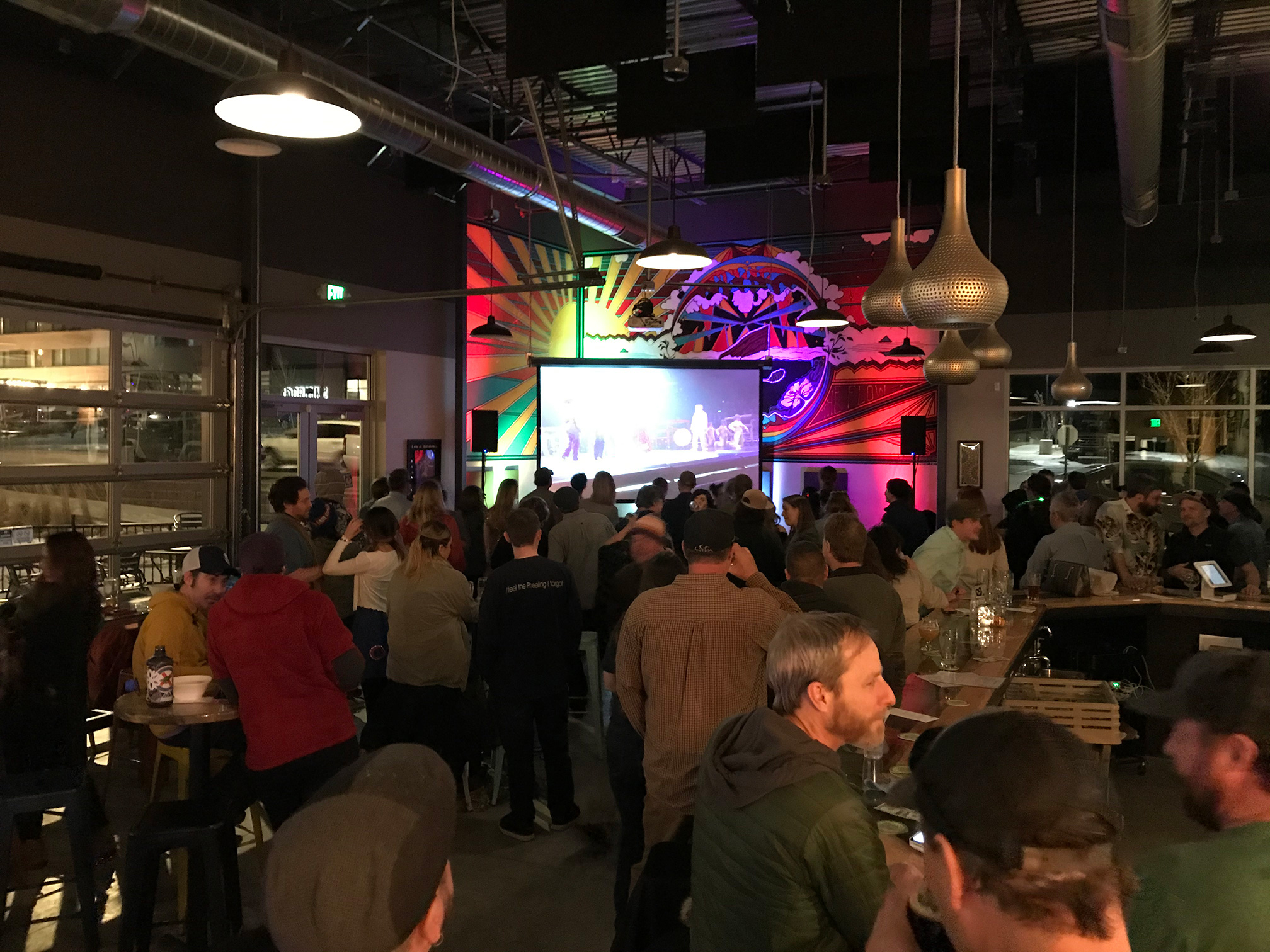 There have been many memorable music moments at Over Yonder: Red Rocks pre- and post-show parties, impromptu collaborations on stage, Phish live streams and bluegrass open pick nights are just a few. But perhaps the most significant music event that's passed between Jason and Jessica is the inspiration for the name of their brewery.
"We were relaxing and listening to old vinyls at home one day, and Carol King's 'Way Over Yonder' came on," recalls Jessica. "The lyrics resonated with all of us and the dreams we had of opening our own brewery."
I'll find find my way
To the land where the honey runs
In rivers each day
And the sweet tastin' good life
Is so easily found
A way over yonder
That's where I'm bound.
In the current climate of fuckery, music and beer are even more important to us than usual. Similarly, our support of local breweries and musicians is more important than ever. We're all dreaming of the day when we can share a beer and enjoy some live music together. For now though, we surrender to the flow and wait for what comes next.
We Pushed Through Hardships, Tasted Tears: What Now?
For a brewery so close to Red Rocks and so invested in the energy music provides, the current situation is especially heartbreaking. Jason acknowledges this, saying "it deeply saddens us that all the concerts we planned on attending this summer got canceled. Whatever that first concert is that we all attend is going to be amazing! We definitely look forward to getting back to hosting wonderful talent on our stage again for all to enjoy."
But for the time being, the beers are all to-go only, and the music's all streamed. "We can't wait to officially celebrate our one year anniversary when we can have the taproom open! We will happily drink, dance and jam six feet apart! Beyond all this, we can't wait to hug old friends and new ones."
To place a to-go order or purchase gift cards, visit the brewery's website. Check Over Yonder's social media for updates on distribution and new brews. For more information and to donate to Colorado Strong, please check out the website https://www.lhbfoundation.org/coloradostrong/.
As an added bonus, the folks at Over Yonder helped curate a playlist for you to listen to, whatever beer you happen to be drinking today. Enjoy! It's a collaborative playlist, so feel free to add songs and share in the groove.
Feature image: Over Yonder Brewing Company on Facebook
---