No Comments
What We're Cooking | Beery Cheesy Fondue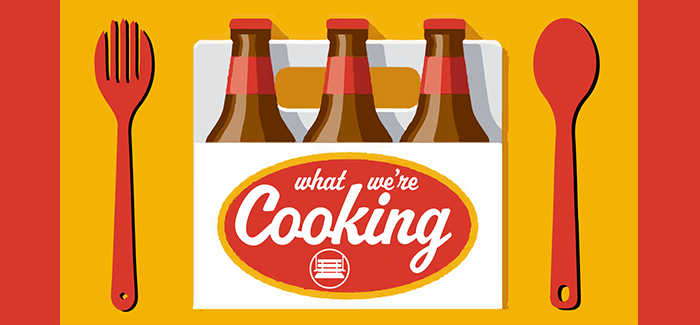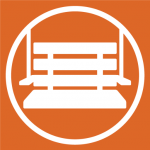 Beer, like a great meal, is best when shared with others. This recipe brings that holy trinity of beer, food (in this case the king of foodstuffs, cheese), and people together around one delectable pot of gooey awesomeness. PorchDrinking's Karl Kalinkewicz has been using this recipe for over a decade as a way to satiate cheese cravings while also hosting an interactive and communal food experience. Invite over your cheesiest friends, crack some beers, duel with your fondue spears over the last morsels of melted deliciousness, and enjoy this delicious recipe provided by Karl!
Serving size: 4
Ingredients
8 ounces Lager beer (something that actually tastes good, and the darker the malt, the better)
10 ounces sharp (but not too sharp) white Cheddar cheese
6 ounces Gruyere cheese
1/3 cup of your preferred flour (gluten-free varieties can work!)
1 tablespoon spicy brown mustard
1-1/2 teaspoons Worcestershire sauce
2 dashes of your favorite hot sauce
Fresh ground black pepper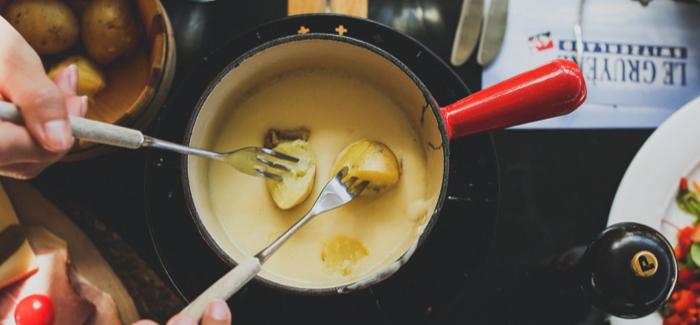 Instructions
Grate your cheeses together into a mixing bowl. Use the flour to very lightly coat the grated cheese mixture, tossing to make sure the flour is distributed evenly.
Pour the beer into your fondue pot (or whatever pot you are using—crockpots can work as well!) and bring to a boil on medium heat. The heated beer will produce a lovely aroma much like your favorite dive bar's restroom.
As soon as the beer is bubbling, add small handfuls of the cheese/flour mixture, stirring it in with the liquid. As the cheese starts melting, continue to add more cheese slowly until the whole cheese bowl is in the pot. If the cheese mixture isn't smoothing out, you may need to add some more of the beer (if you didn't drink it already).
After the cheese has reached a nice consistency, add the mustard, Worcestershire, and hot sauce. Stir all ingredients together so the flavors are uniformly distributed. Crack some black pepper into the gooey glob of cheese and you're ready to eat!
This fondue can be served with a variety of dipping options, including freshly baked bread, green apple slices, lightly roasted broccoli and asparagus, grapes and little sausages. Let your imagination run wild, as most things covered in cheese are delicious.
It's Your Cheese Party!
This recipe can be tailored to match your tastes. You can add more or less of the ingredients in order to reach the consistency and flavor that you desire. For example, changing the ratio of Cheddar to Gruyere will correspond with how sharp you want the cheese to taste.
About the What We're Cooking Series
Beer, with all of its flavors and nuances, can enhance some of your favorite dishes. Many of us at PorchDrinking love to cook, so we've rounded up some of our favorite recipes featuring our favorite ingredient: beer.
From beer cheese fondue to easy porter brownies, each week we'll publish a new recipe for you to enjoy. So without further adieu, here's What We're Cooking, a collection of staff-picked cooking-with- beer recipes.
---