No Comments
Cooking with Beer | Raspberry Cheesecake with WeldWerks Brewing's Raspberry Cheesecake Berliner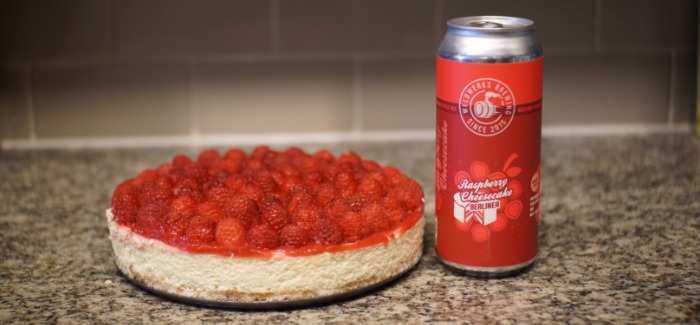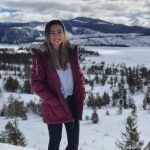 Does it get any better than a cheesecake made with beer? Maybe. But this Raspberry Cheesecake made with WeldWerks Brewing Co.'s Raspberry Cheesecake Berliner is definitely one that you don't want to miss out on trying. The beer itself was inspired by this mouthwatering dessert; it seemed like a no-brainer to incorporate the beer into a recipe to further enhance the flavors before pairing it with the beer itself.
The Beer
WeldWerks has released several dessert-inspired brews amongst their delicious offerings and it was with this one that I finally had the time to create a beer-incorporated dessert. Tasting notes read: "It tastes exactly like a raspberry cheesecake." WeldWerks' Raspberry Cheesecake Berliner comes in at an easy-drinking 4.5% ABV and was brewed with massive amounts of puree. They added a bunch of cheesecake and a touch of milk sugar to create this mouthwatering beer. For all you cheesecake lovers out there, this beer completely embodies that. Upon hearing of these tasting notes, I was inspired to find a recipe that I could tweak to add this brew and create a beer dessert.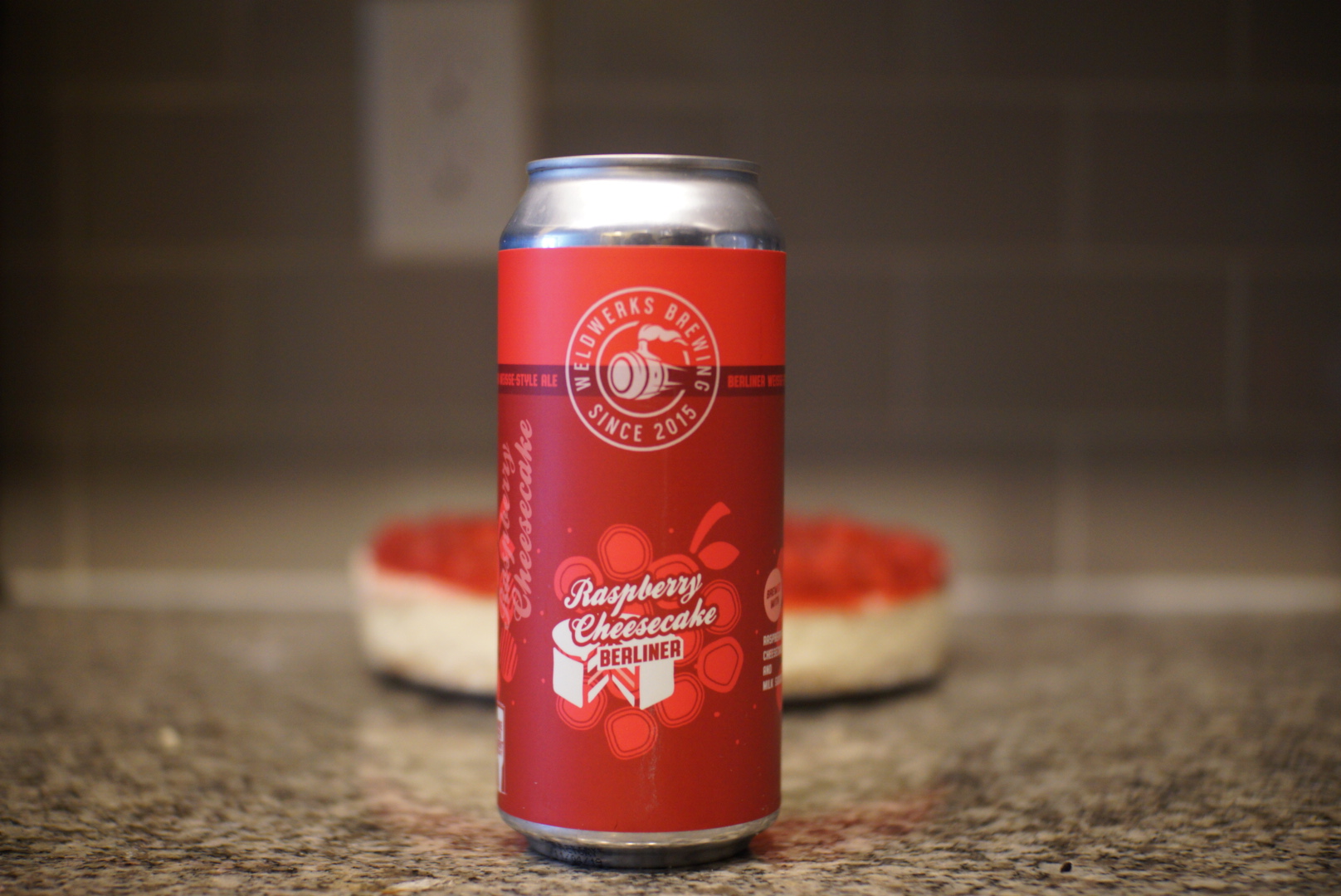 ---
The Recipe
Ingredients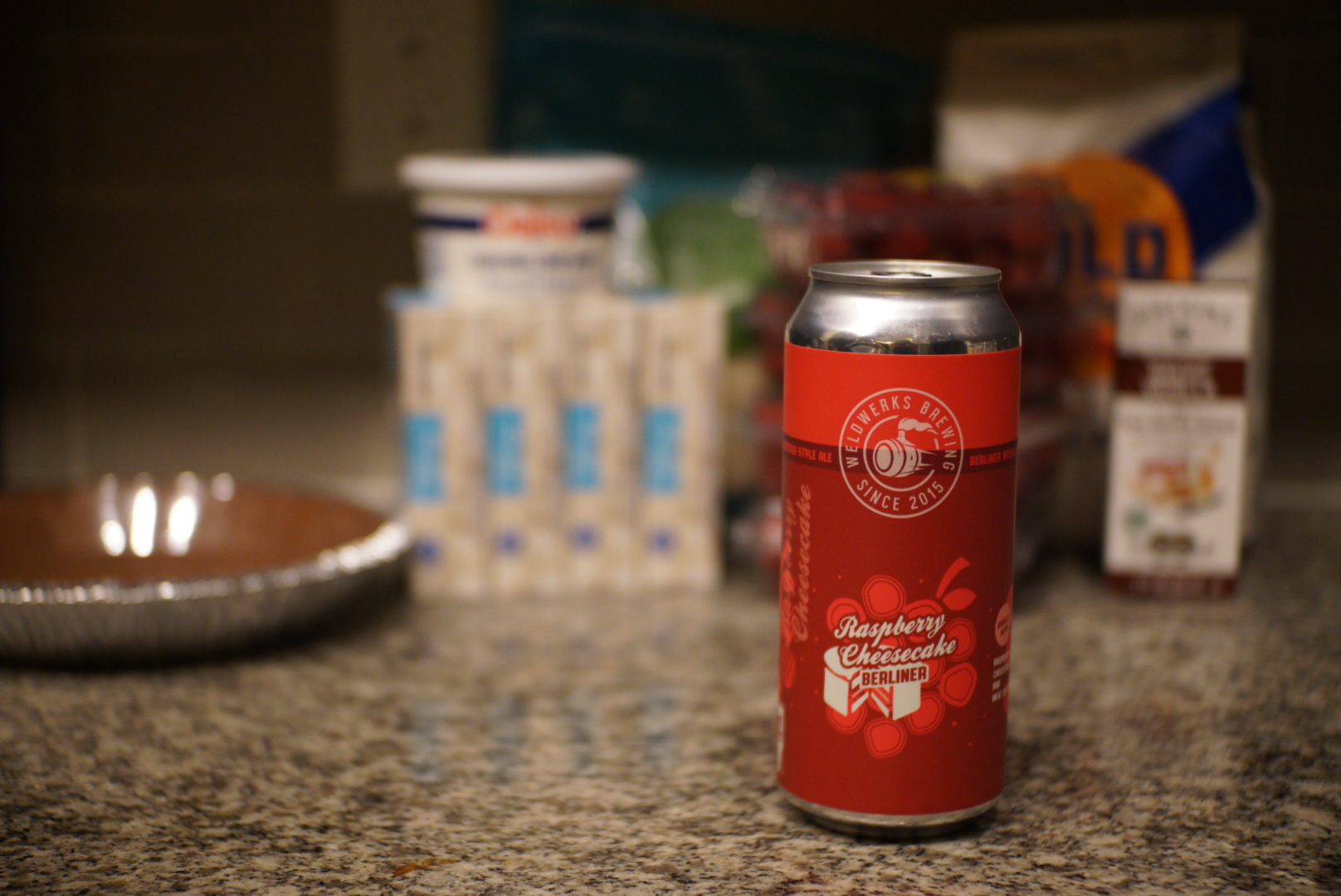 For the Raspberry Sauce
1 1/2 packages (4.5 oz or 1 cup) raspberries
1/4 cup granulated sugar
1 1/2  teaspoon cornstarch
1/8 to 1/4 cup WeldWerks Raspberry Cheesecake Berliner
For the Graham Crust 
1/2 cup pecans, toasted
1/3 cup granulated sugar
5 tablespoons butter, melted
10 whole chocolate/normal graham crackers, broken into pieces
For the Cheesecake
4 packages (8 oz each) cream cheese, at room temperature
2/3 cup granulated sugar
1/2 cup sour cream
1 tablespoon cornstarch
1/3 cup WeldWerks Raspberry Cheesecake Berliner
1 teaspoon vanilla extract
4 large eggs
For the Topping
2 packages (6 oz or 1 1/3 cup) raspberries
---
Directions
For the Raspberry Sauce
Wash the raspberries then puree in blender or food processor until smooth
Press the raspberry puree through a mesh sieve to remove seeds (I didn't do it in the one I made and it still tasted incredible. This is recommended if you want a "smoother" sauce)
Pour the raspberry puree into a measuring cup till it reaches 3/4 cup and add WeldWerks' Raspberry Cheesecake Berliner to make 1 cup
Place sugar into a small saucepan and add cornstarch. Whisk until the two are blended
Add raspberry puree and whisk until blended
Boil raspberry sauce over medium heat while stirring for one to two minutes or until slightly thickened (Optional: I added a splash more of the Berliner for taste)
Set aside to cool
For the Graham Crust
Preheat oven to 350ºF
Place graham crackers in a blender or food processor and pulse to make fine crumbs
Add pecan and sugar, then pulse again to make fine crumbs
Add 2 tablespoons raspberry sauce and melted butter, pulse until combined
Press mixture into bottom of 9×3 in springform pan with removable bottom
Bake 10 minutes
Set aside to cool completely and reduce oven heat to 325ºF
**An alternative option is to purchase two pre-made graham pie crusts from the store. It works! The only drawback is that the sides of the cheesecake aren't exposed when completed but it saves some time. You'll need two if you are choosing to go this route.
For the Cheesecake
Place the cream cheese into a large bowl (if you have a standing mixer, place it into that bowl)
Beat with an electric mixer until smooth
Scrape down sides of bowl with a spatula and beat again until completely smooth. Repeat if needed
Place the sugar and cornstarch into a bowl and whisk until combined
Add cornstarch mixture and sour cream into the bowl with cream cheese, beat until completely smooth
Beat in one egg at a time
Add Raspberry Cheesecake Berliner and vanilla, beat again until cream cheese mixture is smooth
Pour the cream cheese mixture into prepared crust
Set the springform pan (or pre-made pie crust) onto a wide piece of heavy-duty aluminum foil then fold carefully up sides of the pan; do not tear the foil
Set the pan into a large baking dish or roasting pan, then fill with hot water until it reaches halfway up the side of the pan
Bake for an hour at 325ºF
Turn off the oven once the timer goes off, then prop open the door (with the handle of a wooden spoon if it doesn't stay open) and allow to cool for an hour
Remove cheesecake from oven after an hour then let it cool completely
**Optional: You can choose to remove the springform pan at this point to add the topping. I chose to add the topping and let it cool with the springform on the pan.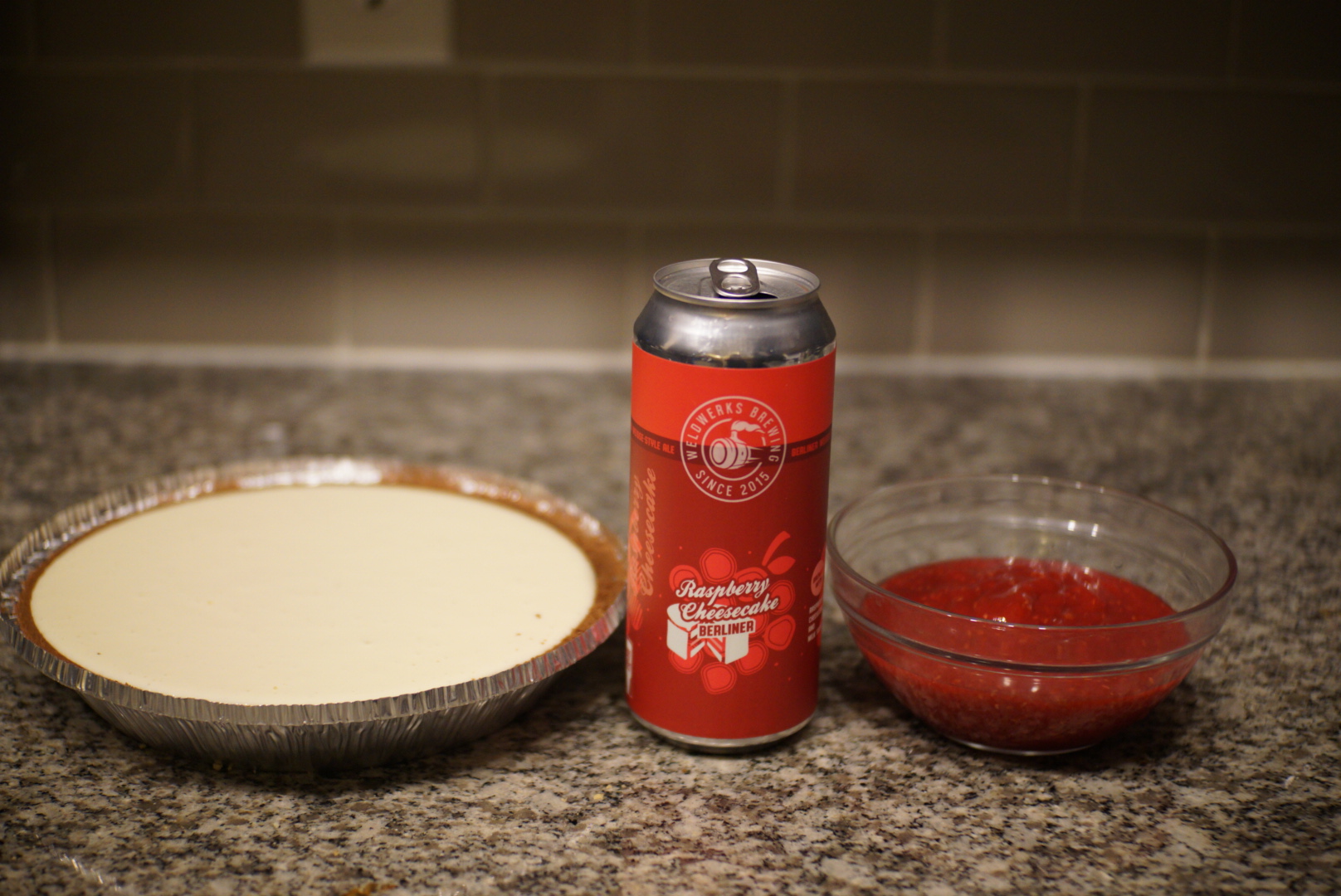 For the Topping
Spread the remaining raspberry sauce over the top of the cheesecake
Wash the raspberries and garnish as you please
**Optional: dust the raspberries with confectioners' sugar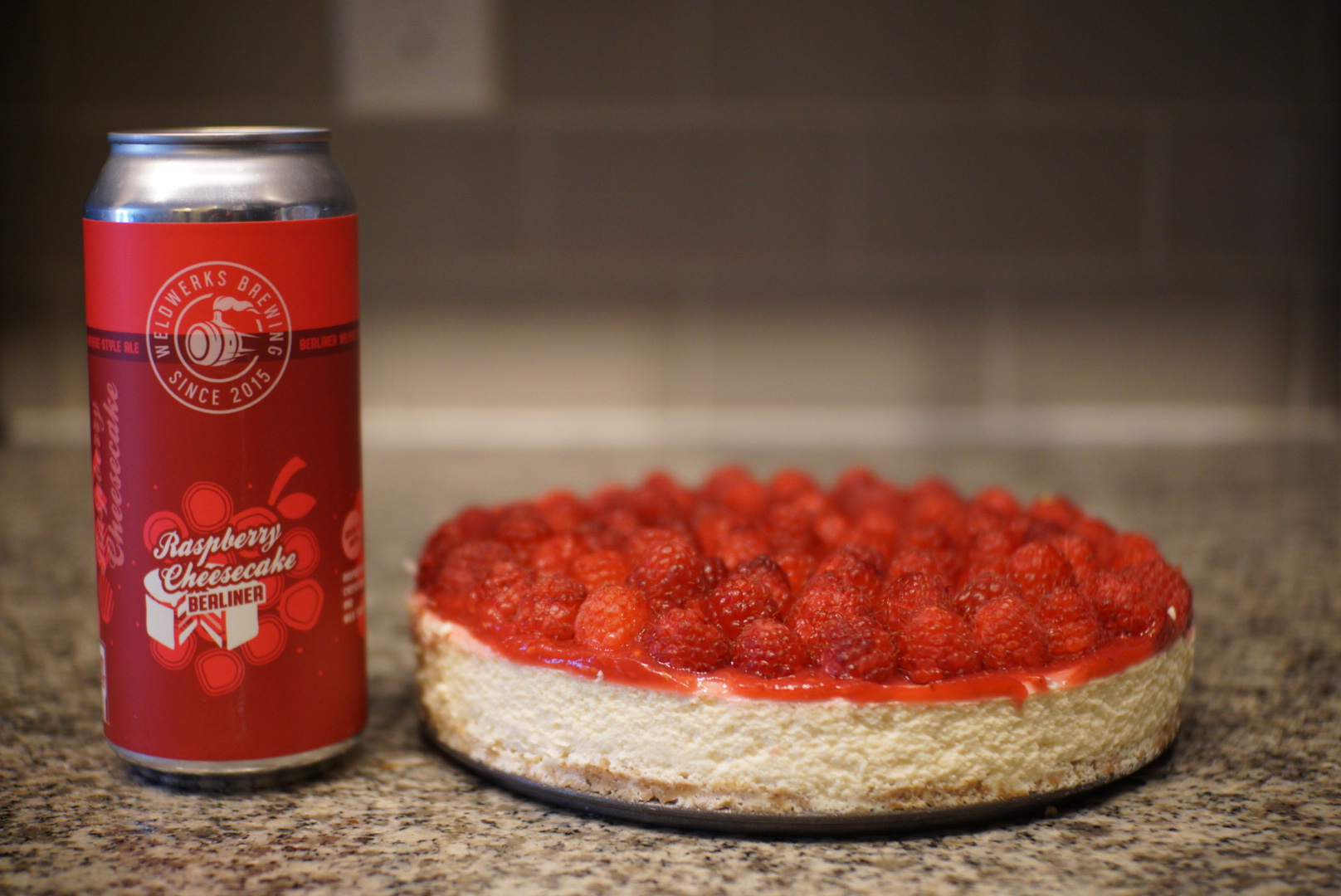 Once you're done with the topping, let the cheesecake chill in the fridge for at least an hour (I let mine chill overnight). Then, voila! Your (slightly) boozy cheesecake is ready to be enjoyed! Cheers!
---