No Comments
What We're Cooking | Pumpkin Cheesecake Brownies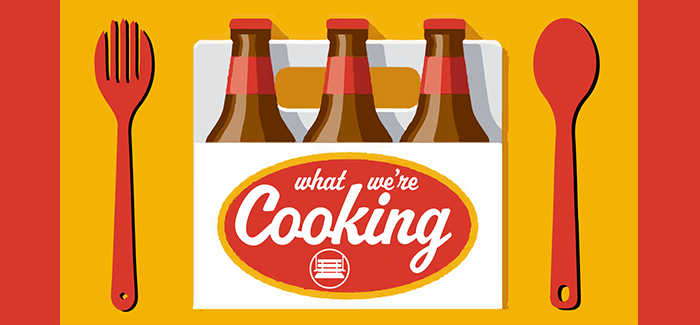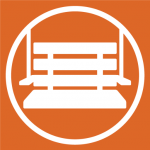 As we get closer to Halloween, we're pulling another recipe out of our archives. This week's What We're Cooking recipe comes from former PorchDrinker, Chelsea Mitchell. Made with Southern Tier's Pumking Imperial and Warlock Imperial Stout, these Pumpkin Cheesecake Brownies will haunt you in the best way possible.
Pumpkin Cheesecake Brownies
Ingredients
1 ½ cup Southern Tier Pumking
1 ½ cup Southern Tier Warlock
2/3 cup + 2 tbsp all-purpose flour
¼ tsp salt
½ tsp baking powder
1 cup semisweet chocolate
1 stick butter, cut into 6-8 chunks
1 cup sugar
3 eggs
8 oz cream cheese (room temperature)
¼ cup sugar
1 egg yolk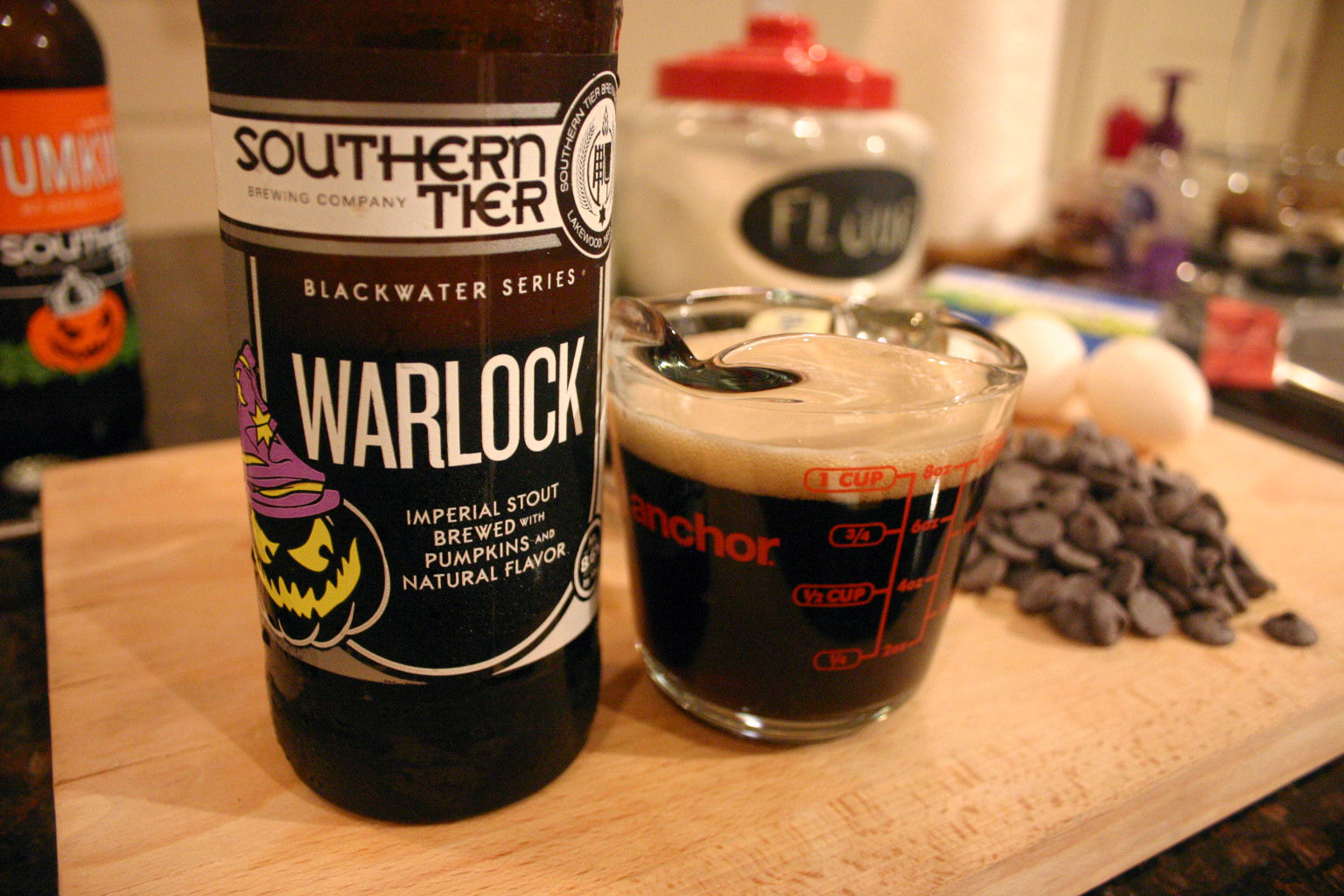 Instructions
Pour each beer into separate pots; cook on medium-high heat until simmering, then decrease to a heat low enough to keep them bubbling. Reduce both the Warlock and Pumking to a bit less than ¼ cup. It helps to measure in a glass measuring cup that can withstand the heat. When finished, set aside to cool.
Preheat the oven to 325 °F. Mix the dry ingredients (flour, salt, baking powder) in a small ball.
In a large pan, melt the chocolate and butter on low heat. Once melted, stir in the sugar and Warlock reduction.
Let the mixture cool a bit and then whisk in the eggs, one at a time.
Finally, slowly whisk in the dry mix, a little at a time. You can move the chocolately goodness to a bowl before you do this, but I just went for it in the pan (to avoid even more mess than I was already making). It also helps to have a friend pour in the flour while you stir.
In another bowl, mix the cream cheese, sugar, egg yolk, and Pumking. You're going to need a hand mixer to really get the beer incorporated.
Line a 10x7x2 dish with parchment paper. If you don't have one of these, just make sure your dish has steep sides because these brownies just about double in size. Pour in half the brownie mix then drop dollops of cream cheese mix around the dish. Repeat the layers and run a spatula through the dish longitudinally, then horizontally. Pop in the oven for about 60 minutes – remove when a tooth pick comes out a bit fudgy – don't wait until it is dry.
When finished, let the brownies cool completely before slicing them and dishing out the goodness. Serve with a tall glass of Warlock or Pumking because you should have plenty left over if you didn't indulge too much during the baking process. Always remember: be more than just a #basicbitch by putting non-basic beer in your food.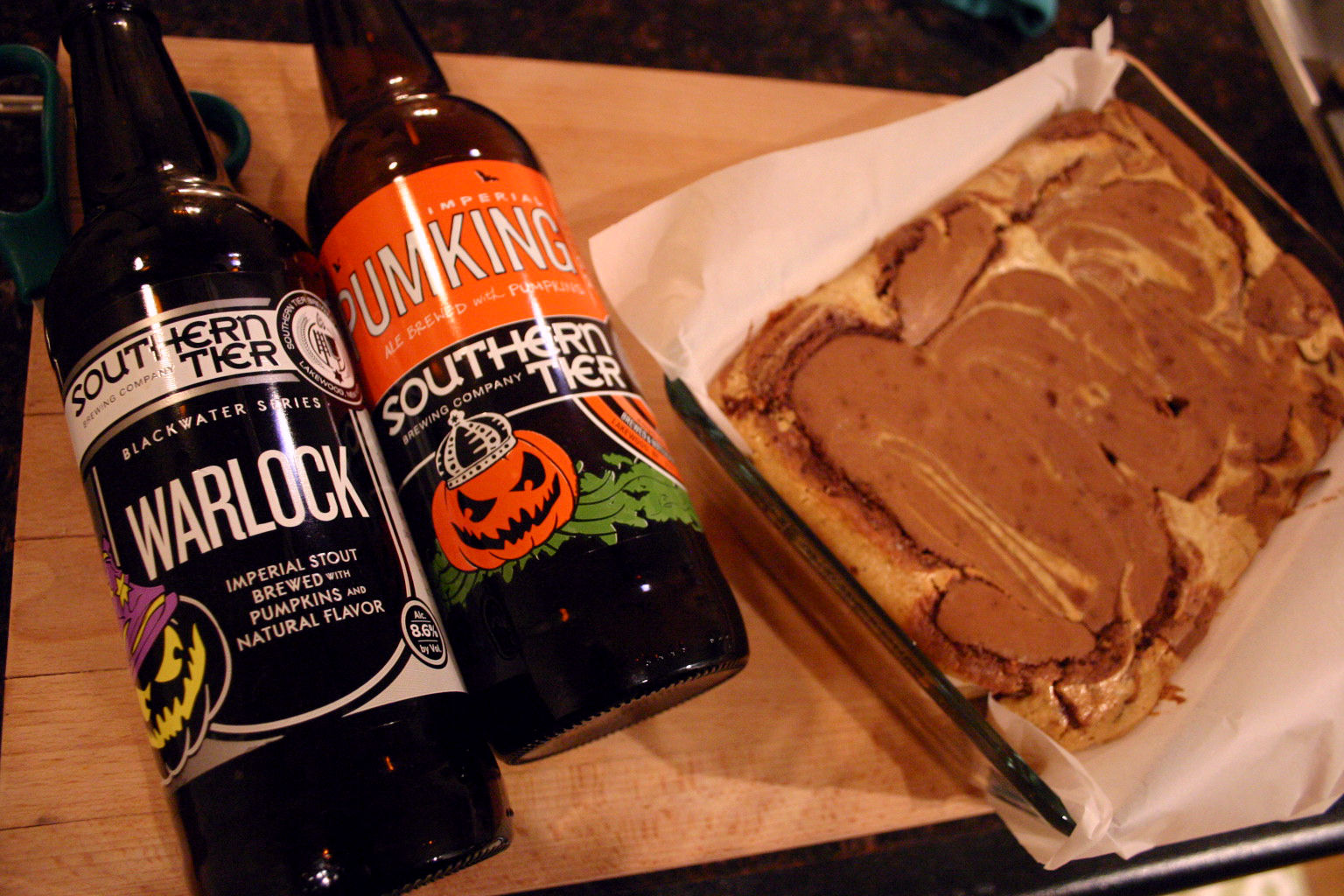 About the What We're Cooking Series
Beer, with all of its flavors and nuances, can enhance some of your favorite dishes. Many of us at PorchDrinking love to cook, so we've rounded up some of our favorite recipes featuring our favorite ingredient: beer.
From beer cheese fondue to easy porter brownies, each week we'll publish a new recipe for you to enjoy. Make sure to check back often to see our growing collection of recipes curated by PorchDrinking staff. Cheers!
---