No Comments
Spicy Honey Beer Mustard Dipping Sauce with Oskar Blue's Old Chub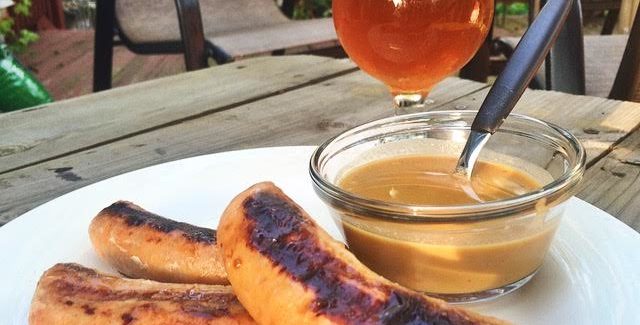 Grilling season is upon us, ladies and gentlemen!! Many will agree that there are few things better than a solid cookout. If your grill skills are a bit rusty, let me help you get back on track.  I like taking my food up a notch by creating some great marinades and sauces to accompany my grilled creation. So, when I wanted to make a spicy honey mustard for some bratwurst, I knew that we could make this amazing! With what you ask? Well, clearly with beer. When it comes to making beer mustard, darker beers add more depth and flavor, so feel free to experiment with whatever you have on hand. My choice was a lonesome can I had lingering amongst the onslaught of new spring beers and this was a perfect choice!
Beer of Choice:
8% ABV | 25 IBU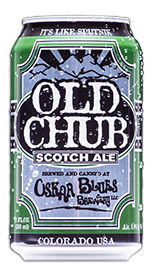 Old Chub was a perfect choice for this mustard.  There is a bit of smoke intertwined in the flavors of coffee and cocoa.  Tangy and malty, Old Chub gave the mustard a bit of depth, which pairs well with a crisp, juicy bratwurst.
Ingredients
1/4 cup ground mustard
1/4 cup white wine vinegar
1/4 cup sugar
3 egg yolks
3/4 cup dark beer
3 Tablespoons honey
1 teaspoon kosher salt
1/4 teaspoon red pepper flakes
Directions
Take your ground mustard & vinegar and combine in a saucepan; let this sit for 30 minutes to an hour to let the mustard bloom.
To this mixture, proceed to whisk in the sugar, egg yolks, and beer until smooth.
Cook over medium heat, whisking constantly, until mixture just begins to simmer and is thickened, about 5 minutes.
Remove from the heat and whisk in the honey, red pepper flakes and salt.
Let the mixture cool slightly and transfer sauce to a serving dish.
Enjoy!
---