No Comments
Ultimate 6er: AFC and NFC Championship Weekend Pairings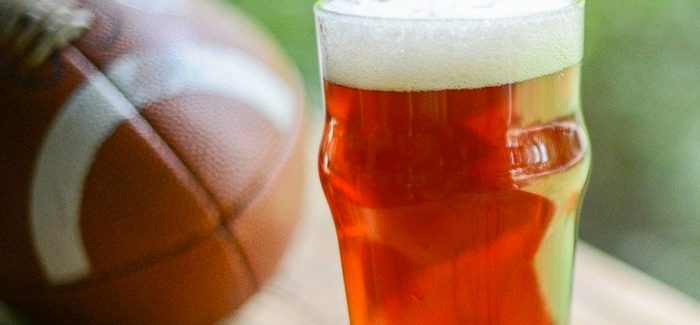 It's here! Well, almost here. With only two more games to play before the Big Game, this weekend's AFC and NFC Championship matchups will finish setting the stage for Super Bowl LVII. To honor the remaining teams, we've dedicated an entire beer style to each of the final four Quarterbacks. Oh — and to make it a true #Ultimate6er — we've added two bonus quarterbacks who definitely know their way around an AFC/NFC championship weekend.
Joe Burrow (AFC) 
Paired with Cold IPA
View this post on Instagram
Like 'em or not, IPA's are a style that craft beer consumers love to talk about. And one scroll through my Tik Tok FYP proves a similar thing can be said about Bengals Quarterback Joe Burrow. Seriously, though. People that don't even watch football can't get enough of this guy. Sure, he's talented on the field, but it's his game-day swagger and press conference charm that make him so fun to talk about. Nicknamed "Joe Cool," the Cold IPA is a perfect pairing for Burrow. Even the brew process for this new trend in IPA's (lager yeast fermented at ale temperatures) is a perfect metaphor for Burrow who manages to stay crisp and clear when he feels the heat. A Cold IPA when paired with this cool-guy quarterback, will leave you simultaneously buzzin' about bitterness and about Burrow.
Commercial Recommendation: Cold Fiction | Rhinegeist Brewery | Cincinnati, Ohio 
---
Patrick Mahomes (AFC)
Paired with German-Style Doppelbock
View this post on Instagram
There's no denying that Patrick Mahomes of the Kansas City Chiefs is an elite quarterback. Yikes — as a Broncos fan that stung a little to write. But it's true — some even go so far as to call him the greatest of all time. And hey, with the stats he's putting up this season, it's a hard claim to dispute. He leads the league in both passing yards and passing TDs. For a resume that keeps getting bigger and better, the German-Style Doppelbock is the perfect pairing for Patrick Mahomes. Not only does "doppel" mean double (which in my opinion he's about to do with his current number of Super Bowl wins), but "bock" means goat (read G.O.A.T?) which.. I guess only time will tell. One thing that is certain, sweetness is a defining characteristic in this beer — and in Mahomes — who seems to be an incredibly likable dude. As an added bonus, the higher ABV of this beer will assist me in forgetting about this entire paragraph I wrote praising a Kansas City Chiefs player.
Commercial Recommendation: Weizenbock Dunkel | Kansas City Bier Co | Kansas City, MO 
---
Jalen Hurts (NFC) 
Paired with Belgian-Style Tripel
View this post on Instagram
Philadelphia Eagles Quarterback Jalen Hurts pairs with a Belgian-Style Tripel because this man is all about the "three's". To prove it I'll give you, well, three examples. First, he played three seasons at Alabama — and was on the team when they won the National Championship in 2018. Second, he is currently in his third NFL season. Third — and most notably — he calls himself a "triple threat." Oh and one note about the National Championship game back in 2018 — he was benched at halftime. This probably left his thirst for victory akin to the dryness of a Belgian-Style Tripel. Now — only one hurdle away from the Super Bowl — he's definitely going to be turning things (like the ABV of this beer) up a notch. Or three. 
Commercial Recommendation: Holy Wooder | Philadelphia Brewing Co. | Philadelphia, PA
---
Brock Purdy (NFC) 
Paired with Gose
View this post on Instagram
If I was nicknamed "Mr. Irrelevant" (even as a playful tradition) and then went on to lead my team deep into the playoffs, I would be more than a little salty towards my doubters. Fittingly, salt is one of the distinguishing ingredients in this beer style, making Brock and a Gose a purdy good pairing (see what I did there?). Even more fittingly, it's a style that has almost disappeared completely more than once but (just like Purdy) manages to stay relevant today. Brewed with at least 50% wheat, the appearance of the beer is as cloudy as this young quarterback's uncertain future. Although if victory is sweet, then the sourness of a Gose is what Brock's growing list of conquered opponents must be tasting. 
Commercial Recommendation: Gose Series | Anderson Valley Brewing Co.| Boonville, CA
---
Tom Brady (AFC + NFC) 
Paired with Barrel-Aged Beer
View this post on Instagram
Now some of the above pairings you might've viewed as clever and some a bit of a stretch. The pairing for TB12 however, you probably saw coming a mile away — the Barrel-Aged Beer. What began as the 199th overall draft pick has turned into 23 seasons and 7 Super Bowl wins. Just like Barrel-Aged Beers soak up new and exciting flavors as they age, Brady seems to be able to tap into new layers of excellence with each passing season. These strong and boozy beers are usually best enjoyed in colder weather. Not unlike the coldness that probably descended on Atlanta fans during that 28-3 come from behind Super Bowl victory. Unfortunately though — like any good beer — this beer (and this quarterback) have a shelf life. And while it may never "expire" completely, its more than likely going to eventually lose some of its luster.
Commercial Recommendation: Barrel & Bean | Allagash Brewing Co. | Portland, ME
---
Peyton Manning (AFC)
Paired with Pilsner
View this post on Instagram
What I love most about Peyton Manning (and it's a long list, I assure you) is his work ethic. From a family of quarterbacks, talent no doubt runs in his veins. But whether or not he won on the field, he was always going to be the most prepared. He was notorious for being a "master observer" and was hyper focused on finding the weaknesses of his opponents. I've heard it mentioned a few times in craft beer circles that a Pilsner is one of the harder brews to nail. As the adage goes, there is little to "hide behind" when making a Pilsner and — if not prepared with focus like Peyton — there is a lot of opportunity for the brew to fail. Ironically though, this style is an incredibly approachable beer as a consumer and is definitely best enjoyed among friends. During a marathon watch of Peyton's commercials, perhaps?
Commercial Recommendation: Love This City | Denver Beer Co. | Denver, CO
---