One Comment
Firestone Walker Brewing | Anniversary XXIII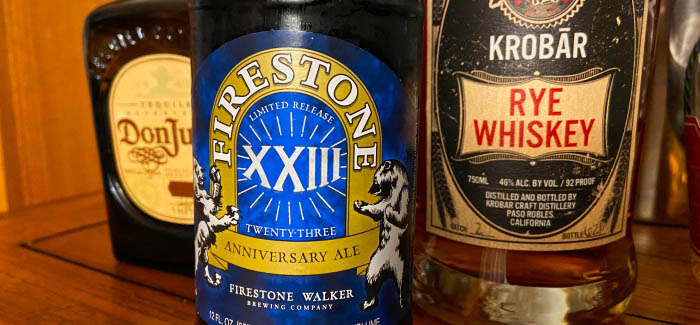 As barrel-aged beers go, Firestone Walker is one of the most consistent producers out there. When it comes to their anniversary beer, it's hard to pass this one up.
Firestone Walker just released XXIII, the fourteenth beer they've released as part of their anniversary series, which dates back to 2006. As with all of the previous anniversary beers, it's a blend of many of their well crafted barrel-aged offerings.
The final blend in this year consists of:
28% Stickee Monkee, a bourbon barrel-aged "Central Coast Quad"
28% Parabola, a bourbon barrel-aged Russian Imperial Stout
20% Bravo, a bourbon barrel-aged Imperial Brown Ale
15% Bourbon Barrel Aged Helldorado, a Blonde Barley Wine
5% Velvet Merkin, a bourbon barrel-aged Milk Stout
4% Tequila Barrel Helldorado, a Blonde Barley Wine
Each one of these beers is outstanding by themselves.
Firestone Walker takes a unique approach in deciding the final "winning" blend. They invite local wineries and friends of the brewery to team up. Each team works on their blend, finally submitting their version to be judged by the other teams. While Firestone Walker chooses the blending beers, it's up to the team to decide on the final percentages.
https://www.instagram.com/p/B3-tIgAFA67/?utm_source=ig_web_copy_link
This year's edition comes in at 11.5% AVB and is by far one of the most "drinkable" offerings to date. While there is no doubt this beer will age gracefully, it's also ready to go right now. Package in a 12-ounce bottle, this makes a perfect beer to share, or enjoy over the course of a chilly evening.
Being a blend of aged beers, it's hard to pick out just one key flavor. It has an individual taste that's hard to pin down. Right out of the fridge, this beer drinks crisp with hints of brown sugar and molasses sweetness, and just a touch of boozy heat. As the beer warms up the beer takes on more robust flavors. Chocolate and toffee flavors with oak and bourbon. While only 4% of the blend comes from tequila barrels, that little tequila essence really adds to the complexity of this beer.
Firestone Walker's brewing and blending team do such a great job of producing big flavorful beers that are not cloying and overly heavy. Using such high-quality beers, it has to make the anniversary blending party a great experience for all involved.
---