No Comments
Church Street Brewing Expanding to the Caribbean #LocalGoesGlobal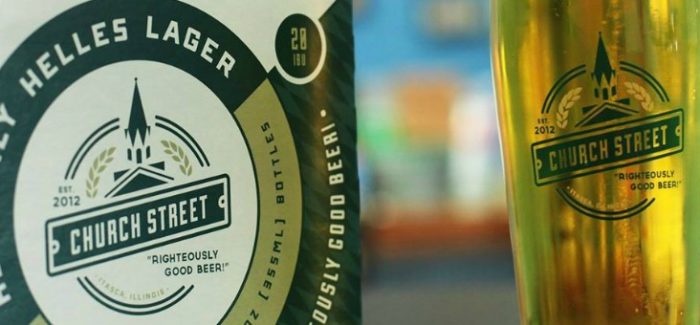 Avg. Reading Time:
2
min
Sand between the toes, hammocks, sunshine, rustling palm trees and now Church Street Brewing — that could describe your next Caribbean vacation. The suburban-Chicago brewery is taking its beer to the tropics!
Voted 2017's Reader's Choice for "Best of the Best" by the Daily Herald, the five year old Church Street Brewing Company has recently expanded to Missouri, Iowa and Florida. But now, partnering with Velour Imports, will take its beer to such places as the Cayman Islands, Belize, Trinidad and Panama. The beer will primarily be found in luxury hotels and resorts, as well as other local establishments.
According to the Brewers Association, Craft beer exports rose by 16.3 percent in 2015, "now totaling 446,151 barrels and worth $116 million." Per the Beverage Master magazine, the international market is increasing by leaps and bounds." But, why the Caribbean? Lisa Gregor, co-founder (along with her husband and brewer, Joe), is fluent in Spanish. She has studied, lived and worked abroad and remains an avid wanderluster and discoverer of new cultures. Lisa decided that it was simply time to expand, and Latin America/Caribbean proved to be a good fit.
Joe, meanwhile, traveled the world as a chemical engineer for roughly 30 years, having a few beers along the way. That is why one will find the Church Street beer portfolio to be one of the most diverse, if not eclectic, around. Indeed, there's something that accommodates almost every type of taste, from the signature, award-winning Heavenly Helles Lager, Shony Scottish and English Ales, to its unique take on the Hefeweizen that utilizes decoction mash (a temperature controlled mashing method intended to extract more flavour from the grain).
In short, Church Street loves to provide unique beer employing unique methods to its fanbase, so attempting to satisfy the taste buds of those roaming the Caribbean almost seems like a natural move for the Chicago-area brewery.
The #LocalGoesGlobal Campaign
A Press Release from Velour Imports provides details of the events associated with the launch:
Officially announcing Church Street's entrance to the global market, Velour Imports has sponsored a 12-week campaign called BeerFluence #localgoesglobal Campaign. The BeerFluence Campaign lasts from August 14 until November 4 and features product reviews from bloggers, homebrewers, journalists, or media professionals from Brazil, Canada, the Cayman Islands, Panama, and the U.S. Utilizing craft beer's greatest strength, social media, the campaign strives to reach a total of 8.9 million craft beer drinkers around the world. Campaign details and a list of to participating partners can be found at velourimports.online.

Importers and Distributors of the Caribbean and Central Americas interested in serving craft beer brewed by Church Street Brewing are invited to attend the 21st Americas Food & Beverage Show, September 25- 26, 2017 at Hall A at the Miami Beach Convention Center, FL. Velour Imports will be exhibiting at Booth #1128, visit the booth for a first-hand experience of the craft beer Chicago voted the "Best of the Best.
Righteously Good Beer of Chicago Headed to Belize!
Click Here https://t.co/BnkTyPzuKu #localgoesglobal pic.twitter.com/YiQOM5MGaB

— Velour Imports (@velourimports) March 10, 2017
Follow a new twist on an old idea
Follow #localgoesglobal for the adventures of craft beer
Follow @velourimports pic.twitter.com/HgtVGeB8d7

— Velour Imports (@velourimports) February 16, 2017
*Velour Imports contributed to this story
---