No Comments
Breaking Down the 30 New Colorado Breweries that Opened in 2017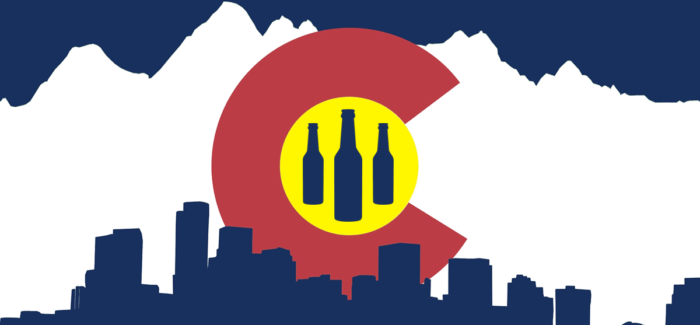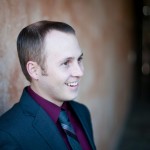 Last year, Colorado added 30 new breweries to its already impressive arsenal. That means all new recipes, taprooms and beers to explore throughout the Centennial state. How many of the new breweries did you visit last year? How many of these have you heard of? Either way, it's time to welcome Colorado's new class of brewers.
Check out our entire list below, where each is located and a brief analysis of the growth of breweries in Colorado.
Total Breweries
First of all, this list of 30 new breweries comes from Colorado Brewery List, which is one of the best resources for finding information about all Colorado breweries. This site also includes a list of the upcoming breweries, breweries that are under construction, or in planning. It is awesome and the Colorado Brewery List is managed by our very good friend, the Colorado Beer Geek, who has visited every brewery in Colorado.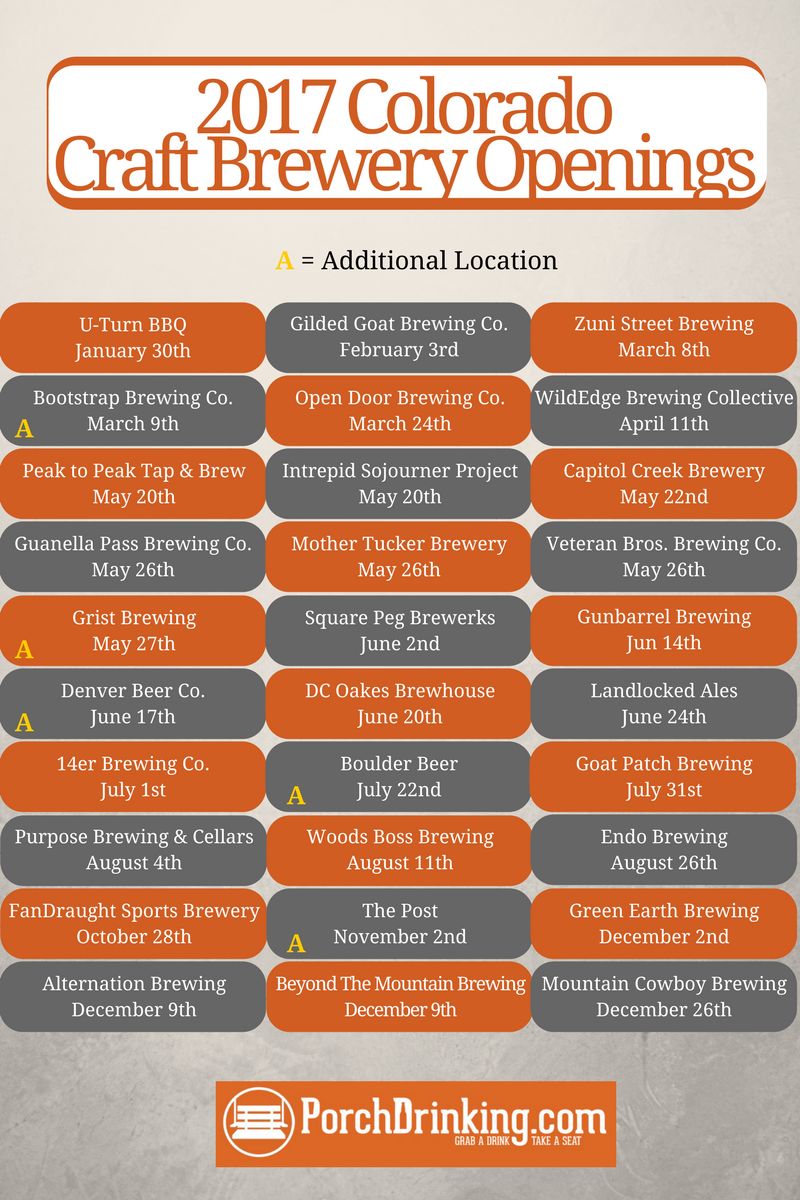 Breweries by County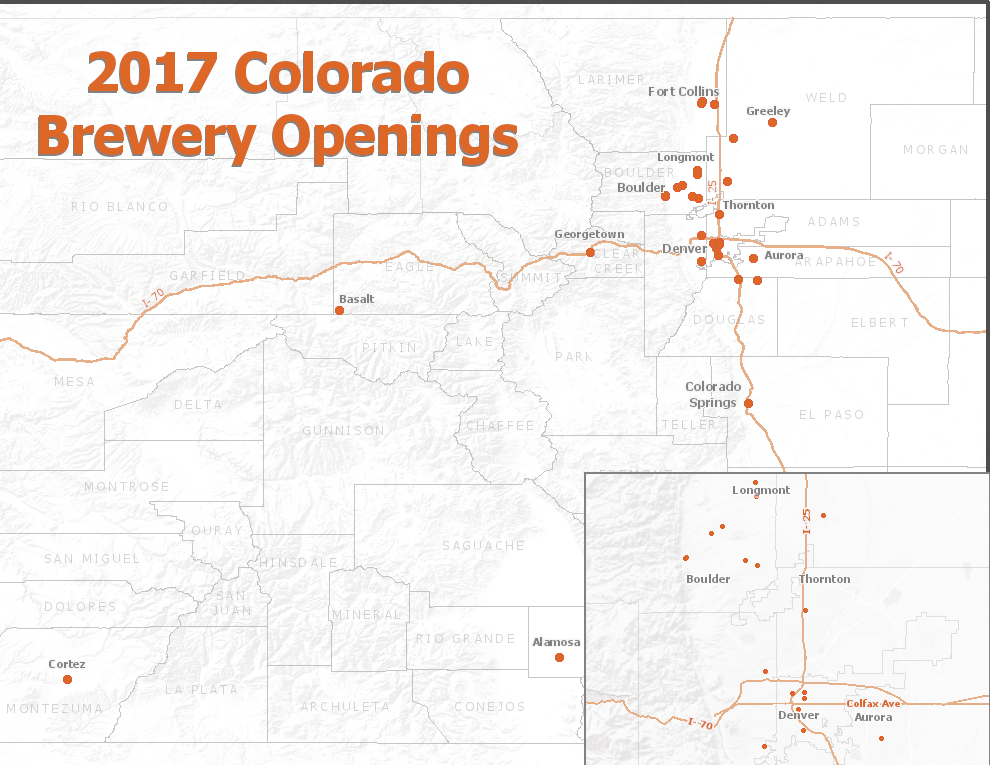 Currently, there are 314 unique breweries in Colorado. Additionally, 25 breweries are secondary locations. Lastly, two are owned by Coors or AB InBev. Altogether, this means there are 340 Colorado breweries in total.
As you might expect, Denver County contains the highest number of breweries of any county in Colorado with 62 breweries. Boulder County boasts 42 breweries, Larimer County follows with 32 breweries, and Jefferson County contains 27 breweries within its boundaries. El Paso County is next closest with 22 breweries.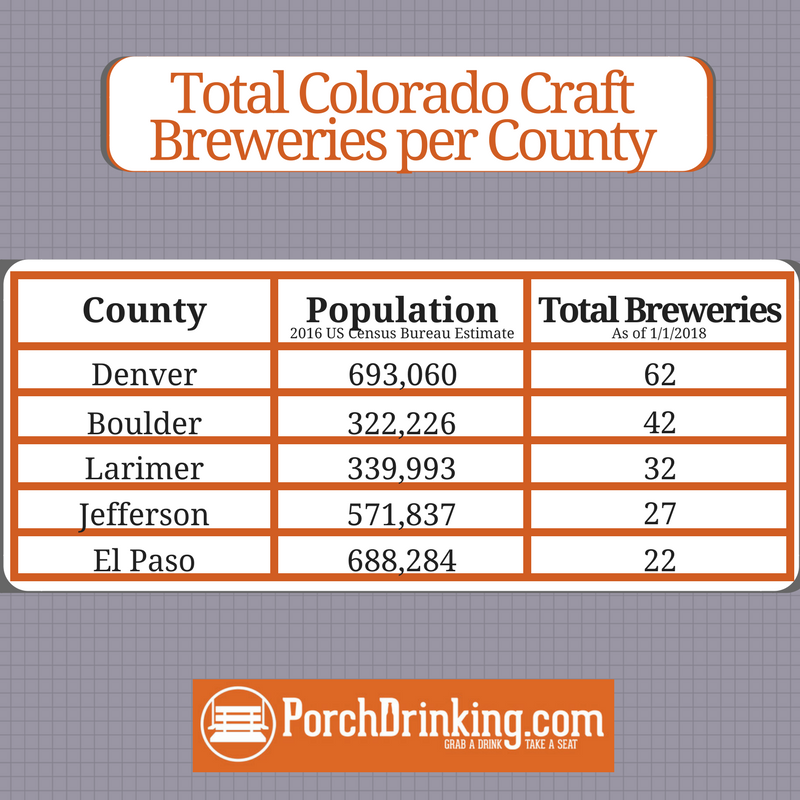 Still, 24 counties around the state do not have a brewery. In 2017, all 30 new breweries opened in counties with at least one brewery in operation. Pitkin County doubled the number of its breweries to two with Capitol Creek Brewery opening in Basalt.
Using 2016 population estimates by the US Census Bureau, the scatterplot below shows all Colorado counties and the number of breweries each has.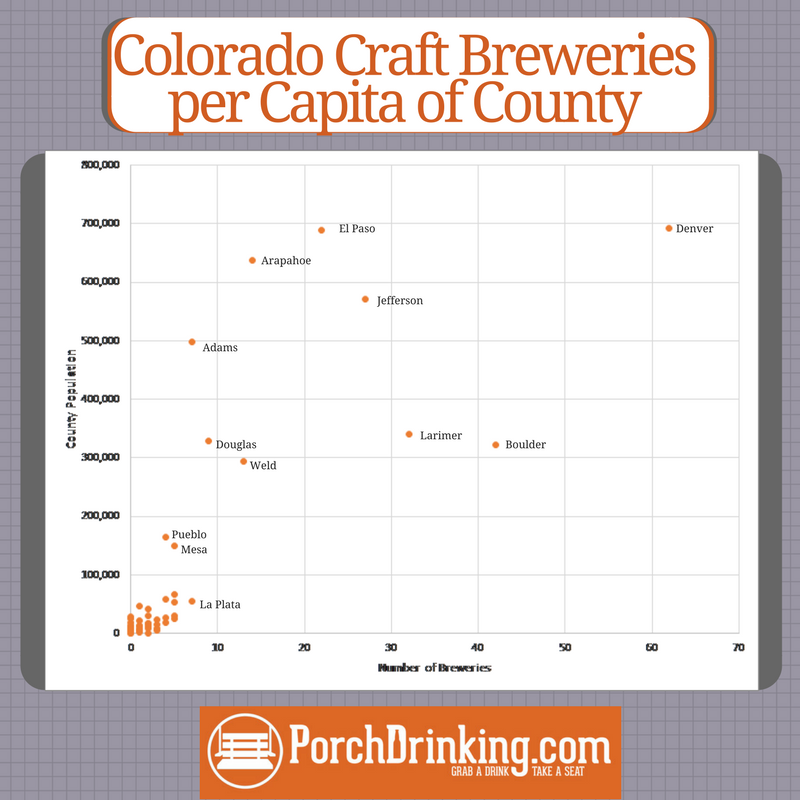 Changes and Closings
Sadly, 15 breweries closed in 2017. Each brewery closed for differing reasons, such as selling to a new owner, financial issues or deciding to just serve food. Check out this article from Colorado Brewery List on why each brewery ended up closing last year.
Approximately, the average lifespan of these breweries was a little over seven years. Below is the list of locations that closed in 2017:
1933 Brewing Company (March 2014 – January 2017)
Backcountry Brewery (September 1996 – October 2017)
Beer By Design (June 2013 – December 2017)
C.B. & Potts (Broomfield) (Unsure – October 2017)
Deep Draft Brewing (July 2015 – October 2017)
Fort Collins Brewery (March 2004 – July 2017)
Moffat Station Brewery (October 2014 – August 2017)
Mu Brewery (June 2014 – February 2017)
Pateros Creek Brewing (June 2011 – April 2017)
Rowdy Mermaid Kombucha (August 2016 – February 2017)
Royal Gorge Brewing Co (May 2011 – June 2017)
Shine Brewing Company (December 2011 – September 2017)
Triple S Brewing (October 2015 – August 2017)
Walnut Brewery (May 1990 – June 2017)
Wolfe Brewing (September 2014 – August 2017)
In addition, Wit's End Brewing and Strange Craft Brewing have joined forces and now share a location.
Colorado Craft Brewery Openings by Year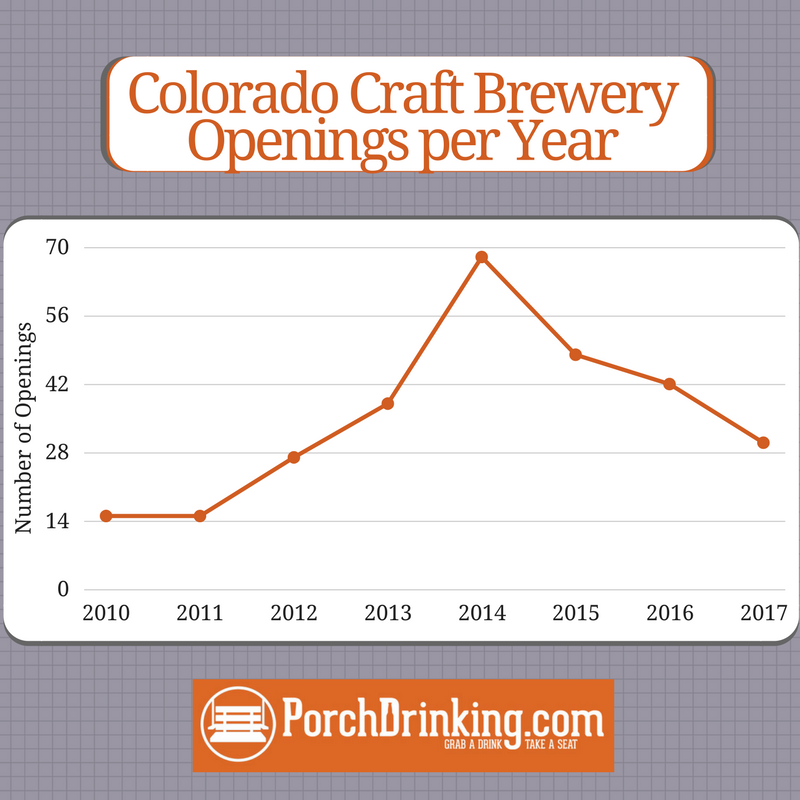 Moving on, last year marked the third consecutive year in which the number of brewery openings in Colorado decreased. Unfortunately, this is nearly a 38 percent decrease in openings from the year prior. Furthermore, the 30 brewery openings are the least amount since 2012 when 27 breweries opened.
However, there is no need to fret about new breweries opening in the near future, Colorado Brewery List identifies 184 breweries, cideries and meaderies in a phase of concept, planning or construction. Now, this does not necessarily mean they will open in 2018, but have started the process of making a brewery.
Colorado Breweries Born in 2017
Finally, here is a complete list of all 30 breweries that opened in Colorado last year. The list is sorted by county. In addition, you can also see any PorchDrinking articles related to the brewery.
Adams County
12189 Pennsylvania St, Thornton, CO 80233
(303) 993-6033
Opened May 26, 2017
Related PorchDrinking Content:
Alamosa County
625 Main Street, Alamosa, CO 81101
(719) 580-7472
Opened June 2, 2017
Related PorchDrinking Content:
Arapahoe County
16701 E Illif Ave, Aurora, CO 80013
(720) 446-8714
Opened May 20, 2017
Related PorchDrinking Content:
Boulder County
6035 Longbow Drive Unit 9, Boulder, CO 80301
(303) 530-6981
Opened December 9, 2017
Related PorchDrinking Content:
142 S. Pratt Parkway, Longmont, CO 80501
(303) 652-4186
Opened March 9, 2017
Related PorchDrinking Content:
1123 Walnut St, Boulder, CO 80302
(303) 447-1345
Opened July 22, 2017
Related PorchDrinking Content:
2755 Dagny Way, Lafayette, CO 80026
(720) 442-8052
Opened August 26, 2017
Related PorchDrinking Content:
7088 Winchester Circle, Boulder, CO 80301
(800) 803-5732
Opened June 14, 2017
Related PorchDrinking Content:
2030 Ionosphere Street G, Longmont, CO 80504
(720) 593-1401
Opened March 24, 2017
Related PorchDrinking Content:
2027 13th St, Boulder, CO 80302
(720) 372-3341
Opened November 2, 2017
Related PorchDrinking Content:
599 Crossing Drive, Lafayette, CO 80026
(303) 993-6033
Opened January 30, 2017
Related PorchDrinking Content:
Clear Creek County
501 Rose Street, Georgetown, CO 80444
(303) 569-5167
Opened May 26, 2017
Related PorchDrinking Content:
Denver County
2801 Walnut St, Denver, CO 80205
(720) 773-1437
Opened July 1, 2017
Related PorchDrinking Content:
1539 S Broadway, Denver, CO 80210
(303) 802-5340
Opened December 9, 2017
Related PorchDrinking Content:
925 W 8th St, Denver, CO 80204
(720) 572-5172
Opened May 20, 2017
Related PorchDrinking Content:
2200 California St, Denver, CO 80205
(720) 642-7177
Opened August 11, 2017
Related PorchDrinking Content:
2900 Zuni St, Denver, CO 80211
(303) 862-6525
Opened March 8, 2017
Related PorchDrinking Content:
Douglas County
19340 Cottonwood Dr, Parker, CO 80138
(303) 990-2070
Opened October 28, 2017
Related PorchDrinking Content:
9535 Park Meadows Dr, Lone Tree, CO 80124
(303) 728-9394
Opened May 27, 2017
Related PorchDrinking Content:
El Paso County
2727 N Cascade Ave, Colorado Springs, CO 80907
(719) 471-4628
Opened July 31, 2017
Related PorchDrinking Content:
Jefferson County
5768 Olde Wadsworth Bvld, Arvada, CO 80002
(303) 433-2739
Opened June 17, 2017
Related PorchDrinking Content:
3225 S. Wadsworth, Lakewood, CO 80227
(303) 284-8748
Opened June 24, 2017
Related PorchDrinking Content:
Larimer County
3581 E Harmony Rd, Fort Collins, CO 80528
(970) 286-2076
Opened June 20, 2017
Related PorchDrinking Content:
3500 South College Ave, Fort Collins, CO 80525
(970) 825-7192
Opened February 3, 2017
Related PorchDrinking Content:
4025 S Mason St, Fort Collins, CO 80525
(970) 377-4107
Opened August 4, 2017
Related PorchDrinking Content:
Montezuma County
111 North Market Street, Cortez, CO 81321
(970) 565-9445
Opened April 11, 2017
Related PorchDrinking Content:
Pitkin County
371 Market St, Basalt, CO 81621
(970) 279-5723
Opened May 22, 2017
Related PorchDrinking Content:
Weld County
725 10th St, Greeley, CO 80631
(970) 702-2332
Opened December 2, 2017
Related PorchDrinking Content:
302 Fifth St, Frederick, CO 80530
(303) 726-9288
Opened December 26, 2017
Related PorchDrinking Content:
21 N Parish St, Johnstown, CO 80534
(970) 587-6786
Opened May 26, 2017
Related PorchDrinking Content:
---