No Comments
Woods Boss Brewing Brings Outdoor Escape to Downtown Denver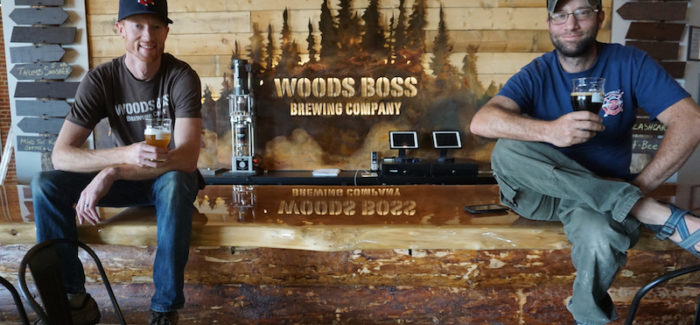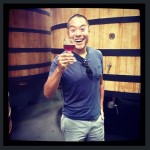 Nestled in the underbrush of Denver's thicket of cranes and sprouting skyscrapers, lies a different kind of forestry. Woods Boss Brewing, who's nondescript exterior unit on the outskirts of Downtown Denver's Ballpark neighborhood, opens into a log cabin-esque interior, reminiscent of the same kind of vacation lodges one could find dotting the mountain sides of the Rockies, Smokies or Appalachians.
Woods Boss Brewing, which officially opens to the public today at 5pm, aims to brew a wide variety of styles to provide a little something for everyone."Our focus is high quality beer and that can range anywhere from traditional to completely esoteric beers, that transcend any one style," noted co-founder Jordan Fink.
Similarly, co-founders Jordan Fink and Chad Moore launched the brewery as a familiar refuge to anyone who shares an equal appreciation for escaping city life, to enjoy the great outdoors. Their lives have been inspired by a great deal of travel and exploration, so it was only natural to incorporate that element into their creation.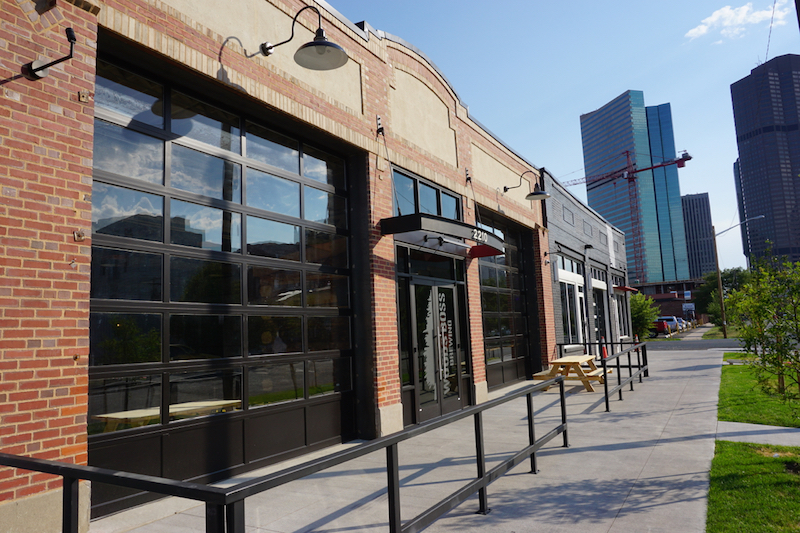 Growing up in the suburbs of Chappaqua, NY, Fink developed an early interest in hiking, backpacking and cross-country travel. That sense of wanderlust lead to his first stint out to Colorado in 1995. It was here, that Jordan was exposed to the likes of Walnut Brewery, Oasis Brewing and at the time a little 2-year old startup brewery by the name of Avery, sparking a deep seeded interest in craft beer. It was also in Colorado, that Fink began serving with the National Forest Service building and maintaining trails up near Vail. That passion for the outdoors would lead Jordan out west to Washington where he studied Hydrology at Evergreen State College. He later would serve with the Northwest Youth Corps, imparting his outdoor skills to teens through conservation and environment education, trail maintenance and job skills training, but it was also in this role where Fink earned the title of Woods Boss. That title would later come full circle after Fink's wife Michelle suggested he lend the name to the brewery.
"My life has been a long and winding road," laughs Fink.
The wry smile on his face reveals that even that grand of a proclamation may actually be an understatement. After stints teaching in Washington and Alaska, Fink would return to Colorado, where Jordan began serving as a volunteer firefighter, which he and his wife continue to this day. But it was during this phase in his life that he began seriously following another passion in brewing. What began as a hobby, homebrewing and developing over 100 recipes, soon evolved into life's work. Fink would spend time at Tommyknocker Brewing, take a short detour back into volunteerism serving with CityYear for two years, returning back to brewing teaming up with Golden City Brewing's Charlie Sturdavant to open Sherpa Brewery, the first brewery in Nepal, then returning to Tommyknocker and then Odyssey while planning his own launch.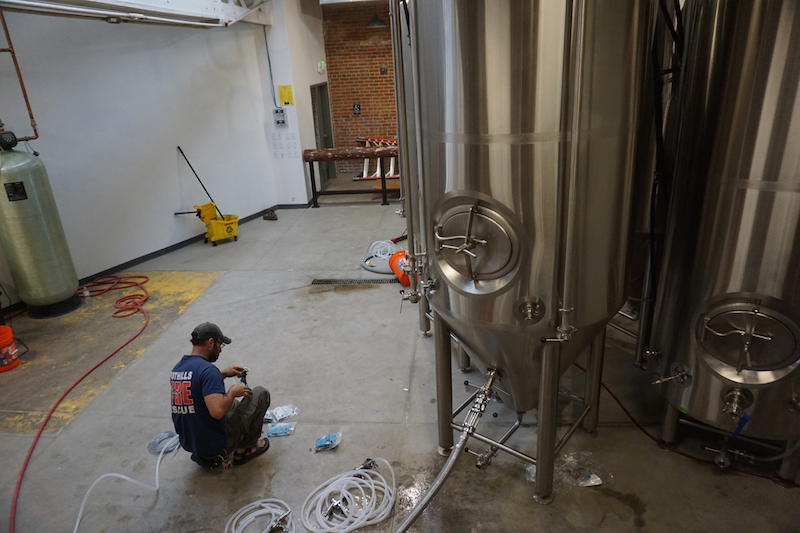 Co-founder Chad Moore who doubles as a Project Engineer for Lockheed Martin, on the surface appears vastly different than his brewery counter-part. However both actually share in many similarities. Both hail from the North East, and Moore, who is an Eagle Scout fell for the outdoors at an early age. Moore was also exposed to volunteerism at an early on, teaching kids survival skills and eventually decided to take a two month road trip visiting 19 National Parks before moving out to Breckenridge to become a ski bum. "When driving through Evergreen, I said to myself that I was going to live here one day," remembers Moore. And he would go on to do just that. After finishing up his MBA from Clarkson University Moore helped launch and sell an online video competition startup then joined Lockheed, after a few massively successful deals with the company he encountered Fink through a mutual friend at a Railroad Earth concert, and the two immediately knew they were on the same page.
"Our first conversation together wasn't about what type of beer we wanted to brew, or what our business plan was going to be, but instead, what kind of company do we want to be? What do we stand for? How do we give back to the community?" said Moore. "That's when I knew this was the guy."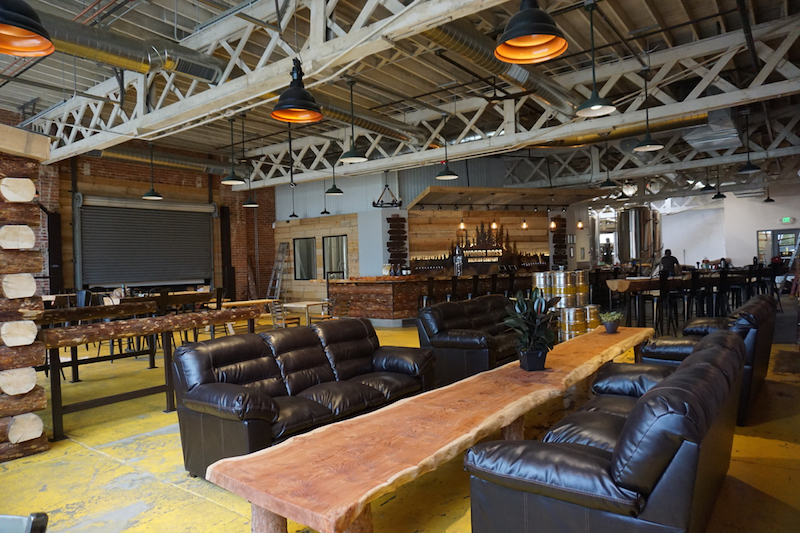 However before the two could get to building the brewery, they had another hurdle to overcome. Moore and his wife had already planned an eight month sabbatical in South America backpacking through Patagonia and Buenos Aires. So Moore and Fink turned to the connectivity of technology, Skyping in multiple times throughout the week to view over 80 potential properties as the future home for Woods Boss. Eventually the two landed on 2210 California Street.
The 5,400 sq ft building houses an open floor plan and high barrel-arched ceilings. Woods Boss's bar is built out of two sticks of sustainably harvested Redwood trees with a third serving as a 21 foot long community table sandwiched by sofas. The rest of the taproom tables were carved out and created by neighbor, I Made It Workshop utilizing spruce. While the decor itself clearly represents the two's ties to nature, Fink also noted that future recipes will likely have an influence as well. "I love using adjuncts that may me think that I'm in the woods, such as juniper or spruce tips" said Fink. The Woods Boss brewing team is also joined by Assistant Brewer Ryan Logan, who also spent time at Tommyknocker Brewing.
Woods Boss Brewing opens today at 5pm with 11 of their own in-house beers on tap, as well as a gluten-free option from Holidaily Brewing, a root beer from Tommyknocker and a kombucha from Happy Leaf. The grand opening will include a performance by Jubilingo, Friday from 7-10pm and The Dollhouse Thieves on Sunday from 3-5pm.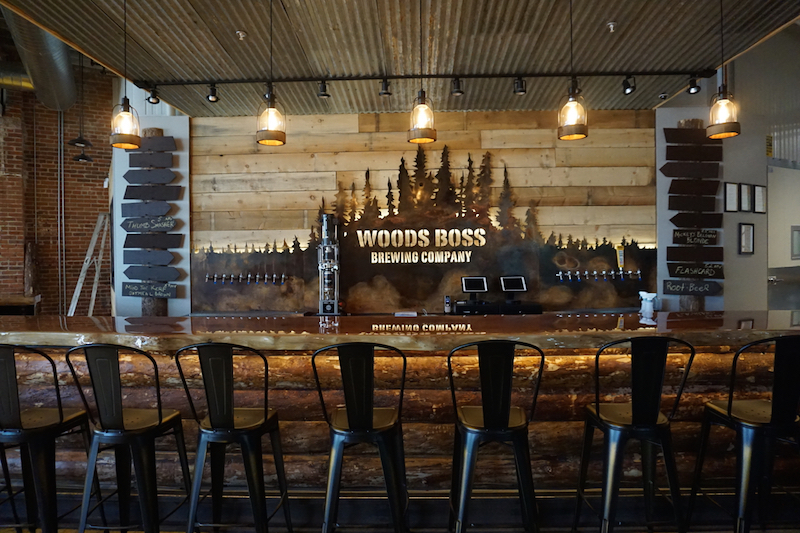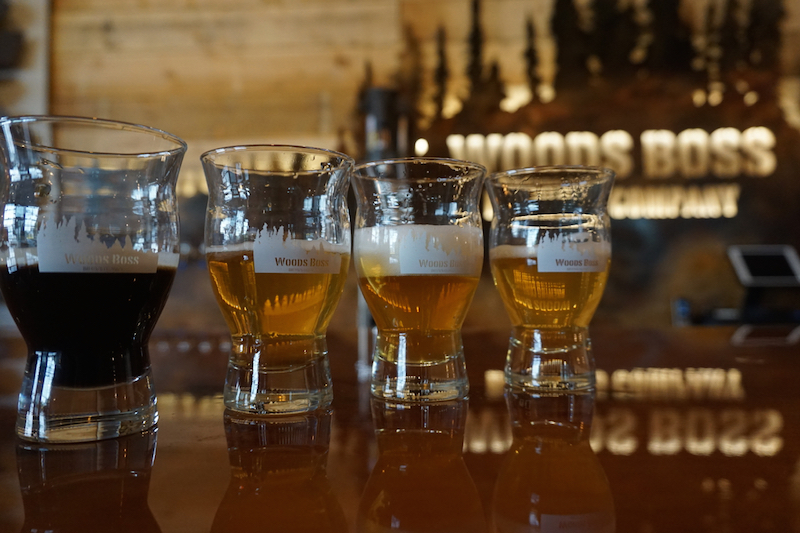 Below is the full lineup for opening weekend:
The Oswald (Full O' Hops) 

IPA – New England

The Fifth Point 

IPA – American

Paradisio 

Saison / Farmhouse Ale

Thumb Smasher 

Pale Ale – American

Mickeys Blonde 

Belgian Blonde

Flashcard 

Sour – Ale

Camp Sweep 

Cream Ale

Camp Sweep – Shandy 

Cream Ale

Mind the Kerf 

Oatmeal Brown

Foothills Fire Red
Juniperus Triticum – Juniper Wheat
Fat Randy's IPA – Holidaily Brewing Co. 

Gluten-Free 

1859 – Tommyknocker Brewery 

Root Beer

Mango Rose – Happy Leaf 

Kombucha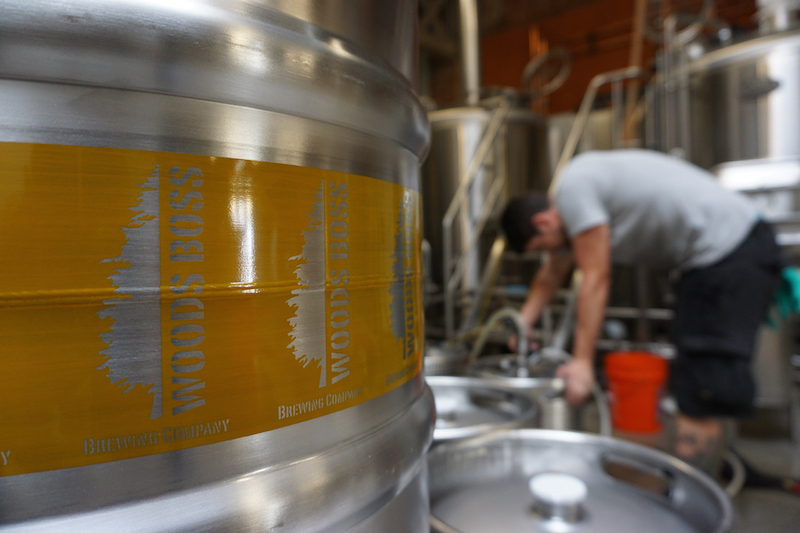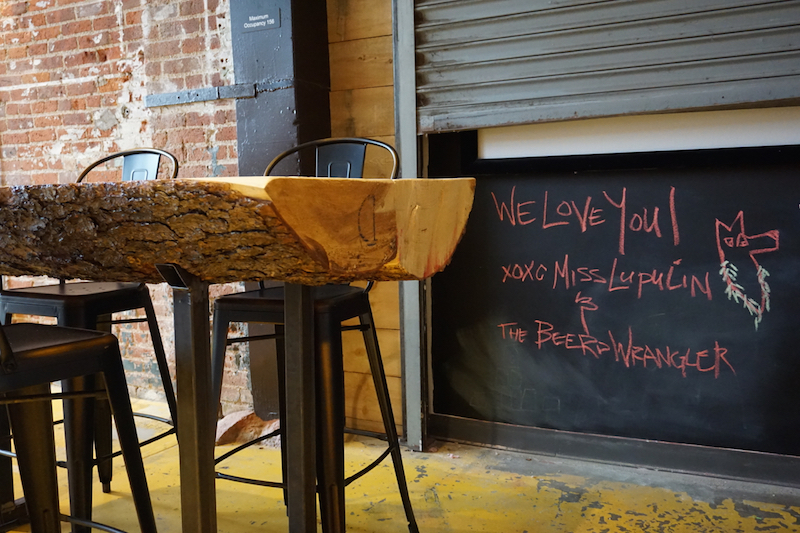 ---