No Comments
The Weekly Buzz | August 4 – 10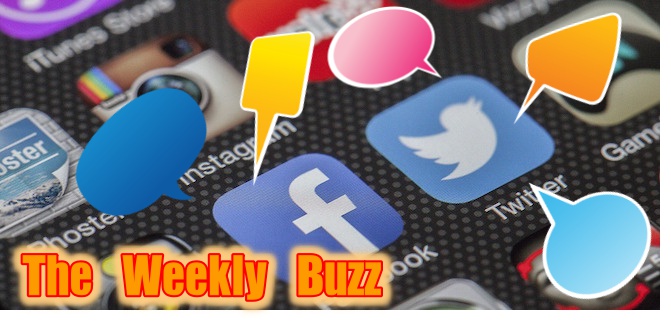 This was a crazy week in craft beer! It all started with International Beer Day on Friday. The week hit a critical mass of insanity when Funky Buddha (R.I.P.) was purchased by Constellation Brands and Magnolia Brewing was acquired by New Belgium (and partners). Also, let us not forget that I personally drank upwards of 12 beers. Slipping between the cracks of the more earth-shattering developments were plenty of event announcements, a few brewery anniversaries and a handful of job openings. Grab a beer and get ready to work on The Weekly Buzz.

In less than a month, Georgia breweries can begin direct sales!
Get ready, #GAbeer enthusiasts. 9/1 rings in the new direct sales era & #GateCityBrewing has a celebration in store. #livemusic #foodtrucks pic.twitter.com/Kvw4mR84rB

— GateCityBrewing (@GateCityBrewing) August 6, 2017
---
Happy belated International Beer Day!
Why do frogs drink beer? Because it has hops. I apologize to alcoholic frogs. Retweet & Like this RIGHT NOW! #InternationalBeerDay

— Gilbert Gottfried (@RealGilbert) August 5, 2017
Coincidence that #InternationalBeerDay is on #FatTireFriday? We think not. Cheers to #beer and the #weekend! pic.twitter.com/VYQN63NSn3

— New Belgium Brewing (@newbelgium) August 4, 2017
Happy #InternationalBeerDay! Cheers to all the #KansasCity breweries using our great water to make great beer! pic.twitter.com/0YIjEn7g3Y

— KC Water (@KCMOwater) August 4, 2017
#InternationalBeerDay aka an average Friday for Frank Gallagher. 🍻#Shameless pic.twitter.com/YuljMGntOj

— Shameless (@SHO_Shameless) August 4, 2017
RETWEET if this is you and your squad when finding out it's #InternationalBeerDay. 🍻 #NewGirl pic.twitter.com/66rbg6mHi3

— New Girl (@NewGirlonFOX) August 4, 2017
Swig of beer!!!RT @bronxfanatic: Happy #InternationalBeerDay @steveaustinBSR pic.twitter.com/ebr4gn9UhN

— Steve Austin (@steveaustinBSR) August 5, 2017
It's okay it's gluten free… #InternationalBeerDay pic.twitter.com/rPrXoKdERn

— South Park (@SouthPark) August 4, 2017
Happy #InternationalBeerDay! pic.twitter.com/2vktHbuMBI

— FRIENDS (@FriendsTV) August 4, 2017
---
Happy Anniversary!
4 years ago TODAY we opened our doors. A big thank you to all of you that support us and keep us open. You mean the world to us! Cheers! pic.twitter.com/gwSHbulnJu

— Crank Arm Brewing (@CrankArmBrew) July 29, 2017
Our restaurant is closed today, but we are celebrating 24 years at our Anniversary Party today at 3:00 pm! Join us!https://t.co/JQgBjvXrHY

— Avery Brewing Co (@AveryBrewingCo) August 5, 2017
---
Beers always go down great at the ballpark!
We're teaming up with the @ReadingFightins for a unique beer fest at the ball park series! https://t.co/GR9qdMk7YX pic.twitter.com/ibgBpkBJUg

— Sly Fox Brewing Co (@SlyFoxBeer) August 5, 2017
---
Hey! Ho! Let's go… to the Punk Rock Flea Market!
We're one week away from the Trenton Punk Rock Flea Market Summer Invasion! What are you most excited for? Vendors? Music? Beer? Foodtrucks? pic.twitter.com/2Z2exqomy9

— NCBCBeer (@NCBCBeer) August 5, 2017
---
It's too early for pumpkin beers, but this cocktail sounds A-OK.
https://instagram.com/p/BXcOufkFwBO/
---
But who would go there?
https://instagram.com/p/BXcw8lIDNKf/
---
Happy National Lighthouse Day!
https://www.instagram.com/p/BXgER9GDKsS/
---
Water is one of our most important resources!
.@sweetwaterbrew is helping @Waterkeeper fight for clean water for all! Learn about their #SaveOurWater campaign at https://t.co/UF1eERUnGE pic.twitter.com/TWY0yJ4TmR

— Waterkeeper Alliance (@Waterkeeper) August 7, 2017
---
That's a (half) ton of peaches!
Special delivery! Noah just dropped off 1,000lbs of #peaches from @SoergelOrchards. We should have a delicious 🍑 saison for you soon! pic.twitter.com/39b0VYGT9Y

— Draai Laag Brewing (@draailaag) August 7, 2017
---
 Independent beer pride is on the rise!
#Independent Craft Beer @BrewersAssoc @BlackhorseBrews is committed to this!!! pic.twitter.com/5aKrqNhwau

— Blackhorse Brewery (@BlackhorseBrews) August 6, 2017
Independent Craft. #drinklocal #drinklocalbeer #Drink30th #sdbeer #independentcraft pic.twitter.com/zK6lUbwjG8

— Rip Current Brewing (@RipCurrentBeer) August 8, 2017
We're very excited for our new seasonal "Slightly Sessionable" to hit the shelves this week with the @BrewersAssoc ​ #independentbeer seal! pic.twitter.com/JgV0dO5pbH

— Rockyard Brewing (@rockyardbrewing) August 8, 2017
---
What could it be??
https://www.instagram.com/p/BXi-PlLAlJ4/
---
We challenge YOU!
Challenge accepted @ConcentricSky! Your turn @HydroFlask @2TownsCider & @biersteineugene. 🍻 #drymouthchallenge pic.twitter.com/G1qXxWqaYT

— Ninkasi Brewing (@NinkasiBrewing) August 8, 2017
---
Gotta get those tix!
160 California breweries, 450 craft beers, and you! #CABeerSummit Saturday festival tickets are on sale now: https://t.co/IMUqELJ14r pic.twitter.com/wfM9y3esJL

— CACraftBrewers (@CACraftBrewers) August 8, 2017
---
Do it for the animals!
Every Tuesday night we host local animal organizations and pets on the patio for #PawsAndPints! Join us this week: https://t.co/8vSyyyI01y pic.twitter.com/V1Dk9oPEI0

— Night Shift Brewing (@NightShiftBeer) August 7, 2017
---
Why don't they just hire that robot?
We Need You (Human Resources Generalist)
Follow the instructions + apply as soon as humanly (and humanely) possible. https://t.co/ouKcITjvie pic.twitter.com/gisozHjF3E

— Flying Dog Brewery (@FlyingDog) August 9, 2017
---
Don't be late for this very important date!
Join @fw_sourjim for an evening of wild ales & even wilder tales as he hosts Down the Rabbit Hole on August 24: https://t.co/vlKvF9YILD pic.twitter.com/7LwYUw4Ue3

— Firestone Walker (@FirestoneWalker) August 9, 2017
---
Mark your calendars!
Get your tix for our Sept. 2 event! $50 gets you access to an unlimited #craftbeer fest, scarf, AND @LAGalaxy game! https://t.co/2pU8DXA2FM pic.twitter.com/ijwZH0cihE

— Frances (@FrannyFullpint) August 7, 2017
---
Even accountants need to let down their hair!
Craft Beer Accounting Group conf in Longmont #BeerNerds #CollaborativeSpirit ✔️out the shirt & beer, Accrual World, a prickly pear cream ale pic.twitter.com/6bF1uZDVWV

— Left Hand Brewing Co (@LeftHandBrewing) August 10, 2017
---
This man is a hero.
https://www.instagram.com/p/BXl6sYKA_la/
---
Can I just take a Lyft to the finish line?
Calling all Dashers … have you started your #DogfishDash training?! T-minus 45 days… 🏃‍♀️🏃 #offcentered pic.twitter.com/kx3GaECTuS

— Dogfish Head Brewery (@dogfishbeer) August 10, 2017
---
I'm a huge FAN of this harvesting technique!
https://instagram.com/p/BXnpPionAZp/
---
Beer job!
We have a full-time position avail on our packaging team! If interested, email a cover letter & resume to Greg Michaels at [email protected] 🍻 pic.twitter.com/WmlEoe3Pws

— Heavy Seas Beer (@HeavySeasBeer) August 10, 2017
---
I've heard of worse excuses to drink beer!
If you're gonna blackout-blackout with us at @sweetwaterbrew https://t.co/NZODz88S1T

— Radio 105.7 (@Radio1057) August 10, 2017
---