No Comments
Flying Dog Brewery – Raging Bitch Belgian Style IPA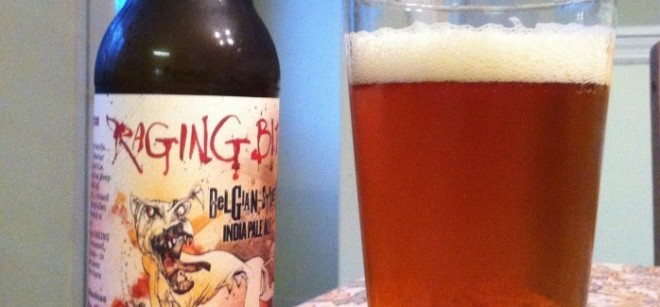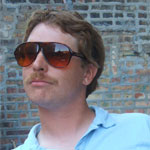 ABV 8.3%,
60 IBU
The scene was Lebowskifest 2009 (Louisville, KY). My friend and I had just finished riding our bikes across the Commonwealth just in time to meet up with our fellow Dudeists at the annual meeting celebrating all things Lebowski. In the parking lot of the Executive Lanes, a young man smoking an electronic cigarette (a relatively new concept at the time) approached us, and offered us a beer form his portable cooler. He cracked open bottles of a Belgian Style IPA that reinvigorated by tongue, which was falling asleep after a few Miller High Lifes. He touted the beer as the best thing he had ever tasted, a bold statement both then and in hindsight.
I studied the label, drawn immediately to the artwork that seemed familiar to me – distorted yet decipherable images of a ravenous dog with the dripping letters of "Raging Bitch" scrawled across the label. I know that lettering. That is the lettering from Fear and Loathing. Could it be that this beer had some connection to the native Louisvillian, journalistic icon and well known lout Hunter S. Thompson? Turns out Thompson had connections with the brewers, having a ranch next to theirs outside of Aspen, C0., and it was Thompson that introduced the Flying Dog founders to his illustrator, Ralph Steadman, whose unmistakable drawings now grace their labels. Now, I don't remember my initial thoughts on the beer other than NOT the best beer ever, but I enjoyed it. I do, however, remember that I couldn't find it afterwards for quite a while. Recently, it has started popping up at specialty beer shops in my area, piquing my interest once again.
Raging Bitch, being a Belgian Style IPA, has a fruity and sort of musty smell, which does not foreshadow its taste. Bland and dirty on the front end of the palate, which beer drinkers far smarter than I will tell you is Belgian yeast (I have heard it called "funky"), mildly hoppy in the middle (giving it that IPA feel), and woody at the end. I enjoy this beer because it doesn't offend your taste buds with an onslaught of hops, but it has enough to let you know they are there. The beer approaches your palate like Dr. Gonzo himself – never sitting still, always changing, evolving, and keeping you guessing. The name is appropriate if you are not careful with this one, as she will definitely come back to bite you at 8.3% alcohol. All in all, I would recommend this beer to those who are experimental, perverse even. Much like Thompson's wardrobe, nothing in this beer matches. The smell contradicts the taste, it is not a logical progression of flavors, and the name is much more abrasive than the beer itself. It is definitely not best in class in any area, but pleasantly surprising in every area. For the price (usually $15/six-pack), you can probably spend your money on something you love, but what would the fun in that be? Be adventurous. This depraved beast embraces the style of a fun-loving brewery where many beers are modeled after an irreverent man and illustrated by his equally sadistic sidekick. Enjoy the art, enjoy the beer, enjoy the buzz.