3 Comments
The 13th Beer – A Salute to the Seattle Seahawks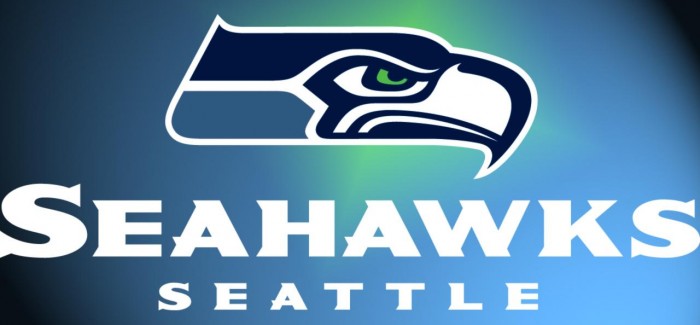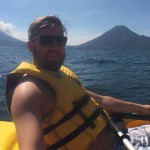 Before we get into this homage to the Seahawks and the city I love, Seattle, there's something I need to confess: the Seahawks are honestly my second favorite team. See, I was raised in Kentucky, where there are no professional teams. If you went purely on the closest geographical location, you'd probably end up a Reds and Bengals fan, but seriously, what kind of future is that? Instead, I went another popular route – I picked a team that was good and had greats like Steve Young and Jerry Rice. In this year's NFC Championship game, I landed in a bit more of a pickle than I'd have predicted 20 years ago, but I think the outcome might prove to be an omen of destiny.
I moved to Seattle when the Seahawks were in rebuilding mode, posting 7-9 seasons in both 2010 and 2011. Then what do you know. The Seahawks, with a semi-laughable coach, some oversized DBs, and an undersized quarterback began making waves. At the risk of being called a Sports Bigamist (although I see some outs for myself in points 15c and 19), watching them, and even pulling for them, all season has been one of the coolest sports experiences of my life. The city and the entire region are literally buzzing and united behind a team and a goal and I can't deny it's contagious.
They call the fans the 12th Man because they actually impact games like an extra player on the field. Well, there are usually 12 beers in a case so I'm going to give you one extra as well and tell you about 13 beers that explain a bit about the Seahawks, Seattle, and the people who live here.
#1 – Rainier Beer –Rainier – Seattle, WA
On my first trip ever to Seattle with my would-be fiancé, I wandered off to buy some beer. I walked to a gas station, made a financially responsible (i.e. cheap) choice, and then walked back.  I was amazed when the Seattle residents looked at me with a new level of respect.  I had discovered Rainier. Rainier is not a good beer or a bad beer, it's simply a run of the mill, inexpensive American lager.  But it's Seattle's run of the mill, inexpensive lager, made right in the city.  If you're looking for cheap beer anyway, why not buy local? The actual Mount Rainier is also amazing.  It's a huge freaking volcano that you can see from anywhere in Seattle on clear days, mysteriously standing in the distance.  I assure you there will be MANY Rainiers consumed Super Bowl Sunday.
#2 – Pike Brewing – Space Needle IPA – Seattle, WA
If you talk about Seattle, you better talk about Pike Place Market and if you talk about craft beer you better talk about Charles and Rose Ann Finkle. Charles and Rose Ann were, for a while, the only people in the country importing quality international beers in the 70's before eventually starting their own brewery in 1989. I can't think of a better brewery to claim the Space Needle, also a Seattle icon. The Space Needle is a representation of a city that is always reaching for the sky, full of innovators, pioneers and reckless individuals just like Charles and Rose Ann. Visit Seattle, have a pint at the Pike Place Brewery overlooking Puget Sound and I dare you not to fall in love with this place.
#3 – Port Townsend Brewing – Hop Diggidy IPA – Port Townsend, WA
Take a look at this label.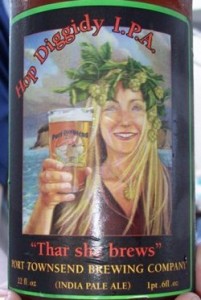 This says a lot about the Puget Sound region.There are plenty of flower-in-their-hair types in this town and they are wonderful people. The flowers in this case are of course hops; fitting since the Pacific Northwest is such a large hop growing region.  Then you've got the water and islands in the background – a tribute to how much the Sound was populated by sailors and built around the ports to set a foundation of adventurers and explorers.
#4 – Hilliard's Beer – 12th Can Pale Ale – Seattle, WA and #5 – Dick's Brewing – 12th Man Pale Ale – Centralia, WA
Here are a couple of beers in salute of the fans themselves. Neither of these is anything special in terms of flavor, but so what? How many Imperial stouts do you really want to have while watching a 3 hour football game? A lot of local NW pale ales hover around 6% ABV and have a pronounced hop profile. These beers at 4.5% ABV each are designed to allow you to drink your fill, but still keep watching the game (and get home safely). I'm just saying if you're looking for something light and have a choice between a Bud Light and one of these it should be a pretty obvious decision.
#6 – Silver City Brewing – Ridgetop Red Ale – Bremerton, WA
According to Wikipedia (now you know the level of research I'm putting in here), Red Bryant got the nickname "Red" because "his mom said that (he) was a red baby." No idea what that means, but personally, I like to think that it's because he's Irish. This beer made me think of Bryant not only because of the name, but because I've always remembered it as a deceptively quaffable beer. Bryant moves a lot faster than you'd expect a man of his size to, and if Manning isn't watching himself, he could go down a lot faster than anticipated, too.
#7 – Hale's Ales – Troll Porter – Seattle, WA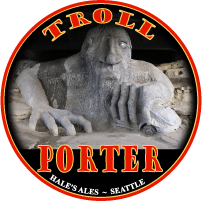 There are many reasons I selected this beer. Fremont is one of the lifeblood neighborhoods of Seattle, the Troll is one of the must see parts of that neighborhood, and there are quite a few players on this Seahawks defense you could rightfully characterize as dangerous as trolls under a bridge. But I think this beer belongs to Brandon Mebane because if this dance isn't trolling opposing QBs, I don't know what is.
#8 – Big Al Brewing – Super Villain Cascadian Dark Ale – Seattle, WA
Now what exactly does Cascadian Dark Ale mean? You could also call it a black IPA I suppose but either way, it's a beer with the capability of attacking your palate from either from the malty or hoppy perspective, often alternative between drinks. Kam Chancellor and Earl Thomas as the safeties for Seattle do the exact same thing. The corners for Seattle so often play straight man coverage that the safeties are left to cover anything deep and also come up to make plays on the run.  These guys are going to get a workout covering Peyton Manning, especially with all the pick plays, but it seems they know what's coming and in fact look forward to it.
#9 – American Brewing Company – Breakaway IPA – Edmonds, WA
A small brewery in Edmonds, WA, just a bit north of Seattle produces this beer which is aptly named for the wide receiving pairs of Golden Tate and Doug Baldwin. The fact that I'd use a beer with a hockey player on the label in a football article makes about as much sense as Tate's reception against the Packers last year and the fact that a 5'10" receiver might catch some meaningful passes from a 5'11" QB in a Super Bowl.  Combine that with the fact that they've both proven dangerous returning punts and kickoffs and are playing in a game where special teams might be the deciding factor? I'd say Breakaway is a fitting beer.
#10 – Elysian Brewing – Avatar Jasmine IPA – Seattle, WA
Coming straight from one of the youngest and hippest (hipstererst?) neighborhoods in Seattle, this beer has an addition of jasmine that tones down the hop profile so it isn't in your face. It's not trying to be bigger than it is and it's not trying to impress you on how high its IBU value is. But it is so. Damn. Good. Like way better than you think it should be. Which reminds me entirely of Russell Wilson; the QB who folks said wouldn't be able to see over his O line but somehow managed to lead an NFL team to a Super Bowl. It is completely astounding that Russell Wilson, a 2nd year player getting paid around $500k for this season, is taking on Peyton Manning, one of the best to ever play the game and making over $20 million, in the Super Bowl. It's not quite David and Goliath, but it might as well be.
#11 – Stone Brewing – Arrogant Bastard Ale – Escondido, CA
This beer has Richard Sherman written all over it. Even before he went off after the NFC Championship, it was no secret that Sherman had a mouth. But I kind of love him. He's everything you want in an NFL corner:  big, tough, charismatic, smart. He's got a mouth but backs it up. Now, go read the description of Arrogant Bastard on the Stone website, think about how good it is in spite of the text and how much you've enjoyed it, and then really reflect on your perception of Sherman.
#12 – Green Flash – Palate Wrecker Imperial IPA – San Diego, CA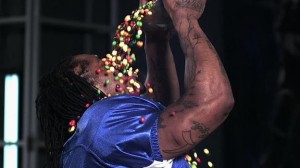 There's no reason to wonder why Beast Mode became a term for Marshawn Lynch getting loose. Just look at this, this, and if you've got the time this. There is no doubt in my mind that one of those stiff arms could literally wreck your palate, like by going straight through it. My dad is an orthodontist and I've got inside information that the American Dental Association is considering adding Marshawn Lynch to popcorn, caramel, and Laffy Taffy as the top things that could mess your teeth up, especially with all of those Skittles.
#13 – Beer Valley – Leafer Madness Imperial Pale Ale – Ontario, OR
For lucky number 13, I'm not going to waste time telling you what you already know.  But I must acknowledge that a Washington/Colorado battle is indeed a Super BOWL!
As fans, we really can't hope for more than the best defense in the game versus the best offense and that's what we've got. But I can't help but feel that somehow the Seahawks are the underdogs, because Manning's mastery of the game somehow means there's no way he could lose. But this team has grit, talent, discipline and energy on their side and that, ladies and gents is why you play the game versus just talking about it.
I'm sorry Steve Young; I'm pulling for these guys.
Go Hawks.