No Comments
The Weekly Buzz | October 13 – 19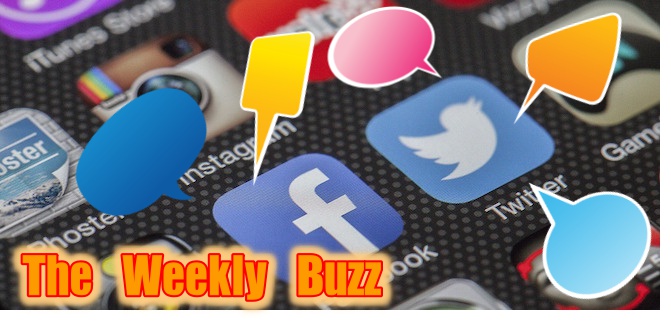 Another week has gone by, and I've spent too many hours on Twitter. I think it's affecting my personality. I engaged a troll the other day, and I don't even know why! Is there a 12-step program for  Social Media? I'm not saying that I have a problem, but, I mean, it's pretty likely that I have a problem. Anyway… Here is some fun beer stuff that I found for you! Saddle up, dear readers! It's time for The Weekly Buzz.

How did you celebrate Jason Voorhees' birthday?
Fresh canned beeeeer heeere! Happy #Friday13th & #RedFriday Kansas City! Now let's celebrate 😁 pic.twitter.com/ETnG282JNO

— Cinder Block Brewery (@cinderblockbrew) October 13, 2017
---
Drink a beer for a good cause!
We raise a glass to #MBCAwareness day. Help us #SaveTheBoobs and order a pint of Chainsaw or grab a 6-pack today! #ChainsawCheers pic.twitter.com/ep8X4Mxsx7

— Big Choice Brewing (@BigChoiceBrew) October 13, 2017
---
I want it all. Now.
---
Got any Halloween plans?
Halloween is for adults too. #TwoBrosBeer #TwoBrosRoundhousehttps://t.co/nDOk8GJ20B pic.twitter.com/HWpsJf4VyU

— Two Brothers Brewing (@TwoBrothersBeer) October 15, 2017
🎃 Nightmare on 24th St is coming 🎃 pic.twitter.com/8cvXqzeFqj

— Almanac Beer Co (@AlmanacBeer) October 16, 2017
---
Look out South Jersey! New beer headed your way!
---
Road trip?
---
These guys are crazy, and I love them.
---
Heading to a Vikings game?
FYI pic.twitter.com/rDXgiUsG0X

— surlybrewing (@surlybrewing) October 15, 2017
---
Do you like your boss enough to offer a toast?
Raise a glass to your boss! Cheers #NationalBossDay pic.twitter.com/dfveSWDxmS

— Left Hand Brewing Co (@LeftHandBrewing) October 16, 2017
---
Want to celebrate your love of malt?
---
Are you ready to get EXTREME?
---
A likely story…
---
Seems like a sticky situation!
---
A breakdown of this year's medal winners.
It's here! 🤓 2017 #GABF Medal Winners Analyzed by Bart Watson (@BrewersStats) Chief Economist @BrewersAssoc https://t.co/lCamEAaaXl

— GABF (@GABF) October 18, 2017
---
Happy Anniversary!
This Saturday 5-year Anniversary Party! Special tapping at 3 pm…10-oz pour FREE til a 6er is gone (one per person)! Live music! pic.twitter.com/vmpjj1rceG

— Very Nice Brewing Co (@VeryNiceBrewing) October 18, 2017
---
Are you going to Darkness Day?
#DarknessDay merch tease: This Baba Yaga-starring tee will be among the exclusive items available on Saturday. pic.twitter.com/MmCItIb1sq

— surlybrewing (@surlybrewing) October 18, 2017
---
Fresh hop season is the best season.
It's officially Fresh Hop season! This years hops are up and coming variants Loral & Ekuanot. Think: floral, spice & some tropical fruit. pic.twitter.com/qeRhZxRGIe

— Great Divide Brewing (@greatdividebrew) October 19, 2017
---
Did they drink and drink and drink and drink and drink and drink and fight?
The @DropkickMurphys dropped by today for a tour and to give us a hand on the pilot system. Good news is brewing. Stay tuned. pic.twitter.com/XJA38CAigj

— Magic Hat Brewing (@magichat) October 19, 2017
---
Do you use proper glassware?
Craft Beer: Infographic: How to Choose the Right Beer Glass https://t.co/7KbFSP1Wqq pic.twitter.com/vTejS4X0GT

— Portland Beer (@BeerPortland) October 19, 2017
---
Always use the right tool for the job.
---
Don't they know that pumpkin beer season starts in July?
---
Ya'll gonna make me lose my mind up in here, up in here!
#Portland: Hang out with us this year at LOSE YR MIND FEST 2017 OCT. 21 + 22. https://t.co/SINTRgGqZj pic.twitter.com/ACVMyJnqTX

— Ninkasi Brewing (@NinkasiBrewing) October 19, 2017
---
It's a celebration!
Help us celebrate the end of prohibition along with @MadAnthonyBrew @ChapmansBrewing @3RiversDistill Details here: https://t.co/HF0atDY0gx pic.twitter.com/GhCJE607mS

— BrokawMovieHouse (@TheBrokaw) October 19, 2017
---
Make Quality Assurance Great Again!
This is what the QA process at Alaskan Brewing used to look like… #tbt #alaskanbeer #totally80s pic.twitter.com/cHom3QVTKl

— Alaskan Brewing Co. (@AlaskanBrewing) October 19, 2017
---