No Comments
The Weekly Buzz | July 28 – August 3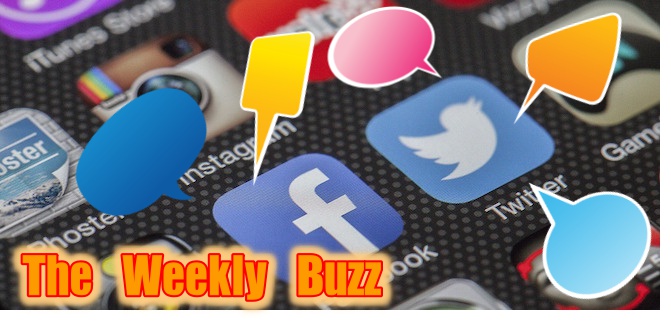 It's been another long, hot week. Not only that, but it was a busy week in the world of craft beer. GABF tickets went on sale, we celebrated National IPA Day and one of this country's oldest craft breweries was bought by Sapporo. As the weekend creeps towards us, we all need to sit back, take a deep breath and enjoy a delicious beer. While you do that, feel free to peruse this week's edition of The Weekly Buzz.

Protect your prostates!
Pints for Prostates Partners With 51 Brewers For Crowns for a Cure 2017 https://t.co/IBXkNMyqh7

— Pints for Prostates (@Pints4Prostates) August 1, 2017
---
I assume they aged the hops in some type of humidor…
Using some hops we aged ourselves for our collab today with @SideProjectBrew! We're super excited to see how this one turns out…stay tuned pic.twitter.com/IYk241cz8n

— Creature Comforts (@creaturebeer) July 28, 2017
---
I'm willing to overlook this particular form of seasonal drift…
An Oktoberfest Lager is on the way! TreasureFest release party in the #HeavySeas Tap Room is next month – Thursday, 8/24. Stay tuned! pic.twitter.com/zlbFPeGFAS

— Heavy Seas Beer (@HeavySeasBeer) July 28, 2017
---
Volunteer, and you can get in for free!
Want to go to @VeloramaFest for free? Sign up to volunteer & get free access to the festival on the day you work! https://t.co/4D82lWlTaE

— Great Divide Brewing (@greatdividebrew) July 29, 2017
---
Beer gives back!
Thank you to the Bell's employees who helped in #buildingcommunity and #buildingstability with @HabitatKazoo #LoveWhereYouLive pic.twitter.com/yvrKZJTyfG

— Bell's Brewery (@BellsBrewery) July 29, 2017
---
I didn't see these at Dunkin' Donuts this morning.
Chef Zach just whipped up some Oak Aged Vanilla World Wide Stout donuts for brunch at the brewpub on Sunday! 🍺🍩❤️ pic.twitter.com/wlAFsqXT1j

— Dogfish Head Brewery (@dogfishbeer) July 30, 2017
---
Everybody look at me, cuz I'm sailin' on a boat!
Our 8/17 #BrewsCruise is going to be totally awesome! Feat. @MarisaMagnatta, @yardsbrew & @FranklinFtn ice cream! https://t.co/igGwdexSqa pic.twitter.com/7aNvYbMhko

— Spirit of Philly (@SpiritofPhilly) July 29, 2017
---
Craft beer is taking over wine country!
Our co-founder/executive chairman Greg Koch stopped by recently to give a glimpse of the progress & what's to come. https://t.co/NFlQpAXsd2

— Stone Brewing (@StoneBrewingCo) July 31, 2017
---
Polish your Maßkrug! It'll be Oktoberfest before you know it!
Ben from Penn is pleased to announce the dates for this year's Penn Oktoberfest celebration: Sept 15-17 & 22-24. More details to come! pic.twitter.com/z6R4XonQqZ

— Penn Brewery (@PennBrewery) July 31, 2017
---
This logo is popping up everywhere!
Only took two tries to get it on right side up (upside down?). Either way, proud to rep the seal. Thanks @BrewersAssoc. pic.twitter.com/wyPBoOUWWV

— New Province Brewing (@NewProvinceBrew) July 31, 2017
---
I could have used this on my tacos last night!
Like things hot & saucy? You gotta try #FatTire Hot Sauce! It's packing a punch with Fat Tire & habanero peppers: https://t.co/UwUHC134XQ pic.twitter.com/qyQDwi8u61

— New Belgium Brewing (@newbelgium) July 31, 2017
---
People, let me tell you 'bout my best friend!
Brewing with our buddies @creaturebeer @blaketyers today! pic.twitter.com/GffQZJtP9E

— Perennial Beer (@PerennialBeer) July 31, 2017
---
Honey! How much gas is in the car?!
Our next Woodlands Project release is a belgian with blackberries aged 3 years on cab and merlot barrels. https://t.co/JE4wRk24CM pic.twitter.com/iWFQUE95uC

— SweetWater Brewery (@sweetwaterbrew) July 31, 2017
---
Don't say they didn't warn you!
It's official, the Allagash Street Fair 2018 will take place on June 23rd. We bought a 2018 calendar just so we could mark off the day. pic.twitter.com/FuSZ0g2aHE

— Allagash Brewing Co (@AllagashBrewing) July 31, 2017
---
Happy Anniversary to these fine breweries!
https://instagram.com/p/BXOEv85FaO5/
https://instagram.com/p/BXOKhAdl0I6/
Five years ago today, we brewed our first official batch of beer. Be on the lookout for five year festivities in the near future. pic.twitter.com/mzth4GDVRk

— Revolver Brewing (@RevolverBrewing) August 1, 2017
---
What are your GABF plans?
TFW you and your friends finalize your #GABF ticket sale day plan. #hoppyplace pic.twitter.com/qlmER5cM6L

— GABF (@GABF) July 27, 2017
---
Come throw the pie plate into the chain basket thingy!
Registration for the 2017 SF Safari is now open! https://t.co/j1rCsTNdZW #discgolf pic.twitter.com/gtEht6N3Ro

— Anderson Valley Brew (@avbc) August 1, 2017
---
Stickers? I'm in!
Who's ready to collect their stickers?! #2017HOPintheCity tix on sale now. Buy TODAY ONLY and get a free t-shirt! https://t.co/zvqUEV3zyv pic.twitter.com/CV2Gi6fA20

— Schlafly Beer (@Schlafly) August 1, 2017
---
Are people still playing this game?
#newbeer alert! We're also a #pokestop now! Our Belgian dark strong #ale clocks in at 10.2% ABV and is called Tyranitar. Related? Probably. pic.twitter.com/DgI23am1Kf

— Caution Brewing Co. (@cautionbrewing) August 2, 2017
---
Does every attendee just complain about the parking?
RSVPs now open to Yelp's Brews & Bites with @FoothillsBeer https://t.co/3tImkC9ViT to snag your spot pic.twitter.com/zuJVlNadc3

— Yelp NC Triad (@YelpNCTriad) August 2, 2017
---
Time for a little R&D!
New R&D system at our Milton brewery is set up and about ready for its first brew! Now the question is…what should it be? 🤔 #beergeekery pic.twitter.com/bGO1z4OuHK

— Dogfish Head Brewery (@dogfishbeer) August 2, 2017
---
Check out a free, solar-powered film festival… with beer!
Great beer and a free solar-powered film festival here in Boonville Sat. 8/26!https://t.co/UdIyplQ5Kq pic.twitter.com/MKvTVnsjv5

— Anderson Valley Brew (@avbc) August 2, 2017
---
How did you celebrate National IPA Day?
The tasting room has a hop piñata to celebrate #IPAday. Doesn't everyone?
(spoiler alert: it's not filled with hops) pic.twitter.com/7gke7gphSv

— Foothills Brewing (@FoothillsBeer) August 3, 2017
---