No Comments
Event Preview | Beerliner and Chill: Brewer's Health Initiative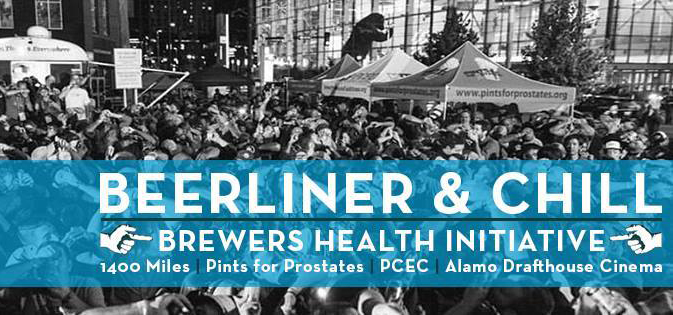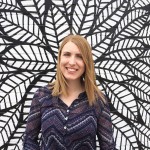 Beerliner & Chill: Brewer's Health Initiative rolls into town on Wednesday, October 5, just in time for GABF! For a little bit of history on this event we have to roll back a few years to September 2013 when Davis Tucker, owner of NxNW Restaurant & Brewery in Austin, Texas, decided to ride 1400 miles from Texas to Colorado in honor of his brewmaster Don Thompson's prostate cancer diagnosis.
Tucker decided that he wanted to raise awareness about prostate cancer to make sure men were going to get screened as they should. Tucker made it to Denver just in time for that year's GABF and decided that this ride could be an annual tradition and event so Beerliner and Chill: Brewer's Health Initiative was born! We recently sat down with Davis Tucker to talk more about the 1400 mile ride, the Beerliner bus, and prostate cancer awareness.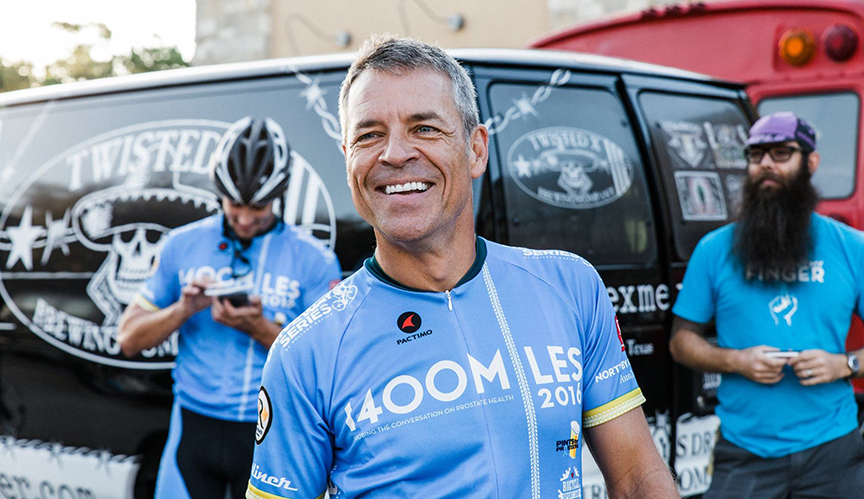 How long do you all ride each day? What's the most difficult part of this journey?
We ride for about 120 miles for the first three days into the trip and then about 90 to 100 miles a day after that. The most difficult part of the journey is definitely the accumulated fatigue that comes over you as the ride goes on. My biggest fear on the first ride was if I was going to be able to finish or not because I was so tired, but I thankfully did end up finishing. Also, each day almost becomes like a "groundhog day" where you wake up, get on the bike, ride, get to the hotel, rest, and then repeat. The hardest day of the trip is the day we ride from Leadville, Colorado to Grand Lake, Colorado and then over Trail Ridge road in Rocky Mountain National Park. The mountains are so unpredictable with altitudes and wind.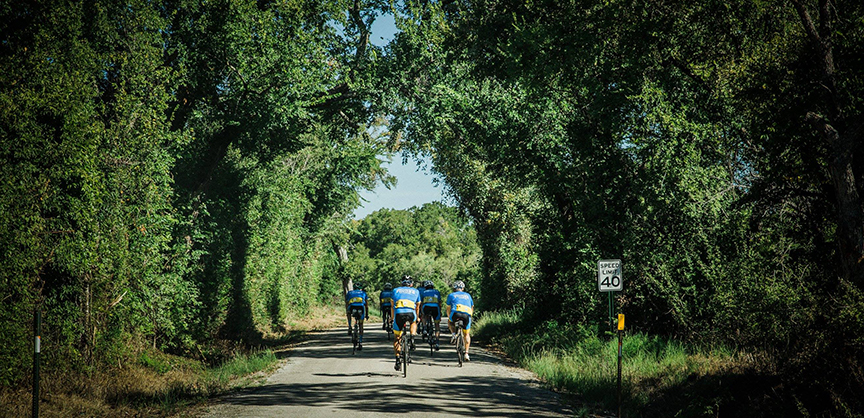 How has 1400 miles grown over the years? How many riders this year?
We have 6 doing the big ride this year. There is now also an Austin-area community ride to involve more local folks in the industry and community. We host the event at Twisted X Brewing Company in the summer, we had about 270 come out for that ride this year. It is an opportunity for both casual and more serious riders, we are hoping to grow the local event to 500 people next year. We are also talking to Live Strong in hopes to grow the Texas to Colorado ride as well.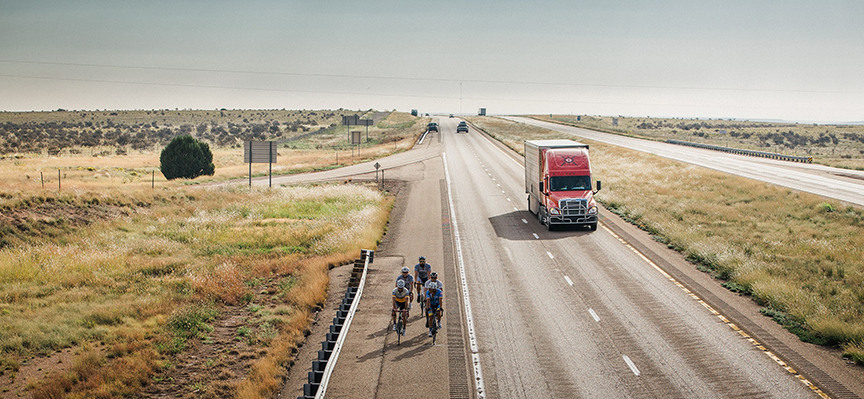 Do you have any iconic stops along the way, or perhaps ones that have any unique backstories or traditions?
We have a tradition of shotgunning a beer on the top of Wolf Creek Pass outside of Pagosa Springs, Colorado. We also always stop at Elevation Brewing in Salida, Colorado before we even stop at the hotel. This year is special because my wife and 15 week old daughter are joining me in the ride, but they are riding along in our group vehicle of course.
What is the Beerliner for those who aren't familiar and how did it get its start/get involved with the 1400 ride?
I first started NxNW in 1999, at that point I had been going to GABF since 1988 when it was still a small gathering of brewers and their beers. The industry started to grow and I stopped attending GABF for a while because I just lost some interest in going. In 2010 I decided to give it another shot because so much was changing for the better in the craft beer industry. Around that same time food trucks were becoming very popular in Austin and I wanted to be part of that movement but I wanted to do something different. So I decided instead of a food truck, I wanted to have a beer bus! So I went onto eBay and found an older bus that had been used to tow Jet Tractors for sale for $7,300. So I purchased it and had to go out to South Carolina to pick it up. It was in dire need of work. I then had to gut it, completely repaint it, get it a new engine (well now, two new engines), redid it's bathroom, added a kitchen and a walk in beer cooler that can hold around 10 kegs. We also added a big screen tv, a good stero system, 4 taps in the kitchen, 4 taps outside, and a great seating area. We use it now for private events in Texas and it made it's debut in Denver in 2010. Chris Black of Falling Rock [Tap House] and I are friends so he agreed to have a spot for us out front of Falling Rock that first year we debuted the Beerliner. We had a lot of support from local Texas breweries and they had donated a bunch of beer to have served on the Beerliner along with their Reps to talk about what they were serving at each session held. At that point we didn't realize we were breaking the law by serving beer on Denver's streets but have since got our proper alcohol license for each event so now we are totally "legit". Also, the event is now more focused on prostate health than just Texas breweries and it is a tradition to have this event each year the week of GABF in the parking lot across from the Convention Center.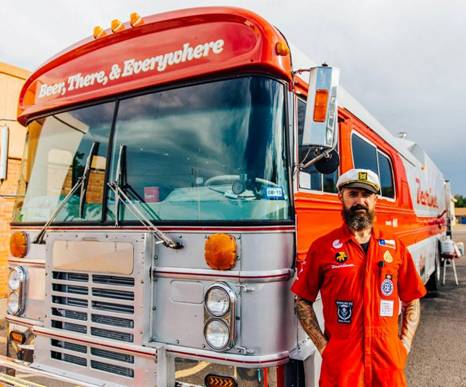 What can people expect when they visit the Beerliner to learn about 1400 miles?
It is a stunning fact that more men get prostate cancer than women get breast cancer. We want to provide an avenue for people to get checked for prostate cancer. We are encouraging the slogan "don't fear the finger" and hoping to get the message through to guys with the combination of their love for bikes and beer. We hope these guys will die of something other than prostate cancer so we have to raise awareness. Many guys are stubborn about going to the doctor when they should, especially if it is to get screened for cancer. We want men to get checked and get checked early, that is the key to surviving this disease! We also want girlfriends/wives to encourage the men in their life to get checked out. So we will be offering blood draws for the screening.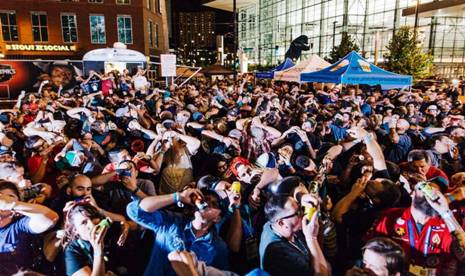 To learn more about the Beerliner and 1400 miles be sure to attend Beerliner and Chill: Brewer's Health Initiative event anytime Wednesday October 5th at 3:00 pm through Saturday October 8th at 12:00am at the Focus Parking Lot (14th & Stout in Denver) across from the Colorado Convention Center. More details and tickets can be purchased here!
---