No Comments
The Weekly Buzz | November 10 – 23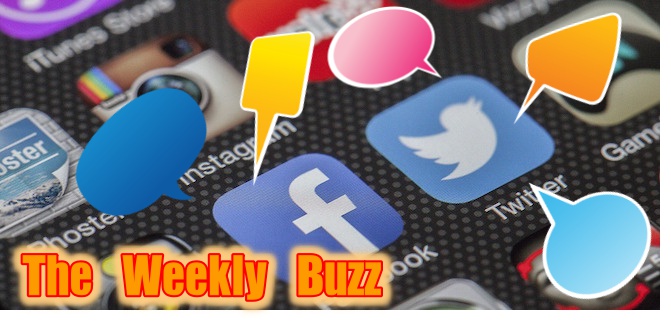 Welcome to this special double-edition of The Weekly Buzz. I had a work obligation that stopped me from posting last week, but fear not! I did manage to collect all the content, which is good because there was a LOT going on. Anyway… Here's the best beer-related Twitter and Instagram content from the last two weeks. It's time to start sipping on this special barrel-aged bottle of The Weekly Buzz!

Buy local. Drink local.
Celebrating our awesome local business community at the @thinklocaldc #LocalFirstAwards! pic.twitter.com/8X1nHOcfqP

— DC Brau Brewing (@dcbrau) November 10, 2017
---
Happy Anniversary!!
The big day is here – 15 years of Green Flash beers! We're celebrating this evening in our CA & VA tasting rooms, & would love for you to join! The party starts at 5 (EST & PST) & we'll have special brews, cake, music, food, & custom screenprinting – you won't want to miss it! pic.twitter.com/BNR1ghWoLw

— Green Flash Brewing (@GreenFlashBeer) November 10, 2017
---
Thank you to all the veterans who have protected and served our country!
We salute USMC LCpl Walt Wilby, now serving as our blacksmith & resident wise old man. Thank you, Walt. #VeteransDay #BrewUntoOthers pic.twitter.com/9DZ05jK3qI

— Yards Brewing Co. (@yardsbrew) November 11, 2017
We raise our glass to those who put their dreams aside to ensure we can pursue ours. Pictured is our Retail Beer Supply Manager and proud Marine Corps veteran, Tim Perkins.
#veternsday pic.twitter.com/t3LRtVh3Un

— Founders Brewing Co. (@foundersbrewing) November 11, 2017
This Veterans Day, we'd like to thank our brave men and women who served or are serving now in… https://t.co/drAkOsL22Z

— Penn Brewery (@PennBrewery) November 11, 2017
---
This was the last weekend for the original Yards brewery!
---
New tanks mean more delicious beer!
Our Brewmaster, Adam, next to one of our new tanks that arrived last week! #freshcomforts #gabeer pic.twitter.com/u8iSY0l5ds

— Creature Comforts (@creaturebeer) November 11, 2017
---
Did anyone make it to FoBAB?
FOBAB starts in Chicago tonight, and Surly will be there. Sorry to sound Minnesotan, but it's a pretty cool deal: https://t.co/od5rX0XPhL pic.twitter.com/5jm1TOzBUo

— surlybrewing (@surlybrewing) November 10, 2017
Life's Trade takes the silver medal for Wild Beers / Sours at #fobab! #FOBAB17 #sourbeer #rusticasfuck #acidtemple pic.twitter.com/5aMmrj3IVR

— TRVE Brewing Co. (@trvebrewing) November 11, 2017
---
You want to inoculate your wort with… ME?!?
Step into the coolship. pic.twitter.com/KbvifqAKxo

— Allagash Brewing Co (@AllagashBrewing) November 14, 2017
---
I just thought this beer was pretty…
---
Donate food and a gift for children in need!
The best way to spread holiday cheer, is singing loud for all to hear…. or just bring in a toy or canned food & be entered to win prizes in our weekly raffle! pic.twitter.com/HqZZhhNzO3

— Firestone Walker (@FirestoneWalker) November 13, 2017
---
Does Dogfish Head deliver?
It's a Lobster Party at #ChesapeakeAndMaine! For a limited time only, we're serving up 1.25 lb lobsters every Sunday for just $10! That's right, join us Sundays from 4 to 9 pm for one CLAWesome deal! #netDE pic.twitter.com/zy1cBfTUjD

— Dogfish Head Brewery (@dogfishbeer) November 13, 2017
---
Beer is this world's ultimate kindness!
A little kindness can go a long way. #WorldKindnessDay sounds like a great day to share a beer with someone you care about! pic.twitter.com/klEXqQzlSb

— Green Flash Brewing (@GreenFlashBeer) November 13, 2017
---
Is your resume up to date?
---
They're getting their beer ideas from I Love Lucy.
---
The shiny, new Yards brewery is now open in Philadelphia!
---
I suggest filling all of those tanks with Dinner.
---
Sam must be a pretty swell boss.
---
Breweries in Maine have lots of extra-curricular activities.
Our kind of Saturday. @AllagashTasting pic.twitter.com/PzPUnUoSof

— Allagash Brewing Co (@AllagashBrewing) November 18, 2017
Congrats to @ShipyardBrewing for taking home the Brewers Cup trophy. What a night of brewery hockey! pic.twitter.com/n0C5mcYJwX

— Allagash Brewing Co (@AllagashBrewing) November 19, 2017
---
Thank you so much! I love you!
These guys have got their priorities straight! And good beer too. @EastEndBrewing pic.twitter.com/jknFB8WAYz

— Bill Kulp (@CFDBill) November 18, 2017
---
Awkward…
Tfw you show up to the party wearing the same outfit as your cardboard cutout pic.twitter.com/EhrfXHUXQJ

— Boulevard Brewing Co (@Boulevard_Beer) November 18, 2017
---
This new brewery opened on Wednesday! We wish them luck!
---
Have you read this? It's pretty terrible.
If any of you want an in-dpeth report of what's happening in our dispute with the city of Portland, we sat down with @Beervana and brought everything to the table. You can find his article in the link. #StandWithOTB https://t.co/5kYjAc0oT6

— Old Town Brewing Co. (@OTBrewingCo) November 14, 2017
---
Rogue's response to the story above.
Big Al, President of the Rogue Nation, has released a statement in support of our neighbors, @OTBrewingCo. We #StandWithOTB. https://t.co/eMZzLBEiUp pic.twitter.com/hhdnIKc1gU

— Rogue Ales & Spirits (@RogueAles) November 19, 2017
---
Pittsburgh beer is coming to the Philly suburbs!
---
Sexy.
New Draft line system for Growlers to-go at our retail/merch area courtesy to the handiwork of @ModernDraught. Sure looks beautiful #drinklocal #drinklager pic.twitter.com/5erdBgaOo2

— Jack'sAbby Beer Hall (@JABeerHall) November 21, 2017
---
Deep thoughts.
"I was waiting for the day the grapes would wake up and say hey we're at the party." – Adam Theis describing the collab barrel-aging process pic.twitter.com/H2WNjFx9mT

— Indeed Brewing Co. (@indeedbrewing) November 21, 2017
---
Hey! I know that guy!
The incredible @TristanChan of @PorchDrinkingCO is multitasking like a boss at @LoneTreeBrewing tonight. Thanks for visiting, Tristan! pic.twitter.com/hzO7SImhiM

— RadCraft (@radcraftbeer) November 21, 2017
---
Looking forward to this release?
---
They actually made it to #1 by the end of the Eagles-Cowboys game.
---
I've got a bottle of the Grand Cru chilling as we speak.
---
Those mustaches are making me uncomfortable.
---
I would have made a few extras. Just in case.
---
Happy Thanksgiving! May your Black Friday beer releases be peaceful!
---