No Comments
Ultimate 6er | Valentine's Day Pairings for Beer Lovers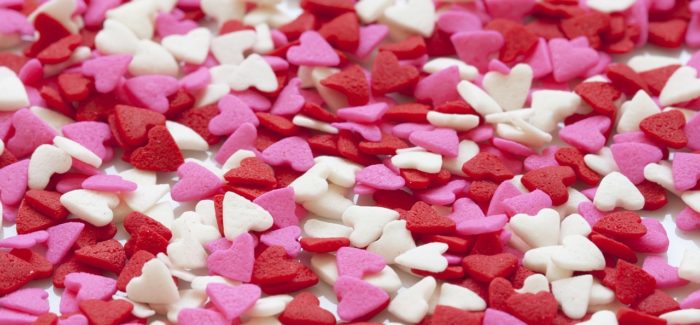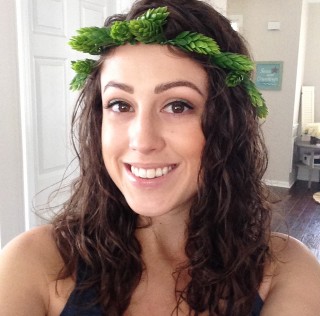 Roses are red. Violets are blue. Candy is sweet & beer can be, too.
Have you found your home filled with all kinds of sweet, heart-shaped treats? Or maybe you have plans for a nice Valentine's Day dinner with your loved one and are looking for dessert and beer pairings? If so, you've come to the right place. We paired six different Valentine's Day treats with a complimentary beer.
Box of Chocolates | Rogue Ales Hazelutely Choctabulous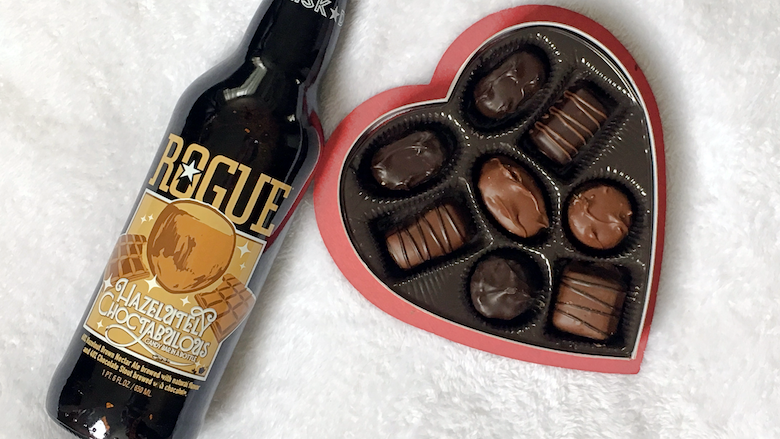 Our first pairing covers, not surprisingly, a box of chocolates. These heart shaped boxes filled with different flavored chocolates keeps us guessing on what we may find within. This pairing calls for a brown ale that boasts caramel and chocolate-like flavors with a slight hoppy edge. This will accentuate and compliment the sweetness of the candy. We suggest Hazelutely Choctabulous by Rogue Ales: a candy bar in a bottle. This beer is a blend of their Hazelnut Brown Nectar Ale and their Chocolate Stout.
---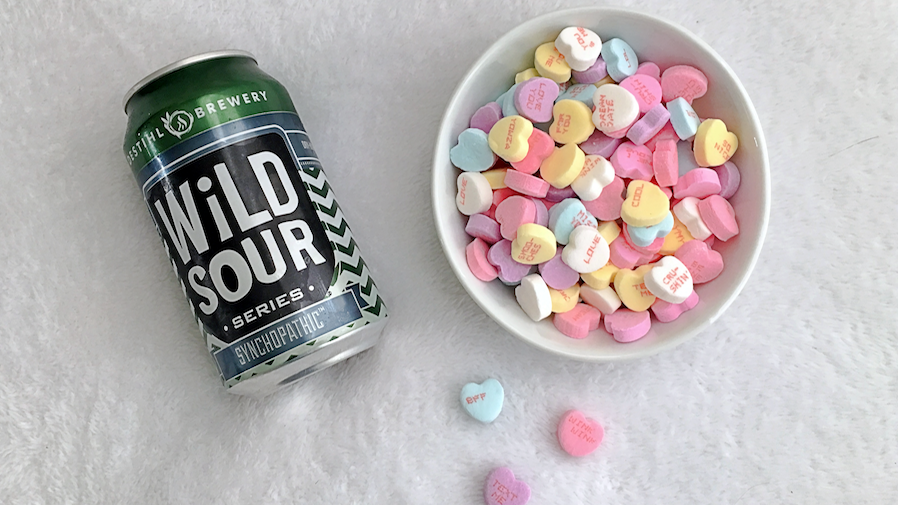 These over-the-top, overly sweet, conversation candy hearts are a quintessential Valentine's Day treat. We paired candy hearts with a tart, dry hopped ale from Desithl Brewery – Synchopathic. The tart fruity flavors of grapefruit, orange, lemon, tangerine, pineapple and hints of pine balance out these sugary treats.
---
Chocolate Cake | Terrapin Beer Co. Tart Cherry W-n-B Coffee Oatmeal Imperial Stout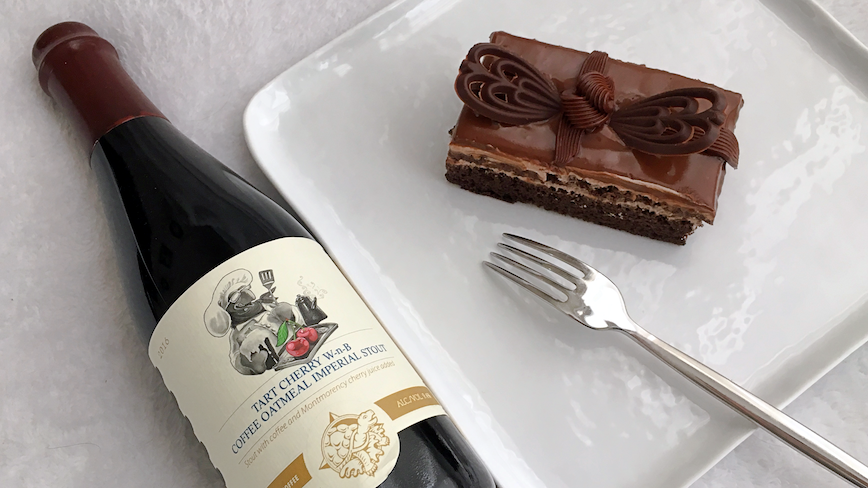 What better pairing than chocolate cake and a rich, imperial stout? An extremely complimentary collection of flavors fit for any chocolate lover. We play with this flavor combo by offering up a twist – an imperial stout with tart cherry added. Terrapin Beer Co. changed up their yearly release of the Wake-n-Bake series by adding tart cherry juice which plays nicely with flavors of coffee and chocolate.
---
Chocolate Ice Cream | Oskar Blues Death by Coconut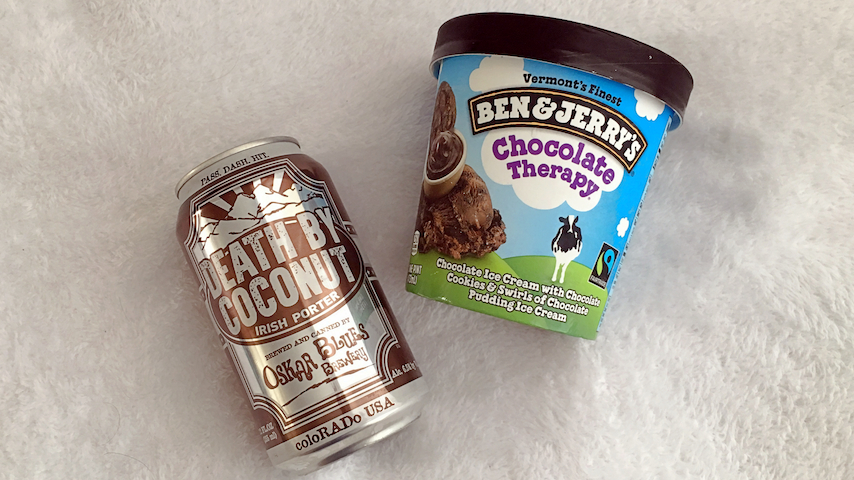 Maybe you're planning on spending Valentine's Day alone or staying in with your significant other to avoid the Hallmark holiday craziness. Might we suggest picking up a pint of your favorite ice cream flavor and pairing it with a coconut porter? We decided to pair Ben & Jerry's Chocolate Therapy with Oskar Blues Death By Coconut. These two simultaneously create a flavor combination to die for, literally. The rich dark chocolate of the ice cream helps bring out the chocolate flavors in the beer and the coconut is just another added layer of deliciousness. If you're bold enough, you will add a scoop of ice cream to your glass and enjoy a beer float. *Warning, this is messy, but fun!
---
Chocolate Covered Strawberries | Wicked Weed Brewing Angel of Darkness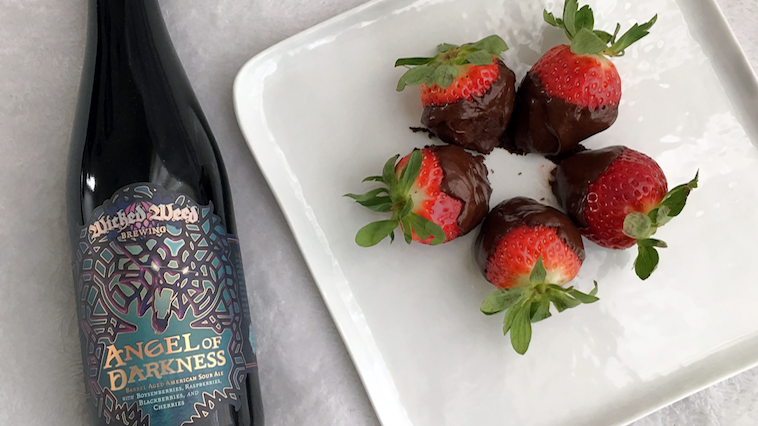 Chocolate covered strawberries are possibly the sexiest treat we can imagine for a post-Valentine's Day meal. On their own, the combination of creamy dark chocolate and slightly tart, juicy strawberries create an explosion of flavor all on their own. Add in an exquisite sour beer to this combination and you will surly please your lover! We chose to pair Wicked Weed Brewing Angel of Darkness, a barrel aged sour ale with boysenberries, raspberries, blackberries and cherries.
---
Loneliness | Oskar Blues Barrel-Aged Ten Fidy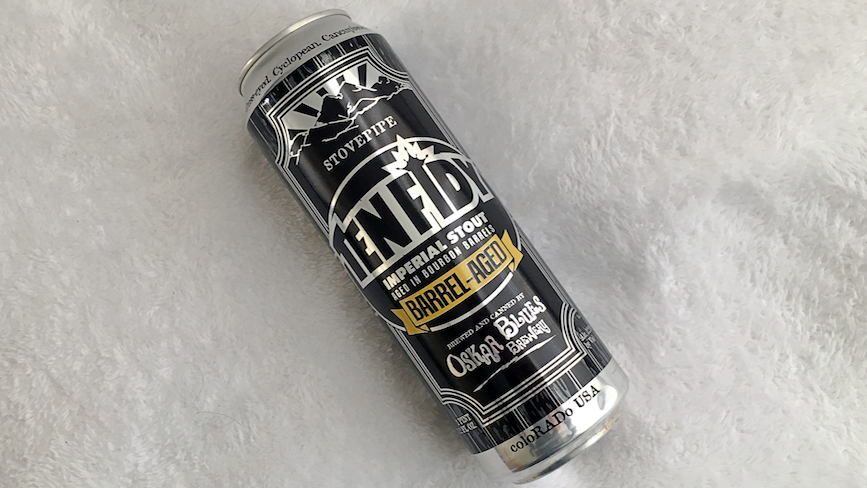 Not celebrating Valentine's Day this year? Or perhaps you're recovering from a bad break up and want to forget everything while watching Netflix all night. Either way, we get it. Valentine's Day isn't for everyone and not everyone gives a shit about Valentine's Day treats. For you lonely, lost souls, may we suggest a barrel-aged stout, something around 13-14% ABV. Drown your loneliness (responsibly!) We chose Oskar Blues Barrel-Aged Ten Fidy, mainly because it's "so hot right now." but any barrel-aged stout will do.
Read more from Danele & follow her adventures on Twitter @dheartshops & Instagram @daneleheartshops!
---