No Comments
The Weekly Buzz | June 22 – 28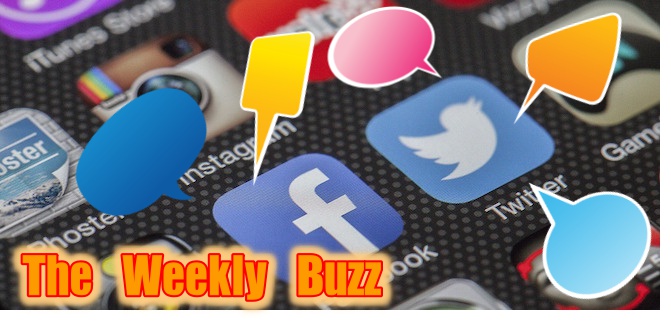 I'm back from vacation and gotten back to my daily grind. After one shift at work, I've decided that it is already time for another holiday. Why is that first day back always so hard? I can't even drink beer to cope because I'm trying to undo the damage that I did with a week of seafood buffets and booze. Luckily, "Beer Twitter" was actually pretty fun this week! Here's all the shenanigans worth sharing. It's The Weekly Buzz!

Two Northeast breweries are celebrating 23-year anniversaries!
This weekend, Dogfish Head celebrated 23 years in biz! Woah, how'd that happen?!? Thanks to all of you & our co-workers over the years – without you, it would've been just us sitting on a dock!!!! We ❤️ that you've all been along with us on this journey!! xoxo, Sam & Mariah pic.twitter.com/jsPdYxQKq6

— Dogfish Head Brewery (@dogfishbeer) June 24, 2018
https://instagram.com/p/BkYbZ1og0cj/
---
This was one hell of a shindig!
https://instagram.com/p/BkX6ZRxjVmi/
https://instagram.com/p/BkYA5OuFdAe/
https://instagram.com/p/BkYJ_sVgt3C/
https://instagram.com/p/Bkf0LjFnKCt/
https://instagram.com/p/BkdEoNblVv1/
https://instagram.com/p/BkdjNG6F2rB/
https://instagram.com/p/BkddWU0jFlf/
---
Look at those cones!
https://instagram.com/p/BkfRkyQFzWb/
---
I got my swim trunks and my flippy-floppies!
Celebrate the 4th with @ShorelineSights & Rev during our Red, White, and Brew Cruise on July 4th. The cruise includes Rev beers (including our new Freedom of Speach!), food, live music & a front row seat for the 4th of July Fireworks display. Tickets: https://t.co/bLasGynjeg pic.twitter.com/GnIvWENWNi

— Revolution Brewing (@RevBrewChicago) June 26, 2018
---
Looking for a job in the brewing industry?
We have a packaging position open, for full details and to apply see: https://t.co/XyyxFH6W86

— Maine Beer Company (@mainebeerco) June 26, 2018
WE'RE HIRING! Brand new role for a Marketing Manager! Please RT!https://t.co/xtnlmi8k2f

— Rascals Brewing Co. (@RascalsBrewing) June 25, 2018
---
Tickets available now!
🚴‍♂️🚴‍♀️The first #TourdeFat of our 19th season is this weekend, June 30, in Chicago. @BestCoast is headlining and we'll be supporting @WestTownBikes! Buy your tickets or check out other Tour de Fat events in your area right here: https://t.co/M22jxTFfpC pic.twitter.com/Y3b3HwIGei

— New Belgium Brewing (@newbelgium) June 26, 2018
---
Taking your Tesla on your next beer-cation?
https://instagram.com/p/BklBCuGFW-9/
---
That's one hell of a #TBT!
https://instagram.com/p/BkkeYn-huz8/
---
That guy's a party pooper anyway…
Learn why: https://t.co/qtBwIMgPW3 pic.twitter.com/vSMsGwUbXv

— New Belgium Brewing (@newbelgium) June 28, 2018
---
Seems accurate!
Top ranked beers by style:

16. It

15. Doesn't

14. Matter

13. Because

12. All

11. Beer

10. Is

9. Good

8. AND

7. It

6. Depends

5. On

4. Your

3. Personal

2. Preference

1. Pilsner

— Michael Moeller (@michaeldmoeller) June 28, 2018
---
At $5, they're practically giving them away!
Make sure you grab your tickets to the #TwoBrosBeer For the Love of Hops Festival now for just $5. We'll have a ton of great beer, food and music on tap, plus a portion of proceeds will go to a great local charity in @GiantStepsIL. https://t.co/k0Lxe8fHpp pic.twitter.com/3NrTe2Mxic

— Two Brothers Brewing (@TwoBrothersBeer) June 28, 2018
---
Wait…people run for fun?!
Attention Runners: Now that summer is in gear, we're going to start running on weeknights! Beginning next week, the NSB Fun Run moves to Tuesdays. Get the run schedule here: https://t.co/9lfOFEGIQ5 #NSBRunClub #RunningIsLife pic.twitter.com/hrce2nrLlw

— Night Shift Brewing (@NightShiftBeer) June 28, 2018
---
I gotta call my wedding planner real quick…
When the groom's a Southern Tier fan and you're the best bride-to-be ever, this kinda thing happens. Congrats to Kelsey & Ritchie! Impressive work by Wild Flour Bakery! pic.twitter.com/hKtl9bmAFz

— Southern Tier Beer (@stbcbeer) June 28, 2018
---
Will there also be cheddar cheese and Ben & Jerry's?
Come hang out with us and 50 other breweries on the picturesque waterfront of Lake Champlain at the Vermont Brewers Festival (July 20-21). Food trucks. Craft Beer. Great times. You can grab tickets at https://t.co/520IihGIJ0 pic.twitter.com/ahGK8Y0Bow

— Allagash Brewing Co (@AllagashBrewing) June 28, 2018
---
Polish the rivets on your good denim!
Join us 7/20 for a Prom to support Bike MS! Dress in your finest denim and square-dance your way through food, raffles, and beer offerings! More info here: https://t.co/htTMd389Fz pic.twitter.com/bWtB6zpC8v

— Springdale Beer (@springdalebeer) June 28, 2018
---