No Comments
The Weekly Buzz | January 27 – February 2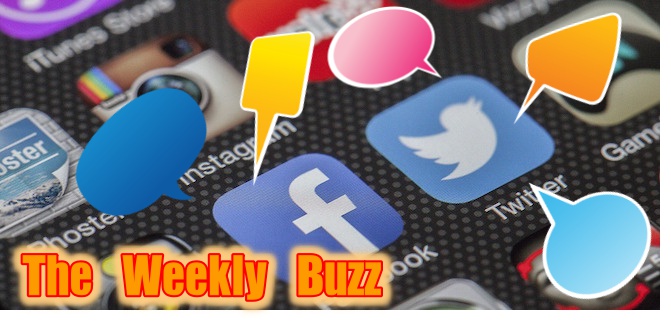 How hard is it to assemble a top-notch recap of the week's social media activity with three kids in the house? It's very hard, but I NAILED it! This week we have a few events, some new beer, a few political statements and plenty of fun stuff, too. A buffet of beer news and shenanigans is laid out before you, and that can only mean one thing. This is The Weekly Buzz.
Mmmmm… new hops…
Join us tmrw 4 the Green Ghost release! We used a new hop (Grüngeist) in this dry-hopped pilsner (4.9%). @PigmanGoods will be here 2 feed u! pic.twitter.com/LSPie1YS2d

— Creature Comforts (@creaturebeer) January 30, 2017
---
I need to finish building that time machine…
Back in the barrels again, baby.

See ya in nine months-ish. #BarrelAgedBaby. #BAFIDY pic.twitter.com/owWfdRfPnb

— Oskar Blues Brewery (@oskarblues) January 27, 2017
---
Nothing like a bit of collaboration!
Spent the week brewing with @BurialBeer & @Trophybrewing! Here's Joe, our head brewer, with Vince from Burial working on an imperial stout. pic.twitter.com/okLfBEQ4QM

— Night Shift Brewing (@NightShiftBeer) January 27, 2017
---
Get it while it lasts!
Ready, Set, HAMMER! The next round of our limited batch IPA will be clarified, bottled & shipped early next week. #IPA #Hammertime #DuClaw pic.twitter.com/oYc9q3NlRr

— DuClaw Brewing News (@DuClawNews) January 27, 2017
---
I'll save my swimming for July.
Home of the brave. #PlungeMD pic.twitter.com/XGEgAdatIc

— Flying Dog Brewery (@FlyingDog) January 27, 2017
---
I bet it got crowded around the mash tun!
We had an awesome time collaborating with our RiNo neighbors this morning brewing up some magic. #DrinkRiNo #RiNo #Denver #CollaborationBeer pic.twitter.com/ylXQZUoBPN

— Great Divide Brewing (@greatdividebrew) January 27, 2017
---
A reality show about brewers? I'm sure I won't get sucked into this…
Barely Beer Barons poster hits the streets. Design by Adam Stroncone (@adrockfx). #Craftbeer #Beer coming next week to #AmazonPrimeVideo pic.twitter.com/d7ZFt6fBuw

— Barely Beer Barons (@barelybeerbaron) January 27, 2017
---
Looks like someone is planning an expansion!
Is this enough room for the beer? #newdigs #OMGitsreallyhappening #BiggerBetterYards #BrewUntoOthers #TomKehoe pic.twitter.com/b3ckCi632j

— Yards Brewing Co. (@yardsbrew) January 27, 2017
---
Well.. I guess… If you say so.
https://www.instagram.com/p/BPyTx7gAkix/?hl=en
---
It's too cold to drink beer outside… but a tasting room…
I advise everyone to take a break from the news and go outside. Or go to a tasting room and have a beer w/your neighbors.

— Carla Jean Lauter (@beerbabe) January 29, 2017
---
Get those entries in soon, homebrewers!
Calling #mnbeer homebrewers. Register for the 2/12 @HomebrewAssoc rally to get 5 gallons of oaked pale base wort. https://t.co/ExEXAAx6EL pic.twitter.com/zGPa3z8oh1

— surlybrewing (@surlybrewing) January 29, 2017
---
For the second biggest love of your life (assuming beer is the first).
12 to choose from, we do most of the work. Send a #beerentine, before they're all claimed: https://t.co/Xp83QDYmOw pic.twitter.com/hnK1Pc6A9v

— Bell's Brewery (@BellsBrewery) January 29, 2017
---
Somebody else is getting bigger!
While we were busy with #CellarRaid17 in the taproom, the back of the house was busy this past week too. New tanks arriving at the brewery! pic.twitter.com/8INJhnY3hp

— Founders Brewing Co. (@foundersbrewing) January 29, 2017
---
This is exactly how much coffee I need today.
Branch is adding 140 lbs of coffee where it will sit for 24 hours. Once that time is up we've got blend-ready cold-brewed coffee. pic.twitter.com/XgaGXlNIe1

— Allagash Brewing Co (@AllagashBrewing) January 30, 2017
---
Raising awareness for a good cause!
https://instagram.com/p/BP59MPpl2wK/
---
What do you think about breweries taking political stances like these? It seems to be happening a lot this year.
https://www.instagram.com/p/BP6F2z1gyK_/
A few years ago we summarized who we are and what we strive to be. Today seemed like a good day to reflect on those principles. pic.twitter.com/Utprgd46fD

— Founders Brewing Co. (@foundersbrewing) January 31, 2017
---
Mark your calendar!
Don't miss the Believer Celebration! 2.12.2017 12-6PM! pic.twitter.com/vcjDyydo7P

— Ninkasi Brewing (@NinkasiBrewing) January 31, 2017
---
Hopefully they're on tap INSIDE.
Just tapped…@TerrapinBeerCo Moo Hoo AND @ChurchBrewWorks Brett Quad! #CraftBeer #winterbeer pic.twitter.com/bNVZ3tGqsH

— The Headkeeper (@theheadkeeper) January 30, 2017
---
Drink some beer. Help the environment.
https://www.instagram.com/p/BP7s20LhpJ6/
---
So say we all.
Thanks you, malts! We appreciate your service! @hoppinfrog #CraftBeer #brewing pic.twitter.com/UgUzXPDrsg

— John Humphrey (@jhumpslovesbeer) January 30, 2017
---
A visual shopping list for your sports game party!
https://www.instagram.com/p/BP_hmefATbp/
---
Crap. I forgot to apply for that job…
Big news! We've hired a brewing historian: https://t.co/MVRp97x6J1 She'll research, document, and share the history of American beer pic.twitter.com/EaI5wHLLon

— amhistorymuseum (@amhistorymuseum) January 30, 2017
---
Come out and support a good cause!
ANNOUNCING @oskarblues + @973KBCO's #YaYaPalooza! This fundraiser w @Anders_Osborne is gonna bring it! https://t.co/sSv8qwLWQO pic.twitter.com/9e8pb26D7L

— CAN'd Aid Foundation (@CANdAid) February 1, 2017
---
New beer! We've got a new beer here!
Introducing our new barrel-aged beer series, the Cooper Project. This first release is a bourbon barrel-aged Scotch Ale, 8.7% ABV pic.twitter.com/T3hI8bku3h

— Goose Island Beer Co (@GooseIsland) February 1, 2017
---
It's way too much to post, but go check out all the pre-Super Bowl trash talk that Samuel Adams and SweetWater are spouting!
You're gonna need #OneMore beer after Sunday, Freddy! Get ready to wear our colors, @sweetwaterbrew! #SB51 #Patriots https://t.co/0AH80FVrLa

— Samuel Adams Beer (@SamuelAdamsBeer) January 30, 2017
nice try @SamuelAdamsBeer…yall gettin desperate? https://t.co/3ta7IjGIrc

— SweetWater Brewery (@sweetwaterbrew) January 31, 2017
---