No Comments
The Weekly Buzz | August 25 – 31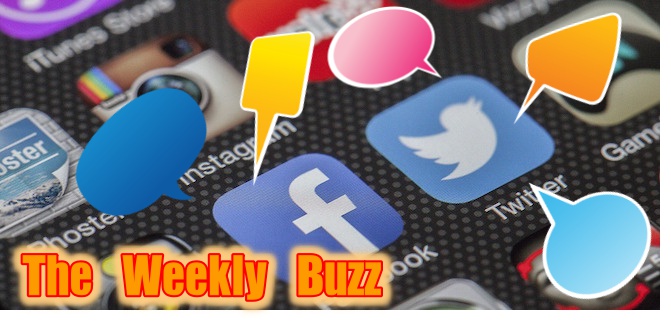 This week was terrible in so many ways, almost all of which were related to a bastard named Harvey. It's disasters like these that help renew my faith in people. There are military men and women, police and other emergency workers saving people from the floods. The Red Cross is sheltering, healing and feeding those who were displaced. And, most relevant to this humble website, breweries of all sizes are canning water, collecting donations and raising money for the relief effort. Raise a glass to those boots-on-the-ground, then enjoy The Weekly Buzz.
Donate to the Red Cross to help people affected by Harvey
Literally the only good thing that happened in Texas this week.
When the HEB in The Woodlands across from The Pavilion ran dry of milk and eggs, they transformed the dairy cooler. 🍺>🥛 pic.twitter.com/f6DnVlW0cj

— SaintArnold (@SaintArnold) August 25, 2017
---
Look out, London!
We're heading to London for @BeavertownBeer's Extravaganza! Here's what we are bringing from Laura Bell herself! pic.twitter.com/RscQatMy1g

— Bell's Brewery (@BellsBrewery) August 25, 2017
---
Who ever said a sausage fest was a bad thing? I sure didn't!
Use the code "BRATS" for $5 off your #HeavySeas Sausage Fest ticket! https://t.co/avHnxAgFF3 pic.twitter.com/dHKH6gDj2j

— Heavy Seas Beer (@HeavySeasBeer) August 25, 2017
---
Sustainable beer is the best beer!
Learning about the benefits of solar from Austin from @OscillationT! pic.twitter.com/kbn70qy9Ni

— Anderson Valley Brew (@avbc) August 27, 2017
---
Hoppy National Dog Day!
https://instagram.com/p/BYRmClSj8MP/
---
Doesn't this brewery have a forklift?
https://instagram.com/p/BYQq6oSn2_n/
---
Did you make it to Festival of Dankness?
https://instagram.com/p/BYRrYfAlXLl/
https://instagram.com/p/BYR-RIfB2R1/
https://instagram.com/p/BYRWDb0HeDD/
https://instagram.com/p/BYTq6ctFWDz/
---
The best local beers start with great local ingredients!
PA grown soft red winter wheat pre-kiln. This beautiful grain will wake up tomorrow transformed into 'Twilight Wheat Malt' 🔥🍻🌾 #PAcraftmalt pic.twitter.com/oUERkna6rS

— Deer Creek Malthouse (@DeerCreekMalt) August 28, 2017
---
Grand Opening!
Opening the doors to our new #DeschutesRKE tasting room NOW! So excited to welcome you to our new home! pic.twitter.com/JFhgagRLtQ

— Deschutes Brewery (@DeschutesBeer) August 28, 2017
---
But I don't live in Portland! Not fair!
Amazon Prime Now Offers Beer Delivery In Portland @BREWPUBLIC https://t.co/rOZvvlp6MX

— Ninkasi Brewing (@NinkasiBrewing) August 29, 2017
---
Some new craft beer options at BWI.
A great day at #BWI as we celebrate new Flying Dog Tap House! Thanks @FlyingDog @rosedabeef @HMSHost & @FraportUSA! pic.twitter.com/RSBTxhpkxx

— BWI Marshall Airport (@BWI_Airport) August 29, 2017
---
Mark those calendars!
Join us on Saturday, October 14 for a celebration two decades in the making!
Get all the details here: https://t.co/0v8ZZkvL0k. pic.twitter.com/Vx36PogW6S

— Founders Brewing Co. (@foundersbrewing) August 29, 2017
---
New beer alert!
We added blood oranges to our #PinballPaleAle, bringing notes of citrus to pair w/ the original's bold hop profile. On Tilt Sept. 2017. pic.twitter.com/ww3b6kW1yW

— Two Brothers Brewing (@TwoBrothersBeer) August 29, 2017
---
I can already hear the oompah band warming up!
Get your steins ready! Just announced the beer list for our September 16th #NSBOktoberfest: https://t.co/fEnnkz7TYw #GermanBeer #Oktoberfest pic.twitter.com/QyS9iDI9UY

— Night Shift Brewing (@NightShiftBeer) August 29, 2017
---
It's gonna be a big party in Georgia!
Georgia's new beer laws go into effect Sept. 1 and we're blowin it out in celebration https://t.co/iAOus55v22

— SweetWater Brewery (@sweetwaterbrew) August 29, 2017
---
Harvey was – and continues to be – an epic disaster, but breweries of all sizes are pitching in to help.
Spent the day filling cans of water to head to TX thanks to @CANdAid for making this happen and @BallCorpHQ for the cans. #HurricaneHarvery pic.twitter.com/QPEeV41ktZ

— Oskar Blues Brewery (@oskarblues) August 30, 2017
We're sending more than 155,000 cans of emergency drinking water to those affected by #HurricaneHarvey. Stay safe everyone. pic.twitter.com/Wc1YzQQA9M

— Anheuser-Busch (@AnheuserBusch) August 29, 2017
We'll be accepting donations of water, packaged food & toiletries for #HarveyRelief at HEB Granbury until 8pm. Just look for our trucks. pic.twitter.com/h70OjEA3Ym

— Revolver Brewing (@RevolverBrewing) August 30, 2017
Spread the word: Thurs 8/31 @4HandsBrewery will present a pop-up fundraiser here. 100% of City Wide keg goes to @GlobalGiving Harvey Relief. pic.twitter.com/WYgL3Ci2ba

— Bier Station (@BierStation) August 30, 2017
---
This isn't something to miss.
BEVY 0035 TIX ON SALE!📢
Full @NickelBrookBeer takeover, incl. #FunkLab brews! Food= @Gusto101TO. ⚦Artisan Mrkt! https://t.co/1DVCqjskqI GO! pic.twitter.com/Ou4xRBUNp2

— SOBDL (@ladiesdrinkbeer) August 30, 2017
---