No Comments
Victory Brewing Co. | Blackboard No. 06 – Peach Belgian Blonde with Coriander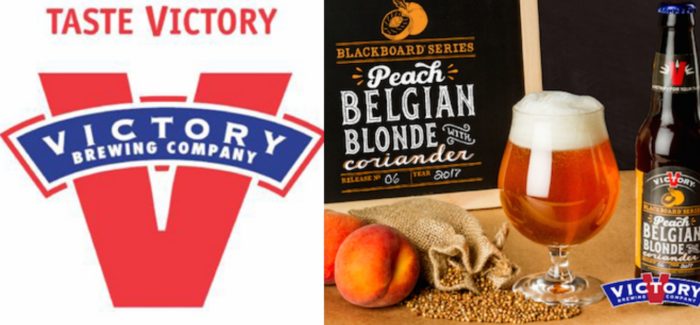 Experimental flavors, quality products, great taste: these are all elements that consumers don't just seek out, but expect it in their craft beer.  With summer upon us, consumers want refreshing ingredients and lots of flavors!  One company who delivers upon these standards for the craft is Victory Brewing Company.

Through its creation of bold and interesting brews, Victory Brewing Company prides themselves on being loyal craft beer drinkers who continue to show their dedication to flavorful, quality beer.  From its beginnings at a local bakery factory, Victory has become a staple in the craft beer industry with its popular flagships like Golden Monkey Belgian-Style Tripel and HopDevil IPA.
ABV: 7.5%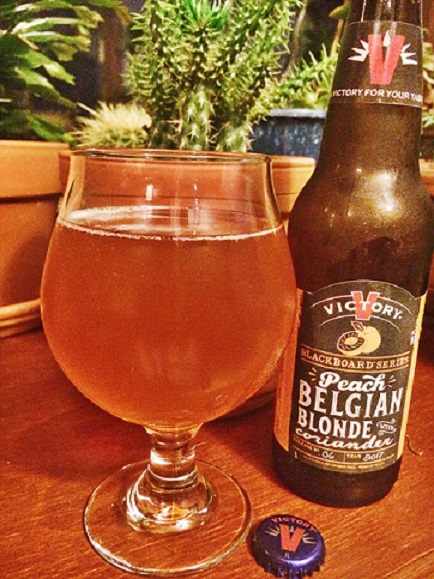 Blackboard No. 6 Peach Belgian Blonde is from Victory Brewing Company's special edition Blackboard series. At 7.5% ABV, this Belgian Blonde is smooth, delightfully sweet, with a bite of spice from the coriander, with the finish being slightly dry. The sweet flavors disguise the alcohol content in this brew very well and this goes down very easy, so be careful!
The fragrance is bursting with fresh peach and spice aromas. With a golden-orange hue, the pour creates a fairly light head, approximately the width of one finger. Each sip is filled with the flavor of sweet peaches and complimented with earthy elements from the coriander. The mouthfeel is a heavier, yet not overbearing, yeasty feel, like a true Belgian.
What is better with a smooth beer than some amazing food?! Nothing. So, I recommend pairing your Peach Belgian Blonde with a dish fitting for these dwindling summer days. Pair with seafood, like mussels or scallops. Cheeses including Gouda and Havarti will have a nutty and salty-sweet flavor that will complement the sweet, yeasty notes of the Peach Belgian Blonde.
Victory Brewing Company's Blackboard Series has also included an Agave IPA, a Cream Ale with Cold Brew Coffee and a Berliner Weisse with Elderflower.  The Blackboard Series focuses on beers brewed with fresh seasonal ingredients. The quarterly series includes a new creation every three months alternating between bottle and draft only releases. The series bases its model off of restaurant blackboard specials, enticing craft beer lovers patrons to try something interesting and new with market-fresh produce.
Victory's Peach Belgian Blonde with Coriander is available in six-packs of 12 oz. bottles.  Find a location near you!
Featured Image Credit: Victory Brewing Company
---