No Comments
The Weekly Buzz | April 6 – 12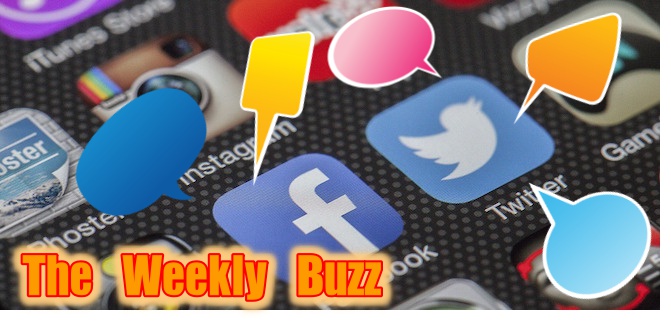 This was one of those weeks that I allowed my day job to get in the way of my fun beer writing job. I really had to push my Twitter-scrolling finger past its safety limits to get this post out in time. While I grab an ice pack and a beer, you can check out this edition of The Weekly Buzz.

Does anybody else want to start shoveling those berries into their face?
https://instagram.com/p/BhO-oAMF6cj/
---
 It's still technically beer…barely.
https://instagram.com/p/BhPEVu7BSYl/
---
How did you celebrate?
https://instagram.com/p/BhSJ4VPAa-7/
https://instagram.com/p/BhRuVoFhNzD/
https://instagram.com/p/BhSG-CQB5WK/
https://instagram.com/p/BhRu8e5Af_C/
We think every day should be #NationalBeerDay! Come on down and help us celebrate! Cheers! pic.twitter.com/v85IlBU1m5

— Wynkoop Brewing Co. (@Wynkoop) April 7, 2018
It's #NationalBeerDay … we'll drink to that! #IndependentBeer #RighteouslyIndependent pic.twitter.com/KjefgYujrE

— Left Hand Brewing Co (@LeftHandBrewing) April 7, 2018
Cheers to the beer that's never left our side, to Saturday, to spring weather, and to everything in between.

Here's to #NationalBeerDay and to everyone who's raising a pint with us. #LoveBeerLoveLife pic.twitter.com/WzRbzajmnC

— Harpoon Brewery (@harpoonbrewery) April 7, 2018
---
 A few National Beer Day facts for the nerds out there.
https://instagram.com/p/BhRqvEJl9Hf/
On this day in 1933 the legal limit of beer was raised from 0.5% ABV to 3.2% ABV bringing us one step closer to the end of #Prohibition! 🍻 Happy #NationalBeerDay!🍻 pic.twitter.com/UdzIn2hXpv

— Saranac 🌏🍺🍃 (@SaranacBrewery) April 7, 2018
It's National Beer Day but do you know WHY it's National Beer Day? April 7, 1933 is when the Cullen-Harrison Act went into effect, legalizing low alcohol beer and wine for the first time since Prohibiton. Knowledge is power. Beer is delicious. LET'S DRINK. pic.twitter.com/qC0woUkmRT

— Boulevard Brewing Co (@Boulevard_Beer) April 7, 2018
---
Crap. I had $200 on the brewhouse parts.
https://instagram.com/p/BhWpEdmBE-W/
---
 These breweries are taking off!
Here are the 50 fastest growing small and independent craft brewing companies of 2017. https://t.co/oWocYJ95oM #independentbeer #beerbiz pic.twitter.com/qJfuC3zt1Q

— Brewers Association (@BrewersAssoc) April 10, 2018
---
 Drink a beer and support the legalization of hemp!
We're trying to legalize industrial hemp and we need your help. Head to the link and send a letter to your local legislator– and then grab a glass of HPA on draft as a congratulations to yourself for your good work. Bottles coming soon! https://t.co/Mm3RDjQlTM #thehemperor pic.twitter.com/crXkqASLd9

— New Belgium Brewing (@newbelgium) April 12, 2018
---
I know where I want to spend the next four or five months.
Hello sunshine, we're thrilled you're back… so much so that we built a new space in your honor where we can spend some QT together. Please join us this weekend on our new Canton patio? We'll have beer & food: @moyzillatruck Fri, @moodyswaltham Sat, & Jaju Pierogi Sun! pic.twitter.com/XljSG3Smuc

— Trillium Brewing (@trilliumbrewing) April 12, 2018
---
Can you think of a better Earth Day activity?
Join us April 22 for our 3rd annual Slow Roll, a laid back bike ride to St. Louis Earth Day in Forest Park. Register at Schlafly Bottleworks for a FREE stainless steel 16-ounce pint! pic.twitter.com/j8RDR9UVnb

— Schlafly Beer (@Schlafly) April 12, 2018
---
A few new canning lines are coming online.
Say hello to the newest addition to our packaging room: a brand-new canning line! Packaging 50 cans of beer a minute, roughly 3000 cans an hour. Let's break it in with a fresh batch of Relax [It's Just A Hazy IPA] by @offshootbeerco. More beer coming soon to a can near you. pic.twitter.com/Tt6M2fcdOb

— The Bruery® (@TheBruery) April 12, 2018
This is the kind of day where you let the images speak for themselves. Canning Day 1 at Allagash. And FYI: cans of Hoppy Table Beer will only be appearing in the brewery, for now. These cans will all go towards research, but we'll let you know when we have a firm release date. pic.twitter.com/GAARCZ4974

— Allagash Brewing Co (@AllagashBrewing) April 12, 2018
Loose Cannon is sporting some new threads. Your favorite IPA will soon be available in new can wraps! pic.twitter.com/8TMQLt45I0

— Heavy Seas Beer (@HeavySeasBeer) April 12, 2018
---
Don't wait! Tickets are available now!
On a much more fun note: tickets to the Stone 22nd Anniversary Celebration & Invitational Beer Festival just went live! Join us August 17th and 18th in San Marcos, CA for Southern California's largest beer festival, the proceeds of which go 100% to charity. pic.twitter.com/iR7a5LvHbC

— Stone Brewing (@StoneBrewing) April 12, 2018
---
 Well, that's a non-traditional day for tacos…
https://instagram.com/p/BheWEoVg4Ap/
---