No Comments
The Weekly Buzz | October 27 – November 2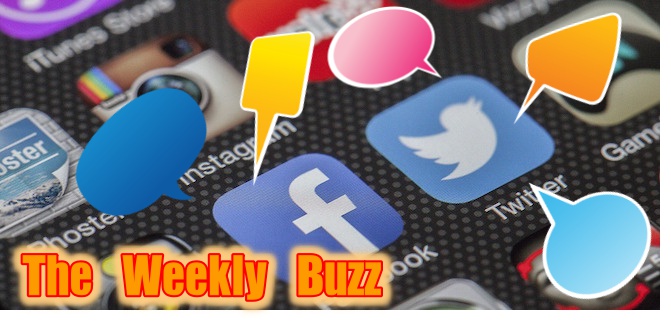 Did you imbibe a little too much on National American Beer Day? Are you repressing your Halloween memories? Were your International Stout Day celebrations a bit too raucous? We've got you covered. Every fun social media moment that the craft beer world could conjure is right here in our handy little list. This is The Weekly Buzz.

I'll celebrate any hashtag holiday that gives me an excuse to drink beer!
#NationalAmericanBeerDay What makes American beer cheers worthy? Independence, innovation & of course taste! @takecraftback #IndependentBeer pic.twitter.com/idlzyjretm

— Left Hand Brewing Co (@LeftHandBrewing) October 28, 2017
Fall is here & so is our warmer apparel! Beanies, Long Sleeves, Hoodies, & more: https://t.co/DKE8pXSK8d#CraftBeer #NationalAmericanBeerDay pic.twitter.com/l6wvyTa6Ll

— DuClaw Brewing News (@DuClawNews) October 27, 2017
How are you celebrating #NationalAmericanBeerDay today? Come by Prost and pick up your Growlers, Crowlers, 6-packs, 12-packs, Maß, and kegs! pic.twitter.com/e808813k6e

— Prost Brewing (@ProstBrewing) October 27, 2017
For us, every day is #NationalAmericanBeerDay but let's celebrate taking craft back! https://t.co/dKWyaLzk5H

— Maine Beer Company (@mainebeerco) October 27, 2017
---
I didn't realize I needed an upgraded Mad Elf until I saw this!
https://instagram.com/p/BawRMKFn7nG/
---
…but it should be…
This… this is not officially licensed Stone Brewing merchandise. pic.twitter.com/octl0ObWQd

— Stone Brewing (@StoneBrewing) October 28, 2017
---
Anybody make it to the Pottstown Brew Fest?
Had an amazing time at the @PtownBrewFest! #PABeer #BreweriesInPA pic.twitter.com/d710roXGIt

— Breweries in PA (@BreweriesinPA) October 28, 2017
---
 What's in the barrels?!
'tis the barrel aged beer season.
—
are you ready? pic.twitter.com/JX8RCqYeZn

— Oskar Blues Brewery (@oskarblues) October 29, 2017
---
Jimmy Carter knows what's up!
Nice catch, Mr President! Honored to stock a few trout into the Hooch on your behalf (via https://t.co/inxRLa0uPU) pic.twitter.com/kBgzqKaWM1

— SweetWater Brewery (@sweetwaterbrew) October 30, 2017
---
Protecting this water source for future generations.
We're honored to receive the Clayton M Hoff Award from the Brandywine Red Clay Alliance! @Victory_Bill @wcdailylocal https://t.co/xXMo5taOWW pic.twitter.com/mol2QoisnW

— Victory Brewing Co. (@VictoryBeer) October 30, 2017
---
A brewery sale that doesn't involve an evil, giant, multinational conglomerate.
We're thrilled to welcome @clownshoesbeer to the Harpoon family! Get the full scoop here: https://t.co/sNFoRZ55B4 pic.twitter.com/j8CrMYUBvA

— Harpoon Brewery (@harpoonbrewery) October 30, 2017
---
Are you looking to get your foot in the door?
We're hiring! Indeed is looking for a PT barback to join our team. Wed-Sun availability required. Apply by Nov 5: https://t.co/lonUdz1hp9. pic.twitter.com/VKR2XuIFCl

— Indeed Brewing Co. (@indeedbrewing) October 30, 2017
---
Just another day in the cellar!
https://instagram.com/p/BaxKHGgh0xo/
---
Did anyone dress up as Felipe Szpigel for Halloween?
https://instagram.com/p/Ba7Qw95B-rF/
Don't let ghosts and ghouls trick you out of your #SpookyBeer treat this #Halloween #WakeUpDead #PourHard #LeftHandNitro pic.twitter.com/UeHW6XLd9z

— Left Hand Brewing Co (@LeftHandBrewing) October 31, 2017
Beer makes friends. Friends make beer! Second annual Halloween Spooky Coolship Collab w/ @CerebralBrewing & @OMFbrewing is in full effect! pic.twitter.com/GJXOa6xUDL

— Wiley Roots Brewing (@WileyRoots) October 31, 2017
It's going down at Big Top tonight! Dog Costume Contest starts at 7pm. pic.twitter.com/7S8RVShuox

— Hi-Wire Brewing (@HiWireBrewing) October 31, 2017
https://instagram.com/p/Ba7HXI7gHlm/
https://instagram.com/p/Ba68X9ChgbJ/
https://instagram.com/p/Ba7phCylHNt/
---
Time to polish that resume!
Now Hiring! Apply to be a Sales Rep. with Circle Brewing Co. today: https://t.co/IZyMzujXxk pic.twitter.com/QlTJopeKWl

— Circle Brewing Co. (@circlebrew) October 27, 2017
---
Do you have the eye of the tiger?
On Nov 12th we're hosting a Tire Flip & fundraiser for @familyreach! Start a team & flex your beer muscles: https://t.co/m5nmE6eNQF pic.twitter.com/d406G1zcIt

— Trillium Brewing (@trilliumbrewing) November 2, 2017
---
How did you celebrate?
Today is International Stout Day (of course it is…)
Good thing we have Rum Barrel Export Stout on tap. @MaggiesFarmRum pic.twitter.com/MCWSlVpuhR

— St. Benjamin Brewing (@stbenjaminbrew) November 2, 2017
Celebrate #InternationalStoutDay today with one of these beauties pic.twitter.com/4cpGDmsIi8

— Samuel Smith Brewery (@samsmithsbeer) November 2, 2017
Pretty decent lineup of stouts for our #InternationalStoutday event! 18 stouts in total from 6 countries…

Drinkaware.ie pic.twitter.com/WnMvgRfYzk

— Guinness Open Gate (@OpenGateBrewery) November 2, 2017
This beauty was one of the first to go at Poole Beer Festival – there's plenty left at The Brewery Tap #InternationalStoutDay pic.twitter.com/CYoF0r2EpN

— Sixpenny Brewery (@sixpennybrewery) November 2, 2017
It's #InternationalStoutDay — the perfect time for an Espressway Cold Brew Coffee Stout!

— Two Roads Brewing (@2RoadsBrewing) November 2, 2017
Celebrating #StoutDay in #Roanoke by partnering w/ #bluecowicecream for Stout Floats! Come on by after 5pm pic.twitter.com/jTblYVMXgg

— Deschutes Brewery (@DeschutesBeer) November 2, 2017
---
If you're into this kind of thing…
1/2 We're giving away a pair of #PropDay golden tickets at each of the three upcoming BCS Collaboration Series events. Cross those fingers! pic.twitter.com/rKcHKKf26F

— Goose Island Beer Co (@GooseIsland) November 2, 2017
2/2 The #PropDay tickets will be randomly hidden along with the products at each of the Collaboration Series events. Good luck, friends! pic.twitter.com/OLC40UDR1B

— Goose Island Beer Co (@GooseIsland) November 2, 2017
---
I hope they have a LOT of port-a-potties!
Northwest metro: The Lookout's 5th Annual Surly Chili Cook Off is Sunday. Put that extra hour of sleep to work. pic.twitter.com/1711i0ca9X

— surlybrewing (@surlybrewing) November 2, 2017
---