No Comments
Tröegs Independent Brewing | Hop Knife Harvest Ale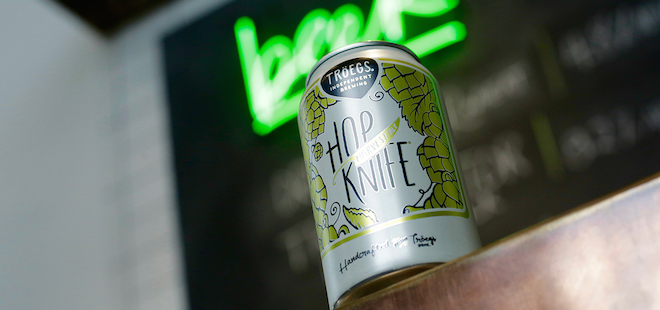 Tröegs Independent Brewing holds a special place in my heart. I had enjoyed trying new beers since I studied abroad in Germany around the turn of the century, but a visit to the Tröegs production brewery in Hershey, Pennsylvania is at the epicenter of my ever-blossoming beer geekery.  In the five years since that visit, I've enjoyed watching their beer lineup change and evolve. With roots in Tröegs' Scratch program and a new home in the Hop Cycle Seasonal lineup, Hop Knife Harvest Ale is a beer that I've been enjoying since its first wide release.

After proposing marriage to my girlfriend (now fiancée – she said yes!), we loaded the kids into the car and drove four hours west to visit her family. Upon arrival in Steelers Country and after unloading the car, the first thing I did was sink into the couch with a cold Hop Knife. I sipped it straight from the can.
Brewed with Cascade, Chinook and El Dorado and dry-hopped with Centennial, Citra and Columbus, Hop Knife may not be labeled as an IPA, but I don't know what else it could possibly be. This amber-colored ale is layered with intricate tropical fruit and citrus rind flavors and aromas. The beer finishes with a nice, non-lingering bitterness and leaves your palate dry. So dry, in fact, that I found myself diving right back in for another sip.
ABV: 6.2% | IBU: 87
https://www.instagram.com/p/BX1IOqZhlDG/?taken-by=troegsbeer
As the above photo suggests (and the caption outright states), Hop Knife pairs pretty well with prosciutto, but I find that nearly any salted, cured meat will do the job. Serrano ham and Genoa salami will also provide some nice flavors to contrast all the fruit notes in this beer. Other possible pairings include grilled tropical fruits, knockwurst or even sauerkraut! Don't ask how I know this, but Boston cream donuts are a less-than-ideal choice to pair with Hop Knife.
At the end of the day, Hop Knife was a nearly perfect selection to celebrate a successful proposal, cap off a long drive and look forward to a bright and happy future. This is definitely turning into one of those seasonals that defines my fall, and I will continue to look forward to it for years to come.
Featured Image Credit: Tröegs Independent Brewing
---