No Comments
Victory Brewing Company | Vital IPA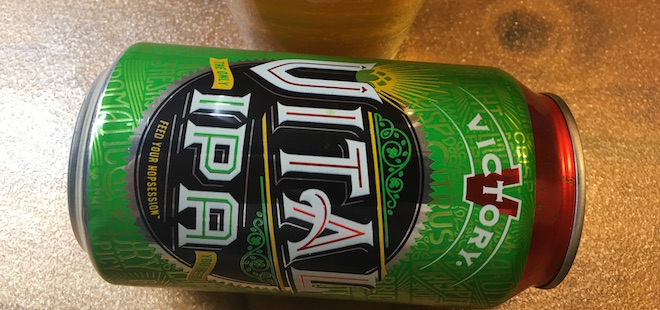 ABV: 6.5%
As the second American IPA in Victory Brewing Company's year-round lineup, Vital IPA had to fight an uphill battle against the existing family favorite. This brew had to differentiate itself from Victory's better-known Hop Devil IPA and prove that it could stand on its own. By being crisper, more subtle, and lighter-bodied than its predecessor, Vital IPA attracts an audience that Hop Devil may not: lager lovers.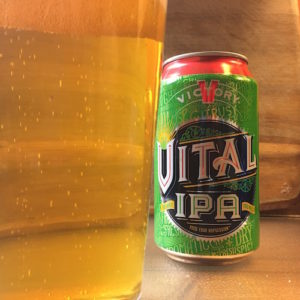 Brewed with a Pilsner malt base and fermented with Victory's strain of Kölsch yeast, Vital IPA is almost reminiscent of a lager. This light-to-medium bodied beer pours clear and straw-colored with ample white head. The nose is dominated by citrusy and piney American hops. Upon sipping this beer, the Citra, Chinook, and Simcoe hops create a bright and cheery mixture of citrus, pine, and peppery notes. Vital finishes crisp and dry, leaving your tongue wanting more.
The fact that Vital IPA shares many characteristics with Pilsners is no accident. It is no secret that Victory's brewmasters have a strong love of German-style lagers. It was only a matter of time before that love would create a style-straddling beer like Vital IPA. After ten pilot batches in their Downingtown, Pennsylvania brewery, they had a beer that beautifully joined a hop-forward American IPA with a crisp, refreshing German-style Pilsner.
"So there is somewhat of a duality that's set up in our Vital IPA. I think that duality is the kind of thing that we, as brewmasters, love to bring to the audience. We love to give you the opportunity to have a new experience, but within the confines of flavors that you're already in love with or already recognize and enjoy." – Bill Covaleski, co-founder and brewmaster, Victory Brewing Company
When it comes to food pairings, Vital IPA does much the same job as a Pilsner. This beer goes well with everything from burgers to seafood to pizza, making it a great choice for parties or cookouts with a varied (or potluck) menu.
Victory's Vital IPA is a beer that can do many jobs. It can join you for an afternoon of mowing the lawn, refresh you on a hot day, satisfy your desire for hops, and be a gateway beer for your non-craft-drinking friends. When you need to restock the fridge in your garage with an "every-day drinker," you need look no further than Victory Vital IPA. Prost!
https://www.instagram.com/p/BNaO2Gwh6zC/?taken-by=victorybeer
Disclosure: My girlfriend (and mother of my child) works at Victory Brewing Company. Neither she nor Victory asked me to write this review, and neither of them had any say in its contents. All opinions herein are mine alone.
---