No Comments
The Weekly Buzz | April 14 – 20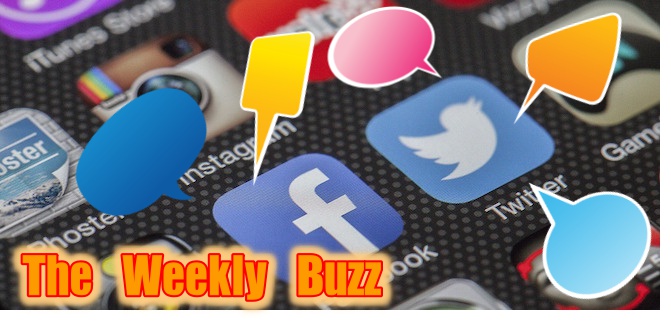 The inclusion of so many Pennsylvania breweries was a happy accident brought on by sleep deprivation, but I'm sticking with it. I love the beers brewed in my commonwealth and thing that you should drink them no matter where you live. I will personally guide any and all beer tourists to the best breweries in PA. I mean… I'll do it if I'm not busy. I'll probably be busy… Have no fear, dear reader. We have plenty of fun the rest of the country in this edition of The Weekly Buzz, too.
Rip into it!
Should "Raging Bitch" be protected by the First Amendment?
Defending our right to freedom of expression is a bipartisan fight we should all embrace. Support @theslants Sunday. https://t.co/2zR2lbsrWZ pic.twitter.com/ONTXa5lE5T

— Flying Dog Brewery (@FlyingDog) April 14, 2017
---
Get your tickets now!
Tickets go on sale at 10 AM for Father John Misty at Surly Festival Field. Ticket link/pertinent info here: https://t.co/fJ679oFoAp pic.twitter.com/RGToiucIFq

— surlybrewing (@surlybrewing) April 14, 2017
---
Which goat will win?!
Ready, set, GOAT! The Sly Fox Bock Fest and Goat Race is back at the brewery on Sunday, May 7th! pic.twitter.com/mUzPsLjuwj

— Sly Fox Brewing Co (@SlyFoxBeer) April 14, 2017
---
A new way to buy Hopslam in 2018!
Coming in January, 2018. #Hopslam pic.twitter.com/ddVBciHowD

— Bell's Brewery (@BellsBrewery) April 14, 2017
---
Go for a run. Drink craft beer.
@ShipyardBrewing #trailtoale10k registration is now open! tell your friends! tell your mom! tell everyone you know! https://t.co/B1zDESZVJ9

— Portland Trails (@portlandtrails) April 14, 2017
---
Every beer will be as black as my soul!
Join us April 22 for Black Party, our celebration of black beers, incl. rarities, barrel-aged exclusives & more: https://t.co/eEQQJjbjJu pic.twitter.com/E3WcG76nYX

— Founders Brewing Co. (@foundersbrewing) April 14, 2017
---
This makes me like him even more! Dr. Seuss was not a bore!
Did you know that Dr. Seuss was a home brewer? He even created some illustrations for Narragansett Brewery in the 1940's. #craftbeer

— Triskelion Brewing (@TriskelionBrew) April 14, 2017
---
Start building already!
https://instagram.com/p/BS4VUGeBmLl/
---
This guy's got moxie.
https://instagram.com/p/BS31AL1h0xj/
---
We understand so little about the Easter Bunny.
A hoppy brew for a hoppy crew! ?#happyeaster pic.twitter.com/MDtOvE7liC

— Dogfish Head Brewery (@dogfishbeer) April 16, 2017
---
Start searching the shelves!
Let the journey begin: Mars is now shipping. Find our Double IPA near you: https://t.co/OuHrQX5hqW pic.twitter.com/JSI6j6eNGt

— Bell's Brewery (@BellsBrewery) April 16, 2017
---
Some Easter greetings for those who celebrated last weekend!
https://instagram.com/p/BS7Bzsdh-5o/
Happy #Easter from the #ShortsBrew crew! ???#LifeIsShorts #drinkMIbeer #MIbeer #HappyEaster #Spring pic.twitter.com/KcSPZmRrLA

— Short's Brewing (@ShortsBrewing) April 16, 2017
Wishing y'all a hoppy Easter! And good luck on those Easter egg hunts. ? ? pic.twitter.com/toKGWwekmV

— Circle Brewing Co. (@circlebrew) April 16, 2017
---
Here's a collaboration for the science fans out there!
Brewed in collab with @TheFranklin for 2017 @PhilaSciFest, #BrewbiksCube takes beer to the 3rd power! #GetNerdyPHL https://t.co/bRThl8UNs6 pic.twitter.com/Yb0Jgu4FaV

— Yards Brewing Co. (@yardsbrew) April 17, 2017
---
Because an anniversary celebration should last more than a day.
Creatures! Lots of stuff going on this week to celebrate our 3 years of being open! Here is a quick list of events for you. pic.twitter.com/CW1AdX1Ww3

— Creature Comforts (@creaturebeer) April 17, 2017
---
I've heard of farm-to-table, but this seems like a much better idea.
https://instagram.com/p/BTAawu4g5Ae
---
Beautify a park and drink beers. There's literally no better thing to do.
https://instagram.com/p/BTAW7DBgR8Y/
---
There's something new brewing in PA!
https://instagram.com/p/BS_e_Vbhw9d/
---
Drink beer and support your public lands!
Happy #NationalParkWeek ! Drink #parkbeer this week to raise funds for the preservation projects of @NatParkTrust https://t.co/oZJsgDqAqD pic.twitter.com/QUyH6TPVyx

— Uinta Brewing (@UintaBrewing) April 18, 2017
---
I hope Lucy from Peanuts is the psychiatrist.
The "Window To Nowhere" is now complete. This is exclusively for ordering crowler and growler fills and for $5 psychiatric evaluations from… pic.twitter.com/tOjqV4caAu

— Levante Brewing (@LevanteBrewing) April 18, 2017
---
The Roadrunner probably managed to get a beer, though.
There are unconfirmed reports of guests running Wile E. Coyote-style into this display at CBC last week. pic.twitter.com/vUYX7Bwyyk

— UrbanChestnutBrewing (@urbanchestnut) April 19, 2017
---
A mobile koelschip? I'm listening…
https://instagram.com/p/BTFM-_MFcGG/
---
A few 420 announcements:
Happy 420 Bruh! Tix for our next beer dinner on sale now! https://t.co/5WTTCfiAar pic.twitter.com/ttxmIDAxPs

— Almanac Beer Co (@AlmanacBeer) April 20, 2017
Happy 420! Special Release cans available today in Berkeley, Napa &
Sacramento at 4:20. Limit 6 cans/ea beer pp. pic.twitter.com/l6HmUR66N2

— Fieldwork Brewing Co (@FieldworkBrewCo) April 20, 2017
https://instagram.com/p/BTGwTjMFMzv/
---
No jokes here. This was a sad say for craft beer. We offer our deepest condolences to all of his family, friends, and co-workers.
Our brewery lost a vital member today. Please join us in raising a beer to John Bryan; a great husband, father, mentor, peer, friend. pic.twitter.com/CI7SNoBw9J

— Firestone Walker (@FirestoneWalker) April 12, 2017
Firestone Walker is less today without his spirit & companionship. We keep his family in our thoughts during this difficult time. #RIP

— Firestone Walker (@FirestoneWalker) April 12, 2017
With heavy hearts, we raise a glass to our brother, JB. Keep John's family in your thoughts as you celebrate his life in the coming days. pic.twitter.com/9xkIdXLR2G

— Boulevard Brewing Co (@Boulevard_Beer) April 13, 2017
---