No Comments
Free Will Brewing Company | The Kragle IPA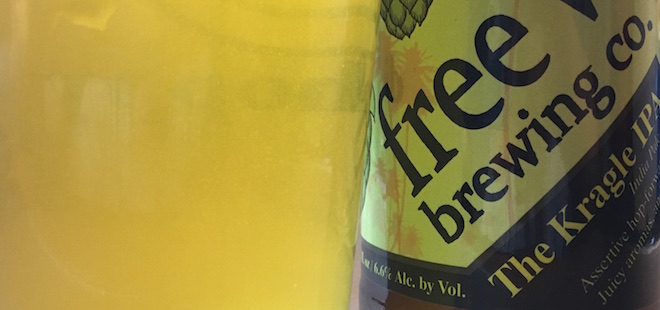 ABV: 6.6% | IBU: 90
There is a beer that I walk past almost every day. Since it comes from a local brewery, I see it in bottle shops and grocery stores ALL the time. There is no particular reason that I had never tried it. I never read a bad review, heard bad word-of-mouth, or disliked a different beer from the same brewery. I just never reached out and grabbed one. When building a mixed six-pack today, I rectified that error. The last spot in my six-pack carrier was filled with The Kragle IPA from Free Will Brewing Company.
This American IPA pours a clear golden color with a thin white head. As your nose nears the glass, citrus and resiny hop aromas become immediately apparent. Since this The Kragle IPA is aggressively hopped with Simcoe, Citra, Columbus, and Calypso, it is no shock that every sip is very dank and resinous, with citrus and tropical fruit flavors throughout. Originally, it seemed that a slight spiciness came from the hops, too, but it was actually coming from a small amount of rye in the grain bill. The finish leaves your mouth coated with lasting, resinous bitterness.
https://www.instagram.com/p/BOnqbe7A3Z8/?taken-by=freewillbrewing
Through no fault of its own, The Kragle IPA does not pair well with Swedish meatballs. I know this because I had a few sips left as dinner was being served. Alternatively, try pairing this with salty, fried foods. The fats will coat your mouth, mitigating some of the bitterness and allowing those other flavors to really pop. Grilled meats could be another good pairing. The caramelized crust on the meats helps the malt to shine a bit, while the hop bitterness provides a nice flavor contrast.
Have I mentioned that I have no idea what a Kragle is? Google tells me that it is a superweapon in The LEGO Movie. I choose to believe this definition, and none of you can prove me wrong!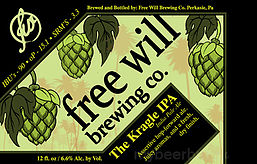 At the end of the day, The Kragle IPA is a big, resiny, mouth-coating IPA, which I am happy to have enjoyed today. Take this as a lesson. The next time you're at the bottle shop, grab that beer that you see all the time but have never tried. You might discover a tasty treat that will make you question some of your other life choices. I never regret trying a beer, but I am definitely starting to regret a few that I haven't tried.
---