No Comments
2 Days, 2 Nights | Tampa's Craft Beer Scene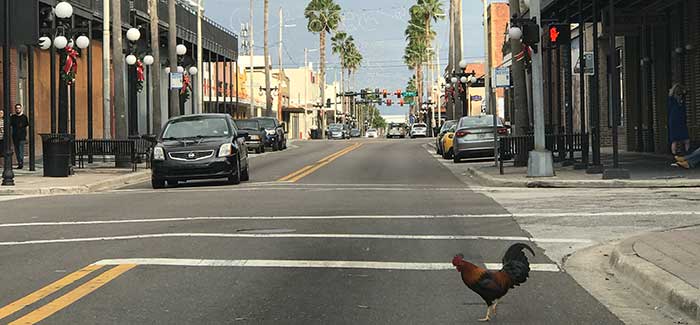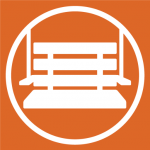 By Devin Caster and Jose Minaya
Tampa, unlike many cities around the country, is a sprawling city filled with small communities. You've likely seen the adverts for Busch Gardens, the Tampa Bay Lightning and Buccaneers and the beaches lining the Gulf. PorchDrinking would like to take you further into the city to see what more it has to offer in beer, community and culture. We have two PorchDrinkers native to Tampa who have made it their mission to provide you a quality experience filled with delicious food, great beer and fun entertainment.
DAY 1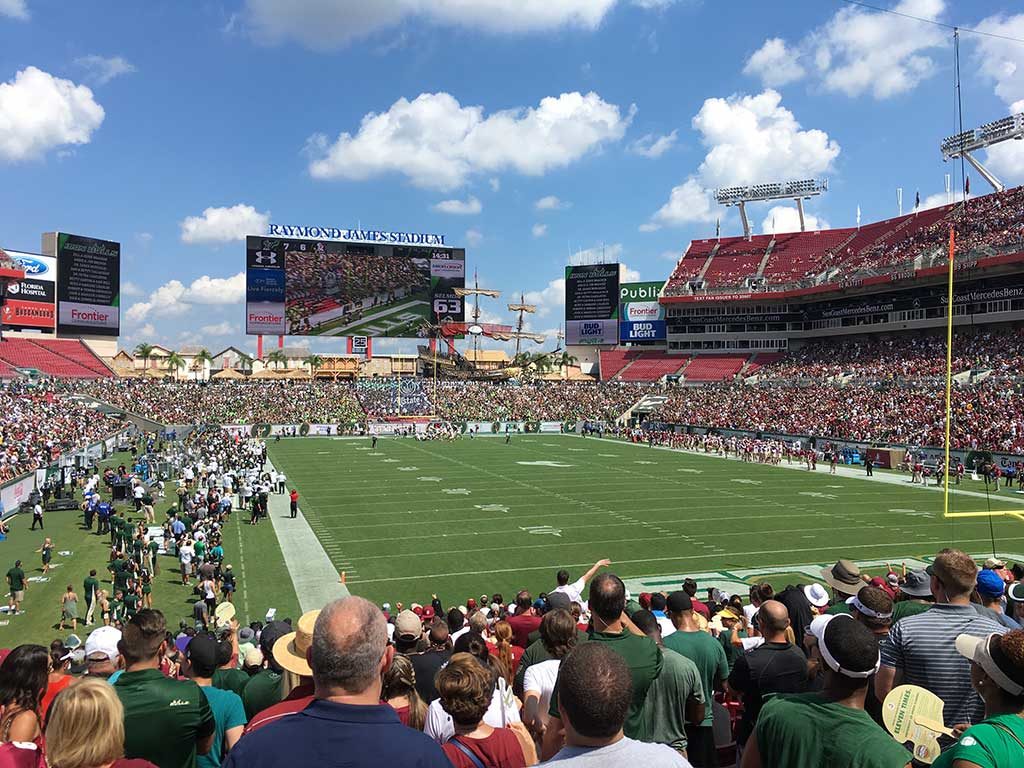 Raymond James Stadium is located in the area known as Ole Tampa and is naturally a balancing point for the adventure. The South Howard and South Tampa communities hold claim to many of Tampa's upscale restaurants, nightlife locales and shopping. Channelside and Ybor City harbor many historic landmarks and are also the main focal point of Tampa's nightlife scene. Towards the north side of the city, University Square draws its name from the main campus of the University of South Florida and features young vibrant college age crowds; with those crowds come the hip restaurants and entertainment venues that cater to the twenty-something crowd.
St. Petersburg is just across the bay from Tampa. Not really a part of Tampa, but still a large part of the metropolitan area, it is a rapidly developing community with a good mix of upscale and casual fare and a resurgence of locally focused craft food, beverage, and entertainment offerings. Start your adventure by checking out Tampa Bay's historic Ybor City. This community has gone through many revivals. First were the renovations and expansions that attempted to attract more business followed by the nightlife push that brought many bars, clubs, and music venues to the area. However, through all the revivals, Ybor remains what it was at its outset, a mecca for quality cigars. If you smoke, look for hand rolled cigars and small family owned cigar factories here. Don't forget to stop by Cigar City's Cider & Mead, an emporium located just a few blocks from the outdoor mall shopping district, Centro Ybor.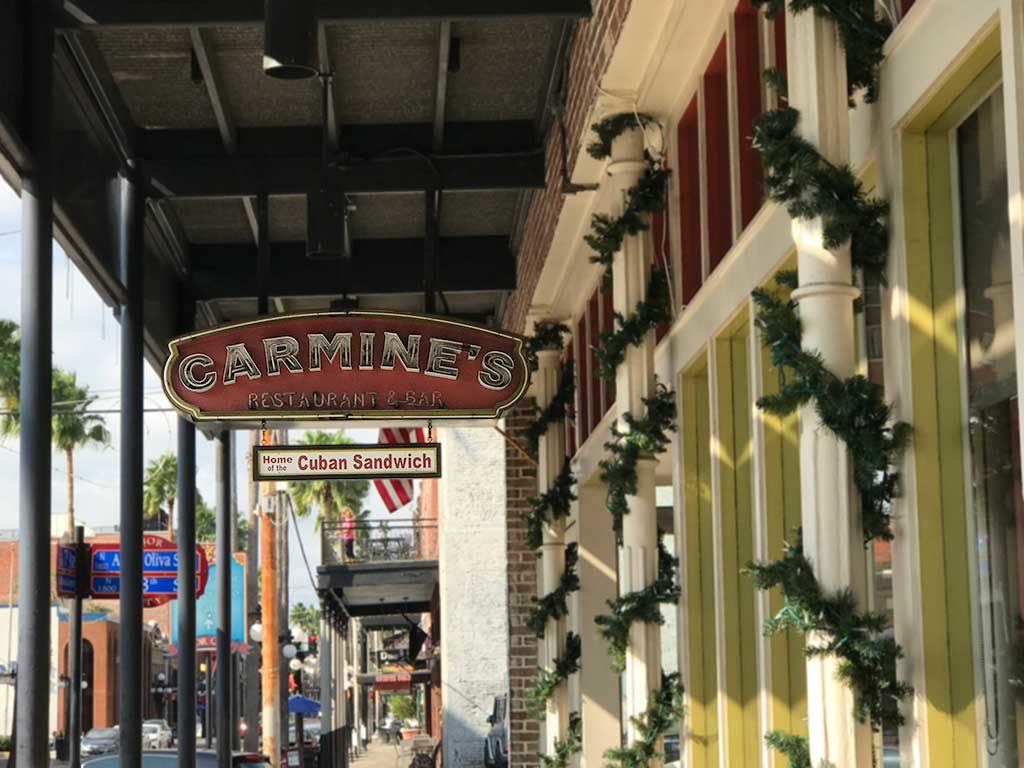 Being right in the heart of Ybor city should put Carmine's Restaurant & Bar at the top of your list for a great meal. When you think of Cuban food, I would hope, you picture the Cuban sandwich. Carmine's serves one of the best Cuban sandwiches in town while also providing a great atmosphere to enjoy an afternoon lunch. Modern styling in the space mingles with Cuban and Italian inspired meals. They have a fantastic bar program and a craft beer selection that usually focuses on local favorites.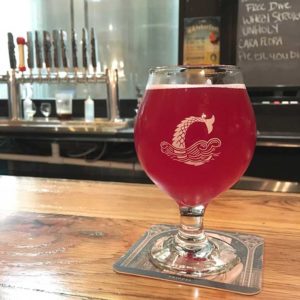 Late afternoon means it's time to head over to a brewery. Just a short drive on the outskirts of Ybor City is Coppertail Brewing Company. Coppertail Brewing is a textbook example of a brewery going big right out of the gates. When you visit the large brick building on the outer edge of Ybor City you can tell the amount of thought (and money) put into this professional operation, while avoiding any confusion of being run by "suits". Large windows right behind the tasting room's taps provide a great view of their monstrous kettles and fermenters. A creative lineup of rotating experimental taps compliments their distributed core four beers. Key distinctions that Coppertail prides themselves in are natural carbonation, whole leaf hops, and unfiltered beer. After putting a few tasters behind you, head deeper into downtown, closer to the bustling Channelside district to enjoy more of what Tampa has to offer, particularly, Yeoman's Cask and Lion.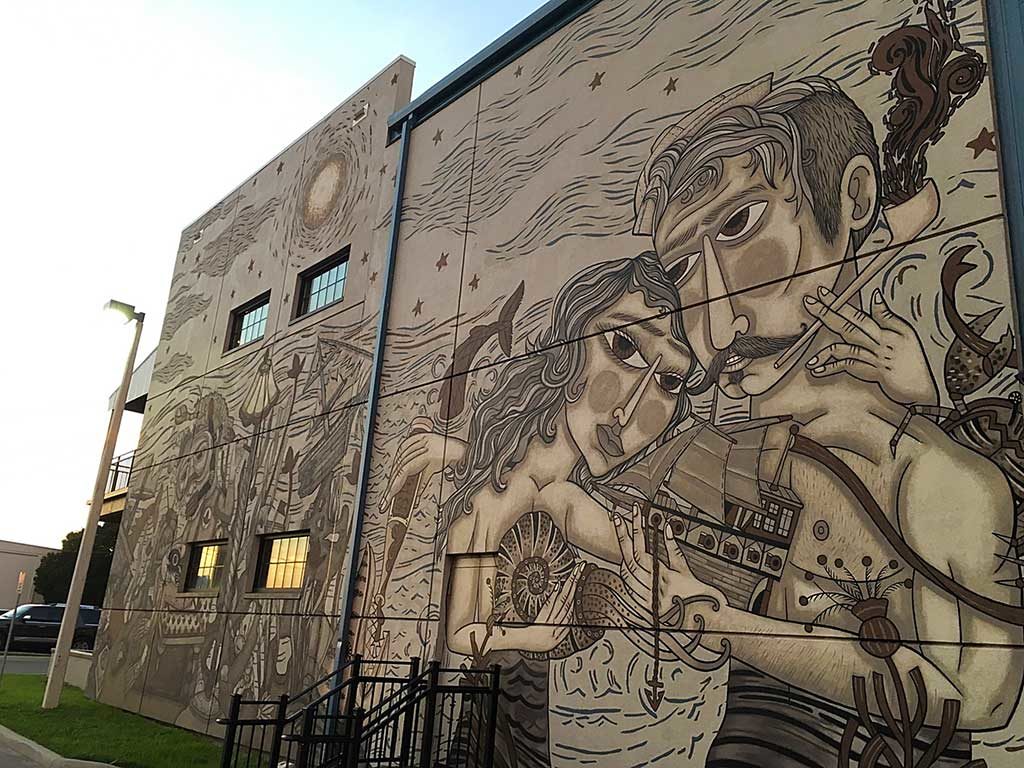 Tampa Bay is certainly fluent in Latin-American and Caribbean culture but as a truly diverse multicultural community, Tampa also has an incredible and modern British pub smack in the middle of downtown. Down Morgan Street from Amalie arena amongst the blue neon lights, open garage doors, and British rock music is a picture of the Queen of England with the eponymous David Bowie lightning bolt face paint. Being in this place makes me feel like I am at a Sex Pistols concert. Fret not if you don't enjoy punk or British rock, this place is still for you. With cask beer and a stocked craft and import tap list the beer selection is curated for the discerning beer drinker. The food is traditionally British and yet tempered by distinctly American bar food staples. Offering things such as beer battered and fried dill pickle spears, pretzel rolls with beer cheese dip and grilled wings, making Yeoman's a fantastic spot for getting things started downtown before a Tampa Bay Lightning Hockey Game or before a night out in Ybor.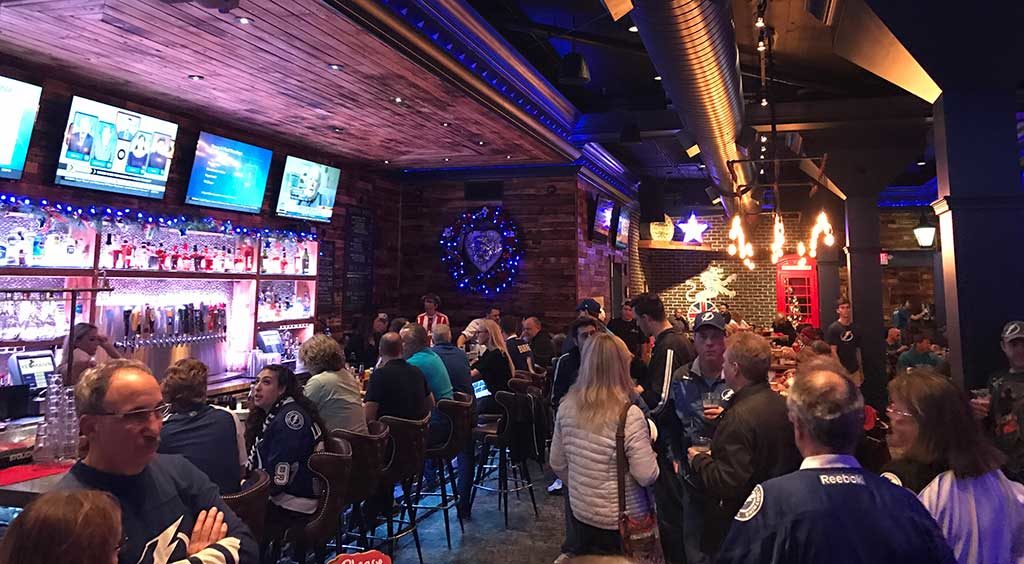 Ybor city comes alive in the evening. Make sure you don't miss Tampa Bay Brewing Company smack in the heart of Centro Ybor. If you choose to stay later into the night you can enjoy a variety of entertainment options that include an improv comedy club and even a famous drag show.
Whenever friends or relatives would visit Tampa, my family would almost exclusively bring people to The Columbia Restaurant. As one of the oldest eateries in town, it is a massive part of Tampa's historic charm and yet modern sensibilities. From the original 1905 salad to the "Bambino" New York strip sirloin steak, every item on the menu seems to be carefully prepared as a nod to tradition with enough gusto to appeal to anyone. The atmosphere takes you back to when Tampa was a tropical jewel of the United States. From the colorful tiles, historic decorations and live flamenco dancers every square inch of the restaurant is immersive. You truly forget that you are eating at a modern establishment. Instead, you're transported to the simpler times of the 20's and 30's.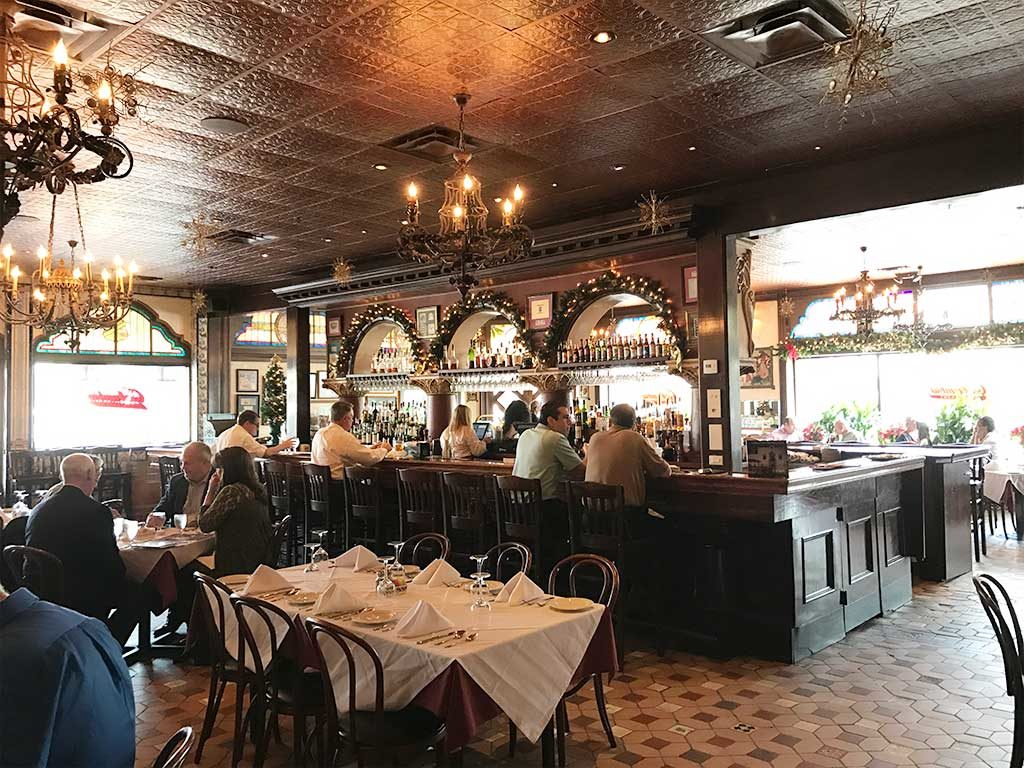 DAY 2
After the craziness of Ybor and getting used to the unique pace of Tampa Bay, we all need some breakfast/brunch options. Tampa goes hard on breakfast and brunch. So much so, that it took two PorchDrinkers splitting up to cover the spread. Much like the famed Tampa Two Defense, there are just too many great morning food options to simply give one. Option one is Bagels Plus, a hidden gem of the USF crowd that has the best bagel sandwiches outside of New York; a BEC on an Everything bagel is perfect fuel before work or as an alcohol sponge after an all-nighter at the Hard Rock Casino off nearby interstate 4 and interstate 75.
Option two is nearly on the opposite end of town in the SoHo area is Green Lemon and Daily Eats. Daily Eats is a fresh breakfast/brunch spot with a hipster diner vibe, while next door at Green Lemon (under the same ownership) there is a delicious menu and atmosphere of craft Mexican that can satisfy lunch or dinner. One of the Green Lemon Fiesta Bowl options with a margarita is always on point to get a raging evening started, while a fresh squeezed OJ and benedict or the famous Cap'n Crunch french toast are a great hangover remedy at Daily Eats the morning after.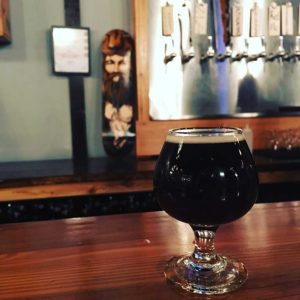 With our bellies full and our hangovers handled, it's time to get to business. First, let's get more beer! We can start by heading to an up and coming Tampa neighborhood, Seminole Heights. Angry Chair Brewing Co. is a small, metal operation (literally, the seats and bar trim are all repurposed steel piping) in the recently gentrified borough. A short bar and couple of tables makes a cozy spot in this closet sized brewery. Behind the bar is a little over a dozen taps of creative brews that are yet to be distributed in bottles or cans. Their Two Pump Chump Porter is always worth a glass, especially any one of the variants based on the same porter. However, don't expect to fill a growler with their infamous Two Pump Chump Cookies & Cream.
Merely blocks away is arguably the most influential component of the Tampa Bay beer scene, Tampa Brew Bus Tours. Not only do they make their own quality beers, but they also host a myriad of tour options to various parts of the bay for the true Tampa beercation vibe. If the traditional zoo route is more what you are looking for, Seminole Heights' Lowry Park Zoo is the way to go. A large variety of animal species in cool exhibits fills a much more consolidated park than the other big name amusement attraction. But the most pertinent reason of mentionable worth is that this medium-scaled zoo is on the list of the Top-5 Zoo Beer Festivals, Wazoo! There is nothing quite like sampling a dozen craft brews and laughing at the shenanigans in the chimpanzee exhibit.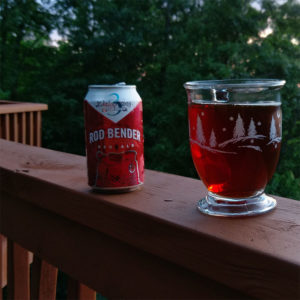 3 Daughters Brewing is another major player in the Bay scene, based out of St. Petersburg. If you are focused on the beer and beer only, their strong flagship lineup is widely available throughout area bars and major grocery stores. If you have the time, the brewery is absolutely worth the drive. Right through the door is a quaint taproom makes an L shape to the right and back and a couple of unassuming hallways on the left with a short staircase to what you might expect to be an office and/or couple of private rooms above. Taking the stairs, however, leads to ping pong party room and an open music stage overlooking the actual brewing operation in the huge back warehouse. Oh, and you have to pass the intriguing laboratory which hosts the newish USF-St. Pete Brewing Science program students.
While in St. Pete, as the locals call it, don't miss out on indulging your cultural appetite by squeezing in some art exhibits. St. Petersburg not only boasts a fantastic fine arts museum but also hosts a unique mecca of art with the whimsical Salvador Dali Museum and Ringling School of Art & Design, with their acclaimed collection of fine and modern art paintings housed in the university's art museum. The exterior of the Salvador Dali Museum looks like it comes straight out of a Dali painting. Take a moment to sit on the bench that riffs on the melting clocks theme Dali is best known for. Inside the quaint museum, you will find the largest collection of original Dali works with 7 out of 18 "masterworks", including the Hallucinogenic Toreador standing a little over 13 feet tall. You gotta wonder if Dali was alive today, would he have his own brewery? You know he'd be all about that funk!
If art is not your thing and the boys of summer are in town get some tickets and try to catch a ball game at Tropicana Field. The local MLB team even features their own craft beer, 2 Seam Blonde Ale brewed by Green Bench Brewing Co. served exclusively at Tropicana Field.
https://www.instagram.com/p/BDi1LyVsP2b/?taken-by=greenbenchbrewing
You could hang out in St. Pete and enjoy the relatively posh nightlife but frankly, you can get far more upscale and classy by going back across the bay to south Tampa. As quality PorchDrinkers, we don't mind getting gussied up as long as we can squeeze some beer in first. South Tampa happens to also play host to one of the top breweries in the area. Cigar City Brewing Company easily shoulders all of the blame for igniting the powder keg that Tampa Bay's craft beer scene has exploded into. Starting in a small warehouse in south Tampa just off Dale Mabry Highway, Cigar City quickly grew to encompass the whole lot by expanding their canning and packaging into another warehouse on the property. The taproom/brewery tour is one of the best in the area. It delivers a truly personal and welcoming experience while also serving some amazing one-off variants on their core beer lineups that are usually only available in the tap room. Cigar City's Jai Ali IPA encompasses the citrus and resin hop notes we all love while being easily crushable in the hot and humid Florida weather. They may not be the prettiest brewery in town and by no means do they look to produce the most experimental off the wall beers, but they focus on very high-quality beers produced in the true spirit of craft. They have established themselves as ambassadors of the city including outposts at the airport and a sister cider and mead production facility in Ybor. Their beers can be found all around the city and nothing is better for tailgating in the Raymond James Stadium parking lot then Cigar City's Tampa Lager.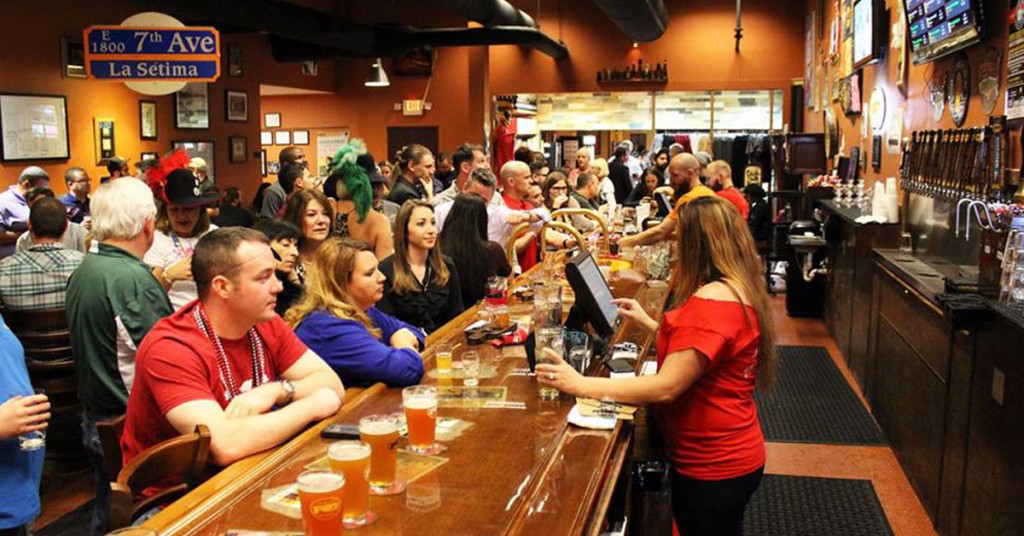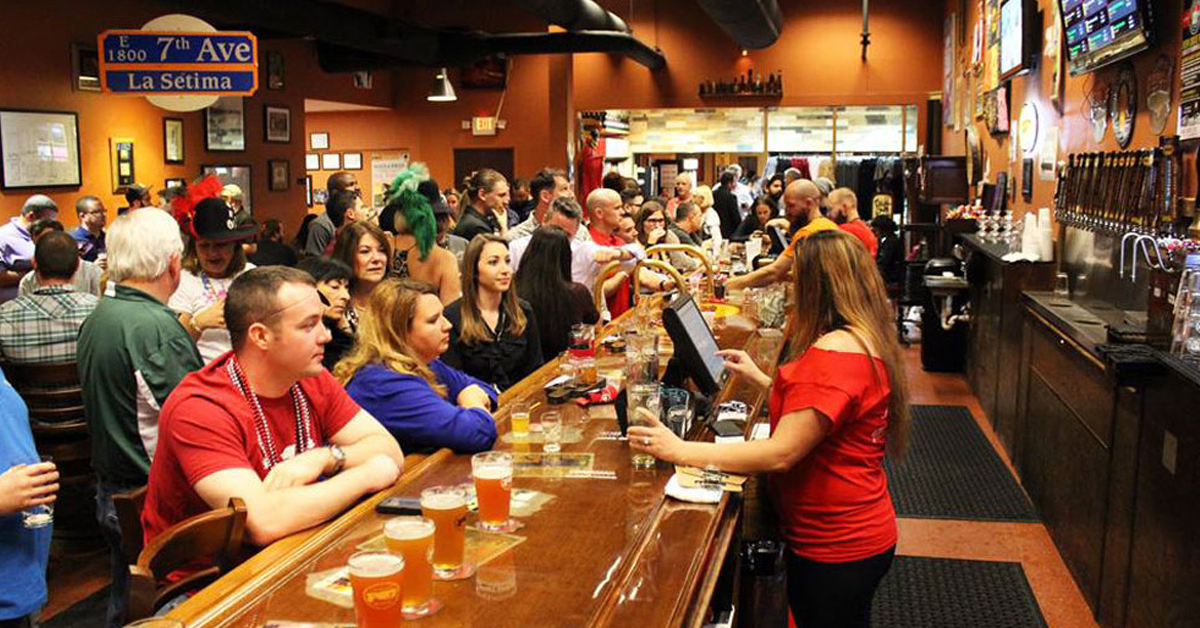 With some top notch craft beer in us, we are feeling fancy and it's time to go get food where football players, celebrities, and Tampa Bay's elite dine. No not the Denny's just outside of Ybor, but Bern's Steak House. Bern's is much like The Columbia Restaurant, in that it is known as a  staple in this area. A little-known secret is that they do tours of the restaurant and their extensive kitchen and wine cellar where they describe their farm to table practice that they have followed since long before it was cool to do so. Don't worry about the exorbitant price tags you see online or might hear from reviewers. We are PorchDrinkers and we like to eat well on the cheap; as such we belly up to the bar at Bern's where you can order a steak sandwich or a burger. Don't forget to head upstairs and check out the dessert room which boasts some amazing sweet treats and pastries in private wood lined booths. A truly special meal to start a fantastic night in South Tampa. After dinner head down to the South Howard or SoHo district to check out another stretch of nightlife including the Lodge, World of Beer, Yard of Ale and MacDintons.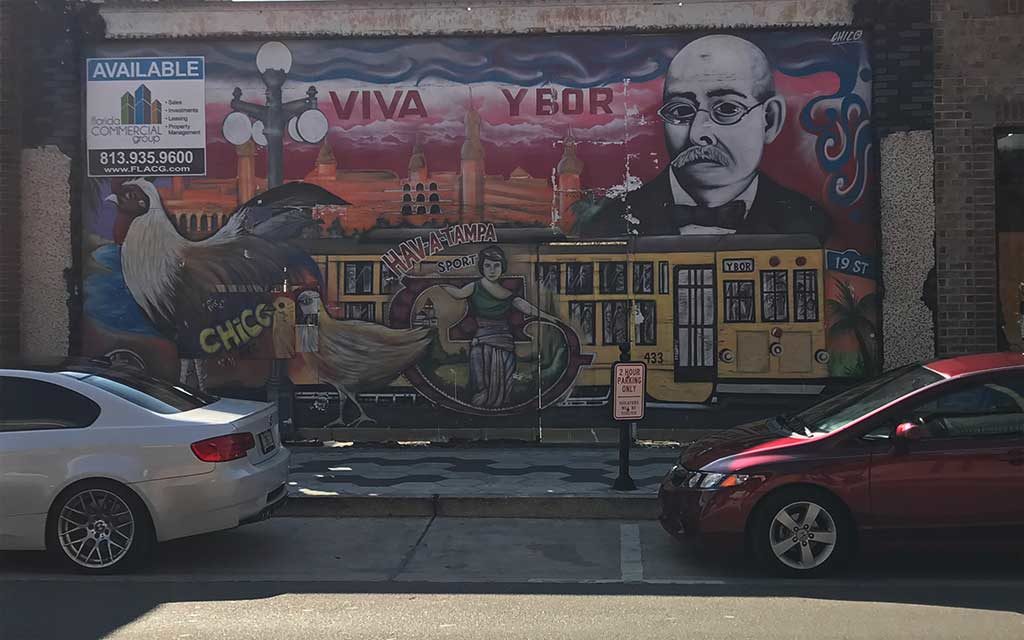 ---