No Comments
Ology Brewing Co. | Reactive Galvanization IPA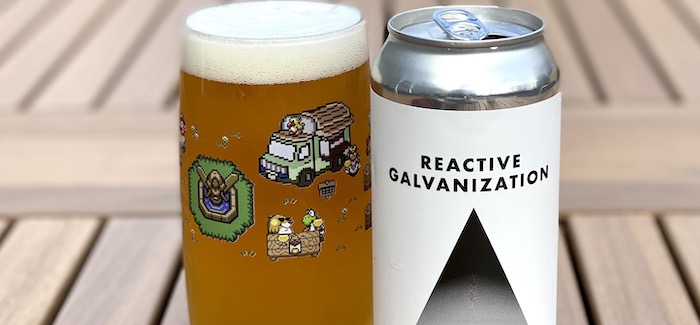 Ology Brewing Co. produced yet another phenomenal IPA with its Reactive Galvanization, an American IPA that reminds us just why IPA remains the king of craft beer.
The Tallahassee, FL brewery has its roots steeped in scientific research, and in fact, the very word "ology" means a subject of study–think "biology," "archeology" or "beer-ology." Head brewer Nick Walker is from a family of scientists and researchers. His grandfather studied taste and his father researched olfaction, the study of smell, which certainly came in use during the many, many beer tastings Nick has done over the years. Walker himself has a bachelor's degree in biology. Put that all together and Ology Brewing emerges from this wealth of knowledge. Ology actually made PorchDrinking's 2018 list of Rising Talent and they've only improved since then.
And while the origin story may lend itself to the name of the brewery, the actual beer itself must have been produced by some top-quality science. The beer's name, Reactive Galvanization, stems from the process of coating steel with zinc in order to prevent rusting. This, of course, doesn't have anything to do with beer, but many of Ology's IPAs are named after scientific processes.
View this post on Instagram
What really sets Reactive Galvanization apart is its homage to traditional West Coast IPAs. "Hazy boi," this beer is not. Instead, Ology must have taken down an entire pine forest to cram into each and every can. The pine hits you right up front, but after the first sip you can relax into the beer and remember all of those old-school IPAs you used to love. Despite the beer coming in at only 6% ABV, it holds up like a Double IPA. This IPA was galvanized with Mosaic and Simcoe hops, giving it a bit of an almost mango taste behind that resin. It drinks crisp and quick.
If you're looking for an American IPA without the juice, Reactive Galvanization is a great bet. Although based in Florida's capital city, Ology has begun distributing across the East Coast.
View this post on Instagram
And for those wondering, zymology is the study of beer — most now call it zymurgy. Ology Brewing's Reactive Galvanization hits the nail on the head, so to speak.
---