2 Comments
Colorado's Primitive Beer to Serve Méthode Traditionnelle Beer in a Box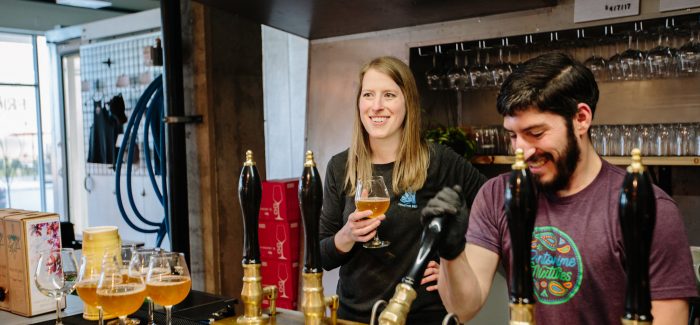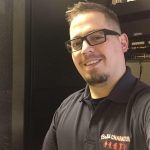 Built upon the wings of innovation, Colorado's craft beer scene has already gained a reputation as trail blazers and pace setters for the rest of the industry. But when Longmont, CO's Primitive Beer opens this Saturday, it'll distinguish itself with a number of different milestones from day one.
The brewery is one of the only in the U.S. focused solely on 100% spontaneous, barrel-fermented and barrel-aged beers that follows a strict set of rules (Méthode Traditionnelle) made from only 100% Colorado ingredients. And they are also believed to be the only brewery that is selling spontaneous beer from hand pulled casks, out of pitchers, and still (non-carbonated) beer in bags to-go. Yes, I will say that again.
Beer. In. Bags.
Now the news of another brewery opening in Colorado, the oddity of beer in-a-bag, or the premise of uncarbonated beer served only twice per month from hand-pulled casks out of pitchers, would be plenty to make for a story worthy of writing, but that is not what this is. This is PorchDrinking and I am much more interested in the why. So, let's start from the beginning, throw in some pop-culture references along the way, and we'll tie it all together at the end in a nice bow with the true why.
The Primitive Team
Brandon and Lisa Boldt are nerds.
The Geologist couple first met in grad school, and know way too much about science, the weather, and brewing. After graduating and teaching for a short period of time, they decided to use their vast knowledge and experience in natural science to do the only thing Geologists do, get jobs in the brewing industry. Brandon is the Head Brewer and Lisa is the Events Coordinator at Odd13 Brewing in Lafayette, CO. While working for Odd13 they decided, like many young industry folk who've gotten that initial itch, that at some point that they would like to start a passion project, something they could call their own, as a side venture to their full-time jobs. After a trip to Belgium and drinking too much Lambic with cheese, the couple decided that if they were going to open their own brewery, they were going to only make the kind of beer that they love drinking. Lambic and Gueuze.
Lambic and Méthode Traditionnelle
(Skip this section if you already know)
Lambic and Gueuze are both types of beer that are brewed in Brussels and in the Pajottenland region of Belgium southwest of Brussels. Lambic beers are produced by cooling boiling wort (unfermented beer) overnight in shallow basin called a coolship (koelschip) that allows for the collection of airborne microflora (yeast and bacteria) that inoculates and ferments the beer without laboratory grown yeast or bacteria. Once the yeast and bacteria are collected from the air, the wort is pumped into barrels where it ferments to become beer and then ages for months or years, allowing the bacteria to create souring acids. This process and the ingredients used, follow a strict set rules developed by HORAL (Hoge Raad voor Ambachtelijke Lambikbieren – High Council for Traditional Lambic Beers). In the United States, spontaneous breweries have adopted "Méthode Traditionnelle", which was developed by a group of spontaneous producing breweries, including Jester King Brewery in Texas, Funk Factory Geuzeria in Wisconsin, and Colorado's own Black Project Spontaneous & Wild Ales, in an effort to follow the strict set of rules created by HORAL, while still respecting the history and tradition of these breweries by not labeling American beer as Lambic or Gueuze.
If you want to geek out more, here is your rabbit hole.
Animal Spirit CSA
In December 2017, I fell down my own rabbit hole after stumbling across the Facebook page for Primitive Beer. After doing some reading and navigating around their website, I came upon their membership program called "Animal Spirit CSA". For $300 per year, Primitive Beer provides members with 12x 1.5L bag of 100% spontaneous beer, plus some merch (stop calling it swag everyone else), and an exclusive party. I had no idea what a CSA was, what beer in a bag was, or how they were able to sell spontaneous beer for less than $25 for 1.5 liters, but I had to know more, so I commented on the original post: "What's the CSA in the name for?"
I immediately received this response:
"CSA's offer shares of local crops, guaranteeing members a certain yield per month of whatever goods are "in season", which is very much dependent on location. For example, we were part of a CSA in Arizona that had a plethora of fruits and vegetables available from spring through autumn, and then a whole lot of beets and bitter greens through the winter, as that's just following the harvest schedule.

In the case of Primitive Beer, we are focused on all local ingredients – with the exception of the first batch of aged hops, all our ingredients are grown in Colorado (malted barely and raw wheat from Arnusch Farms and Troubadour Maltings, whole cone Willamette hops from High Wire Hops, Palisade peaches and Montmorency cherries from Deer Tree Farm, water and microflora generally from snowmelt/reservoirs and the air, respectively). We are in the process of sourcing Colorado fresh wine and spirit barrels for additional aging of certain variants (I know you are connected to this scene, so if you happen to know any wineries or distilleries in Colorado that may want to team up, I'd love to talk)!

The idea is, while we aren't offering Spirit Animal CSA members raw fruits and vegetables like a "normal CSA," nor are we offering "member exclusive" beers like many contemporary sour beer clubs, we hope to share our passion for community supported agriculture, supporting local, and spontaneous beer through offering monthly shares of our fermented harvests!"
I started by researching CSAs in general, then Primitive Beer, and then found myself trying to figure out their Spirit Animal membership by sending the link to friends and Googling "Lambic in a bag". At this point, I had officially eaten the cake. So, I emailed Brandon to ask him some questions. After a bit of back and forth, Brandon invited me to stop by the taproom to learn more.
The Taproom
Brandon and Lisa are both incredibly friendly, open, and generous people. They're are also perfectionists in every detail of the brewery, from the clay pitchers, to the meticulous stacking of barrels and casks (that Brandon enjoys way too much), to the art and décor that creates a warm and inviting atmosphere against the stainless steel and wood. That detail is most evident by the coolship tucked away in the corner of the brewery, yet still accessible to visitors, under a stunning pergola constructed with beetle kill pine and custom-welded metal. While the pergola, which Lisa describes as reminiscent of a spa feel, adds to the inviting atmosphere, the porous nature also serves to collect microbes and residual microflaura imprints from each use which they then intend to impart on future batches to create a terroir distinctive to their brewery.
In talking to both of the Boldts about the brewery, their own stories, and the beers, there is this undeniable energy in their voices. Asking Brandon technical questions about the brewing process, fermentation, and his thoughts on spontaneous fermentation reminded me of why I first got into homebrewing and craft beer. There is a pure excitement about the unknown, the experimental, and the journey along the way. When we started tasting through each beer, Lisa walked us through the process, the ingredients, and the story of each beer from the perspective of a new business owner, a scientist and as a true fan of the style and history for the beers.
The Why
Each beer is named something fun, nothing serious. It is from something they wrote down during a conversation, from a movie they love, from a song they share, or from an inside joke only they know. The beer is a direct reflection of them. It is historic in inspiration, yet contemporary in execution. It is simplistic in understanding, yet allows nuance to showcase the complexity, it is approachable and accessible, as inviting as the taproom itself, and it is above all else, full of passion.
It's still too early to fully say just how much of an impact Primitive Beer will have on the Colorado craft beer landscape, however their ambitious approach toward channeling such a revered and historic style instantly makes their Méthode Traditionnelle beer in a box one of the most anticipated openings among insiders.
However, all of this excitement hasn't gone straight to the Boldts' heads, as proven by the fact that they aren't afraid to slap the bag, conjuring playful, yet hazy collegial memories of bargain bags of wine.
Primitive Beer will open their taproom this Saturday, April 14, 2018 at 12pm and then close again the following day. The brewery will only be open two days per month. And will launch with their still uncarbonated base blend Unbroken Boulevard of Green Lights on casket, which will also be available Saturday in boxes to-go. Saturday's launch will also feature variant takes on that base blend including Life's Complicated which was aged on plums, Friends of Friends of Friends, which was aged on peaches, Pretty Chill Time, a dry-hopped peach aged version, Accessibly Business Casual, a cherry aged version, and Excessively Business Casual with double the amount of cherries used. These initial offerings will be available for $18 to $20 per pitcher, and $25 per 1.5-liter boxes to-go.
All photos by Holly Gerard of Aperture of Ales Photography for PorchDrinking.com. Story by Scott Davidson with contributions by Tristan Chan.
---