No Comments
The Weekly Buzz | September 15 – 21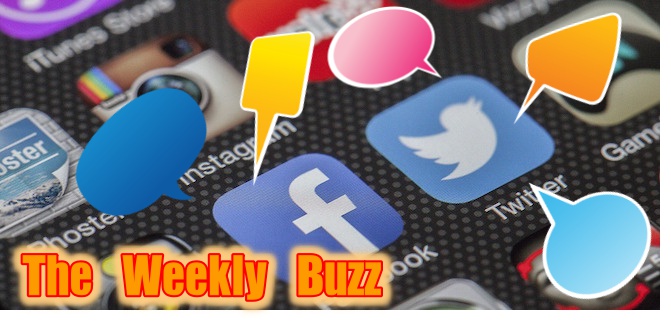 Today is the first day of fall, although you wouldn't know it. It's supposed to be in the 80s again in Pennsylvania. Ridiculous. Oktoberfest beers are releasing, and I'm stuck here wondering how exactly I'm supposed to enjoy a ridiculously oversized Märzen in that kind of heat? I guess I will just have to suck it up and muddle through. Finish off those summer seasonals that you've been hoarding and get ready for The Weekly Buzz!

One of each, please!
Tomorrow all 6 of our German-style beers will be available in cans while supplies last! Learn more: https://t.co/fEnnkzpvn6 #NSBOktoberfest pic.twitter.com/4rWUMMBUuD

— Night Shift Brewing (@NightShiftBeer) September 15, 2017
---
Oktoberfest was the original seasonal creep, and I'm OK with it!
The genius of Oktoberfest is that it starts in September. pic.twitter.com/Mlo5npO6TQ

— Shiner Beer (@ShinerBeer) September 15, 2017
---
Which beer are you looking forward to the most?
The @TXBrewersFest's drops its list of 27 Texas brews. https://t.co/tPdFBj3zuB

— Austin Chronicle (@AustinChronicle) September 15, 2017
---
Happy Anniversary!
https://instagram.com/p/BZEYd76Hedt/
---
Did you make it to the Grand Tasting?
https://instagram.com/p/BZKCslLHjyl/
---
Tickets are on sale now!
Come jam with Saturday's headliners, @GibblesArmy 9/23 at #LongmontOktoberfest https://t.co/SkWZEyJukT pic.twitter.com/SFQKu1BY0U

— Left Hand Brewing Co (@LeftHandBrewing) September 18, 2017
---
That looks like a bloody good beer.
We put our #PinballPaleAle on full tilt and added blood orange. #TwoBrosBeer pic.twitter.com/4SwPLDljYm

— Two Brothers Brewing (@TwoBrothersBeer) September 18, 2017
---
Who's gonna get surly this weekend?
SurlyFest is less than a week away. All the info you need on bands, beer, food, and advance tickets is here: https://t.co/WkIp8pSKdy pic.twitter.com/kDQU4iPurX

— surlybrewing (@surlybrewing) September 18, 2017
---
How do you keep from spilling your beer in the mosh pit?
https://instagram.com/p/BZOmayHABKo/
---
Are the steins behind those pallets of Maßkrüge? #ProperGlassware
You may bring your own stein to #OktoberfestSTL – we'll also have a few 😉 pic.twitter.com/IjDQ7XQtO8

— UrbanChestnutBrewing (@urbanchestnut) September 19, 2017
---
These pirates be basic AF!
#TalkLikeAPirateDay be a perfect day to tell ye that we be shippin' Rum Barrel Aged #Pumking ARRight now! Find it: https://t.co/LbQ1Q5PUzc pic.twitter.com/3bnDFNIiEb

— Southern Tier Beer (@stbcbeer) September 19, 2017
---
New canned brews are on the way!
Big news for 2018: We're headed into cans! We can't wait to join you in all the places glass can't go. More info: https://t.co/bL5wJ6NGT0 pic.twitter.com/HoAzkPacZe

— Upper Hand Brewery (@UpperHandBeer) September 20, 2017
Want our latest small-batch cans, Toppen-ish and Lil Raspy? You gotta get this app. https://t.co/CSv5BTfuYj pic.twitter.com/HZxTF3uuyo

— Sixpoint (@sixpoint) September 20, 2017
---
Congrats for the promotion! Now I just need to find some…
https://instagram.com/p/BZRUgHZBTSI/
---
That's what I call a celebration!
https://www.instagram.com/p/BZRqf13nUWf/
---
Cancel your Sunday plans!
NinkasiFest 2017! Don't miss out! #Eugene #Oktoberfest pic.twitter.com/5rAaLFQz7J

— Ninkasi Brewing (@NinkasiBrewing) September 20, 2017
---
Who's going to Snallygaster?!?!?
🍺🍺🍺3 DAYS UNTIL #SNALLY2017
The @bluejacketdc brewers are ready… are you? pic.twitter.com/5hAivGipkT

— SnallygasterDC (@SnallygasterDC) September 20, 2017
---
Hop harvest is my Christmas.
'Tis the season! Our brewers are in WA this week for hop selection. We can't wait to see (and taste and smell!) what they pick out. pic.twitter.com/omIvu8i3qV

— Brewery Ommegang (@BreweryOmmegang) September 20, 2017
2017 hop harvest & selection has begun in Yakima, Washington! pic.twitter.com/8jmzcbKab3

— Firestone Walker (@FirestoneWalker) September 20, 2017
---
Just in case you were looking for an entire pumpkin beer-based event…
https://instagram.com/p/BZQ_aXqBVTd/
---
My invitation must have gotten lost in the mail…
https://instagram.com/p/BZRKIiChPih/
---
Want to win an Eagles fan experience that (probably) doesn't involve throwing a snowball at Santa?
Enter the #Yards @greenlegion Fall Sweepstakes for your chance to win the ultimate Eagles experience! #FlyEaglesFly https://t.co/LxxJWoK1wt pic.twitter.com/bTxrn9vnob

— Yards Brewing Co. (@yardsbrew) September 21, 2017
---
Reduce. Reuse. Recycle.
It's gonna be HOT this weekend. To cut down on plastic waste, please BYO (empty) water bottle for the water station. Or reuse your beer cup! pic.twitter.com/DUvBYGA5Af

— Goose Island Beer Co (@GooseIsland) September 21, 2017
---
Looking for a job in craft beer?
Want to be part of our Foothills family? We're holding a job fair Oct. 5th https://t.co/rPkyEqDOEG

— Foothills Brewing (@FoothillsBeer) September 21, 2017
---
It's back!
After a 2 year hiatus, Hell Hath No Fury… returns: https://t.co/PziC6E9crx pic.twitter.com/Q7GhKVbRmX

— Bell's Brewery (@BellsBrewery) September 21, 2017
---
Is this some kind of craft beer Orphan Black situation?
We've got an Emily too, pretty sure they're related. pic.twitter.com/ujWLroFTaA

— Flying Dog Brewery (@FlyingDog) September 21, 2017
---
Guess you don't need that fancy crowler machine!
https://instagram.com/p/BZUHfJQjI3N/
---