No Comments
18th Street Brewing | Candi Crushable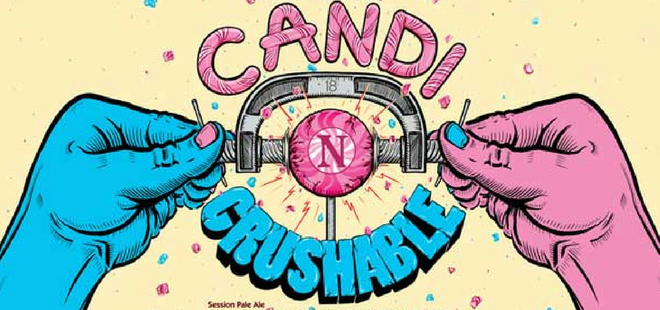 Living in Cincinnati, there's no shortage of great beer. In fact, as of next week, we will have 42 breweries in the area. That's more than enough to keep me busy.
But that doesn't mean that I occasionally get the itch to try something from outside my area. When that happens, I drive across the Ohio / Indiana border to a place called Whitey's. This is the local liquor store in Lawrenceburg, Indiana and is just minutes off the highway.
Their selection is tremendous and they have a dedicated space for craft beer made in Indiana. I often find great beer from Three Floyd's, 450 North, Sun King and others there.
Another brewery that is well represented there is 18th Street Brewery out of Northwest Indiana (almost Chicago). On my last trip there, I grabbed a four pack of a beer call Candi Crushable.
Candi Crushable
ABV: 5.5%
Described as a Pale Ale with Lactose Sugar added; this wasn't kind of beer that I recall having in the past so it made sense to give it a shot. I also love a 16oz can and the label was eye-catching.
They take great pride in their can artwork; check out more of it here.
https://www.instagram.com/p/BYj5SSYDSRs/?taken-by=craftbeerjoe
This pale ale is brewed with Falconer's Flight and Simcoe hops so I expected hoppy, bitter profile out of this craft beer. But instead, I found it to be really well balance. In fact, I would say that the malt of this beer was the main focus.
And then there's the lactose sugar. Between the malt and lactose, there is a noticeable sweetness. It was overly sweet or offensive either.
As the name suggests, this beer is highly crushable. Smooth, balanced, and a touch of sweetness makes this a craft beer well worth picking up.
18th Street Brewery
If you are like me and enjoy trying new beer from new breweries, then check out 18th Street Brewery.
They even have an online tool to find out where you can buy it (hint: it's only in Indiana and Chicago).
Or better yet, make a trip to see them at one of their two locations just outside of Chicago in Northern Indiana. They have food and great beer so it's worth the trip.
---