No Comments
Mikerphone Brewing's Upcoming Taproom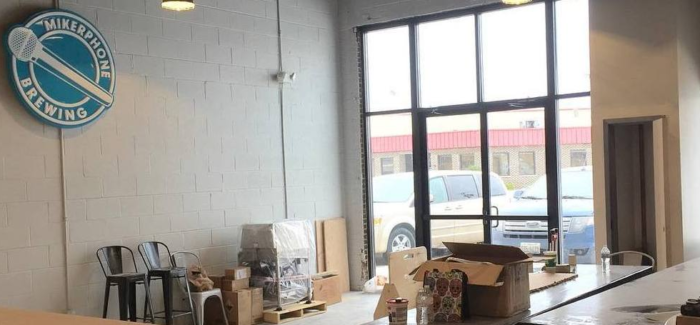 Featured image courtesy of Mikerphone Brewing
4,000 square feet, custom wooden table recently stained grey, black chairs, brown cardboard boxes and a small palate wrapped tight in shrink wrap – all carrying the recent additions to Mikerphone Brewing's upcoming taproom.
Those passing by Garlisch Drive in Elk Grove Village can hear the hammering, sawing and music playing from the mysterious space that's taken home. They watch as it transforms more and more each day from the empty cave it once was. Some look upon the spot with curiosity and anticipation as Elk Grove Village has never had a taproom before. It's uncharted territory that Mike Pallen and his crew explore as they work tirelessly toward opening under the signature Mikerphone blue and white logo hanging on the wall.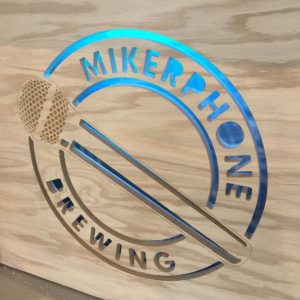 What started out as a passionate homebrew project has grown into one of the hottest beer brands to look out for in the upcoming year. The long anticipated Mikerphone taproom is without a set date to open its doors. However, in what has become the most stressful and rewarding year of Pallen's life, he and his crew work around the clock in making the initial drawing of Mikerphone's taproom into reality.
"It's been a long process. A lot longer process than I would have ever anticipated, but now, we're coming into a place where we can see things are looking like they did in the drawing," says Mike Pallen, founder and head brewmaster at Mikerphone Brewery. "It's just really cool because for a while it was just a big pile of equipment sitting in the corner. We tore apart the floor and added all new walls and everything, so to see it go from what it was to what it's becoming, I sit down at a table and take it all in sometimes thinking, "Holy cow, we created this."
"No one else has done this kind of style of a bar… I mean, I just told my wife that I honestly think we're going to have the coolest bar in the state because it's just so unique and so different."
The taproom's finished design aims to embody the essence of Mikerphone's philosophy of craft beer inspired by music. The final design will include an 18-foot bar with a handicap accessible area on the far left, right under a glowing Mikerphone blue logo. The bar extends pretty much the whole length of the tasting room. Behind the bar will have massive fake amp stacks where the draft towers and faucets will come out of. The bar itself will have little scallops on it and behind those scallops are LED lightning lit in the same Mikerphone blue that dominates the taproom. Darker slate greys and lighter grays and blacks pepper the space. Guitars will be hung up with memorabilia from when Mike Pallen was in the industry. Everything from signed drum heads to posters will be integrated all over the walls.  The only thing missing from this music themed taproom will be the live music, which is something very much on Mike's radar.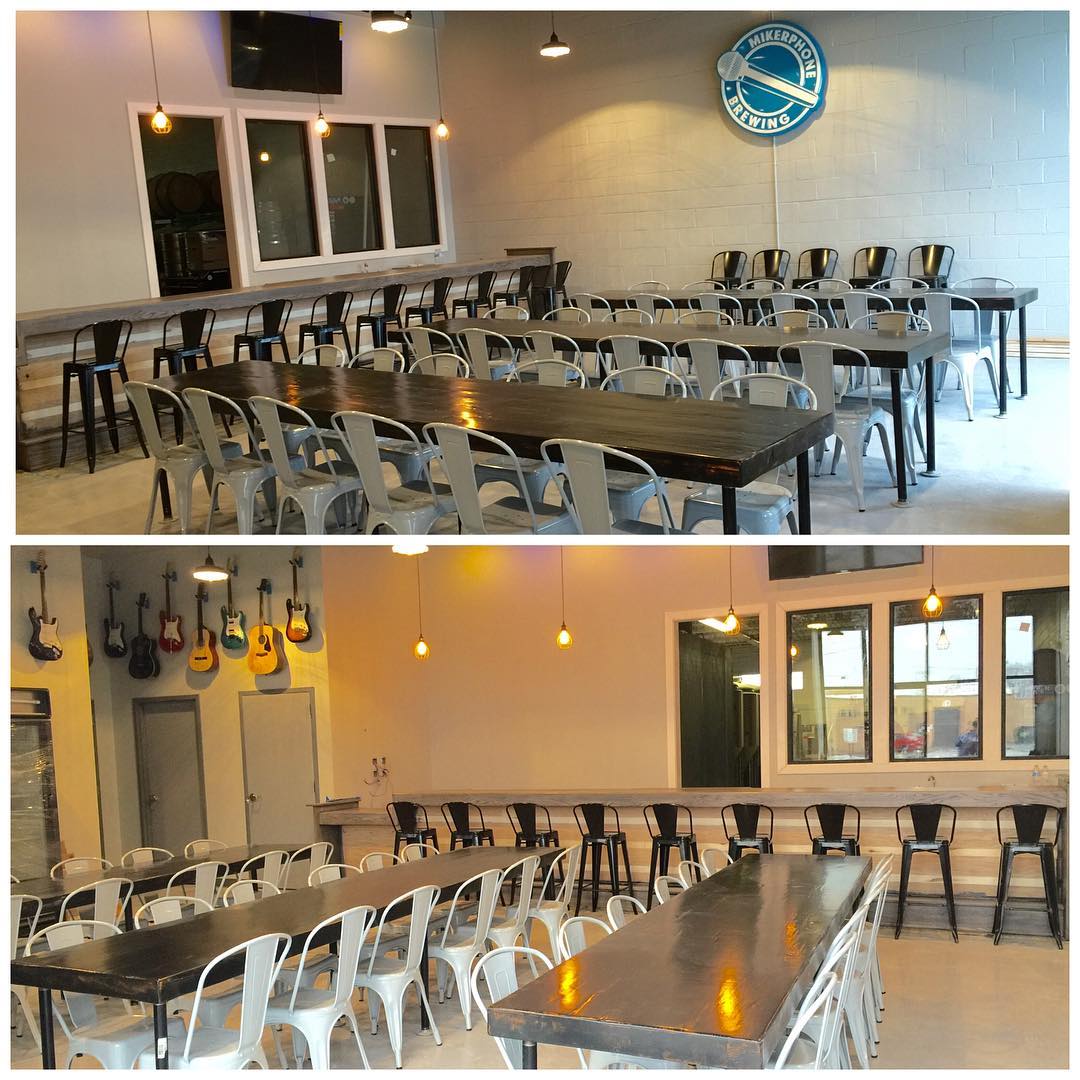 "I'd love to bring in live music. Honestly, a live band would be awesome, but it has to be a one piece or a two piece type band playing unplugged and that's it," says Mike. "There are talks to potentially take over some space next door and that would be kind of utilized for that, but right now the main focus is getting open, getting good quality beer out of the place and focus on making beer then getting people in here and making them super happy super comfortable and proud to be a part of what we're doing here."
Mikerphone may eventually take over the whole 12,000 square feet building. However, Mike Pallen stresses that the space is more than enough to do what they want to do. The focus is on hyper local and hyper fresh. And for that reason, the current space is more than enough to keep things fresh and rotating.
"We don't wanna become the next [Revolution] or Lagunitas. That's great. There's a market for it. I think this is where we're gonna cap off at. I think the amount we're starting out with is enough to make sure we're never lacking on supply. I'm very comfortable in these little walls we have here. We've got 4,000 square feet now and the building is 12,000 square feet so if we wanted to eventually take it over and that would be it. This is a good enough space that we need."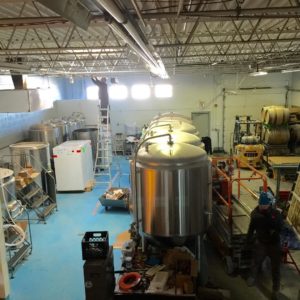 Mike also reveals that there will be no mug club or secret society. However, Mike alluded to have a couple of surprises that he has in his back pocket that he and his crew concocted along with the many new recipes that they can't wait to reveal once they begin production. Though Mike did reveal a few the beers that people can look forward to. "The first three beers that will come out in the style of an IPA, double IPA," Mike says. "We're playing with some yeast strains that people are pretty familiar with. We got Mikerphone Check 1, Mikerphone Check 1-2, and Mikerphone Check 1-2-3." These beers as their name implies will be the mike tests for the taproom allowing Mike Pallen and his team to dial in on the system if need be.
The taproom may lack an opening date, but Mike and his crew want to ensure that the space is as perfect and ready as it can be. His reason behind a TBA opening comes from his many years of experience working breweries around the world. "I won't put a timeline on it," Mike says. "I've seen too many breweries do that and they set themselves up to fail. But you know, we will be communicating every step of the way where we are in the process. Once we know we are 100% sure to open our doors, the people will know."
---