No Comments
Join Us Every Friday for a #NationwideCheers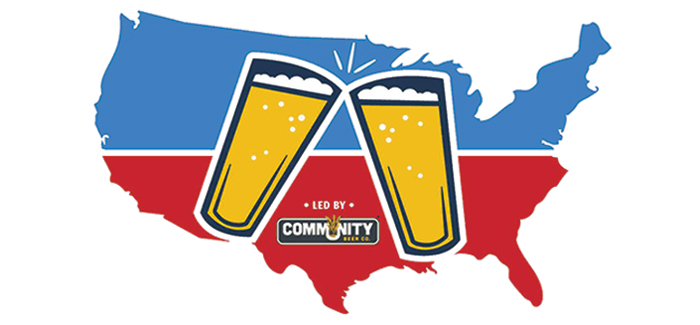 Community Beer Company out of Dallas, Texas came up with a brilliant idea. To support your local craft brewery, buy your favorite local beer-to-go (observing all social distancing requirements), open one up on Friday afternoon at 5 p.m. and take a picture or video to post it on social media with the hashtag #NationwideCheers. By doing so, you will not only be supporting your local craft beer industry, you will also be joining a community of your fellow beer lovers with a virtual cheers.
I caught up with Corey Dickinson, director of marketing operations for Community Beer Company to find out more about the online campaign.
How did this idea come about?
At a time like this, many brewers are trying to develop creative ways to keep their fans engaged and generate revenue for their businesses, all while promoting social distancing and staying compliant with the ever-changing city/state/CDC recommendations. Community Beer has always been a gathering place and events hub in NTX, and we wanted to create something that would promote unity and togetherness among our supporters and colleagues. So, the idea for #NationwideCheers was born as a means of supporting local brewers through beer to-go purchases and fostering a sense of community, while promoting social distancing.
What type of response did you get last week?
It was insane! We're still trying to quantify it all, which has been difficult because the hashtag and our #NationwideCheers graphic was adopted and used by so many people and brewers so quickly! Officially I can estimate that we "reached" 200,000+ people through social media channels, the hashtag, email blasts and mentions on local news and craft beer blogs. Currently, the Facebook event alone has reached over 75,000. We were in the top 3 or 4 trending hashtags in DFW too, which is pretty cool (I guess?). We had over 90 breweries in 20 different states officially support the cause, which is incredible, especially given the event was on Friday 3/20 and we launched this thing on Wednesday the 18th- ha! Just goes to show that people are actively looking for ways to stay engaged, social, and support their local craft beer community!
We really hope to continue to grow this movement, engaging people across the country. The goal is to create something that gives craft brewers and drinkers something to look forward to each Friday, while continuing to generate revenue for local brewers. We're also really looking forward to seeing the crazy content folks and brewers come up with each week! We had a couple that "hit for the cycle" posting their "cheers" for every time zone across the US, from the East Coast through Alaska and Hawaii! We had breweries put together crazy videos featuring their entire staff. Even the Brewer's Association and GABF came up with a Hollywood Squares-style video with their staff!
Are there plans to consolidate social media posts somewhere, or just via the hashtag?
Yeah! We are streaming all posts mentioning the hashtag #NationwideCheers on our website NationwideCheers.com. It's been crazy to see that feed go nuts. We are also featuring logos and links to all participating brewery partners. All we ask in return is to support the cause, spread the word among fans and colleagues, and hopefully link to the website whenever possible. We're definitely taking a "more the merrier" approach to this thing!
How is your brewery doing amid the stay in place orders? What advice would you give to other breweries in similar situations?
We're not going to sugarcoat it, it's a tough time for our industry (and many others) right now, no doubt. But, with adversity comes opportunity. It's important to get creative, innovative, and engage your community of supporters however you can (while keeping the safety of your fans and employees a priority). We're seeing success with collaborative efforts across industries- working with other breweries, restaurants, local farmers, etc. We are all dealing with similar challenges, and we can overcome them by working together to find creative solutions.
Follow the #NationwideCheers discussion on Facebook.
https://www.instagram.com/p/B9-cvANjqHH/
---