No Comments
6 Most Interesting Beers to Try at 2017 Collaboration Fest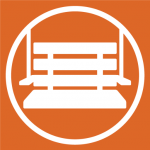 By Eric Gorski, Chelsea Mitchell and Adison Conway
Brewers really can all just get along.
The 4th annual Collaboration Festival returns to Denver on Saturday, showcasing beers that are combined efforts of breweries that may go way back or have but a passing familiarity.
Organizers bill it as a festival like none other, and those aren't empty words. These are one-offs created especially for the centerpiece of Colorado Craft Beer Week.
As Collab Fest has matured and expanded, the caliber of beer has grown, too. Brewers are collaborative but also competitive, and no one wants to pale in front of their peers. Expect more of the same this year, with even more of a global flavor. More than 100 beers will be featured from 154 breweries, 20 states and Finland, Sweden and Italy.
Yet to be seen is how Collab Fest's new digs will work out. After a nice run at whatever the Broncos' stadium is called now, the event has moved to the National Western complex, which is, well, a bit dated. But really, how much does the setting matter with a lineup like this?
Here are a half-dozen collaborations with incredibly interesting stories we believe are worth checking out, as well as a few other interesting sounding picks worth exploring. *Editor's note, aside from Bitbox, we omitted every other New England-style / hazy IPA because there are approximately 13 NE-style/hazy/juicy IPAs listed for this year's fest.
Bitsbox New England Style IPA | WeldWerks & Great Notion
If you want a sense of how crazy-fast hazy New-England style IPAs have taken off, try tracking how many beer names in the past year have featured "Juice" or "Juicy." The style is everywhere now, stretching from coast to coast, part of a progression that has seen the most popular craft beer style move farther and farther away from its bitter roots. (Remember when breweries used to brag about their IBUs?). In Colorado, arguably the best example of the style is Juicy Bits from Greeley-based WeldWerks, which burst onto the scene just over a year ago. For this collaboration, the WeldWerks guys teamed up with kindred spirits at Portland, Oregon's Great Notion Brewing, which takes a similar approach with its lauded Juice Box IPA. The result: Bitsbox, a New England-style Double IPA with a sort of "greatest hits list" hop bill of Galaxy, Citra and Mosaic hops. The Great Notion team suggested adding wildflower honey, which WeldWerks co-owner head brewer Neil Fisher said not only improve attenuation, but also to add another layer of complexity to both the flavor and aroma. There are, as you'd expect, several other hazy New England style juice bombs pouring at Collab Fest. Shameless self-promotion alert: Don't miss Enemy of the People, a New England-style IPA brewed in collaboration with local beer journalists and the professionals at Great Divide. So will hazy IPAs go the way of the black IPA, largely forgotten? Will the pendulum swing back to more balanced IPAs, like the classic Odell IPA in Colorado? Time will tell. But for now, the juice is loose. — Gorski
Dog vs. Quail Pale Ale | Cannonball Creek Brewing & Hogshead Brewery
Sometimes you have to feature a collaboration because the breweries are just so good, and you know whatever they do is going to be worth your time. Such is the case with these two — Cannonball Creek in Golden is great at hops but can't be pigeonholed as a one-note brewery because everything is locked-in solid, and Hogshead stands out the only place in the city to enjoy genuine cask-conditioned beer, or real ale. This low alcohol-by-volume (4.5 percent) pale ale plays to the breweries respective strengths. Hogshead's Jake Gardner said the brewery has recently "had much fun" playing with English yeast esters and generous dry-hopping on low-alcohol beers. Cannonball Creek's Brian Hutchinson more than knows his way around low-alcohol hoppy beers, having won Great American Beer Festival medals for a pale ale and session IPA. The recipe was developed based on the concept of fruity esters from the English ale yeast playing well with bold, fruity hop varietals, Hutchinson says. "You are starting to see British brewers experimenting with American trends and techniques so perhaps we'll see more of these hybridized 'best of both worlds' styles in the future," he says. — Gorski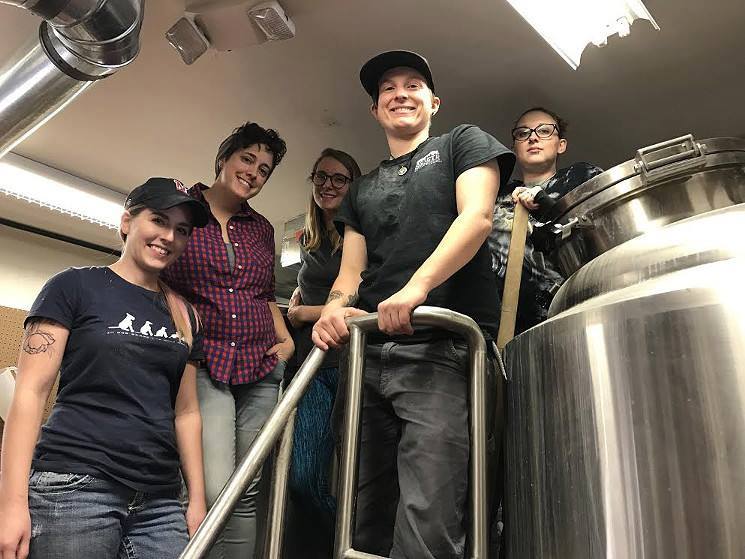 Pussy Riot Collaborations (5 in total)
Girls like fruit beer, right? Riiiiight. Pigeonholing half of the human population is never a good idea, and the growing community of female craft brewers wanted to have a little fun with preconceived notions — while making a political statement — for Collab Fest. Kelissa Hieber, brewer at Goldspot Brewing in Denver, said the idea for her brewery's contribution was to "turn the whole girly fruit beer on its head, by making a 9% saison with strawberries."
Hieber is part of a group of female breweries who banded together for Collaboration Fest to produce a series of imperial saisons inspired by Pussy Riot, an all-female Russian protest band whose arrests became a global human rights cause.
In all, five Pussy Riot beer will be featured at the fest. Alyssa Hoberer, Betsy Lay, Katie Cochrane, Hieber and Bess Dougherty – the badass ladies that created this series – chose the Imperial Saison as the backbone, because it appears delicate, but is in actuality incredibly strong, just like them.
Through this delicious statement, the women are pushing for tolerance, acceptance and understanding. A portion of the sales from the beer benefits organizations that share those views, such as Planned Parenthood, the ACLU and One Colorado, an LGBTQ advocacy group.
Here's what you can expect from the featured breweries: Lady Justice – imperial saison featuring Warrior hops in honor of strong women world wide; 3 Freaks – imperial saison with lavender; Black Sky Brewing – imperial black saison with peppercorns; Brewability Lab – saison with El Dorado hops and acai. The beers have been so successful, the brewers are now planning several installments a year. — Mitchell
DRiNk RiNo ALTimate Secret Collaboration Dopple Sticke Altbier
The River North Art District is Denver's brewing district. Who wouldn't want to spend a warm sunny day in Denver riding around on a cruiser bike and day-drinking at all of the 10 independently owned craft breweries located in RiNo? Such a large concentration of breweries in one place could produce some dog-eat-dog competition, but this wouldn't be an article about Collaboration Fest if that were the case, would it?
The breweries of RiNo are, as you'd expect, a diverse lot. So how would the breweries who united for this collaboration — Great Divide Brewing Company, Epic Brewing Company, Bierstadt Lagerhaus, Beryl's, Our Mutual Friend, Ratio Beerworks, Zephyr, Black Shirt, Crooked Stave and Mockery — come up with a beer they could all agree on? Bryan Baltzell of Great Divide explains: "The idea for the style of beer grew out of a conversation we had at Bierstadt Lagerhaus… We wanted to brew something we could all agree on but also something different. At past Collaboration Fests, the beers that stood out to the brewers were not the super-hoppy beers or wildly experimental beers, but the more basic, true-to-style beer."
From this idea came DRiNk RiNo ALTimate Secret, a Dopple Sticke Altbier. It's packed with local ingredients from Troubadour Malting, Colorado Hop Company and High Wire Hops. Proceeds from beer sales in tap rooms will benefit DRiNk RiNo, an effort to promote independent breweries, wineries, cideries and distilleries in Denver's most happening neighborhood. –Mitchell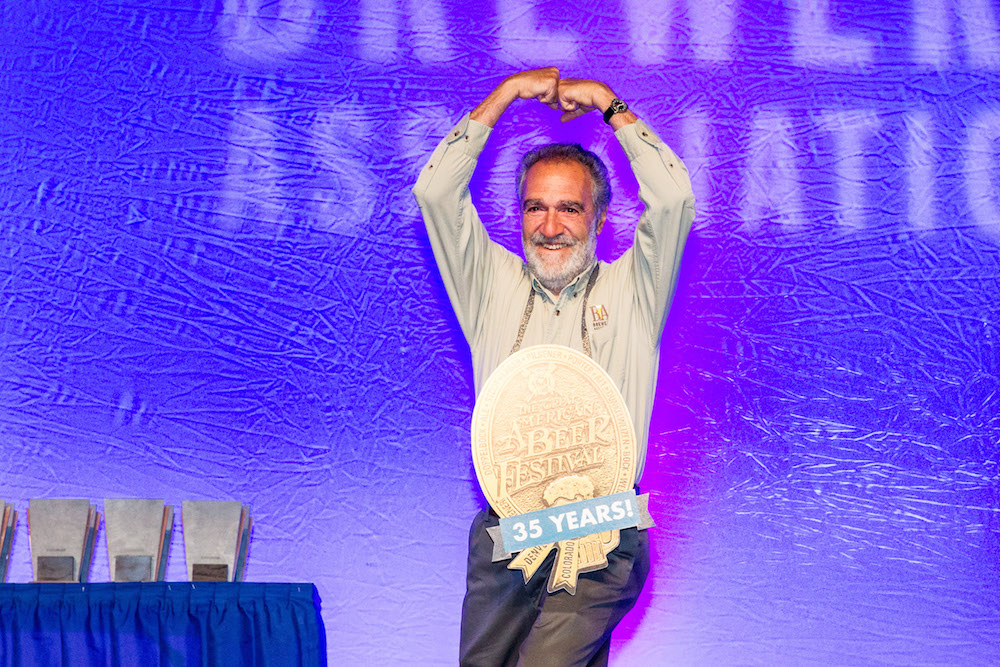 Coconut Curry Bavarian Hefeweizen | Boulder Beer & Ska Brewing
With a brewery seemingly on every corner it can be easy to forget how far the American brewing industry has developed in only a few humble decades. Millennials may not remember the profound influence homebrewing has had on good beer, or that we wouldn't be here without a peanut farmer named Jimmy Carter. President Carter signed a law allowing homebrewing in 1978. In 1979 the first Colorado craft brewery opened in a small shed that once housed goats, Boulder Beer Company.
In 1984 the current president of the Brewers Association, Charlie Papazian, published The Complete Joy of Home Brewing. Papazian's book has such an impact on the nascent craft it is now often referred to as the home brewer's bible. In 1994 Papazian released The Homebrewer's Companion and Boulder Beer grew to a full-menu pub and patio under the Flatirons. In 1995 two guys named Dave and Bill figured out if they brewed their own beer, they'd have all the beer they could ever want and opened Ska Brewing in Durango, Colorado. Now, legacy brewers Boulder Beer and Ska Brewing have teamed up to honor Papazian at Collaboration Fest with Mr. Kelly's. Mr. Kelly's is an iteration of a coconut curry Bavarian Hefeweizen from Charlie Papazian's 1994 The Homebrewer's Companion. If you enjoy rich layered beers with an even rich layered history, you won't want to miss this one. – Conway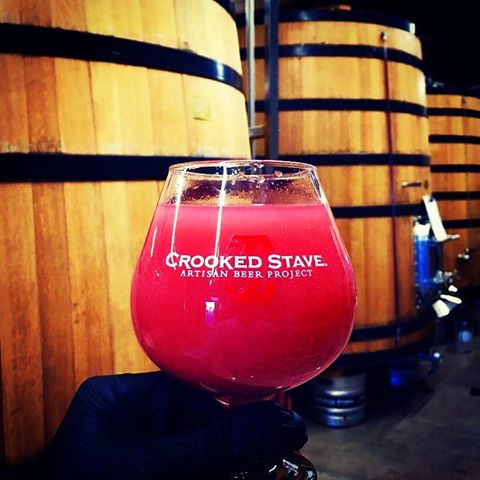 Bianca Raspberry Wild Wild Brett | Crooked Stave & Omnipollo
Have you heard of Omnipollo yet? Omnipollo is a Swedish gypsy brewery by conspirators Henok Fentie and Karl Grandin. The duo is making quite the impression on the global craft scene. You may have come across one of their artfully designed bottles already, including their remarkable "Yellow Belly," an imperial stout covered in a white sack and two eyeholes (Google it). That not-so- subtle comment on prejudice was crafted in collaboration with a brewery in England.
Well, the Swedish revolutionaries have now teamed up with one of Colorado's own craft revolutionaries Crooked Stave Artisanal Ales. This collaboration, Bianca Raspberry Wild Wild Brett, promises to transcend expectations of even the most jaded drinker.
In celebration of the collaborative spirit the two breweries pushed themselves to create a milky smooth raspberry beer. Wild Wild Brett was fermented with Crooked Stave's house mixed culture and wild brettanomyces. They then pushed it to another level by using copious amounts of lactose and whole fresh raspberries. For a new, funky and avant-garde brew, this is a must try. – Conway
Don't miss these interesting and unique sounding beers that have piqued our interest… again no haze on this list:
BJ's BrewHouse & Bryggeri Helsinki
Wild & Crazy Collaboration Sahti – is an authentic Finnish-style Sahti. ABV 8.6%
Boulder Beer Co. & New Holland Brewing
Ladyfingers is a tiramisu brown ale bursting with smooth characters of coffee, chocolate and New Holland's house made vanilla extract. ABV 5.5%
Call to Arms Brewing Co. & Spangalang Brewery
White Samurai is an approachable-yet-layered Saturday sipper with a ton of fruit notes and a smooth, velvety mouthfeel. This beer is a homage to both breweries former employers, Avery and Great Divide. The beer will offer nuances of the two beers it is inspired by, White Rascal and Samurai, with notes of blueberry and strawberry, the spiciness of coriander and rounded layers of soft orange peel. ABV 5.3%
CAUTION: Brewing Company, WestFax Brewing Company, Landlocked, Green Mountain, Great Frontier & Ironworks
Foster Child is a bananas foster beer.
CO-Brew & Southern Brewing and Winemaking
Caribbean rum cake beer
Comrade Brewing & Überbrew
Überpower Triple IPA was hopped with more than 10 pounds per barrel of Mandarina Bavaria, Chinook, Citra, Simcoe and Mosaic hops.  ABV 10%
Denver Beer Co. & Altitude Chophouse and Brewery
Japance Off is a hybrid Japanese/French saison featuring a unique flavor combination created with sake yeast and floral French hops. Experimental French hop GJ2 and Mistral provide a delicate floral hop flavor and aroma to complement the apple and fruity esters derived from the use of sake yeast. ABV 6.5%
El Rancho Brewing Co. & Shine Brewing Co.
Très Rouge is a wood aged red ale, aged on three different Colorado produced spirits, bourbon, rum and gin.
Grist Brewing Company & Tommyknocker Brewery
Brunch Porter is a deceptively smooth, rich, full-bodied imperial porter brewed with pure maple syrup and rolled oats consist of an assertive hop profile with cold pressed Guatemalan Huehuetenango coffee. ABV 9%
Grossen Bart Brewery & Verboten Brewery
I Must Break You is a White Russian Imperial Stout.
Holidaily Brewing Co. & Ghostfish Brewing Co.
Wild Bill's NonBarely Wine is a gluten-free barley wine, made sans barley. This is the first ever collaboration between dedicated gluten-free breweries. Wild Bill's is a malt forward caramel and toasty based beer with fruit aromas and a hint of hop bitterness. This tasty brew is named in honor of the late William Soles, husband of Maltress & CEO at Grouse Malt House, Twila Soles. ABV 9.5%
Horse & Dragon Brewing Co. & Funkwerks
3 Blossom is a golden ale brewed with elderflower, rose and hibiscus.
Jagged Mountain Craft Brewery & Vail Brewing Co.
Colorado Forager is an all Colorado amber ale brewed with spruce, elderberry and blackcurrant finished in gin barrels.
Jagged Mountain Craft Brewery & Überbrew
Japanese Saison is a saison with Japanese fruits, green tea, shiitake mushrooms, kelp, roasted seaweed, toasted sesame seeds and Japanese pepper.
Joyride Brewing Co. & Little Machine Beer
West Side is the Blessed Side is a traditional Belgian Tripel. The brewers created two batches of this beer, one with red grapes and one with white. This style of beer was originally made by monks in Belgium, and decided to add wine grapes to symbolize the communal wine. Both beers were blessed by a father from the local St. Dominic's Church.
Living the Dream Brewing Co. & Alter Brewing Co.
A German Chocolate Cake Stout with flavors of pecans, chocolate, vanilla and coconut.
Odyssey Beerwerks & River North Brewing Co.
Nightcap is a Manhattan inspired bitter. This beer begins the day as an English bitter, brewed with a blend of traditional hops and some New Zealand variants thrown in for fun. After fermentation, Nightcap is artfully mixed with oak and spices to achieve a delightful balance of beer and cocktail. ABV 6.5%
Ratio Beerworks & WeldWerks Brewing
Chocolate Orange Belgian Tripel is a Belgian Tripel with pure liquid cacao and orange zest.
Station 26 Brewing Co. & Exile Brewing Co.
Space Goose Super Saison is an imperial saison refermented with gooseberries and dry hopped with Galaxy hops.
Spice Trade Brewing & Cheluna Brewing Co.
Empress Mora Imperial Stout is an imperial stout aged in Infinite Monkey Theorem cabernet sauvignon barrels with blackberries. ABV 10%
The Post & Dogfish Head
Bulky Oxen is an English-style barley wine brewed with smoked sweet onion and citrus marmalade. ABV 7.4%
TRVE Brewing & Cerebral Brewing
Brain Transplant is a mixed culture foeder fermented golden ale dry hopped with Denali, Sterling and Lemondrop.
TRVE Brewing & Burial Beer Co.
TRVE and Burial brewed two beers together Slow Death and Ritual Knife. Slow Death is a whiskey barrel aged dark mixed culture ale with cinnamon and lemon peel. Ritual Knife is a brandy barrel aged black braggot.
Upslope Brewing Co. & Resolute Brewing
Upslope and Resolute created two beers, Oaked Weissenbock and Oaked Rye Dunkelweizen. Oaked Weissenbock featuring neutral, first use, medium tasted French oak. Oaked Rye Dunkelweizen is a dunkelweizen brewed with Colorado grown and malted rye malt and aged on medium toast French oak cubes.
---