No Comments
Brewery Showcase | Scorched Earth Brewing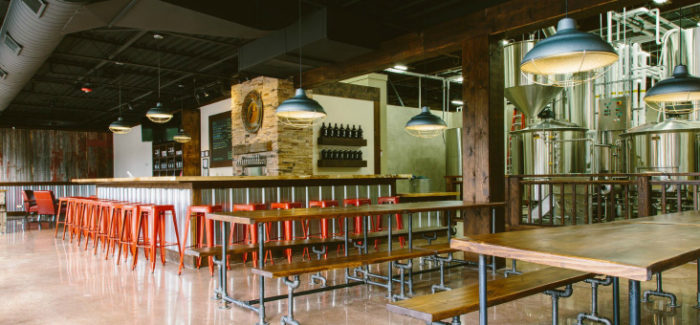 The wall of barrels, two-deep and floor-to-ceiling, that stretches along the length of the brewhouse captures the eyes of those walking through the Scorched Earth Brewing taproom doors. The tantalizing tower of aged beer induces salivation in a manner that would make Pavlov proud. Still, the diverse beer menu and exceptionally warm, inviting taproom environment amounts to a brewery that is attractive to just about every type of beer drinker.
Scorched Earth Brewing: A Reflection Of Its Owners
Mike and Jennifer Dallas, Scorched Earth owners & founders, possess that stereotypical first-born drive, but don't expect them to exhibit any cut-throat business attitudes or try to hit customers over the head with savvy marketing schemes. At Scorched Earth, quality beer production and a friendly atmosphere — and fun — take precedence.
"We always had a desire to run a business together, but nothing ever seemed to make sense," said Mike. "But, as I got into homebrewing, I could tell there was something there. I started entering competitions and winning awards, which fueled the fire. Four years into homebrewing, I talked to Jen and said, 'I'm doing this on the weekend and during lunches. I'm listening to podcasts and reading books about brewing. I can't stop.' "
Sure, but how did Mike convince Jen that beer would make for a good business venture?
"There's a three-day course at Siebel (or there was), on how to run a brewery. Jen went with me to that class. People like Jason Ebel of Two Brothers [Brewing] and Josh [Deth] at Revolution Brewing talked. After that class, I had her! (laughter)."
With any business, there must be a discussion about location.
At the time they considered running a beer business, the couple had young kids and, after time spent away, had replanted their roots in their Algonquin home, a town on the northwestern edge of metro Chicago where suburbia slowly transitions to farmland. "The idea of brewing just clicked. It felt right. But, we knew, if we were going to do this, we wanted to do it at home," noted Mike.
The brewery, in turn, resembles that love of family and town. The welcoming nature of the taproom and the staff with whom patrons interact is striking. While profits are necessary to remain viable, there's just something special about a brewery team that's not necessarily chasing dollars, but instead pursues joy.
https://www.instagram.com/p/BV5ao9pFxxK/?taken-by=scorchedearthbrewing
Building & Growing a Brewery… And Its Sour Program
Mike and Jen happen to have a good Midwestern brewery through which to model. "We never opened the brewery with a certain size in mind. For us, there were a couple of inspirations in the area. New Glarus sticks out the most. We always enjoyed their concepts. Their ownership, how they treat their employees, their styles of beer. We like their branding, too, nothing with skulls and crossbones. Jen and I aren't like that, either."
And like New Glarus, it's not a massive national distribution that drives Jen and Mike. "Knowing where the market is going. We may not be a huge size anyway, so we focus on what we like." And that includes a diverse set of sours. Mike, while laughing, explained:

"Every time we went to a brewery, or on a tour or something, you would find me snuggling up to some type of wood. A barrel or foeder or something."
The beauty of developing sours far removed from Chicago's urban jungle lies in the abundance of readily available farm-to-brewhouse ingredients. For instance, Mike and Jen have access to their family vineyard. Fresh grapes = great flavor!
Great beer, nearby farms and barrels offer the potential for spectacular brewing alchemy. Pick a number, any number. 27, 51, 37….each barrel number represents a new creation emerging from the imaginative minds at Scorched Earth. Granted, some of the experimentation is due to the Scorched Crew's humble admission that they haven't quite mastered the souring craft…yet. So, each barrel is a new attempt at perfection, as well as finding a groove — trying to figure out what Scorched Earth does best.
Fine, play around because if the wonderful beers I've tasted represent the brewery's trial and error stage, I can only imagine what it will be like when it's perfected. I'm already impressed with the sour program, so to track its upward trajectory towards sour nirvana is exceedingly exciting.
In the meantime, I'll be happy to enjoy sours such as:
SWEETIE PIE: Strawberry Rhubarb Gose 
BARREL #23: Brett Golden Ale with La Crescent & St. Pepin Grapes. 
BARREL #31: Brett Golden Ale aged in Pinot Noir Barrels 
BARREL #51: Old Bruit (Flemish-style brown ale) relying on mixed cultures of Saccharomyces, Brettanomyces, Pediococcus, and Lactobacillus.
https://www.instagram.com/p/Bawq183FUDs/?taken-by=scorchedearthbrewing
The Scorched Earth Brewing Name Says It All
"We are just one of those places in the Northwest suburbs that are doing something a little different. People can know if they come here, they can drink something unique." said Mike.
In fact, the very name "Scorched Earth" points to the idea of "doing something a little different," both in Algonquin and throughout the U.S. "I saw some historical pictures in articles of prairie fires. The article referenced scorched earth in regards to a new opportunity. New beginning. New hope," explained MIke. "The entire industry has been like that. Breweries are like that. New styles. New ideas. Like the New England style. Opening people's eyes to what brewers can create."
He added, ""[American Craft Beer] is young, sure, compared to European beer, etc. But, Americans have always been a culture that likes to push. Likes to explore. So, in our beer, we are creative and experimental. That's what's good about American craft beer scene."
Beyond sours, staple beers such as its Hickster, an exceptionally creamy, cream ale that's fermented in an open fermenter and incorporates another easily accessible local ingredient – corn. Hickster, like many of its day-to-day and seasonal offerings, including a wickedly good Crypt Keeper Imperial Pumpkin Porter during the fall, demonstrate that it doesn't take alchemy to wow beer drinkers.
"We're not going to be a two or three beer brewery," said Mike. "That's just not going to happen." Yes, sometimes that means a beer may not sell as well. But we like to rotate the taps here and do different things." 
https://www.instagram.com/p/BTcYvl7lQul/?taken-by=scorchedearthbrewing
Turning Beer Into a Successful Business
Of course, it should be noted that while Mike and Jen built the brewery based on Mike's brewing obsession, it also became clear that to operate a beer business. Mike would have to relinquish some control by hiring a head brewer and assistants.
Current head brewer, Mark, an award-winning home brewer (and a degreed Environmental Engineer, as well as a BJCP judge and graduate of the Intensive Brewing Science & Engineering program at the American Brewers Guild), first came on as an assistant. Mark saw a job posting for head brewer, but he knew he wasn't yet qualified for that role. "I figured, I may not be able to do that but I'm going to send a resume and let them know that whatever they need, I can help out," said Mark. In fact, he even presented his beer to Mike and Jen to prove himself.
Mike, with a little laughter, added, "Jen and I were like, 'Do we take a chance on a person with no professional brewing experience?' But we were so impressed that we had to hire him." He added, "It worked out great, obviously."
Indeed, Scorched Earth Brewing's results at the 2017 Los Angeles International Beer Competition speak volumes about its quality.
Silver, Bret Beer Category, Barrel #23
Gold, Vienna-Style Lager Category, Vienna
Gold, Robust Porter Category, Rugged Coalminer
Awards for a lager, a porter and a sour — that's Scorched Earth Brewing in a nutshell. Scorched Earth destroys any false notion that a brewery must exist near the city or produce several thousand barrels of beer annually to be taken seriously. A few pints of Scorched Earth brewing demonstrates how it's a brewery that's not only worthy of visiting, but one that is helping raise the bar for the entire industry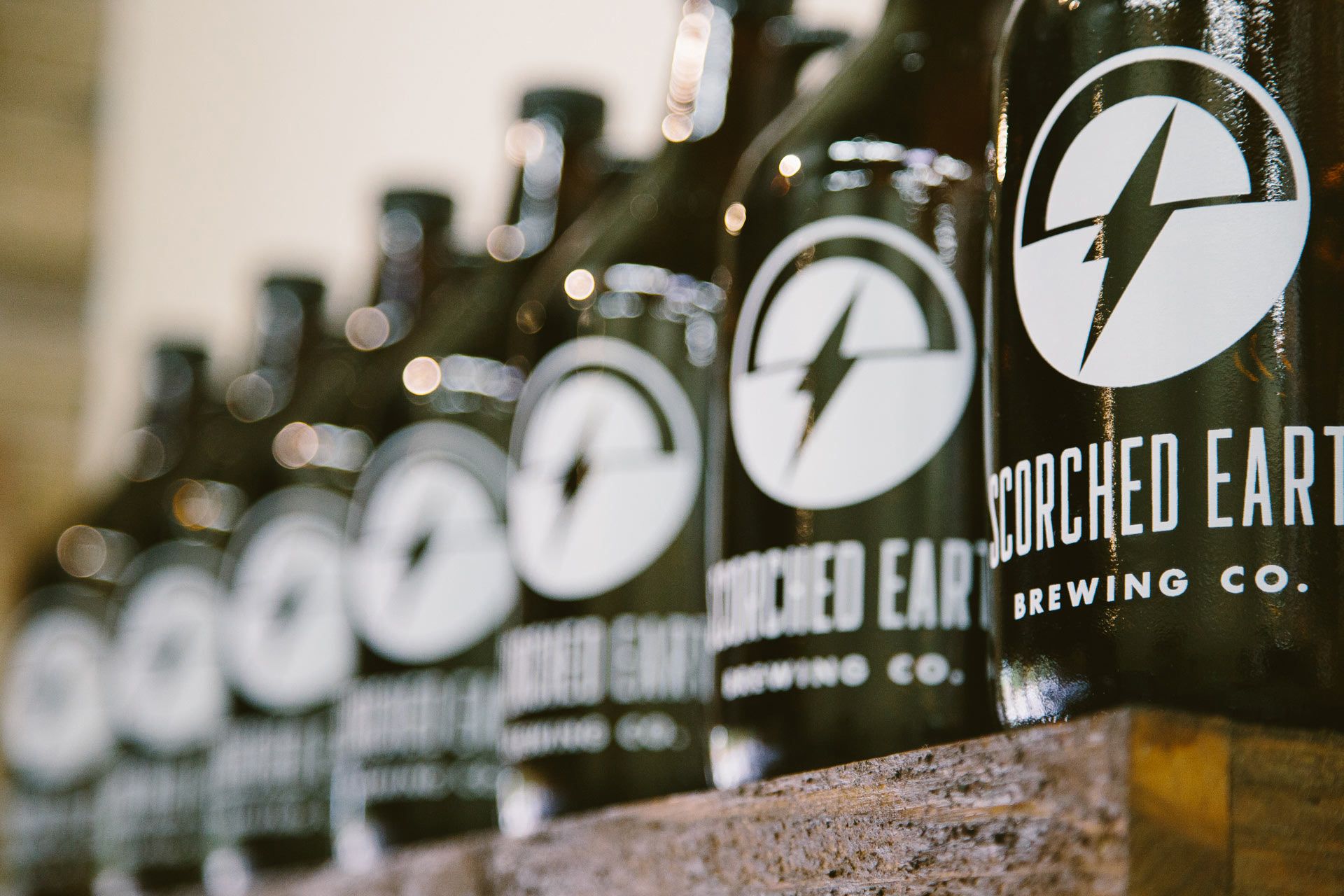 ---