No Comments
Indulgent Beer Series | Foreign Exchange Brewing Kittywampus Brunch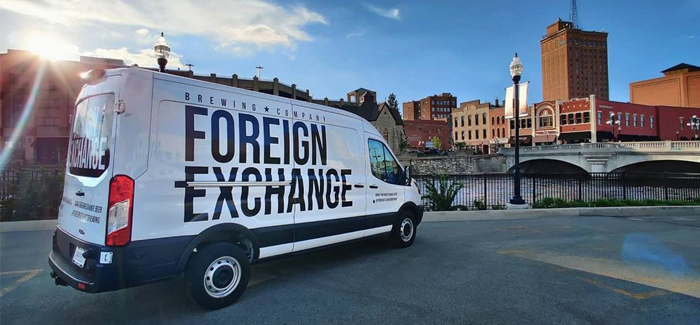 Young people and old folks across the nation may not agree on much these days, but we can agree that brunch is the best meal. Sure, you've got 2nd breakfast, elevensies, afternoon tea and 4th meal, but none of them can compete with brunch. Mimosas, Screwdrivers, and Bloody Marys are frequently the weapon of choice at brunch. However, for the beer fanatics, a coffee-imbued porter with breakfast focused adjuncts will be an enticing option.
Foreign Exchange has been concocting small batch beers since 2016 and will be opening a new facility in the near future, but they are currently working out of Church Street's brewing facility in Itasca, Ill. Kittywampus Brunch is a spinoff of their exceptionally popular Kittywampus beer. There are few sequential words we love to read more than "Imperial Coffee Porter". They've somehow managed to pique our interest further with the addition of milk sugar, vanilla and maple syrup. The namesake of this beer comes courtesy of their future neighbors at Endiro Coffee who sit diagonally across the parking lot from their future Aurora, Ill brewing facility.
Tasting Notes
Endiro has supplied the Bududa Bukalasi Ugandan coffee that the beer is brewed with, whose presence is blissfully apparent from the time the can is first opened. To no surprise, the beer pours with a deep black, nearly opaque appearance and a delayed, mocha colored head. A slow, consistent pour will yield the best results for head retention. The aroma upon first sniff is familiar yet complex. A rich, medium roast coffee presents first, followed by a surge of maple. The maple is pleasant with a more natural sweetness and makes way for soft notes of vanilla and milk sugar.
The slightly sticky, yet thoroughly medium bodied beer finishes with somewhat lingering sweetness. There is a muted and lightly acidic coffee flavor throughout, as it clings to your lips and tongue. While clocking in at a more stout-like 9.5% ABV, the low bitterness of just 34 IBU and accentuated roast is a textbook porter. 
 

 

View this post on Instagram

 
An Eggcorn with Multiple Spellings & Meanings
In most parts of the US, the word kittywampus is synonymous with kittycorner (or kattycorner, among others), meaning diagonally across from a certain point. An easy drinking, brunch-inspired beer will distract aficionados and novices alike into guzzling down several of this deceptive beer. This inevitably will convince those brunch-goers to align with the more southern definition (and spelling) of catawampus: Skewd, crooked. After all, brunch also has the not-so-secret second meaning of "Let's get tipsy before noon".
Feature image credit: Foreign Exchange Brewing
---