No Comments
A Beer Release in the New Normal | How Revolution Brewing Released Their Latest Deep Wood Offering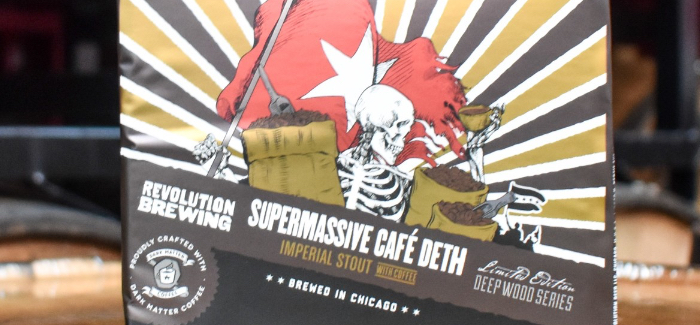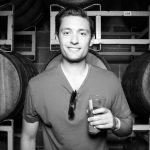 The craft beer industry has diligently adapted taprooms, business processes and safety protocols to better serve patrons and adhere to current safety guidelines caused by the COVID-19 pandemic. Welcoming patrons back to drink outdoors (and, in some states, indoors) at a brewery's location is a momentous task that cannot be understated. Being permitted to once again drink beer on-draft during Chicago's Phase 3 and 4 reopenings has let some of Chicago's beer drinkers experience a sense of cautious normalcy. One area of the craft beer scene that would typically draw crowds—and headaches—is a much-hyped beer release, like Revolution Brewing's release of their latest Cafe Deth variant, Supermassive Cafe Deth. What does a beer release look like in the new normal? How do you execute one both safely and effectively? To find out, we asked Illinois' largest independent brewer about how the release went. 
Consistent communication is key for any successful beer release. It becomes especially important when setting the guardrails and new protocols needed to ensure both staff and buyer are able to stay safe during the event. Building off the sustained popularity of Cafe Deth and the larger Deep Wood barrel-aged series, the latest variant, Supermassive Cafe Deth, which uses 10 pounds of Dark Matter coffee per barrel, was expected to be a huge hit. Due to its popularity and because it was to be the first digital-presale curbside release for any Deep Wood beer, Revolution began communicating the rules and requirements of pre-orders and release day protocols early on. To no barrel-aged beer lover's surprise, pre-orders sold out swiftly on the morning the e-commerce site went live. The pre-sale of each beer package also came with a designated curbside pickup time during the release weekend, ensuring that people could quickly pickup their beer without having to leave their car. 
As always, we're blown away by your enthusiasm. Preorders for Supermassive are currently sold out. https://t.co/GcnYbnSmN9

— Revolution Brewing (@RevBrewChicago) June 12, 2020
With demand set and interest high, Revolution used their social feeds to diligently message the rules, requirements and expectations of the Supermassive Cafe Deth release event in the week leading up to it through their well-trafficked social media profiles on Twitter, Facebook and Instagram. One of the tentpole communications came in the form of a concisely constructed Twitter thread, which laid out the new protocols and required patron activity for the event. The new curbside pickup protocols were well received, showing the vast willingness of both brewery and beer drinker to adapt to new circumstances in the pursuit of supporting local business and indulging coffee-beer-loving taste buds. 
On Friday, the pickup windows for Supermassive Café Deth start — going through the weekend and into next week. Since this is the first digital-presale curbside release for a Deep Wood beer, we thought we'd clear a few things up. [BIG THREAD — apologies in advance] pic.twitter.com/Rz8ieLHqOe

— Revolution Brewing (@RevBrewChicago) June 17, 2020
Communicating from behind a screen was always going to be the easiest part. The execution of a seamless release event that adhered to the appropriate safety protocols is something vastly different. Meg Rutledge, Revolution's Director of Retail, said that the number of staff specifically handling the can release was similar to previous releases. However, since there was to be no on-site draft sales, and all the sales were handled ahead of time via the internet, those tasks required no  staffing as they would have normally.
The slimmer team fit well with the streamlined pickup process Revolution clearly communicated in the days leading up to the release. Revolution set up a traffic control/check-in station on Kedzie Avenue leading up to their brewery facility to ensure each customer was validated and directed to one of the four curbside pickup locations created outside of the brewery. Because each reservation slot was pre-paid, Rutledge says the fulfillment process went by quicker, leading to one-minute fulfillment times for just Supermassive Cafe Deth pickups and roughly three minute waits for those who had ordered additional items. "Overall, it went incredibly smoothly for us and for customers," said Rutledge.
In total, Revolution's first Deep Wood release event in the new normal was similar to previous versions, albeit with a very different pickup experience attached. Rutledge says they sold 290 cases of Supermassive Cafe Deth, which is the same as what they've historically sold for other taproom-only barrel-aged releases. Of that 290 cases, 250 were sold to Rev Rewards members over the course of a day and a half. While this release didn't have the party atmosphere of the past, Rutledge says there's a lot of positives that they've take from the event. Most namely: less waiting and smaller lines. 
"Let's be honest, not everyone loves the whole line experience. For those who do, we can't wait to have them back and offer up specialty variants on draft. However, we foresee incorporating a pickup option going forward, even when we are allowed to have guests in the taproom."
Supermassive Cafe Deth is a very memorable beer. pic.twitter.com/1rQd4egLfb

— Taylor Laabs 🍺 (@TaylorLaabs) June 20, 2020
And regarding the actual beer itself, Revolution was nice enough to send me a few cans of Supermassive Cafe Deth and I came away impressed that the new variant was able to deliver on its coffee-splurged directive without going overboard. Roasted coffee beans and chocolate notes from the copious amounts of Dark Matter coffee added to the already coffee-forward Cafe Deth create an intense smell and first sip. What followed was a pronounced yet smooth alcohol burn that meanders between creamy dark chocolate, strong espresso, and boozy caramel. The viscous dark liquid lingers on the tongue and taste buds, exuding every ounce of the flavor of the coffee beans that came before it. It's a very memorable beer that I hope that Revolution is able to add to its next Deep Wood release series, whether that's in-person or via curbside pickup. Either way, I'll be back for seconds. Cheers! 
Feature image courtesy of Revolution Brewing
---