No Comments
Chicago Quick Sips | July 8 Chicago Beer News & Events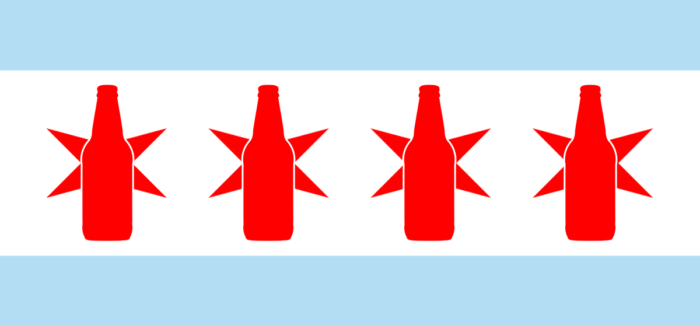 Quick Sips is our way of highlighting beer events, tap takeovers and other notable beer news around the city of Chicago. If you'd like to submit something to be included in the next Quick Sips, please email us at [email protected].
A few of the featured events occurring from July 8 – 21 are listed here. Enjoy.

There's more than one type of hazy beer, and Chicago Beer Society is hosting a party to celebrate them all: "Everything from modern hoppy NEIPAs to more traditionally unfiltered styles (such as zwickel, keller and weizen) will be featured at this festival & competition celebrating all things haze," notes Chicago Beer Society.
Where: Space Stage Studios – Galaxy Courtyard, 1844 W Hubbard St (enter through courtyard gate at 455 N Wolcott Ave), Chicago, IL 60622
When: 1 pm – 5 pm
Tickets: Through Brown Paper Tickets
You can also follow the Facebook Event Page to receive up to the minute updates.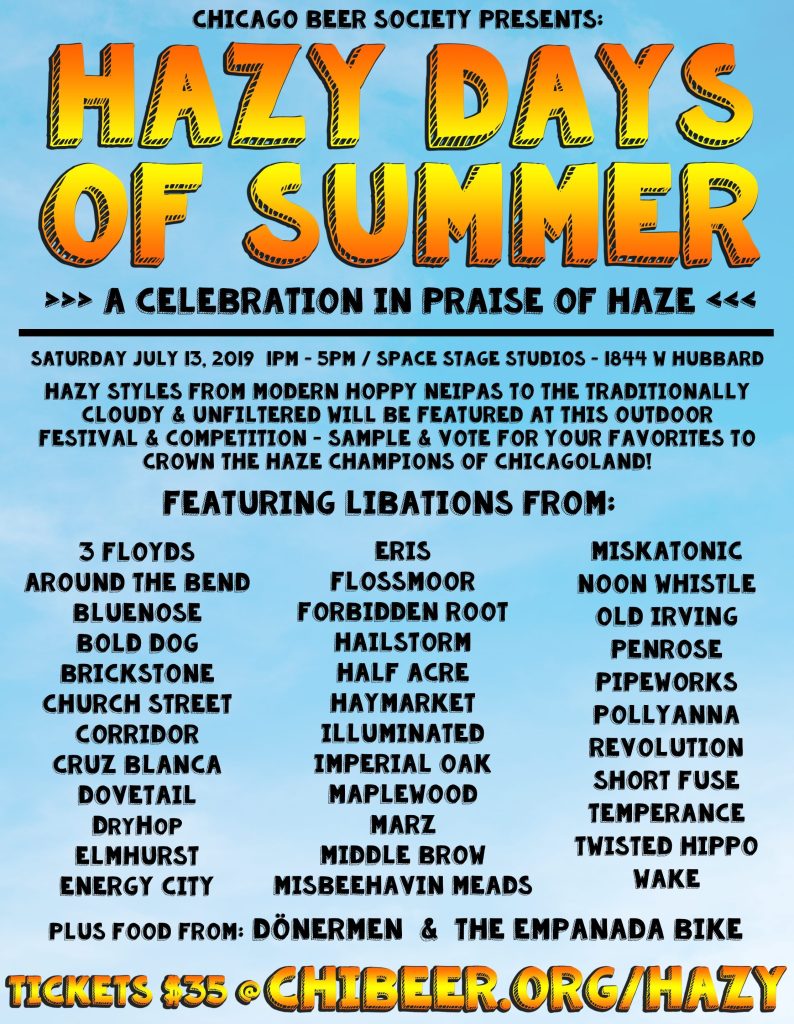 July 19: Midlife Crisis (Barleywine Celebration), hosted by Revolution Brewing
Join Revolution for its first summertime celebration of Barleywine, and the introduction of two all-new, limited-edition Straight Jacket variants. (
(See our full story on the dual barleywine variant release — Strawberry Jacket Barleywine and Honey Jacket Barleywine.)
When: 2 PM – 11 PM
Where: Revolution Brewing, 3340 N. Kedzie Ave., Chicago, Illinois 60618
Draft List:
2019 Strawberry Jacket & 2019 Honey Jacket
2019 Boss Ryeway, Cuvee de Grace, V.S.O.R.
2018 V.S.O.J., Mineshaft Gap, Double Barrel V.S.O.J. Rye
2017 Ryeway to Heaven, Straight Jacket
2014 Straight Jacket
See the Facebook Event Page for updates and/or more info.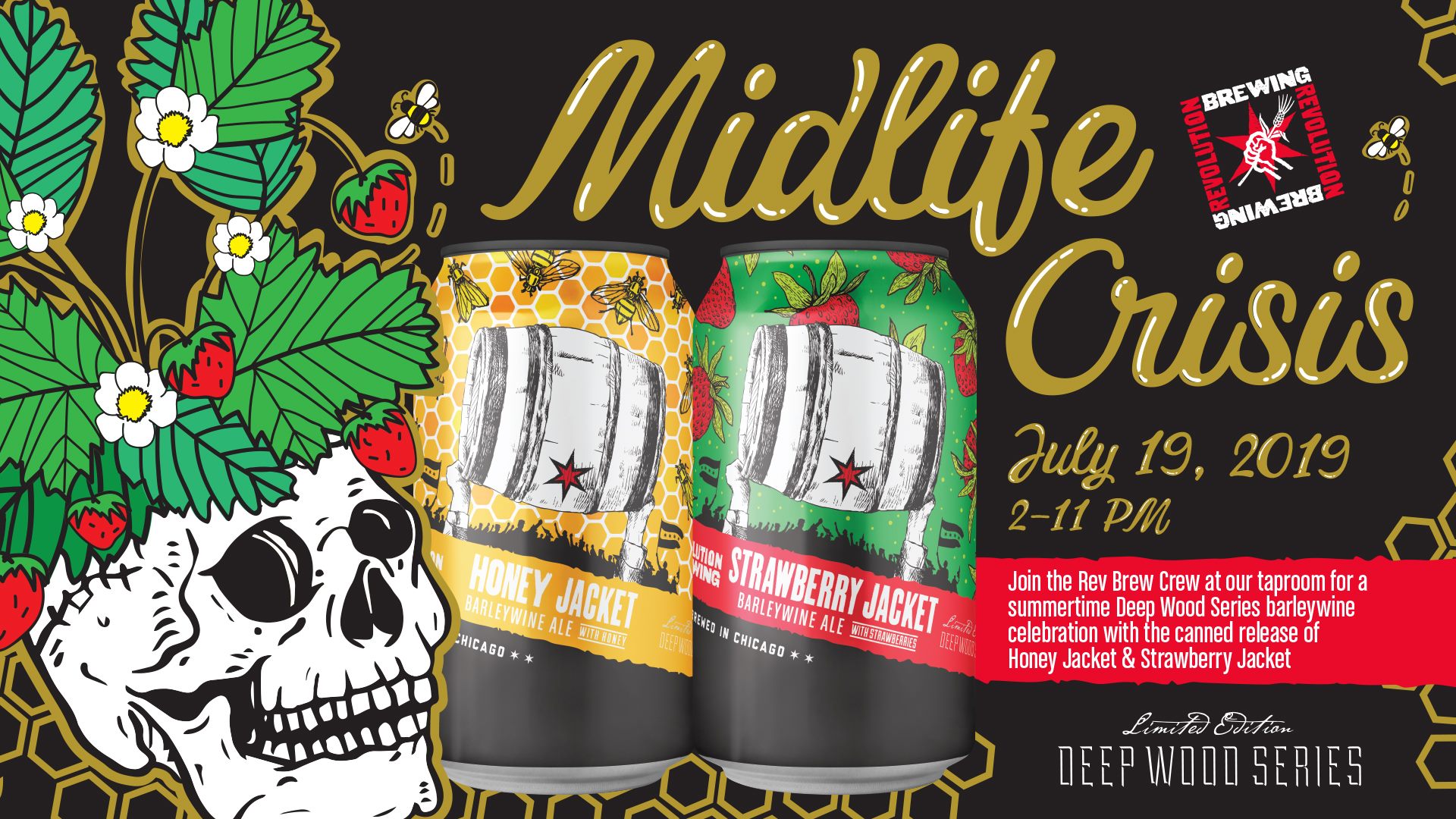 Our writing friends at Hop Culture and Chicago's Marz Brewing are celebrating art and beer with an arts-themed version of Hop Culture's Juicy Brews Craft Beer Festival. Expect unlimited pours from a host of great breweries, music by Hoof Hearted Brewing artist Thom Lessner and plenty of art and merch.
Where: Marz Community Brewing Company, 3630 South Iron Street, Chicago, IL 60609.
When: 12 pm to 4 pm
Tickets:  Eventbrite Page
You can also check out the Facebook Event Page: Facebook Event Page or follow Hop Culture Magazine on Instagram (and sign up for the publication's weekly newsletter to stay updated on the event).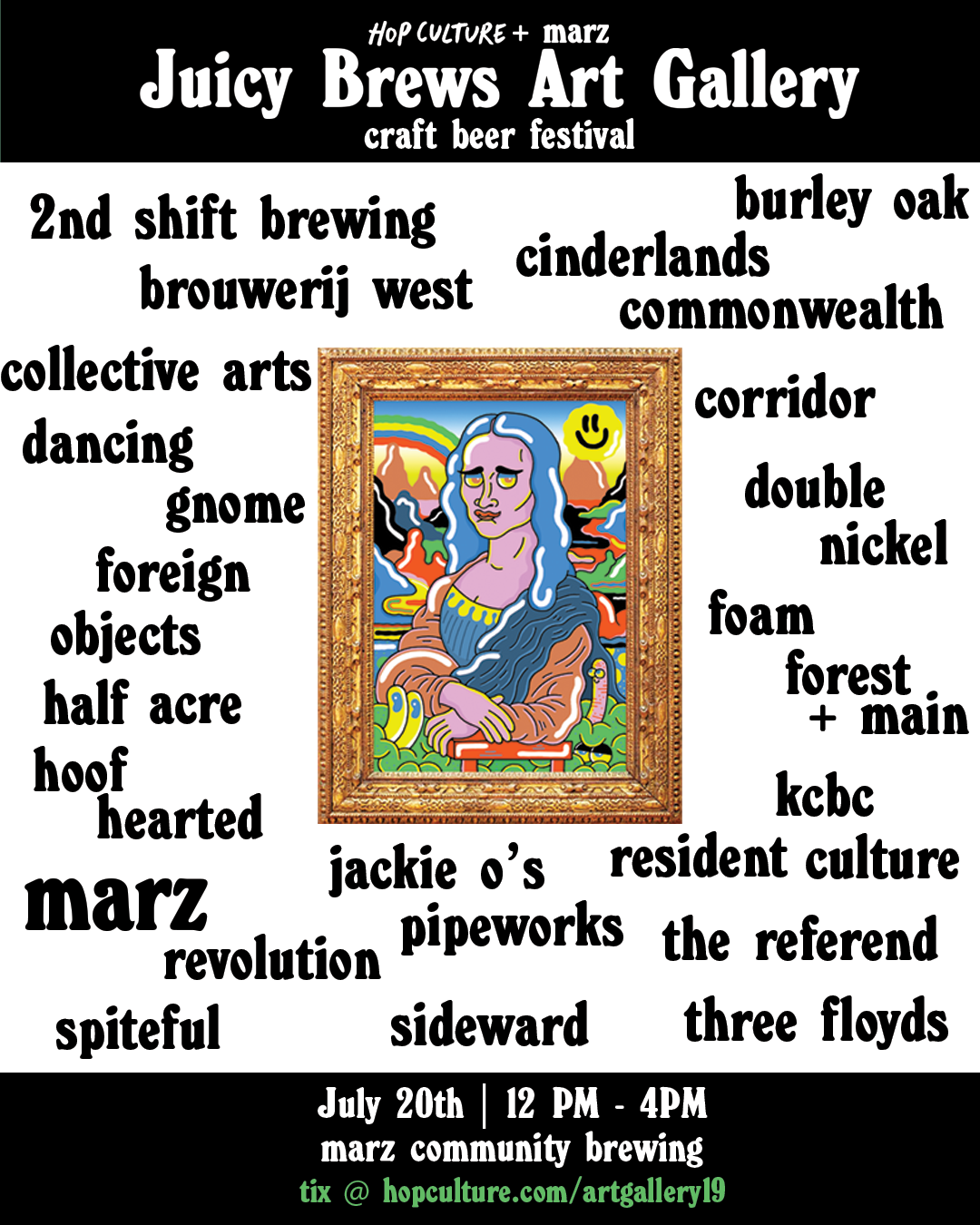 ---